What a banner day in our household. The day I have been waiting for since I bought my DSLR more than 14 months ago finally arrived.
For background, you need to read my very first post at this blog, the one where I explain why I decided to spend a great deal of money on a camera.  If you don't want to read the whole thing, I'll summarize: my son the defenseman, who has scored about 4 goals in his entire four-year hockey career, got a penalty shot and scored, and my cheap, useless camera failed me when I needed it most.  That was a sad, sad day in my house.
Fast forward to today:  our family of four was up at 5:30am and on the road by 6:30am for DS#1's game in a town two hours north of us.  Two cups of coffee and a long, blessedly uneventful ride later, we "landed" at what turned out to be the world's coldest ice arena.  (I'm sure other rinks could try to compete for that title, but considering I had 10 frozen, numb fingers mid-way through the first period, I'm pretty sure this rink would hold its own in a head-to-head battle.)
DS#1's team has not been having the best season thus far, having lost their first three games.  I will say that they are pretty tough-minded kids and tenacious–even when down by 3 goals, they still try their hardest and give it their all.  I've been impressed with the coaching staff and especially the head coach and how he has handled the losses.  After the last loss on Friday, he actually told them a parable in the locker room to help them get motivated and fired up.  It must have been pretty noteworthy for my ten-year-old son to remember the whole thing to repeat back to me!
This morning, they came out fired up, and they were working hard on both ends of the ice. A few near-misses at the goal, and then suddenly the puck bounced off the boards and landed right in front of my son, not too far inside the blue line.  He didn't hesitate to turn and take the shot on net.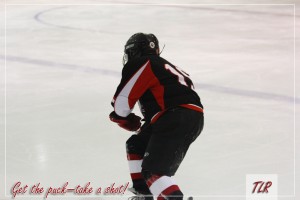 I was happy to even snap this one picture, because it really was that fast from the time he had the puck on his stick til the time he took the shot (just like they're taught!).  I then turned toward the goalie, like I always do in these situations, and took a shot.  I usually don't get a shot of the puck in the air…I'm just not that talented. (Dare I say "yet"?) By the time I turned, I couldn't see the puck at all.
I was busy trying to take photos and I couldn't even see the ref in my peripheral vision.  Then I started to notice the kids on our team raising their hands and jumping up in the air.  That's when I started to get really excited.  And when I'm excited, I get a bit shaky. 😉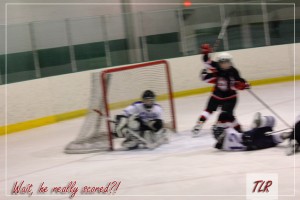 When I realized the puck had gone in (slid under the goalie's pads), I turned my camera back to DS#1.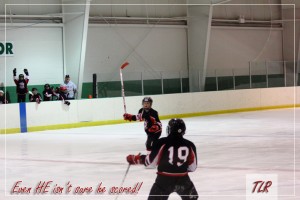 He looked a little unsure at first, lol!  But he figured it out pretty quickly.
By this time, I actually was screaming, I was so excited.  Besides the penalty shot last year, it has been at least two years since he's scored, and I just could not contain myself.  The funny part is that I was on the other end of the arena when he scored (at our opponent's net) and when I went back to the other end to see my husband, I had several laughing comments from a few of the parents on our team about how clearly excited I was.  (Not only did the folks on the other end of the rink here me, I'm pretty sure the people in the next county heard me. 🙂 )  They were all very happy for me and they joked, "So did you get pictures?!"
But that's not everything that happened today…not only did DS#1 get his first goal in a long time, he managed to accomplish another first in his young hockey career:
His first Gordie Howe hat trick. :p
Most people know that a "hat trick" in hockey is three goals in one game.  However, non-hockey fans may not know what a "Gordie Howe hat trick" is.  Gordie Howe was a former Detroit Red Wing who had a long hockey career and was known not only for his scoring ability but also for being a very tough player.  At some point in time, some hockey guru decided that a "Gordie Howe hat trick" would consist of a goal, an assist, and a fight all in one game.  Before today, I did not honestly think my son would actually lay claim to that title!
His goal came early on, about 4 minutes into the first period.  About half-way through the second, I was fiddling with my camera down on the home end of the ice and suddenly heard a lot of crowd squawking.  I looked up to see my son and another kid from the other team being separated by the refs.  Next thing I knew, DS#1 was in the penalty box! I asked everyone what happened, and my husband said that the DS#1 knocked the kid over while going for the puck, the kid got up and took a swing at DS, and DS threw his stick down and punched the kid in the face hard enough to knock him down again! Oops…! They did give the other kid a penalty too, so it wasn't all my son's fault. :p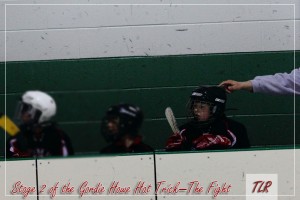 (There had been a penalty already being served by one of our players, and then one kid who was only on the bench as an observer due to a previous injury was manning the door for them. But doesn't it look hysterical to see three ten-year-olds in the penalty box?!)
At this point, I joked to my husband, "You know, he just needs an assist to complete the Gordie Howe hat trick…"  He laughed and said, "Yeah, we'll have to watch for that."
Well, lo and behold, toward the end of the game, DS#1 took another bouncer off the boards and sent it to a teammate, who dodged a few defensemen and shot it in for the score!
That's my son, #19 on the right, taking the assist in stride.  But his mom and dad did get a good laugh out of it!
I was so happy to have captured it all on film.  They aren't the most spectacular pictures, I'll admit, but they are much, much better than the last time my son scored.  Hopefully I'll be even better at this by the next time he scores–though I'm hoping I won't have months and months to practice before the next one this time! 🙂
Thanks for reading and sharing in my fun!