Yep, I definitely discovered the price of motivation today!  I also discovered that it never goes on sale. 😛
But first of all, let's start with a training update.  Today's update is—there is no update!!  🙂  Today was a slated "day of rest" on my training schedule, and let me tell you, I couldn't be happier about it!  I have felt really beat this week, but despite that, I have managed to get in both my runs and my cross-training.  Last night, I had to really force myself to do the 20 minutes of strength training, but I did it!!  So today I'm resting with the knowledge that I deserve it.  Plus, tomorrow morning is a "special" run, and since it will be hot even at 6am, I definitely need to rest up for it.
So, now, let's talk good news!  I will freely admit that I have done a lot of whining this week, between my weight being too low (so embarrassed to be whining about that…) and my frustration with shopping for a dress to wear to a wedding.  Today, I managed to make both of those things work in my favor…ie, I found a dress, AND it fit well!!
I went shopping today at a very fancy department store near my work. The stuff is way overpriced, but I will admit that I did enjoy the ambiance when I got there…they had a real live pianist on the main floor next to the escalators.  Who doesn't love shopping to piano music? Lol…
I went upstairs and tried on about 4 dresses, mostly in black or black and white, but also one in a blue floral print.  The first two were "bleh," but I found a really pretty black one that had a nice fit and some neat embellishments.  I know nothing about fashion, so I can't really describe it more than that, lol!
There were 3 ladies in the fitting room, two who were trying stuff on, and one who was helping one of those ladies as she looked for a mother-of-the-bride dress.  They all liked the black dress and said it looked really good on me.  When we were both standing in front of the mirrors, the mother of the bride even pointed at me and commented, "Geez, if I had a figure like hers, this process would be a lot easier!"  That made me feel good but also kind of embarrassed, and I quickly said, "Yes, well, it didn't look like this 80 pounds ago!"
Once they found out I'd lost all that weight, they were very enthusiastic about what I was wearing.  We all agreed that it was a great dress, and I asked the non-buying friend if she would be so kind as to take a picture of me in the dress to text to my friend Tonia.  (Tonia loves to help me buy clothes, and I trust her judgment way more than I trust mine, lol!)  Tonia immediately texted back that she liked it, so at that point, I was sold.  I went back to change and go buy it, though it was a lot more than I wanted to spend—$135!  *gulp* Then I remembered I had one more to try on.  I wasn't going to bother, because I really liked my new "little black dress," and had actually already put my street clothes back on.  But then I looked at the last one once more and said, "Oh, what the hell, I'm here!" 😛
As soon as I put it on, I thought, "Ooooooh.  I like this.  I like this a lot!"  It was black, with the fabric kind of "bunched up" on the side, with tiny black and white sequins at the top and then a very cute little sequined jacket.
I began to think that maybe this was better than the other one.  It looked great, but more importantly, it made me feel great.  But, because I hate clothes shopping and have no confidence in my abilities, I wasn't 100% positive, so I went back out to the big mirror, hoping my new friends would have some input.  They sure did, lol!  The non-buying friend immediately began exclaiming over the dress… "Oh, that's the one, honey! Put the other one back! That dress is perfect on you!"
The second lady came out and immediately echoed the first, and then the mother of the bride came out and did the same.  They all agreed that the dress was beautiful and looked great on me.  The friend then held out her hand and said, "Give me your phone…you have to send your friend a picture of this one!"  LOL, I really liked that lady. 🙂
I sent it to Tonia, who immediately texted back "I love it!"  And my decision was made!
It took me several minutes to convince myself to buy this thing, because it was actually—gulp—$175!!  But, I had at least three ways to justify it in my head, so I went ahead and bought it. 😉 I can't deny that I'm very happy for having done so.  In fact, I can honestly say that for those few moments I had the dress on, I kind of understood why some people think shopping is fun.  When you find the right dress, that fits and looks good on you, it is fun.  If only that part didn't have to be preceded by all the hours of unpleasantry that comes with trying on all the wrong dresses, lol!
I wasn't going to post pictures of me in it, because that would spoil the surprise when I put up the wedding pics next month, but I just love the dress so much, after I put it on to show my husband, I couldn't resist having DS#1 take some pictures of me.  It was actually fun putting it on and showing it off! 🙂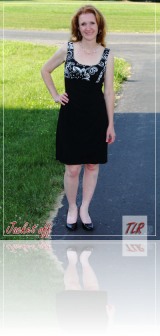 The best part about the dress may very well be the size—though I tried on a 6 originally, it was the size 4 that fit best! (Even my new found friend in the dressing room thought so!)  That shocked the hell out of me, and I really debated on whether I should actually buy a 4.  But, as I texted Tonia later, this is just long-lasting motivation for me to stay healthy and active.  Because I will have to wear this dress a LOT to get my money's worth, lol!
Thanks so much for reading and sharing in my little moment of joy today!