This one is from my mom! 😉
My mom always used the same pie crust recipe when I was growing up.  I know she's had it for many, many years, and when I asked her the other day exactly how many, she said she found it in 1975. Not quite as old as me. 😉 It's on an index card in an old recipe-card holder she has.  (An avocado-green one, which makes a lot of sense when you know its age.)  I asked her how she got the recipe, and she sent me this funny story:
"I brought my apple pie recipe to a friend's Thanksgiving dinner, and she and her fiancée said it was a great pie but that her recipe for pie crust would make it even better. It did. It was then that I grudgingly admitted to myself why your father never ate the pie crust on pies. He said it was "Like eating the wrapper on a candy bar". I don't know if it was just my pies or not. Too bad for him I discovered this recipe after we divorced. HA!"
My mom's a hoot. 😉
Anyway, it IS a good crust, so when I moved out of the house many years ago and was ready to make my first pie, I called my mom and asked for the recipe.  I'm pretty sure I was in the process of making an apple pie at that time, because I love apple pie. 🙂  As she read off the ingredients and directions, I wrote it all down on the closest piece of paper I had, which just so happened to be a piece of junk mail, specifically, an advertisement for a singles' dating group.  (It's the one on the left in the picture below.)
I wrote it on the back of the envelope, and I can tell exactly what year it was because I only lived at the address listed on the front of the envelope for about a year.  The year was 1995, and if you look close, you can probably tell how old it is, based on what a mess it is! I've used it dozens of times when making pie crusts over the last 18 years.  It's traveled with me through three moves, and I just can't bear to part with it.
It's a fantastic recipe, and has always done me well, but…when I made my last pie, I accidentally discovered an even better version!  I was talking to my husband as I made the crust, telling him all the details about my hot, humid half-marathon, and I wasn't paying attention.  I accidentally neglected to add in the shortening when I was supposed to! I was too tired to care at that point, so I just added it in at the end.  I started with the pastry blender like I usually do, but it wasn't mixing in very well, so I finished it off by working it with my hands. I then proceeded to roll it out as normal.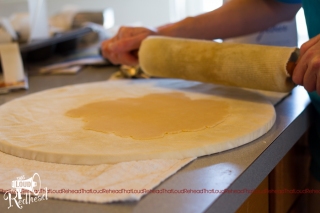 When we were eating the pie later, I kept remarking on how flaky and deliciously light the crust was, more so than normal, and then it hit me—it had to be because I had added in the shortening at the end, by hand!  I emailed my mom and told her what a difference that made, and she was eager to try it next time.
I guess that just goes to show that even a tried-and-true recipe can sometimes become even better!
My Mom's Pie Crust
from my mom (many, many years ago)
Note that this recipe makes 3-4 pie crusts!  I always make the full recipe and then freeze the remaining dough, separating it so that I have 2-3 single crusts. Just take it out of the freezer an hour or so before you want to make your pie, tart, etc., and it will be ready to roll out.
4 c. all-purpose flour
3 tbsp brown sugar
¼ tsp salt
1/8 tsp baking powder
1 egg
cold water
1 tsp white vinegar
2 c. shortening (Crisco)
Mix the flour, brown sugar, salt and baking powder.*
Beat egg in a one cup measure, then add enough cold water to make ¾ cup.  Add 1 tsp. vinegar. Add the liquid to the flour mixture and combine.  Cut in the shortening with a pastry blender at first, then finish with your (clean) hands to get the small shortening chunks to melt into the dough.
Let dough stand for 10 minutes.  If freezing, separate into four sections and freeze what you don't plan to use.  For the remainder, roll-out as directed for your recipe.
PointsPlus values: This crust, when divided into 48 pieces (four single-crust pies with 12 slices each), is worth 3 points each.  If you cut your pie into 8 pieces, it's 4 points.
*Note: this is where I used to put in the Crisco, but I've changed that based on my last experience to what the recipe is now.