This is going to be my last update for a little while, partly because I don't have a lot going on to talk about, but mostly because I need to get my Christmas cards done!!  In case you missed it last year, I hand make all my Christmas cards, anywhere from 80 to 90 of them, and that takes a lot of work. And considering we are now two weeks away from Christmas, and I'm not even close to having my Christmas shopping done, I need to focus! 😛
But first, let me catch you up on what HAS been happening on my corner of the world. We had hockey this past weekend for JJ's team, and he almost got a goal on Saturday! He's a defenseman, and he doesn't get many goals. So we get a bit excited when he gets one. 😉 His team was down by two goals mod-way through the third period, against a team that we had previously beaten by SIX goals. :/ But JJ's team is undefeated in league play right now, and it seems that all the teams are gunning for them. :/  It was late in the third period when the boys were in their opponents zone. The puck came out from the net to JJ, and he took a shot from the blue line. (he's number 8 in white)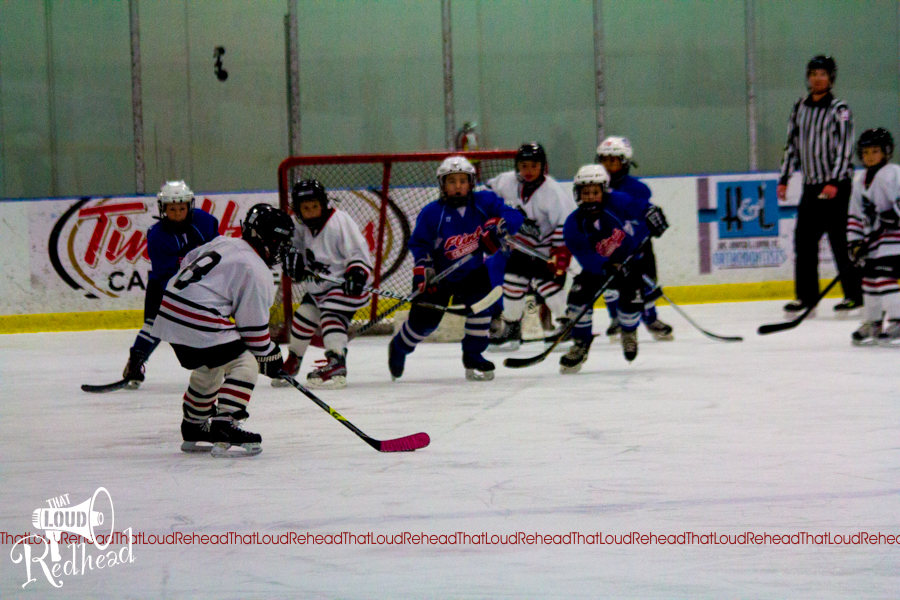 It was on its way in when one of our kids touched it with his stick to help it along. It went right underneath the goalie's pad and into the net.
Since another player touched it before it went in, that player got credit for the goal. But everyone on the team congratulated JJ on the great shot, and that goal helped us finish the game with a tie. So, his team is still undefeated in league play, and he got an assist! We really did think he got the goal at first though. 😉
Later that night, my husband and I went to an 80s Christmas party. I have to say, coming up with an 80s-themed outfit was rather difficult, but I did the best I could. I borrowed a bridesmaids dress that my mom wore in 1985, and it was pretty hideous.
My husband managed to find a polo shirt and some jeans to roll up, and he even had a comb for his hair.
There were a lot of funny costumes at the party, and we had a great time with everyone. Eating, however, was a particular challenge. The hostess had made food with an 80s theme, so there was a lot of grease and snack foods. :/ I took small helpings of things, but I didn't take the time to write it all down as I was eating it, because it was a party and that just didn't seem like a fun thing to do. I did take pictures of the buffet area, and later I sat down and wrote out everything that I had eaten.
For someone who had run 8 miles that morning, and had not eaten much all all day, I was surprised at how fast those points added up. :/ On top of that, the food was greasy, and that's not something my stomach has had in a long time, so I ended up with an upset stomach the next morning. I ate less on Sunday, and I had managed to stay within my points each day last weekend. Still, my weigh-in on Monday wasn't exactly what I'd hoped.
That's up 1.2 from last week. This was my second week experimenting with adding in three extra points per day, and I'm not sure that it was a success. But I've decided that it will take longer than a couple of weeks to determine if this is going to work, so I've continued to add in the three extra points each day this week as well. Besides that, I'm getting ready to start doing a lot more running, and I know I'm going to need to fuel myself for the work ahead, so I want my body to get acclimated to eating more.
Why so much running? Well, if you haven't guessed by now, let me enlighten you:
Yes, that's right, I am going to do a second marathon! I don't think there was ever a question as to whether or not I would try again, since I didn't meet my sub-five our goal the first time. (You may recall that I finished in 5:05:50.) I signed up for it last week, when they were having a cyber-Monday sale. Who knew it would only take a five dollar discount to get me to sign up for another marathon? 😉
I'm nervous about whether I can do this again, but at least this time, I have a plan. Taking a cue from my friend Katie's sister, I've gathered up five of my best running buddies to run the relay with me while I run the marathon. That way, I have someone to run with me the whole way, without asking someone to run an entire marathon. My running buddies are:
Renée, my longtime friend and running inspiration…and recent New York Marathon finisher!! 🙂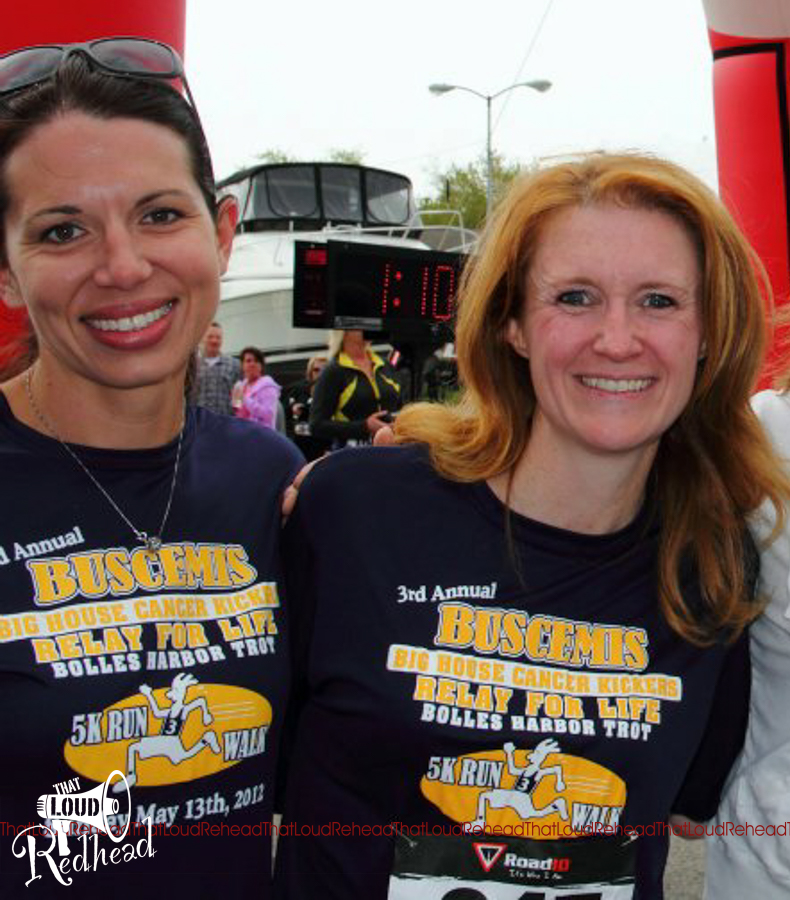 Jessica, another friend and running inspiration. (Jessica was one of the people whom I told I would never, ever run back when I was still fitness walking. 😉 )
My hockey mom friend, Ann, and a friend I met through her, Toddra. We ran the paczki run together in February.
And finally, my runner number five…
Well, of course it has to be Jamie! He is so excited, not just because he gets a cool shirt, a medal, and a glass mug, or even because he gets to cross the finish line of the marathon. No, what he's most excited about is being MY coach during the race. He's already planning on all the things he's going to say to me as I run those last 5 miles. I fear that payback is really going to be hell. 😉
I'm nervous, but excited. Right now, I'm trying to figure out my training plan. I thought I would jump up from Hal Higdon's novice 1 to novice 2 training plan. But then, as I was going through the novice 2 plan, I realized that's what I did last year! Ha ha, I guess I'm not quite the novice I thought I was. 😉
So now I'm looking at the intermediate plan. It does include a fifth day of running, which I've actually been seriously considering, because I feel like the extra day will help prepare me better. However, that fifth day is actually a longer run, and it's the day before the TRUE long run. Sure, that makes a lot of sense in that you do your long run after a day when you've already run, so you get used to running when you're already tired. The problem is, I do my long runs on Saturdays, which means I have to somehow fit a 5 to 8 miler in on Friday morning before work. That's in addition to the 5 to 8 miles already on the schedule for Monday mornings. Oy. :/  That's a lot of early days.  I will say that that was one of my least favorite things about marathon training: those cold, early, EARLY mornings in the barn.  Let me tell you, it's pretty hard to fit in an eight-miler before work, and with my boys hockey schedule and my husband working nights…an after-work run isn't any easier!
So, I'll just have to see. As long as I'm running, that's the important thing. Im actually looking forward to having a true "plan" again. I must confess…I like structure. 🙂 And hopefully with all this extra exercise, I'll lose these last 10 pounds! (Actually, I'll be happy if I could just lose five right now.)
So that's it for now! It will probably be a couple of weeks before I come back, because I don't expect to get my Christmas cards done until December 24th. 😉
Thank you so much for reading! I'll be back as soon as I can!