If you wonder why it took me five days to get to this, well, it was a pretty eventful race!  So eventful, I wanted to capture it all, and that meant that I wrote a novel. 😛 I tried to trim it down, but it's just so hard.  I've finally given up, and I'm just going to let you have the entire story and decide for yourself what you want to read.  But…I'm going to give it to you in parts, because I'm feeling guilty about not having anything posted yet, but I still haven't finished the last part. :/  So…here is part 1!
April 26, 2015: Pre-race
As it turns out, 4am comes early. 😛 I had an English muffin with butter and jam, and I took time to enjoy a half cup of coffee and even fold some laundry.  I had made a list of about 2 dozen things to take with me that I checked off as I packed them.  I also took the time to make a list for Jamie, since he was going separately with his dad to give him (and his dad) time to sleep in.  Since Jamie was the last runner in my relay "pace" team, he wouldn't be starting until around 11:00am, so no need for him to be up too early!
The race starts and ends at the University of Toledo, about 40 minutes from my house.  I had arranged to meet my first and third relay runners (who are good friends and were traveling together) at 6am, so I left right about 5:15am. Unfortunately, the marathoners and half-marathoners for this race all started together, and the 5k runners were just 15 minutes later, so there were about 5200 runners looking for a place to park all at the same time!
I found a spot, though, and Ann (runner #1) and Toddra (runner #3) had just pulled in a few minutes ahead of me.  (For those who have been reading my blog for a while, Ann and Toddra are the two women I ran the Paczki run with last year, and then they joined me for part of my big 20-miler a few weeks later.)  Thankfully, we parked very close to each other, and it was easy for us to find each other. I gathered up everything I thought I needed and we headed out to the race start, which was probably a quarter mile walk.  It doesn't sound like much before the race, but I couldn't help but mentally groan over what that would feel like afterwards. 😉
The other two relay runners, my friends Renee (runner #2) and Jessica (runner #4) were also driving together.
The downside to the Toledo relay is that there are no shuttles.  I didn't realize this until a week before the race, and I was panicked at wondering how they'd all get to their exchange points and then later, back to their cars. Late Saturday night, I found out that they had all been in communication with each other and were planning to do a "relay van" scenario where they would all travel together from one exchange point to another, similar to how a Ragnar Relay works.
Now, to really understand the dynamic here, you have to understand that these four women did not all know each other.  Ann and Toddra knew each other, and Renee and Jessica knew each other, but neither pair had ever met the other pair before Sunday morning.  So, when I found out that they were all going together, I was a bit nervous.  I mean, obviously they're all adults, and they'd all be fine, but I really hoped that the relay experience would be enjoyable for all of them…and traveling around with strangers all morning might not be the most enjoyable experience for some people! I guess it's just the extrovert in me, always trying to make sure that everyone in the group is comfortable. :p
We found everyone and introduced ourselves, and I was only moderately concerned about leaving these four strangers to hang out together in a car for the next five hours. 😉  We did get a nice pre-race picture, though.
Ann started the race with me.  She's a five-(soon to be six!) time marathoner, and she's quite speedy (to me, at least!).  I know she ran a half marathon recently at a 9:30-something pace, in really, really tough conditions!  She's currently training for a marathon in June and she's a very dedicated runner!  We managed to get a pre-race picture before we headed to the starting corral.
We lined up near the 4:55 pacer, since the place was packed.
 Man that's a lot of people!
Soon the gun went off and we were on our way.  I had signed up for the app that gives race updates, and I even bit the bullet and allowed it to post to my Facebook wall.  That was kind of a leap for me, since it meant that everyone would know if I was doing well or totally sucking, all morning long, ha ha! According to my wall, I started at 7:08:28 AM.
Before the race, I had messaged all the relay runners with some general instructions for helping pace me:
My goal pace was 11:04 to 11:10, and I wanted to be kept to that unless I was dying, and if that actually happened, I would let them know. Otherwise, they were to keep me on pace.
I planned to walk through every water station, but only for 10-15 seconds max.
Jessica had asked me if I wanted anyone to carry anything for me to have while running, and I had asked for everyone to bring along some tissues, since my nose runs constantly in the cold. (I later added my shot blocks to that list.)
I asked them all to take pictures if they had the opportunity, since I would not be able to. (And they did AWESOME—all the pictures you see from the race here are taken by them!)
And last but most important, I wanted to make sure everyone knew that I wanted them to talk to me! I have a hard time talking when I run, but I'm an extrovert and therefore can't stand silence among two people. 😉  So, I encouraged them to talk to me about anything and everything—it was their chance to completely monopolize the conversation, ha ha!
Leg 1 – Ann
Ann and I are friends from hockey—our older boys skated together for a couple of years before the team folded in spring 2014.  When I learned she was not only a runner but a multi-marathoner, we found ourselves always talking about running when we saw each other at the rink, and it made perfect sense to ask her to be part of my relay team!
We started out running through the University of Toledo campus on the north side.  It was very pretty, but at that time, it was also pretty cold (37 degrees).  I had on my gloves, along with my usual running jacket, plus my long-sleeve Under Armor shirt and some Capri workout pants.  So, while my fingers were completely numb, otherwise, I was pretty comfortable.   Ann chatted with me as we ran through the neighborhood north of campus, and we were struck by both the amazingly beautiful homes and the crowd support.  Despite the cold, a lot of the homeowners were out with signs, cheering loudly.
There were a ton of signs—tons!  I had seen pretty much all of them before, but they still make you chuckle the second or third or even fourth time.  "Hurry up, the Kenyans are drinking your beer!" was funny.   I do love the "I'm proud of you, random stranger!" signs—those always make me smile.   The one sign I saw that was new to me and made me laugh out loud was: "This seemed like a good idea four months ago…"  It's true, lol!
Ann ran the first 5.1 miles with me, and she was lucky enough to get me in the early stages. 😉  Our average pace for that time was right at 11:04 according to my watch, and I was feeling good.  Ann kept me entertained with interesting tidbits about her job (she is an engineer, which is amazing to me [the science hater]) and stories about hockey.  The more we ran, the more impressive the houses became.  Once we got to the town of Ottawa Hills, we were pretty awestruck at the neighborhoods.  There were still plenty of spectators, and we were very impressed with how welcoming these folks were about having a marathon running through their neighborhood.  We saw one teenager hanging out with his mom on the lawn in a fuzzy, very purple bathrobe, and that made us laugh.
One thing I did ahead of time that turned out to be a great idea was this:
 That's my water station list.  I wrote down the mile marker where each water station was supposed to be, then I taped it over with packing tape (my makeshift lamination method!).  I can't even begin to describe how helpful that simple little tool was!  In all the races I've done, I've never plotted out where the water stations were beforehand.  Even for my first marathon!  I always just kind of assumed they'd be every couple of miles and that I'd find one fairly close when I needed it.  You know what—that's not actually true most of the time!
So I created a cheater sheet, and it was, if I do say so myself, brilliant. 😉 (Yes, I'm sure many other people have done this, lol.)  With my plan being to walk through every water station, it became vastly important to me to know when the next water station was, especially in the later miles.  It got to the point where, as soon as I finished passing through a water station, I would look at my cheater list to find out where the next one was.  Not that I was desperate for breaks or anything. 😉
When we got to the first water station at mile 1.5, I grabbed a cup of water and walked through it, counting to myself as I did.  When I got to 12, I started up again, and I continued to do that throughout the race. I was really proud of myself for sticking to my 12-15 second stops, especially at the end!
As we neared the end of our time together,  Ann began to tell me the story of her younger son's catechism class. It's a family class, where the kids are in one room and then the parents are in another, and everyone receives some instruction.  She said that recently, the parents were given an assignment revolving around a star.  The start had a word or phrase on each point, and they had to write something for each of the points. I can't remember what the other four were, but one star point was for someone who inspires you, and Ann said she wrote my name there.  This surprised me, but her explanation really humbled me: she said she is inspired not only by my determination, but also my positive attitude, and the fact that after she sees me (usually at the rink), she always feels inspired whenever she leaves me. This was surprising and humbling to me, because Ann is one of my inspirations—she's a five-time marathoner who has two boys in hockey and a full-time job just like me, so she pretty much does all the same things I do to keep her family running smoothly and train for races, but she's been doing it way longer!
On the other hand, I really do believe that my job in life is to be a positive influence on the world, so to know that I've accomplished that in some way, and especially that it is seen by someone I admire so much, really made me speechless and happy.  And a bit emotional…as I said to Ann at the time, "Really? Really?  We're not even at mile 5 yet, and you're already making me cry?!"  Ha ha!  Truly, though, that was one of the best memories I have of that 26-mile run. 🙂
Soon, it was time for the exchange at mile 5.1.  I pointed out Renee to her (remember, she'd only met her once, for about 5 minutes about an hour earlier, ha ha!) and then I said goodbye to her as she ran up ahead a little to pass off the relay belt (it had the bib with the chip on it for the relay).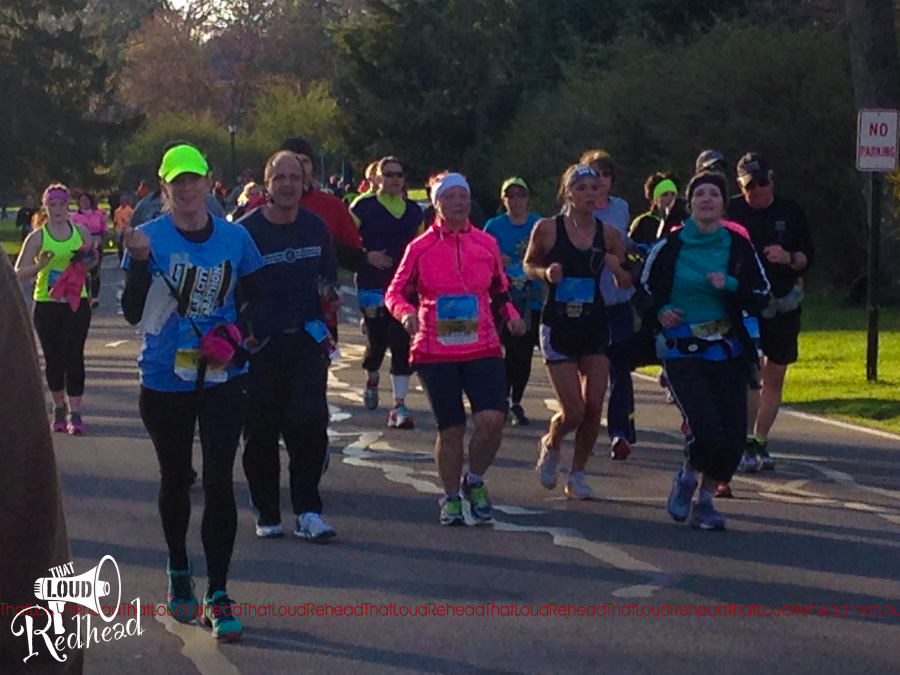 Ann is on the left with the blue shirt (that's the race shirt) and the bright yellow hat, and I'm on the right with the teal shirt under a black and white jacket, looking like I'm really pushing myself, ha ha!  Here's a shot of me as I passed the exchange point.
Ha, still smiling after only 5 miles. 😉
According to my Facebook wall, I had a great first 5 miles.  At the 3 mile mark, I was running an 11:14 (probably because the crowd at the beginning was pretty thick), but by the 5.1 mark, I was doing a 10:51. That can't be accurate, because my watch started measuring fast (ie, it had me hitting 5 miles about 1/10th of a mile too soon), and yet it still showed me at an 11:04 average. So I'm not sure what was going on there!
Leg 2 – Renee
Renee and I attend the same church, and we've been friends for over ten years.  She has three boys, two of whom are the same ages as my boys, so we have always had plenty in common.  She's also a multi-marathoner who (if I may brag on her behalf) just ran the New York Marathon last year with a 9:30-something pace!  I love to talk running with her, and she has been a major supporter of my running.  I remember her quiet encouragement when I was getting ready to make the transition from walking to running. She's been there for me every step of the way, so of course she had to run beside me for my second marathon!
When we started out, she asked me how I was feeling, and I told her I was doing okay.  At that point, I was, actually.  We continued to run through Ottawa Hills and marvel at the beautiful homes.  I remember running by the river later, when we were in the Wildwood Preserve, and we both commented that it very scenic. Right after we crossed over into the preserve, at about mile 7, Renee managed to get a picture of me, which I made sure to smile for.
It really did turn out to be a great picture, but I laughed and told her that would be the last smile she'd get out of me.  We joked that for the next picture, I might flip her off. 😉
Renee and I chatted a lot…well, she chatted, and I responded with short phrases, lol! We talked about her boys, and their sports and their schools.  We also discussed the recent discovery of Chelsea Bruck's body.  This sad event happened in my town, and we both commented how frightening it is to know this happened so close to us. We talked about how it makes us afraid to run alone or in the dark, and also how it makes us afraid to send our kids even half a mile down the road by themselves.  And yet—we both agreed that we know that we need to let them go at some point.
We talked about all kinds of other things, too.  It was nice to get an update on her life. We don't see each other often enough, and even when we do, we're always rushed.  But we did have 6.1 miles to catch up! 🙂 She was a wonderful pacer, as I knew she would be.  She's such an experienced runner, but she's also got a wonderful, calm personality that always makes me feel more peaceful when we're together. She was so encouraging and just such a calming factor in the face of the adversity that comes with running a marathon.
And then…there were the tissues. :p
As I mentioned earlier, one of the requests I had made of my first four relay members was to have tissues available for me.  My nose runs constantly when I run in the cold weather, and I usually need about 1 tissue per mile.  Normally, I'd actually carry them all with me, but I didn't relish trying to shove 26 tissues in my pocket, lol!  So, I asked each runner to have enough for their leg.  I had a stash at the beginning, so I didn't have to take any from Ann, but by the time I got to Renee, I was running low and asked her for some.
Now, as you might imagine, after two winters in a row of marathon training, I'm pretty much a tissue expert. I know that Kleenex Ultra Soft are my favorite because they hold up very well, Puffs Plus with Lotion are pretty good but a bit messy due to the lotion, and I can tell you that hotel room tissues and the tissues that come in the little travel packs are absolutely useless.  When Renee gave me the first tissue, I discovered pretty quickly that it was a travel pack tissue, since it fell apart almost instantly.  Still, I wasn't about to look that gift horse in the mouth, so I just did the best I could, but I had to ask for another one again fairly soon.  And then another…and another.  I don't know what possessed me to do this (I was probably just tired), but at about mile 9, after yet another tissue disintegrated in my hands, I blurted out, "Renee, I love you, but your choice in tissues sucks!"  She laughed, and I apologized for being so harsh, but then I explained my tissue theories.  She apologized for having crappy tissues, but I promised her I would survive. 😉  Thankfully, we were able to laugh about it later.
We were running on the University Parks trail, and we had to cross a main road a couple of times.  I was really impressed with how well the crossings were manned and very thankful that the volunteers did such a great job keeping us out of harm's way.  I wanted to thank them all, but you know how it is when you're running a marathon—it's easy to be cheerful and grateful in the first 1/3, but it gets pretty much impossible the farther in you get.  I suppose it kinda sucks to be a volunteer in the later miles. 😉  Thankfully, all of my relay runners did thank volunteers the whole way…that's what I love about runners—they are a grateful lot!
While running, Renee periodically asked me how I was doing and if I needed anything.  She asked me if I ever do any stretches during a long run, and I told her I hadn't ever done that before.  She mentioned that she likes to stop and take some time for stretches because she finds it really helps.  About mile 9, my left IT band started hurting (this is the same injury that postponed my first half-marathon in 2013). It wasn't terrible, but I could feel it, and I decided that when we hit the next water station, I would stop and take the time to do some stretches.  Thanks to my cheater sheet, I knew that it was at 9.9, and sure enough, I stopped and did about 10 seconds of stretches on each leg. (I didn't get water this time.) Just that little bit of stretching actually made a difference!  See, I told you Renee is a running guru. 😉
Another mile later, we were nearing the 2nd exchange, which started leg 3.  I was feeling a bit more tired at this point, naturally, but according to my wall, I was at a 10:55 pace—after 11 miles?! Hmm…again, I don't think so. By this time, my watch was .2 miles fast (ie, when the marker said 10 miles, mine said 10.2), but my watch still said I was doing an 11:05 pace.  I'm not really sure who to believe?!
At any rate, when we got to the exchange point, I thanked Renee and told her I'd see her at the finish line. She cheered me on as she removed the belt and got ready to pass it off to Toddra.
I look like I'd run about 11 miles here, don't I? 😉
Leg 3 – Toddra
Toddra was running the 4.75 mile leg with me, and I'll admit, I was a bit worried, because Toddra is the person I know the least.  I met her through Ann, and I've only actually been in her company a few times. (Once was for a race where we drove together, so we got to know each other pretty well during the car ride.)
Turns out I didn't need to worry—Toddra was awesome!!  She kept up a steady stream of conversation the whole way, and I loved it!  I learned new things, got to hear some interesting work stories, and I just learned a ton about her.   She talked about her kids, her mom, her husband, and told me so many stories that had me laughing.  Okay, not laughing, but grunting with humor once or twice.  Now that I'm thinking back on them—and I have more breath in my lungs—I'm totally laughing!  (Her vacuum story was a riot.)  She told me how she got started running, what she kind of running she does now, and the races she's thinking about doing this year.  There was tons more, too!  And then, toward the end, she said something that really did make me laugh. She informed me that she and Ann have a rule about their runs: "What's said on the run, stays on the run."  ROTF!! So, I'm sorry, but I can't tell you any of her stories. 😉 But know that they were great and they kept me entertained from miles 11 to 15. 🙂
When I first got to Toddra, we were heading north along King Road, and there was a pretty good headwind coming at us. As Toddra chatted away, I found myself really struggling up that road, but I maintained my goal average pace (at least, according to my watch).  Once we got into the neighborhoods, it got better, and I even had my fastest mile of the run (10:54) for mile 13!
Toddra managed to get me across that all important halfway point. You know that a great deal of running is mental, and for me, crossing that halfway point has tremendous mental, if not physical, benefits for me.  When we crossed the halfway point, we were in a neighborhood, and although there wasn't an actual timing mat, there were volunteers there, giving us time and pace.  That sounds like a really great idea, in theory, but the problem is that they're giving you the time and pace from the exact start of the race.  I could tell based on the time on my watch that I had crossed the starting line a little more than 4 minutes after the official race start.  So, every time I heard my "pace" from a volunteer, it sounded horribly slow!  I believe that when I hit the halfway point, they told me my pace was 11:24.  Nu-uh!!! My watch said 11:05! It was kind of demoralizing, and while I know their hearts are in the right place, I honestly think that's not a very helpful tactic for anyone other than the elite runners who actually do start when the gun goes off.
Toddra and I ran together for about 55 minutes, and she was truly a ton of fun.    I look forward to running another race with her where I'm not exhausted. 😉   Oh, and another thing about Toddra…she had good tissues. 🙂  Sadly, I did not have any pictures of me with Toddra, but there was a lot going on at the third exchange point, which was at a rather fitting locale for me—a hockey rink!
Leg 4 – Jessica
Jessica and I met through Renee and Katie when they started the wine club.  She started running several years ago and has done numerous races, including a (very difficult) marathon three years ago. On Sunday, Jessica was my hero. 🙂  She met up with me at mile 15.9, right in front of Tam O'Shanter hockey rink, and she had a wonderful gift for me.  It's not something I'll share here (too much information for a blog, ha ha!), but it was definitely appreciated.  About that time, I needed to use a bathroom, and Jessica, bless her heart, knew right where one was.  We had to go about another 2/10ths of a mile to get to it, but oh what a bathroom it was! We were in a park, and we found a park restroom that was, blissfully, unlocked, and I rushed in.  What joy—a real bathroom! No trying to maneuver around in a stinky, gross porta potty!  This made the stop MUCH faster, and I'm pretty sure I was in and out in less than 30 seconds.  Hooray!
As we were running through the park, Jessica was quiet, but then she piped up and said she was sorry for being quiet, but it was just so beautiful that she was really enjoying the peacefulness.  I assured her I was okay with quiet by this time.  I had already run 16 miles, but I still had 10 to go, and I was getting tired.  After the park, we turned out onto W. Sylvania Avenue, and ended up in a headwind. Suckage. But we persevered. We came to a decline as we approached the Ottawa River again, and Jessica gave me encouragement about the upcoming descent.  But then I looked beyond it and saw that once we went down, we then had to go back up, and I complained about it.  Jessica was so awesome, though; she just quietly told me not to focus on that, but to enjoy the decline for now.  Then, she tried to help me by telling me that soon my pool would be open and I would be relaxing by it, but I had to stop her.  Renee had tried something similar, and I had to quickly put the kibosh on that, because talking about relaxation just made me want to stop and be at the end! Ha ha!
Finally, we turned south and started heading into the preserve again. By this time, we were in the middle of mile 21, and I had a realization.  For the entire run, I had been telling myself not to go to fast, because I didn't want to tire myself out and not be able to finish strong.  At about mile 20.5, I realized that, while my legs were hurting, my aerobic capacity was actually doing okay.  That's a far cry from last year, when I hit mile 20 and felt like I couldn't breathe (and my legs were killing me!).  At that moment, I said to myself, "Okay, this is it—if you have it in you, now's the time to stop holding back and start going faster!"  I reminded myself that most of running is mental, and there was no reason that I had to hit "the wall"—at mile 20, or anywhere.
Much to my own astonishment, I found the energy to start going faster.  Not a lot, but enough that mile 21 was an 11:00-minute pace, and my third-fastest mile of the entire race!  I honestly think that was my proudest accomplishment of the day—I overcame the mental barriers of hitting the wall around mile 20 (which is exactly what happened to me last year), and from that point on, I never even thought about not finishing.
My average pace (according to my watch) at that point was 11:10, and although I know that wasn't the official time (since I was close to .4 miles off by then), I figured that I was still in a good position for sub-5.  That's when I started doing mental math, looking at the time on my watch (at least I knew that was on target!), and doing calculations to see how far I had to go, how many minutes before I hit 5 hours, and whether or not I could meet my goal if I did 12-minute miles from there on out (I had to use a whole number to do the math in my head, and I knew 11 minute miles weren't likely).  I figured out that I would be cutting it close if I did 12 minute miles, but I just convinced myself that all I had to do was run the last 5 at less than 12 minutes, and I'd be okay!
Right about the time all this was going through my head, we approached the final relay exchange.  Jess did a great job getting me there, reminding me of the sweet face I would see soon (Jamie).  Meanwhile, all I could think of was, "Did he make it? Did Jason [my husband] get him here on time?" Then Jessica pointed out where JJ was standing, and I heard her tell him to say hi to his mom.  At that point, I knew Jamie had to be there somewhere, and I felt a great sense of relief to know that he'd made it.  Jessica gave me some last encouragement and then she left me to hand off to Jamie.
Bless Toddra, who even got a video of the hand-off!
Did you see the hint of a smile there when I heard them calling my name? 😉 I'm not sure, but I think I heard my friend Katie in there.  I do know that I saw Katie and her husband Jerry at every exchange, and it always brought a smile to my face.  Jerry especially made my day—who doesn't love it when a guy wearing a rainbow tutu calls out your name? 😉  I wish I'd gotten a picture with him afterwards, because he was absolutely stunning!
This is almost 5000 words, and the last leg, like any marathon, is pretty important, so I'll save that for a different post.  Coming soon…the Glass City Finish! 🙂
Thanks SO much for reading!!!