I survived!  🙂  In fact, I didn't just survive—I had a great time!  Who would have thought one would say that about a 13-mile run? 😉
The Monroe Half Marathon is so close to me, I didn't even have to get up early, but I did so I could have some coffee, do the dishes, fold some laundry, and relax a bit.  Meg and I agreed to meet at 8am, but anyone who knows me knows that 8am to me is about 8:10am. 😉  I got sidetracked and left a little later than expected, but it only took me 20 minutes to get to the race start, so it was all good.
The race started at a local business known as Tenneco.   They're an auto supplier and a fairly large employer in our area.  They market the Monroe Shocks and Struts brand, and that's pretty well-known, I think!  The campus is quite big and allowed for plenty of free parking.  It even has a large fountain out front, which was pretty neat to see when we were rounding the corner to the finish line.  I think every race should end with a big fountain! 🙂
We lined up toward the end, because Meg decided she wanted to do run/walk intervals of 45/30 (seconds). I've never done that for a race before, but I was game.  As I mentioned in my last post, I hadn't trained for this race, so I was just looking at it like a spontaneous "long run" of 13 miles.  She had an app on her phone that announced our timing (I heard "REST!" and "GO!" over and over for three hours, lol!).  I won't lie, the run/walk method really messed with my head.  Mostly because there were times when Meg would say we should deviate from our little "trainer guy," and then I would get ALL confused—"He's telling me to run, but I have to rest now? What are you doing to me?!" It doesn't take much to confuse me, I know. :p
We made sure to get a starting line selfie: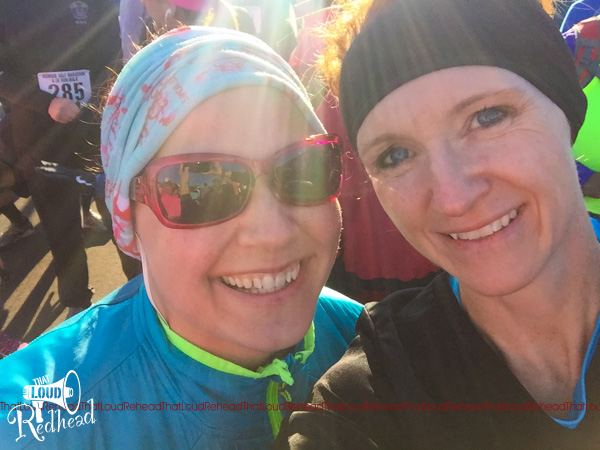 And then we were off! As we started out, we came out of the Tenneco campus and onto the main road. I was shocked to hear my name almost immediately, and I look to my right to see my friend Dave, someone who has been encouraging me in my running for years, who was volunteering on the course.  It was really cool to see someone I knew cheering me on from among all the volunteers!
We ended up toward the back of the pack pretty quickly with our run/walk method, but that didn't bother me a bit.  I really wanted Meg  to have a good race, so I told her I would follow her lead and that she would set the pace.  I found I was able to keep pace quite well, and I will admit, the walk breaks were pretty enjoyable. 😉 Turns out, it's really fun to run for a little bit, and then walk, over and over again.  🙂
Since the pace left me feeling pretty good, I used the opportunity to take plenty of pictures for Meg to use on her blog later.  I sensed that she was nervous about being so far back, but I just did my best to keep conversation going and to help keep her mind off the run.  Meg's husband plays hockey, and she has two young boys that she says will eventually play, too, so I took the opportunity to give her all the sordid details of the happenings of my boys' current seasons. Once I get going, it's pretty hard to shut me up, but Meg didn't seem to have a problem listening to all the drama and intrigue that goes with youth travel hockey. 😉
I felt like I was really monopolizing the conversation, and I started to feel guilty.  At one point, I told her that I should probably wrap it up and finish with the Readers Digest Condensed Version, but she answered, "Don't do that! We still have 7 miles to go!" Ha ha! So she got the whole, unabridged saga. 😉
Besides hockey, I also took the time to show off my adopted hometown. I'm really proud of Monroe, and it was great fun to show off some of what makes the city great.
We started out on the south end of town, in the Township, which is actually more rural.
After running along that road for a while, we ended up in town, and I had a real surprise at the 3.5 mile mark.  We been reading the signs as we went along, and laughing a lot, because they were really great.  I wish I had taken a picture of some of them, because now I can't remember what they said, but I know they were funny.  As we got to the 3.5 mile mark, I remember seeing one in particular that said, "1300 calories burned – – what's for dinner?"  I thought that was SO clever!  And of course, I immediately started spouting off to the two volunteers all the things I was going to eat for dinner: "A hamburger with lots of mayonnaise, french fries and…" At that point I actually looked at the volunteer who is holding the sign and busted out laughing–it was my friend Katie! Jessica, my other friend and former relay runner, was standing next to her. Of course, I knew they were going to be at mile 3.5, because I'd talked to them, but I'd lost track of where we were, and I was just really enjoying the mental images that Katie's sign had evoked of all the food I could eat later!  I laughed when I realized it was her and said, "Wait, I know you!"  They both started laughing and said, "Didn't you hear us calling out your name?!" Lol, I swear I'm the world's most oblivious runner. I waved and thanked them, and then we kept going.
Because I'm a history major, you knew that Meg was going to hear all about how old the city of Monroe is (third oldest city in Michigan, behind Detroit and Sault Ste. Marie).  I absolutely love the historic architecture in Monroe, and I made sure to show off all the beautiful houses and incredible buildings.
As we ran, I tried my best to give her a guided tour. No true tour of Monroe is complete without discussing General Custer, our infamous hometown boy, but unfortunately we didn't get close enough for me to point out the Custer statue. I did get to show off some of downtown, and she got to see how quaint and old-fashioneded it is. We have an historic courthouse, and a lot of old downtown brick buildings.
I told her about Martin's Shoe House, the oldest continuously family operated shoe store in the United States (I think). I told her about St. Mary's Catholic Church, over 175 years old (!), and some of the other old churches. We also ran near my church, which I made sure to point out.
After we crossed over the river, we ended up in some really nice neighborhoods. Between the amazing historic homes and the beautiful colors still on the trees, it was quite an enjoyable run. We zigzagged a lot in the neighborhood just north of the River Raisin, and I was enjoying seeing all the townspeople who came out to cheer on the runners. At one point, we passed the school, and there were a bunch of high school girls from the school that Jamie will attend next year. I cheered them on and slapped a few high-fives.
A little while later, we ran by another school, and I saw another friend who began calling out my name! She was holding a sign that said, "Walk if you support Trump!" I totally busted out laughing! And did not walk. 😉
I was absolutely amazed by all the crowd support and volunteers. I just can't even tell you how many people were out!  So many people were there just to cheer you on, it was incredible how much community support there was for this race.  But as I told Meg, we have a small town that has a big heart!  As we ran through the neighborhoods, I pointed out all the nice homes and the different architecture.  I made sure to get some pictures of her, too!
At one point, we got to run by the country club.
You can't see the neat old building, but you can certainly see how beautiful grounds are.  At this point, we were running on a fairly main road, and avoiding traffic became a top priority.  As we approached the country club parking lot, I was in for another surprise–once again, I heard someone calling my name! My friend Renee was there with two of her boys, and it was so great to see them.  I gave Renee a (sweaty) hug, and then we continued on.
Not long after, we turned off a main road back into the neighborhoods.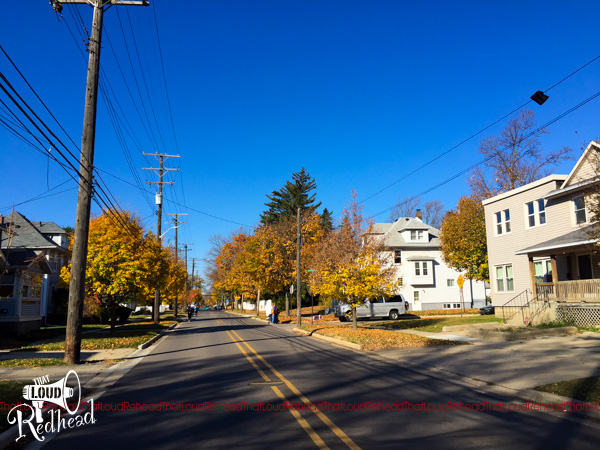 Still plenty of volunteers and crowd support, even for those of us near the end of the race.  It was so great and so uplifting!  Still lots of funny signs, too.  (Gosh I wish I had taken pictures!)
We continued back down to the main part of town, turning the corner toward the river.
You can see the police car behind us–they did a great job keeping us safe!  Then we crossed back over the River Raisin.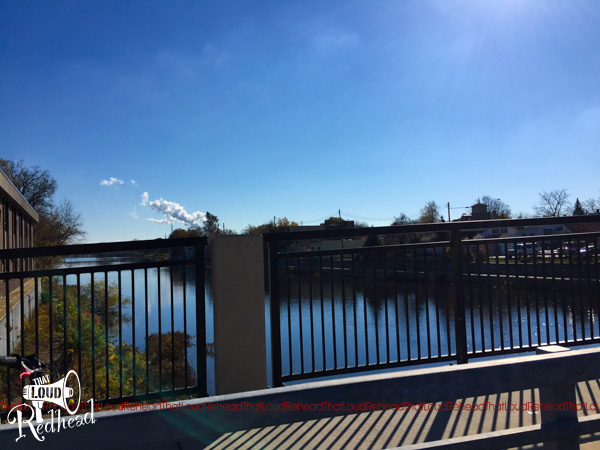 As soon as we crossed, they had a porta potty, and I took a moment for a pit stop.  Luckily, I was able to do it fast and  then catch up with her.  We were running along the river at that point, by a park, and it was quite scenic.
There's a bridge in the distance there that you can't see, which is about 100 years old, and there used to be one right next to it that was equally as old.  Poor Meg got to hear ALL about how they replaced the first old bridge with a brand new one earlier this year and what a big deal that was for our little town. Ha ha, she may have nightmares about that bridge. 😉
From that point, we turned and headed back down Kentucky to Hull, which is how we'd come up from Tenneco.  Meg told me her knee, which had been giving her trouble in the last few weeks, was really starting to hurt, so we changed to a 30/30 walk/run ratio at about the 11 mile mark.  She apologized and told me to go ahead if I needed to (I had mentioned I had a baby shower to attend at 1pm), but I couldn't care less.  I was feeling pretty good, and in fact, the only challenge I had at the end (starting around mile 10) was my feet. I have flat feet, which has been helped with the use of good running shoes the last few years (as well as losing all the weight), but spending a long time on them, even in good shoes, can cause me pain.  I've lived with it all my life, though, and this was definitely not the worst arch pain I've dealt with, so I just kept going, intent to get to the finish line with Meg.
When we got about 200 yards away, I told Meg I would run ahead so I could make sure to get her finish line picture.  🙂
Afterwards, we grabbed our medals (which are pretty cool–and they matched my skirt!) and got a finish line photo.
I hung out for a little bit with her, but then I did have to get going for the baby shower, where I made sure to have one of these.
Yum!!  Just one though.  Although I burned 1316 calories with that run (yahoo!), I was actually fairly tired later in the day (go figure, ha ha!).  Because of that, I ended up not using all my extra calories, and was left with about 800 to spare–what is wrong with me?! Ha ha!!
Overall, it was truly an awesome experience, and I'm SO glad I did it.  Meg is a great running partner, and she was so, so patient to listen to me go on and on and on about hockey and history and so much more…that poor girl knows more about me than she probably ever wanted to. 😉  In addition to the great company, the race was incredible–I was SO proud of my city, and so proud of the people who came out to support us.  From race organizers to law enforcement to volunteers to general populace, they made us feel so welcomed and also so encouraged.  Even though we were near the back of the back, we never felt like it.
If you want a half marathon to run next year, I would definitely recommend this one!  And if you do decide to run (and you're not real speedy, ha ha!), call me and I'll come run it with you!
Thanks for reading!