I think I need to update my blog header. You know, the short description of my blog that reads, "Weight loss, running, photography, life…seasoned with hockey mom enthusiasm"?  I think I need to add one more topic: weather! 😉 
If you read my blog with any regularity, you know that I love weather. I am the proud owner of a (very expensive) weather station, and I love to talk about the extreme readings I get. My blog is sprinkled with pictures of my weather station readouts, showcasing the frigid cold below zero temperatures that occurred when I trained for my first and second marathon, along with every notable when gust I've had since 2011. 😉 
Speaking of notable when gusts, we had some last week! I'm sure you've probably heard all about the crazy wind storm we had on Wednesday. I was walking through the halls at work, checking my weather station details online (yes, it uploads real-time data to the web so I can access it from anywhere *weather nerd*), and I was shocked to see a 60 mph gust! That's the highest reading I've seen since I bought my first weather station in 2004. I promptly took a screenshot and posted it to the Twitter feed of one of our local meteorologists. He immediately retweeted it, which tells me that it was a pretty rare phenomenon! I think the highest gust in Metro Detroit ended up being around 70 mph…I can't imagine being out in that! 😮 
While high winds aren't unheard of around here, what was unique about Wednesday's weather is that the strong winds lasted for a prolonged period of time. I stalked my weather station data all afternoon while sitting at my desk at work, and I was astonished at the constant gusts between 50 and 60 miles an hour. That's a lot of strong wind for a long time! I of course posted about it on Facebook, and later in the afternoon, my neighbor replied, "Check your texts. That gust was not a friend to us."
She had been gone all afternoon, but discovered when she came home that the afternoon's winds had taken down two-thirds of her fence, and, sadly, my playscape. Here's what the playscape looked like when we put it up 8 years ago: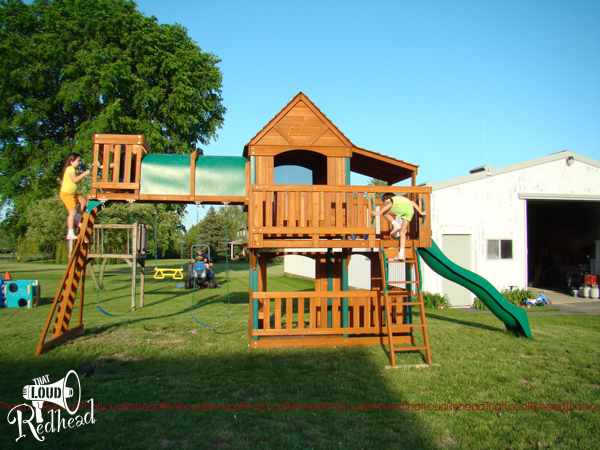 Here's what it looks like Wednesday when I got home: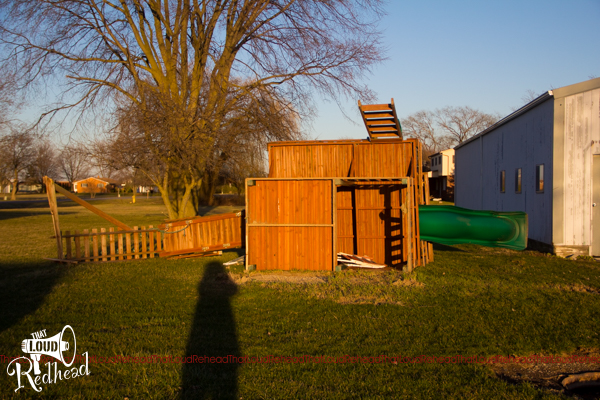 🙁  Not only is it very big and solid, it was anchored down. I can't even imagine what it would have been like to watch it go over!   😮 
The truth is, we've had the play scape since 2009, and my kids have outgrown it, but it was purchased with the first corporate bonus I ever received, and after watching my kids play on it for the last eight years, I was sad to see it go down. 🙁 
While I was looking at the pictures that my neighbor was sending me of her fence and my playscape, she was also telling me about the road closures that I would face on my way home due to all the downed power lines. In the middle of that conversation, I got a phone call from Jamie, my older son. I knew he should be on the bus at that point, so I was concerned. When I picked up the phone, he informed me that his bus was stopped on our road, about a quarter-mile down from our house. The bus driver had had to literally slam on her brakes to avoid running over a live wire that was stretched across the road in front of the house of one of our neighbors, sparking and setting their lawn on fire. 😮 I told him I would call 911, but he told me that the bus driver had already done it, and now she was attempting to turn around to find another route. He knew his brother's bus would be not long behind, so he was calling to suggest that I warn the bus driver.
I hung up and tried to call the other bus driver, but he didn't answer. A couple of minutes later, he called me back, but when I picked up the phone, I didn't hear anything except for kids screaming in the background: "Look, look, it's on fire!" "The lawn's on fire!" "The road's on fire!"
I was immediately panicked, wondering what had happened to the bus driver, and then I heard a very calm voice dryly proclaim:"I think I figured out why you were trying to call me." One thing about our elementary school bus driver: it takes a lot to frazzle him. Which is a good quality to have in a bus driver!
I asked him if everything was OK, and he said it was, but that he was going to have to try to figure out how to turn the bus around and find another way. One challenge to living in the country: there aren't a lot of options to getting around.
All in all, it was a pretty crazy weather day in Southeast Michigan. We were very blessed to not lose power; thanks to that downed powerline just down the road, everyone south of us lost power, but my neighbor across the street and I are on a different line, apparently, so we still had power. I believe it was Friday morning before the rest of our road got their power back on. 
Another area that lost power was JJ's  school. They didn't get power back until early Sunday, which meant two days off school for all the kids. However, it also presented a larger problem: our school auction was scheduled for Saturday night, and it is held in the school gym. Kind of hard to serve 300 people dinner and get them to bid on auction items when you have no power!
Late Thursday afternoon, I got an email from the auction chairperson: the decision had been made to move the auction to a local banquet hall, about 10 miles down the road from us in town. This presented numerous problems, including moving all of the donated items to the new location, of which there were many and some were quite large.  In addition, that meant we had to notify 300 people that the location had changed! I am the dinner ticket chairperson, so I had all the contact information, and therefore it was my responsibility. Plus, I really didn't want to be one of those people doing all the heavy lifting and hauling. 😉 
It was quite a feat, but thanks to social media, email, and my cell phone, I was able to ensure that everyone got the notice of location change by Friday night.  And no one complained about going to the new location! (I was worried that some of our old-time parishioners wouldn't be too keen on leaving our neighborhood.)
On Saturday, I got up and ran 12 miles with my girlfriends.
It was 15° and surprisingly windy, but we pushed through. I was damn tired by the end of it. But I still had an auction to go to, and because I am in charge of all the dinner tickets, I always volunteer to check people in, in case someone lost their tickets or needs to pay me directly at the door. 
One good thing about this year's auction is that I was much less stressed. Last year, I not only did dinner tickets, but I took on the responsibility of four different items to be bid on, three of which were pretty large and labor-intensive. In retrospect, I can see now that that was just way too much. I was stressed, and when things didn't go quite as I planned, I pretty much had a mini breakdown after it was over. This year, I just did my simple basket of jams, although I did take the time to add a little more to it than I usually do to make it a little more enticing.
I was pretty proud of it, and after it was done, I almost didn't want to give it up. 😉 
Check-in is always stressful, because everyone comes at once, and someone always forgets their tickets, or was sure they had paid when they actually hadn't, or needed to pay but didn't have exact change, etc. etc. But my check-in buddies and I managed to get through.
We have it down to a science!
After check-in, I was able to relax and enjoy most of the auction.  It was a Mardi Gras theme, and the decorations crew did a fabulous job, especially considering they had to completely redesign the decorations based on being in a totally different location. 
I realized Saturday afternoon that I had no idea what to wear to a Mardi Gras-themed party, so I went through my closet and discovered that I had the perfect attire for the Mardi Gras colors of green, purple, and gold…
(You can't see it under all my beads, but I have a big, bright gold necklace on.)  I bought that green dress after my second marathon, and boy have I gotten a lot of use out of it! It's a size 4, and it fits very well right now, which made me feel really good. The fact that I had quite a few people comment on how nice I looked on Saturday night also made me feel great. In fact, I had one elderly woman that I didn't even know stop me as I was walking by her table to tell me how beautiful the dress looked on me and how perfect it was with my coloring and hair. Talk about an ego boost! 🙂
I enjoyed chicken, green beans, jambalaya, a little bit of potatoes, and of course a piece of cake for dinner.
I didn't have anything to drink until after check-in was done, and then I kept it light, because I knew I was also doing check-out.  I needed all my wits about me to handle all that money!  I had a great time with all my school friends, and I also got to meet quite a few new folks, which is always great for an extrovert like me. 🙂  The auction was a great success, but I think the biggest success was that so many people came together to facilitate a major venue change with so little time, and it all turned out perfectly! 
By the time the evening was over, after running 12 miles earlier in the day and then walking around all night in my high heels, I was exhausted!  When we got home, I went right to bed.   I'm a little ashamed to admit that I actually slept right through church Sunday morning. However, after being sick last week, and then all the running and the work at the auction on Saturday, I think my body just needed a break. I don't think the kids were too bothered by missing church, because neither of them tried to wake me up Sunday morning. 😛
I had a few Fit Points left over after the weekend, and I had hoped for good news on the scale. Unfortunately, I wasn't quite as good as I was hoping: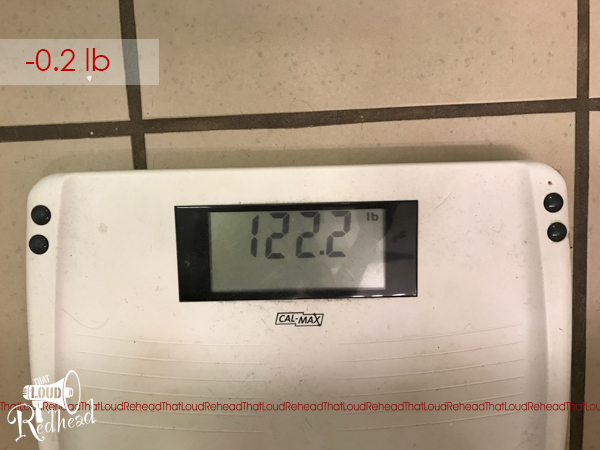 Only down a tiny bit, which is essentially staying the same in reality, but even staying the same is better than gaining, right? 
OK, that's enough weather and auction-related talk. Okay, wait, one more…in case you wondered how impressive my blown-over playscape was, I can tell you that WeatherNation thought it was noteworthy:
I love WeatherNation! 
I did finally finish my little project (which actually wasn't so little) that I was working on, so hopefully I can get my posts to be a little more regular again. Later this week, I'll give a half-marathon training update.
Thank you so much for reading, and especially for indulging my love of all things weather. 🙂