Well, it's week two post-race, and I can't say that I'm overly enthusiastic about signing up for another one anytime soon. 😛 Now, don't get me wrong; I'm still running. I'm just not running with the intent to train for something. A little part of me does miss having a set schedule to follow, because it makes it easy to wake up in the morning and just go out and follow the plan. On the other hand, I don't really miss the Tuesday speed work all that much.;)
I suspect there will be another race in my future before too long. I know that Jen, one of my three running buddies, is very insistent that we all hurry up and sign up for something now that we're done with our half. Then again, she has a wedding coming up in the summer that she will be standing up in, so she's got a pretty specific reason to keep running. One of the things I remember her telling me when we were running the half last month was that she runs pretty much because she loves food. I found that really shocking, because she seems like a pretty fit person by nature. But it just goes to show you never know about what each individual person is dealing with in their own life, health wise or otherwise.  Let me tell you, I can certainly identify with the concept of running to eat. 🙂
I got back to my usual schedule last week of running five days a week, with Thursdays and Sundays off. (Well, sort of. I'll get to that in a minute.)  Last Tuesday was my first Tuesday in 12 weeks that I ran but did not do speed work. 😮 I joke that I don't miss it, but I have to admit it felt weird, and I actually toyed with the idea of doing some kind of sprint or fartlek at the end, but then I decided that was just silly. Save the speed work for the training, and just enjoy running all the other times, right? I've been doing all my easy runs in the 10:30-11:00 range, and i've been surprised at how good it feels. Not too fast, but not too slow.
Last year, when I was doing the MAF training, I had a lot of runs where I felt down or unfilled when I was finished, because I had to go so slow to keep my heart rate low. I definitely think that the heart rate training wasn't for me. I am much happier just running at a pace that feels comfortable but not ridiculously easy.
On Saturday morning, I decided to go out and run 8 miles. I have a loop that I can run that is about eight, and I get pretty sick of doing out-and-backs, so I decided to try the loop for a change. The problem with living in the country is that if you don't do an out and back, your loops are pretty limited, and in my case, it's either 5 miles or 8 miles or about 12 miles! 😛
It was a beautiful spring day that ended up being unseasonably warm. I slept in a little and didn't get started until about 7:30. (My running girls we are all on vacation together, so I was stuck running by myself, and I didn't have anyone to motivate me to get out and get it done early, ha ha!) Although I typically prefer to get my runs done early, I did enjoy running in daylight, and being able to see some of the sights around me.
I ended up with a 10:53 overall pace for the 8 miles, and I was very pleased with that, especially since half of it had been into some pretty strong winds.
I mentioned a minute ago that I typically take Sundays off. That was my plan for two days ago, but then, on the way home from church, JJ said to me, "Mom, it's a beautiful day, I think we should run a mile to get prepared for the Strawberry Run." I had mentioned to him last week that we were two months out from the Strawberry Run 8K. He ran it last year for the first time, and it was a big deal, because it was the first time he'd ever run more than 5K. It was a pretty difficult race, since it was about 90° at race time, but he was a trooper, and finished in third place in his age group. (I'm sure there weren't too many other 10-year-olds out running in the 90° heat. ;))  He liked the medal and the Pop Tarts afterwards, and he agreed to run the race with me again the following year.
I thought maybe he might back out, but no, he's ready and willing. So Sunday, even though it was my day off, I agreed to run a mile with him. He hasn't run in months, so I was expecting a nice 11:30 pace. I gave him my old Garmin 220, which is still in very good working condition, just having battery issues on the longer runs. It turns out that giving him his own watch was just the motivation he needed. He stared at that watch for the entire mile we ran (first half into 15-20 mph winds!) and when he saw his pace, he challenged himself to keep going faster. He told me later that he was shooting for a 10-minute pace, but then when he saw that he was meeting it even in the wind, he decided to shoot for a lower pace on the way back. We ended up with a 9:28 for that mile!
I was so proud of him! And he was very proud of himself. One of the greatest joys I find in running is running with my kids, especially when I can help them meet and exceed their goals. As great as it feels to surpass my own goals, it feels even better to see my kids do it and see how happy they are in doing so. I'm really hopeful that we'll have much better weather this year for the Strawberry Run, because I know he'll want to challenge himself to do better than last year.
I mentioned last week that we had Easter dinner coming up with my husband's family, a week early due to my sister-in-law's work schedule. It was also a chance to celebrate Jamie's and my father-in-law's birthdays, which meant that I had to make a cake. I let Jamie choose the flavor, and wouldn't you know he picked lemon–my favorite! I had to whip the cake up at the last minute, because we had a surprise doubleheader scheduled on Saturday, in addition to a lacrosse game for Jamie. It turned out pretty well, although I actually forgot to get a picture of it. Visually, it wasn't that exciting, but it sure did taste good. And I enjoyed all the extra lemon cake from leveling off the two layers. 😛 I was a little worried what all that lemon cake would do to my weigh in for Monday, but I ate in moderation, and used up all those fit points from my 8 mile run, and it turned out not so bad:
I was honestly expecting a gain regardless, just because I had lost over 4 pounds last week, and that just didn't seem right. So while though it was only a small loss, I will happily take that, especially since I haven't been down below 122 in about a year!  That weight also happens to be exactly 80 pounds below my original starting weight when I joined Weight Watchers in May 2000–so once again, I can finally say I've lost 80 pounds! 🙂
And with that happy news, I'll share two more happy things from this week, both of which relate to one of my other favorite topic: photography. The first was a little positive press, literally:
My photos of Jamie's lacrosse game made the front page (and the second page) of the sports section of our local paper. I don't know why I get so excited about seeing my pictures in the paper, because it's really just a small town paper and not that impressive…but I do. 🙂
The other picture from last week that I'm rather proud of is one that didn't get any major publicity. It didn't even make it on WeatherNation last week, even though I submitted it. But I am still damn proud of it, because I feel like it's one of the best pictures I've taken since I started getting serious about photography six years ago.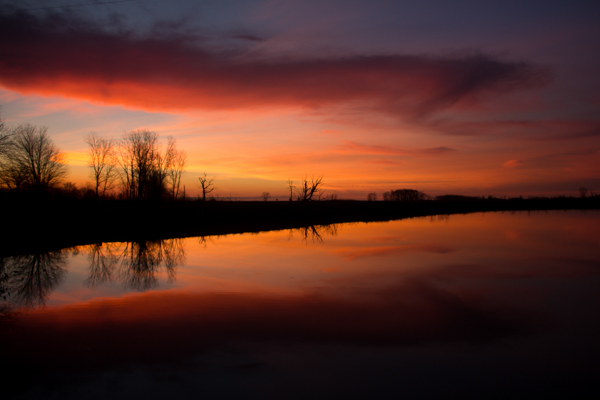 That was a random lucky shot of a sunrise last Wednesday morning. When Jamie was getting on the bus, I could see that the sunrise was shaping up to be pretty impressive, so I grabbed my camera and my keys, and headed down about a mile and a half to the water (wearing only my robe and slippers!). It was definitely worth the trip.
Thanks for reading!