I had a bit more laid-back week last week, thanks to JJ being at science camp. That meant one less sports schedule to deal with (actually two, since he plays both hockey and baseball in the spring). In addition, thanks to all the rain we had on Thursday and Friday, Jamie's lacrosse game was canceled Friday night. Considering that it was pouring rain and about 45°, you can imagine I was extremely happy about that. I would've gone and taken pictures to the best of my ability, but I was glad I didn't have to. Especially since I got up that morning and ran 4 miles in the wind and rain. That was one of the suckiest runs I've had in a long time, although my pace was pretty decent, simply because I was going fast to try to get it over with. 😛
I came home and worked on vacation pictures after work, and then I went to bed early so that I could get up and run with my girlfriends. We haven't been able to do a true group run since before my half marathon back at the end of March. Ann pulled a hamstring literally the day before she was supposed to run the half with Jen and me. What a total bummer to train all that time and then be out with an injury! She's been easing her way back, doing physical therapy, and has only been allowed just in the last week to run at all. She could only run 2 miles, per her therapist's instruction, but we made adjustments to our route such that she could run the first two with us all before we ended up back at her house.  Then Toddra, Jen, and I went out for another couple of miles before we sent Toddra on her way to another activity. Jen and I then finished off what was supposed to have been a six-mile run, but by the time we went around the loops and curves in her neighborhood, we hit 6 1/2, and then for me to get back to my car, I ended up with a nice, even seven.
Sorry it's blurry! 😮 
It was a nice, easy run, although it was windy a little bit here and there. Mostly, it was just great to be able to hang out with my friends again. I joked with them that all my other friends get together on Fridays after work and go out for drinks to stay in touch, but my friends and I get up way too early on a Saturday morning and run ridiculous distances to catch up.  And I wouldn't have it any other way!
After the run, I went home and even though I was tired and my feet hurt, I simply could not stand living in the squalor that was my house any longer. I spent the rest of the day cleaning my house (in between taxi-ing Jamie back-and-forth to unscheduled hockey). By the time I was done, my feet were really killing me, and I was damn tired, so I decided to treat myself.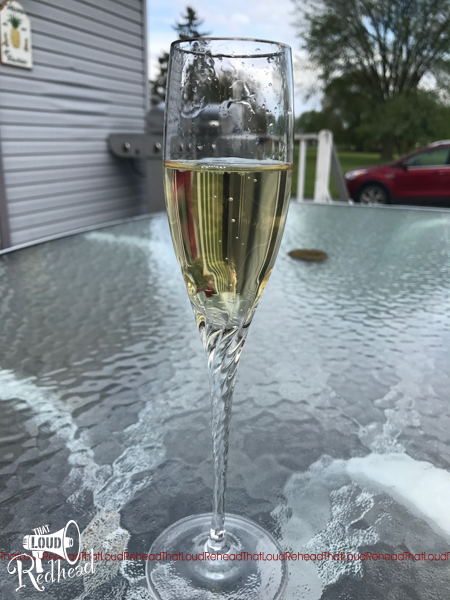 That's right, champagne for no good reason at all! 😉 The only reason I even had a bottle on hand was because they were giving away the extra bottles after the auction last week, and far be it from me to turn down a free bottle of champagne, cheap or not!
We had spicy chicken rigatoni for dinner, which is one of my favorites.  In that brief period of time when I thought I was going to be a food blogger 😉 , I did put that one on the site, which you can find here.
Sunday was church, and then a symphony! My best friend's daughter plays for the Dearborn Youth Symphony, and I was so glad to be able to attend their final concert of the year.
I absolutely love classical music, and listen to it all the time. I know nothing about music, I can't even read a single note, but I love to watch orchestras play.  I'm fascinated by how they actually make music.  JJ went along with me, and he seemed to enjoy it as well. I know he enjoyed the selection of James Bond music, and I'm pretty positive that he enjoyed the "afterglow" afterwards…which is nothing but a cookie extravaganza. I won't lie, I enjoyed it too. 😉 I had three cookies, but I had also skipped lunch, so I just counted the points and moved on. I know it wasn't the best choice, but dammit, I cannot resist a room full of cookies! Honest to goodness, I was proud of myself for only having three.
For dinner, we had honey lime chicken skewers. Another one I've put on my blog, which tells you how much I like it. 🙂  It's one of my favorite recipes, and it's actually pretty healthy. We had some leftover rice noodles, but not enough for all three of us, so I just had a little bit and left the rest for the kids. It was still very filling.
I ran another 3 miles Monday morning and had a pretty good pace. I'm still doing my standard weigh-in Mondays, and even as I prepared to weigh myself this week, I thought, "I don't feel like I've gained any weight, but I don't feel like I've lost any either." And…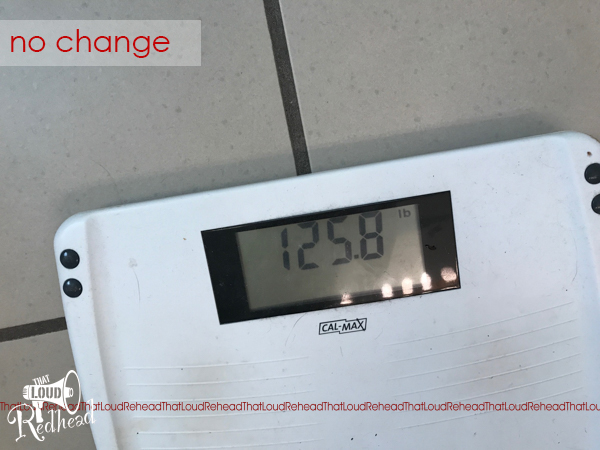 I was spot on. Unfortunately. I know, I know, it's better than gaining, but I'm really starting to worry. Normally by this time of the year, I've gotten back down to a manageable weight, just in time for my typical summer weight gain to creep up on me. I'm now at the weight I was at the end of last summer, so that does not bode well.  I'm going to keep at it this week, though, maybe with less cookies. 😛
Thanks so much for reading!
PS:  I put up a couple of more daily reports from my trip, for anyone who is interested.