Last Saturday, there was a 5K in Petersburg, Michigan, which is about 45 minutes from where I live. One of Jamie's hockey teammates lives nearby, and although I'm not sure exactly how it happened, someone on the team came up with the idea that players and coaches should run the race, and then everyone would gather afterwards at this teammate's house for a party.
To encourage the kids to sign up, the coach even put out a challenge: he offered up a "fun practice" for every player that could beat him in the race. The boys really like their fun practices, so about half the team signed up. And of course, when I found out about it, I immediately signed up Jamie, JJ, and myself–because I'm always about running races with friends and/or my kids!
As I mentioned, the race was 45 minutes from our house, and since we had to drop off our dessert for the party at the teammate's house before heading to the race to pick up our packets, that meant I had to have my family up and out the door by 7 AM on a Saturday morning. While that's actually sleeping in for me (ha ha!), Jason and Jamie were less than thrilled. JJ is my morning person normally, but he had just gotten back from a week-long church camp the day before, so he was a bit tired, too.
When we arrived, I found Petersburg to be a cute, quaint small town. I'm pretty sure I had driven through it before, but it had been probably a decade or more. I hurried up and had Jason take a pre-race picture of the three of us.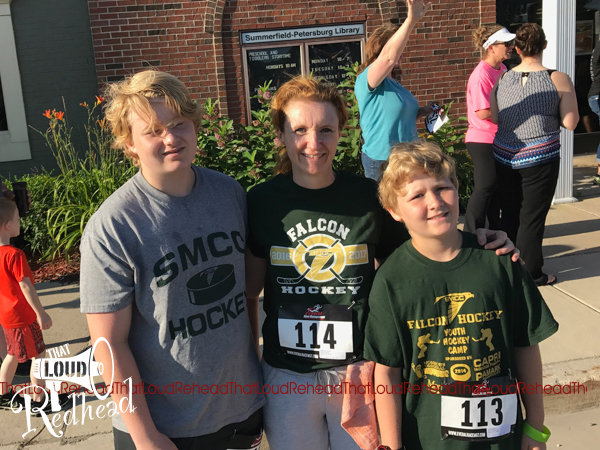 Please do not judge me for my teenage son's hair. There are some battles I am just not up to fighting, and that is currently one of them.  😛
We got a picture of the whole team, plus the two coaches who are running, along with the siblings who were running. I was actually the only parent to run the race. That makes me chuckle, because it still amazes me that I am "that mom" who runs 5ks with her kids. 🙂
JJ and I did a quick starting line selfie, of course…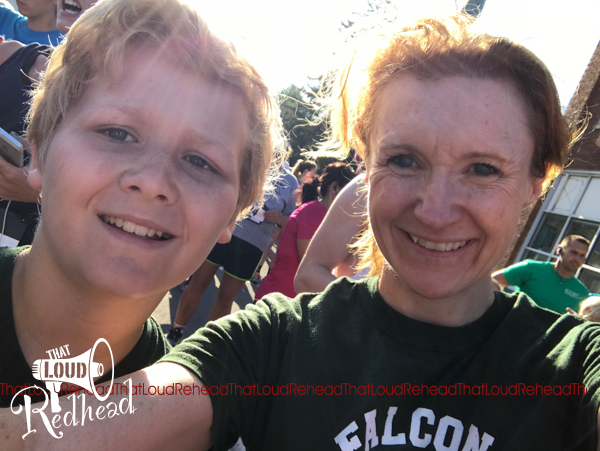 …and then they sounded the horn and everyone was off!
I had to chuckle at the beginning, because of course all the hockey players, who range in age from 14 to 17, took off at a full sprint.  JJ, because he is always competitive, did the same, but I just followed along at about a 10-minute per mile pace. I knew that if I just patiently waited, eventually, he would lose momentum and I would catch up with him. And I was right!
Unfortunately, JJ did not have his best race. A week of camp, where of course he was very active every day, and then getting up early, made for a very tired boy. After the first mile, where he came in at about at 10:05, he really faltered. I tried to cajole him into speeding up, and sometimes I even used a little "tough love", but it was not his day to race, so I just let him settle in at a comfortable pace, walking whenever he needed to. I was a little disappointed, because I recently had a personal best 5K time at home during a training run, and I was kind of excited to see if I could do it in a real race, but I wasn't about to leave JJ to fend for himself, so I just ran with him, and tried to encourage him to give it everything he could. He was kind of cranky, though, so eventually I just kept quiet. 😛
It was a nice day for a race, and it was fun to run through the neighborhood there in downtown Petersburg. The route was small enough that my husband was able to walk around and take some pictures of us. Here's one where JJ was really putting forth the effort.
He ended up coming in at 33:54, which was still a sub-11 pace, and certainly nothing to be ashamed of. He was tired and still cranky, though, so I just let him sit and drink some water while I went over and talked to all the high school boys to see how they had fared.
As I suspected, they all actually did beat the coach. (JJ and I did not; we came in a couple minutes after him.)  One of the assistant coaches, who actually is the head coach's son, turned out to be extremely fast. He finished sixth overall and would have finished second in his age group had he remembered to actually put his age down when he registered, ha ha! A few of the boys did place in their age group, and one of them, a sophomore like Jamie, came in 14th overall–pretty impressive for a kid who only runs during warm-ups for hockey or football conditioning!
Jamie may not have placed in his age group, but I was incredibly proud of him. He wasn't the speediest kid, but he wasn't the slowest either, and he ended up getting a new personal best 5K time! His time was 30:17, which beats his old time by about 12 seconds.  It's been 4 years since his last 5 PR, back when he was 11 years old, and he hasn't run a race in over a year, so for him to come out and beat a four-year-old PR was pretty impressive. I definitely think that the motivation of keeping up with his hockey friends helped spur him to a new best time.  My husband got pictures of him running with some of the other players and crossing the finish line.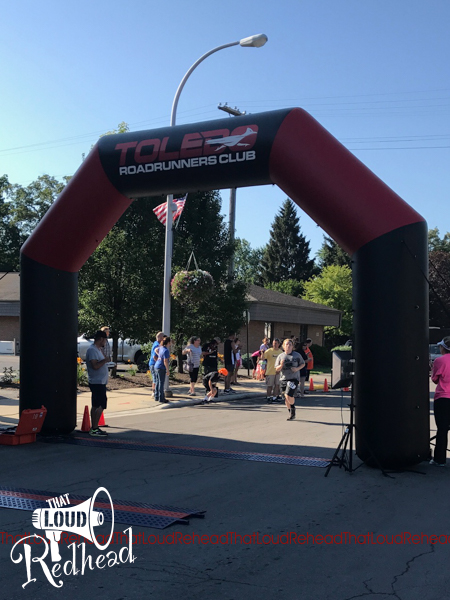 I was bummed I didn't get to be with him to help him get to this big milestone, but I'm glad he was there with his friends.  They all hung out afterwards with the coaches and other parents to wait for the awards.   I stuck around for a bit, but the truth is, three miles is not my typical Saturday run, and with my Free Press half-marathon training starting next week, I wanted to get a few more in.  So…I decided to run to the party, ha ha!  The family that lived nearby was about 2 miles from downtown, so I decided to run there, and  in fact, I even added in an extra mile to get me to six.   Because I'm just crazy like that!
It was a nice route, just the kind I like: country roads with lovely views:
The only downside was that by the time I got started, it was after 9:30, and I hate running that late because the sun is high and it's pretty miserable when it's beating down on you and the asphalt. There wasn't a lot of shade from the tall trees, but I enjoyed it when I found it!
I got back to the house long before the players and coaches did, which allowed me to clean myself up a little bit, change into some fresh clothes, and then go sit on the porch and talk to the mom who was hosting the event.  They had a lovely deck off the back of their house, and we had a great time chatting while I drank my coffee.   Once everyone arrived,  all the food was put out, including my contribution to the event:  peanut butter Smore's bars.  After making them for the Fourth of July, JJ and I decided they would be a great addition to this party. We even made a double batch!
I'm not going to lie: I way too much on Saturday. To be honest, I pretty much ate nothing but those peanut butter Smore's bars and a few cookies, but that was definitely more than I needed.  I didn't eat lunch, but then  it was time for dinner,  which turned out to be one of my favorites, lemon chicken Romano.
Bottom line: I did not track any food Saturday afternoon through Sunday night.   I just ate. I won't say I went totally overboard, but I just came to the determination that I was tired of tracking my food, and so I didn't. Other than a few specific times, I've been tracking almost daily for going on six years now, and I just felt like I had had enough in that moment.   I'm a little disappointed in myself, but at the same time, I really think that I needed the break.   However, on Monday morning, my scale did not agree:
Honestly, I'm glad that I gained a little,  because I did not eat well and it would be a false sense of security if my poor eating  choices over the weekend were somehow "rewarded" with  anything other than a gain.   I am right back to tracking every day now, and hopefully I can buckle down and stop being so lackadaisical about my eating.   Summer, as it turns out, is just damn hard! It surprises me every year, but I need to remember that barbecues and family functions are par for the course every summer in Michigan, and I really need to come up with a better game plan on how I handle them.
Still, despite the weight gain, I had a great time on Saturday, and I was proud of both of my kids for running the 5K with all the other hockey players.   And I will admit I did get a good chuckle out of all the parents who were shocked to find out that I ran a 5K after the 5K.  😉
Thanks for reading!