Hey, look what happens when I don't eat Peanut Butter Smore's bars like it was my job.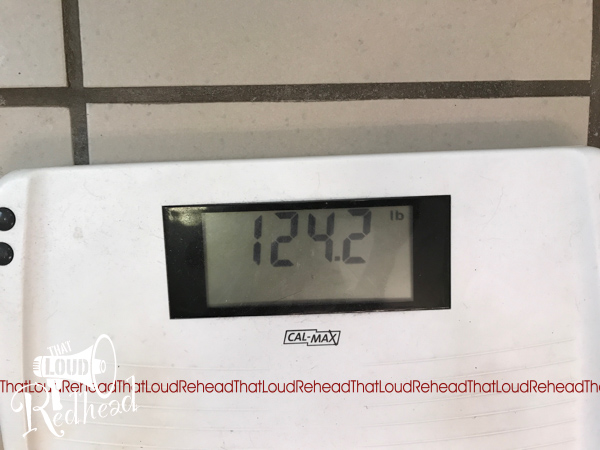 I lost a little over 2 pounds! I do think that the weather has helped. The humidity finally broke over the weekend, and I don't feel like I'm retaining as much water as I was last week. Also, my hair actually holds a curl all day. 😛
I do think another contributing factor was that I didn't eat all of my activity points. I was damn busy last week, as it turns out. Monday through Wednesday was the youth lacrosse camp that I was in charge of. I didn't exactly plan it that way, but due to a series of events surrounding the high school lacrosse team, I ended up falling into the job. Although it was a lot of work to keep things organized, send out the communications, get all the snacks and drinks, check everyone in and of course take pictures, the camp was a great success! We had to postpone the final day of camp from Wednesday to Thursday, due to thunderstorms that moved in just as we were about to begin (feel free to chuckle at the image of me standing in the parking lot in the pouring rain with an umbrella, informing every parent that drove up that we would have to try again tomorrow…I was soaked, ha ha!). Although we lost four, the kids who were able to come on Thursday had a blast putting all their newly-learned lacrosse skills to use.
I was really impressed at how much they learned in a short time period. Kids are amazing! Meanwhile, Jamie has been trying to explain lacrosse to me for two years, and I still don't know what to do when he puts a lacrosse stick in my hand. 😉
Still, for my lack of understanding of the sport, I'm totally on board with it now, and I'm excited about the potential of forming a team next spring. So is JJ, who has been less enamored of baseball lately and would love to try this new sport that his brother plays.
On Saturday morning, I ran six with the girls, in the rain. Ugh! It was humid and miserable, but we persevered. After that, I went home and put together a basket of my jams and salsa for a golf outing being put on by Jamie's team that afternoon.
For the first time ever, Jamie asked asked if he could golf at one of these golf outings that we always seem to be a part of (it's like the new thing in fundraising; I think everyone is doing a golf outing lately!). Jamie had never golfed in his life, so I wasn't sure it was a good idea, but he really wanted to, so I arranged for him to have a golf lesson with my mom's fiancé, who golfs all the time. A couple days later, Jason took Jamie to the driving range, and Saturday, he went out and gave it his all.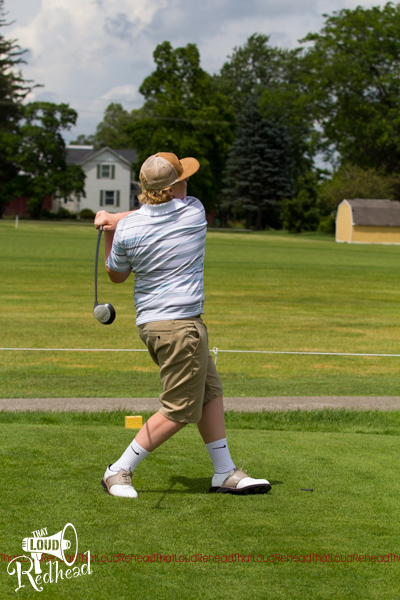 His foursome was made up of two other teammates his age, and a cousin of one of the kids. I don't know how well they did, but I know they had fun, and that's all that matters to me. I spent the day being driven around on a golf cart while I took pictures of all the foursomes and some action shots. It was fun, but it was a hot day and very long. The thing about those golf outings is that you need to be prepared upfront: it's an all day thing! I got there at 12:30 and did not leave until 8:30. Phew!
Dinner was included: a steak, salad, and baked potato.  I managed to eat the steak (I do love steak!), but the potato was really hot, so I set it aside while I went up to help announce the raffle winners. Unfortunately, because I wasn't sitting at the table, when the waitress came by to clear off the tables, she took my potato! 😮 I really love baked potatoes, so I was pretty bummed. Not to mention, I was hungry! Other than an English muffin and a cup of coffee, I hadn't eaten anything all day…and it was 8 PM by that time!
After most of the folks had left and we were cleaning up, when the waitress walked by, I asked her if there were any baked potatoes left. She not only gave me a baked potato, she gave me a whole extra dinner that had been left over! I gave the steak to Jason when I got home, but I very much enjoyed my baked potato with light butter and light sour cream.
By the time I got home around 9 o'clock, I was so tired, I scarfed down the potato and went right to bed. That left me with 15 activity points. The next day was also busy, and I ended up not eating any activity points that day either.
So, I think the fact that I ate less, still exercised as much as I usually do, and didn't indulge in extra sweets, all had a good hand in helping me lose the weight this week. Huh, imagine that. 😉
To that end, I'm trying to follow a similar game plan this week. I actually started training for the Detroit Free Press Half Marathon on Monday, so my mileage is going to be ramping up here in the next several weeks.
I did my first speed work in many weeks this past Tuesday, and boy was that an eye-opener. I forgot how much I dislike speed work. 😛 But I always feel so good and accomplished when I'm done. Runners high, it's a real thing!
I've already got 11 fit points banked this week, and I'm going to try to hold onto as many as I can and not swap them for food. This weekend will be a real challenge, though, because we not only have a local hockey tournament, we have my family reunion. Hopefully I will survive!
To end this post, I will share with you the pictures that JJ and I put in the fair this evening. We won't know until sometime next week if we won anything, but even if we don't, it's always fun to enter. Plus, the entry fee is only five dollars for 10 items, and then you get a free ticket to the fair, so if we do happen to win anything, even if it's only third place for a dollar, it's all profit! 😉
Thanks for reading. I hope you have a great weekend!