I almost didn't do a post this week because my life really just hasn't been all that exciting. 😛  But I do like to put up regular posts just for my own purposes, because I enjoy having the family history to look back on.  So, here you go!
This past weekend was the Monroe Jazz Fest, and that's pretty much where I was the whole weekend! Because it essentially happens on their front lawn, Jamie's school uses it as a major fundraiser, selling lots of food and beverages. But of course, they need real live people to make and serve the food and beverages, and so nearly every sport gets assigned a booth to work.  Jamie participates in two sports that work the festival, and then my neighbor coordinates the food for the VIP tent and I volunteered to help her as well, so we did not lack for things to do this past weekend!
Here's a picture of JJ and I after setting up the table for the VIP tent.
Do you not be fooled; the VIP tent is much less fancy than the name implies. 😉 There are several large corporations in the area that sponsor of the Jazz Fest, and they get to have a special place for their employees to enjoy the show. Although the food isn't any different than what you get on the lawn, when the rain showers come through, it helps to be under the tent. 🙂 In fact, Friday night (the only night we weren't there), they had a big storm blow through that knocked over some of the staging area and forced a cancellation of that night's performances. 🙁 You can see pictures and read about it on the local paper's site.
Thankfully, the rest of the weekend was much less dramatic (although we did get a pretty decent rain shower Saturday afternoon when JJ and I were under the tent). Besides the VIP tent, JJ and I worked the fish dinner/chili fry/nacho tent for the hockey team, while Jay and Jamie had parking lot duty for lacrosse…which I'm going to take next year because it will be WAY easier. :-p  At the fish tent Saturday night, we had a line of people about ten deep for almost 90 minutes straight!! 😮 JJ worked so hard! Here he is serving up nachos:
But where he really excelled was in sales. 😉
I was truly stunned to have customers come up to me and ask if he was my son, and then proceed to praise his maturity and great sales skills, lol! I love that kid. He might take after his mom a little bit. 😉
I'm still training for the Free Press Half Marathon, which is going pretty well.  Although I'm planning to basically pace my friend Toddra, I'm using the same training plan that I followed for the Rock CF Half in March.  I figure if I can train for a sub-2:10 finish (my goal in the spring), I shouldn't have any issues helping Toddra get to a 2:30 finish.  That's the hope, anyway! 😉  I will say that I've been feeling sluggish on most of my runs, which is probably a combination of the muggy, humid weather we've experienced most of the last month, plus the fact that I gave blood a couple of weeks ago. (Someone told me that it takes a month to get your blood volume back to normal after giving blood.)  Three of us girls ran 5 miles last week, which was a step-back week in the plan.  I didn't get any pictures, but here's a lovely sunset from Sunday night. 🙂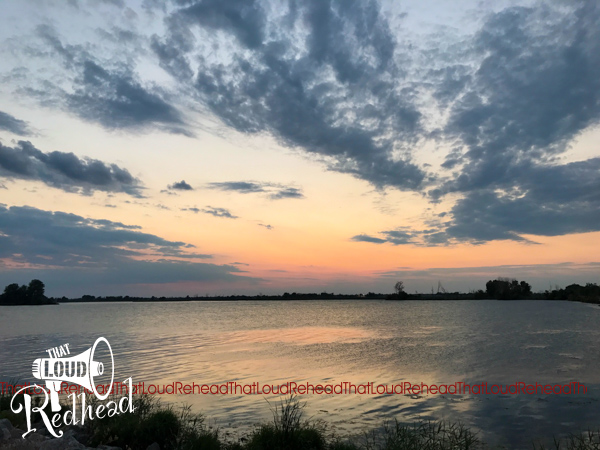 I was really hoping for a loss this week, after gaining 3 1/2 pounds in the last two weeks, and thankfully it seems that my exercise and more mindful eating paid off.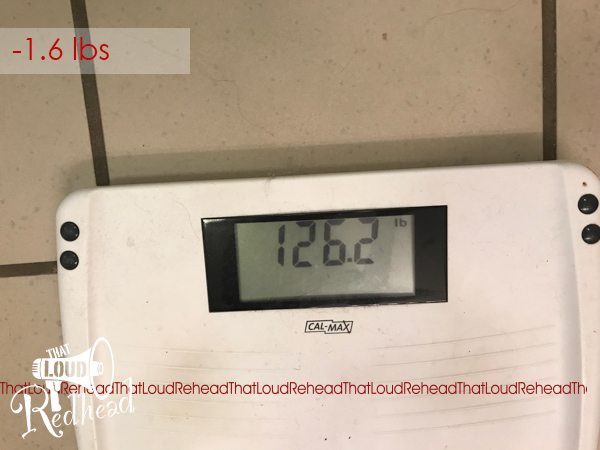 Still more than 6 pounds above goal, but much better than being 7 1/2 pounds above it!
Finally, it was back to school for my oldest this week.
Oh, and by the way, he got glasses over the summer. 😮  Here's a comparison to last year.*  He's definitely growing up.  I didn't even have to bribe him to get the first-day-of-school picture this year, ha ha!
Hope you have a great weekend! Thanks for reading!
*I just went and re-read that post and realized this post is practically the exact same as that one, ha ha! I told you my life isn't very exciting. 😉