I did not have a good weekend.
That's not to say it started out poorly.  It actually started out with a 9-mile run on Saturday morning.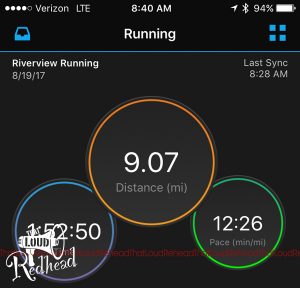 That's certainly a good start to a weekend, right?  But then it was time to make some desserts. 😮  I had volunteered to make cookies for Jamie's school's freshman picnic, and then I had also volunteered to make a dessert for JJ's hockey team's cornhole tournament.  I probably would have been better off to make desserts I didn't care for but…really, what's the point of that? 😛  Instead, I made two of our current favorites.
That's my "new" lemon bundt cake, along with JJ's first-place cinnamon chocolate chunk cookies. (They took first at the county fair last month.)  When I arrived at the cornhole tournament, I actually started out pretty well.  I had fried chicken, cucumber salad (with feta–yum!), a little bit of pasta salad, and some roasted potatoes (another weakness of mine).
But I always peel away the coating on fried chicken, so it was just chicken breast, which is healthy, right??
Meanwhile, my husband was enjoying his time with the hockey dads, which of course meant imbibing in a few beverages, so I actually took it easy on the wine so he wouldn't have to drive.  But just because I was avoiding wine didn't mean I had to avoid other temptations.  Specifically, those damn roasted potatoes.  And the cake.  And the cookies. 😮  I ended up eating three pieces of cake and about 5 cookies.  Even with the nine-mile run, that was pushing it.
Then came Sunday.  After church, we headed right to the school to help with the parish breakfast and then volunteer for the back to school picnic.  I definitely kept busy (I ended up with over 11,000 steps that day…sweeping the entire gym floor definitely made a difference, ha  ha!), but I also ended up eating way too many of the free cookies I was offered for my volunteer efforts. There are a lot of things I can resist, but free cookies are rarely among them. 😮  So yeah, I definitely enjoyed a few big chocolate chip cookies.
After all that, I was scared for my Monday weigh-in…so I skipped it. 😮  But I weighed in Tuesday (after a super-awesome speed workout in which I totally nailed all my laps despite the ridiculous heat and humidity–go me!!) and here's how it shook out…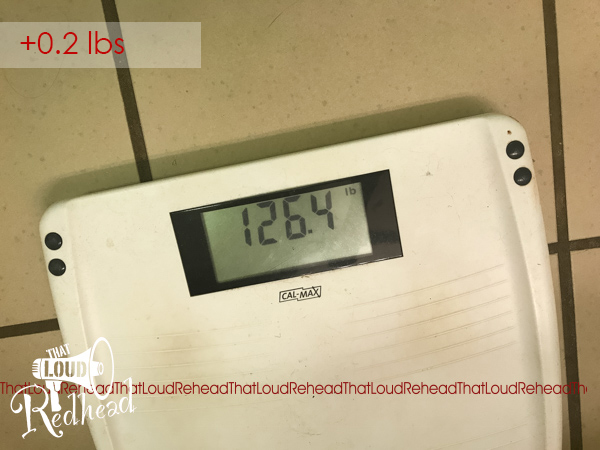 Yes, a tiny bit up.  Don't think I didn't jump on and off that scale half a dozen times to lose that 2/10th of a pound so I could say I stayed the same. 😛  But alas, my scale is very solid in that once it registers a weight, it doesn't change. At. All. Ah well, a girl can try. 😉
So in other news, my baby started school on Monday.
He was up at 5:30am to be on the bus by 6:30am…a little excited, you think? 😉  Unfortunately, because he gets on so early, the pictures had to be taken before the sun even came up, but I think they turned out ok.
That same day, you may have heard that there was a little eclipse thing going on in the U.S. 😉  Here in southeast Michigan, we only had about 80% coverage, but it was still cool to see, especially if you had the proper eye-wear.  JJ was lucky enough that his science teacher had already purchased eyewear and planned out a lesson for the eclipse, but Jamie was left to his own devices during his final hour of school (a study hall).  Lucky for him, two things converged to make his eclipse experience worthwhile:  he had a dentist appointment that I'd totally forgotten about right after the eclipse, and my employer was giving out free protective glasses in the morning. (One per employee!) I showed up at Jamie's school right before the maximum coverage to surprise him with both eclipse glasses AND a dentist appointment. 😉 But he was pretty happy to have the glasses.
He ended up passing them around to other students who didn't have any, and they were all happy to have a chance to see the eclipse first-hand.  I used them a few times, but since we had some cloud cover, I was able to get a pretty cool shot with my camera. (Which I just by chance had in my car!)
It was definitely a fun experience to enjoy while the rest of the country was also watching, and it got us really excited for the next one, in 2024, when the "path of totality" (are you sick of hearing that phrase yet? 😉 ) will be about 18 miles south of us.  You can bet that I plan on making that drive, lol!
And to end my week, here are a few shots of my favorite JV football player (#59), doing what he does best…which I think is called blocking, lol! 😉
I hope you have a great week! Thanks for reading!