Sorry, I skipped another week, but I have a good excuse! I mentioned in my last post that it was coming up on my busiest weekend of the year, the one time where I consciously throw healthy eating habits out the window.  That weekend is "canning weekend," and it is without a doubt my most exhausting five days of the year.
For the past 13 years, I have canned spaghetti sauce, salsa, raspberry jam, and blackberry jam over Labor Day weekend. Unfortunately, this year, the harvest did not come in when it usually does, and I had to postpone it two weeks, until more of the tomatoes in my father-in-law's garden were ripe.  This was difficult enough for me, because it meant that I would have to rearrange my schedule, take an extra vacation day, and work around my kids' very busy fall schedules. But wait, it gets worse: in that two-week time, half of my father-in-law's tomatoes developed blight. 😮 (Blight, by the way, is what caused the great Irish potato famine of the 1840s.)  So in the end, postponing it two weeks didn't actually help me any; I still had to go buy 200 pounds of tomatoes at the local farm market. I also had to process all those tomatoes, along with a couple bushels left over from my father-in-law, in that one weekend. (I try to have most of the tomatoes processed and frozen before the weekend starts.)
I decided to do my canning from Saturday-Wednesday, instead of my usual Friday-Tuesday, so that I could attend an awards ceremony at the school for Jamie on Wednesday. Normally, I would've come home on Friday and immediately started in on blanching, peeling, coring and chopping tomatoes, but instead, I started off my weekend with a Friday night football game. I love being the "officially unofficial" team photographer for the varsity football team, but it also means that my Friday nights are completely booked from now until the end of October.  I went to the game and took plenty of pictures, and even though they lost a real heartbreaker (their third in a row), I'm still glad I was able to be there and capture the moments.
I was able to get some of my pre-frozen tomatoes on the stove cooking before I left for work on Friday, so at least I had sauce ready to be canned Saturday morning. (Ideally, the sauce tastes best when cooked on low for a full day.) But before I could get to that, I had to complete my long run. I can tell you that home-canning and half marathon training do not mix. 😛 I had 12 miles on the schedule Saturday, and it had to be done very early, because Jason and Jamie had to go work at a fundraising event for the lacrosse team. Because two of my three running friends had a wedding they were in on Saturday, our group of girls was unable to run together.  That meant I had to do 12 miles solo, and let me tell you, that totally sucks. I was out on the road by 5:30 and completed all 12 miles in short out-and-backs near my house, in the warm, humid weather.
Ughhhh. But I did it, and I burned plenty of calories.  After that, it was off to Meijer and Gordon's for supplies, and then I had to take JJ to hockey practice.  After practice, JJ and I went and picked raspberries. That was definitely one of the bright spots of the weekend: I discovered a raspberry farm in Romulus that has the most beautiful raspberries, so well organized and easy to pick, and just delicious!
I love that they had little stands to hold your pint baskets so you don't have to bend over!
After we were done, I had to pay off the bribe I had given to JJ in order to convince him to pick raspberries with me: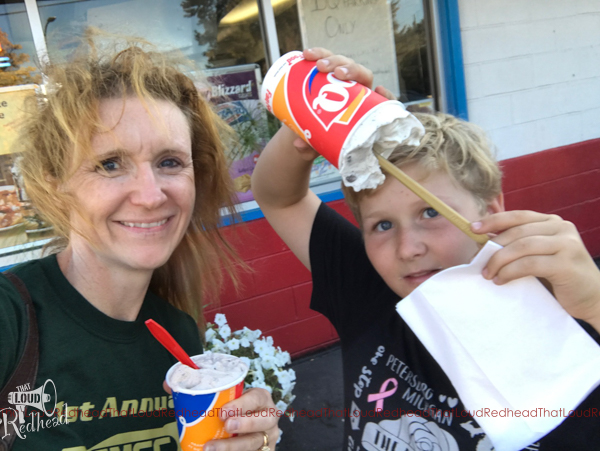 Of course it had to be Dairy Queen. (Forgive my hair…that's Canning Weekend hair.) I let him get a Blizzard, and I even got myself a mini Blizzard, figuring that I could spare a few extra Weight Watchers points after my 12-mile run. It's a little hard to tell from the picture, but the mini Blizzard really is "mini." I figured it wouldn't be worth too many points, but let me tell you, I was stunned when I actually looked it up in the Weight Watchers app. That son of a bitch was 17 points!! 😮  Are you flippin' kidding me?! Do you see how tiny that is?? I actually measured the volume of the cup when I got home… it held 3/4 of a cup. Seventeen points for 3/4 of cup of ice cream? That just can't be right. But I'll tell you what, I'll think twice about getting Dairy Queen again.
OK, enough whining about the ice cream. I did try to track my food for the first part of the weekend, but as I got more tired, and more stressed because time was running short, I gave up by Tuesday.  I didn't go crazy with my food, but I definitely above and beyond my normal habits.  We had spaghetti and meatballs on Saturday and Sunday night, and then quesadillas on Monday. (What can I say, it's a tradition to have food that uses spaghetti sauce and salsa during canning weekend, because there's just nothing like fresh sauce and salsa!)
Because I was constantly being interrupted from my work to haul my kids from one event to another (football, church activities, hockey), I didn't get started on the jam until Wednesday morning. 😮 Holy crap! And it was late Wednesday morning, since I had gone to the school for the award ceremony at 8 AM. I was determined to be DONE by Wednesday night, so I made use of the burner on the side of my propane grill to keep water hot for sterilizing jars, and I mastered the art of cooking two batches at once:
You can't actually double up on a batch of jam, because then the product won't set. And nobody wants runny jam! Even though I was way behind, I still took the time to make one of my other favorite canning weekend delicacies:
Those are homemade sweet biscuits with some of my precious raspberry jam (and then a homemade bacon, egg and cheese biscuit because…bacon). I found a biscuit recipe last year that is absolutely awesome, and it doesn't take all that long to whip them up. You just have to make sure you have buttermilk on hand. They are so good. I may or may not have eaten more than half a dozen  biscuits over the course of several days.  😉
I'm still not sure how I managed it, but I got it all done by Wednesday night. Even though I was exhausted and still had to clean my filthy house, including my floors that were sticky and dirty and disgusting, I made sure to set up my annual post-canning shot.
I know it's pretty crazy to work so hard on this project, when in reality I'm not saving any money compared to what I could buy at the store, but I really do love the process, even when I'm cranky and exhausted in the middle of it, and I feel so much pride at the end result. Although I had to buy some pre-picked tomatoes this year, I did manage to get 20 jars of blackberry jam using my own blackberries from my bushes, and I probably got about half the raspberries from my garden as well.  I'm so proud of that! You might notice that I decided to forgo my usual glass of wine as the celebratory drink and instead take it up a notch with a glass of champagne. I figured that after my super-stressful weekend, I had earned the right to some champagne. And I do love champagne!
😉
There is still more to catch up on, but I think that's enough for one post.  I will write up the rest, which includes this past weekend's hockey tournament, in a few days. Meanwhile, you may notice there is no weigh-in for this post.  I decided to skip it on Monday, because I was still in the thick of canning (and eating those biscuits 😉 ).  I promise to report on the results of my "eat without inhibitions" weekend next post. 😉
Thanks for reading!