Two weeks ago, I made a post. And now I'm posting again. 😛 Here's what's kept me busy the last couple of weeks…
My last post was made just after Jamie's high school football team had won their first round playoff game. It was kind of a big deal, and the paper used another one of my pictures in their Round 2 preview article.
Still on an inside page, but as I've mentioned before, football is everything in this county, so I can't be too upset about not making the front page for that sport.
That Friday, they traveled even farther away than the first game to play for the division championship. It was a cold night, but at least it wasn't raining and sleeting like the week before. The sunset was actually quite lovely.
The boys were really fired up, and to everyone's surprise…
They won! And it was an exciting game, too. They won it on a last-second field goal by our quarterback/kicker, who also happens to be one of Jamie's classmates that I've known since he was six, and have given plenty of rides to in the last 10 years. 🙂 I was really happy for him, and for his parents, who are so proud of him. It's pretty impressive to be a sophomore playing quarterback in playoff football!
The following morning, I was so tired, I skipped my group run with my girlfriends and slept in. But that didn't mean I skipped it entirely! I ran 8 miles, and actually enjoyed running in my neighborhood in daylight for a change.
And I even had company for the last mile:

JJ decided he wanted to run that morning, which probably had something to do with the fact that his team lost really big the night before, and he felt he needed some conditioning. 😉
The next week was one of the most stressful I've had in a long time, all self-inflicted. I did pictures for not just one of my kids' hockey teams, but both of them. This was not my first time doing team pictures, but after the results of last year's high school hockey photos, I wanted to "up my game." That's not to say the pictures were bad, but although all the parents were happy with them, I was not.
I think I mentioned in a previous post that I had taken some classes in the last month, hoping to learn how to take better group and individual photos for sports. What I learned is that the best pictures required renting some very expensive lighting equipment. Now, it's one thing to be responsible for $2500 worth of photography equipment, but it's a whole 'nother thing to be responsible for that equipment when it is going to be placed on ice for an extended period of time! 😮 To say I was nervous was the understatement of the year. But, I bought some rugs and some sandbags, and put the fear of God into every hockey player who came out on the ice to make sure they steered very clear of the light stands, and I am extremely happy to say that they turned out great!
Renting those lights wasn't cheap, but it was definitely worth it. Next year, however, I'm going to look into some cheaper options.
But wait, my picture story isn't done yet. I woke up Thursday morning feeling pretty awesome that I had not only survived both photo sessions with the expensive equipment intact, but also that the pictures were looking great, and then I had another surprise. I pulled the paper out of the box to find this:
That's me, pointing to not one but two of my pictures on the front page of the sports section!! They did another preview article for the two teams from our county who were left in the playoffs, and they used my picture of our team with the divisional trophy from the previous week, as well as the picture I took of the neighbor kid kicking the game-winning field goal. I was so excited, I was dancing around the kitchen, and I spent the rest of the day telling everyone with an ear about my pictures on the front page of the paper.
I was really surprised they used them, since they had a photographer at the game, but it turns out he didn't stay beyond the end of the first half because the deadline for the paper had been early enough that any pictures he had taken afterwards would not have been used in Saturday's paper. So, my pictures of the exciting ending to the game were all that they had! I'm so glad I decided to send them pictures even though they didn't actually "need" them.
And then came Friday: third round of the playoffs, the regional semi-final game, and it was 26° at game time. 😮 I went, of course, dressed in three layers, with brand new thick gloves, hand warmers, and even foot warmers. Despite all that, I still froze my ass off. (Actually, my fingers.) I have to give credit to our school administration, who brought some big industrial propane heaters for the sidelines. They were so hot, I actually burned holes in my brand new gloves. Oops. 😛
We went into the fourth quarter ahead 20-6 against an undefeated team that was known to be a powerhouse in the division. Not completely unexpectedly, that team came back with two very quick touchdowns and tied it up with a minute to go. We got the ball back, but thanks to a penalty, we were deep in our own end zone. Unfortunately, the boys couldn't get a first down, so it was time to punt with 10 seconds left. The score was 20-20,and at least we knew we still had overtime…
Do you see where this is going…? 🙁 The snap to the punter (my neighbor kid) was high, and landed in the end zone. He tried to get it out, but he was tackled as he grabbed it. :'( If you know anything about football, you know that's a safety, which gives the other team two points, and even worse, gives them the ball. And just like that, the game was done, and our boys, who had worked so hard all season to overcome a 1-3 start to the year, were left to hang their heads and wonder how it all had gone so wrong so quickly. But, unfortunately, that's football. I felt so bad for them, especially the seniors. I saw a lot of tears on the field after the game, but I know I am not alone in being very proud of our team, who came so far after a terrible start to the season. They were one of only two teams in the entire county to make it to the third round of the playoffs, and then to come so close to beating an undefeated powerhouse team, well…there is nothing to be ashamed of in that.
And just like that, football was over. Which as it turned out, wasn't necessarily a bad thing for Jamie, because guess what started the very next day?
Actually, hockey practice had started almost 2 weeks earlier, but Jamie had been unable to practice with the team because he was still playing football. Several of our hockey players also played football, so it was actually kind of a good thing that the season ended, because we had a four-game scrimmage on Saturday, and we would've been pretty short players if they couldn't have played. (Note: I think we would have all been happy to forfeit the hockey scrimmage for a chance at a football state championship.) The team actually played very well, and although there are still some kinks to be worked out, I'm excited about the upcoming season.
I'm sure you think that I'm finally done, but no, I'm not! You knew there had to be a reason why I haven't been posting, right? In addition to all this other stuff, our school had an Advent tea on Sunday, and I hosted a table for the hockey moms. It was supposed to be "bring a dish to pass," but when I host someone, I don't feel right asking them to bring something, so I had to make seven dishes to pass. 😮 OK, I cheated, my sister made four of them for me, because she's awesome and she loves to cook. But I made three desserts, and on top of that, I also decorated my table…
What do you think? In case you're wondering, yes that is a real skate as the centerpiece of my table, one that was actually worn by both Jamie and JJ. Before my husband left for hunting early Sunday morning, I made him drill a long gouge into a hockey puck so that I could stand the skate up on it, and then I put together the decorations all by myself. Considering I'm not very crafty, I was really proud of it. I will admit the both my friend Tonia and Pinterest were consulted.
As for the cookies, I made those as well. I used to decorate cakes many years ago, so although it's been a while, it did all come back to me after a few missteps. And then, because I am who I am, I had one more gift to give…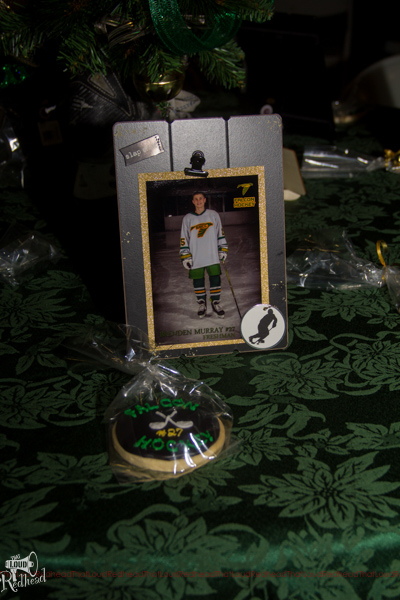 Thanks to the scheduling, I was able to use the team pictures I had taken on Wednesday to create framed pictures of each of my guests' hockey players.
All in all, I was really proud of my table and my decorations, and I got a lot of compliments from attendees at the event. And all the hockey moms that came we're pretty pleased with their gifts.
So, pretty much nothing I've discussed in this extremely long post has anything to do with healthy eating or weight loss. The truth is I spent a lot of time in the last week working on pictures and decorations and going to hockey games and taking more pictures, and as a result, my eating was atrocious. Here's my weigh-in from last week:
About half a pound up. Here's my weigh in from this week: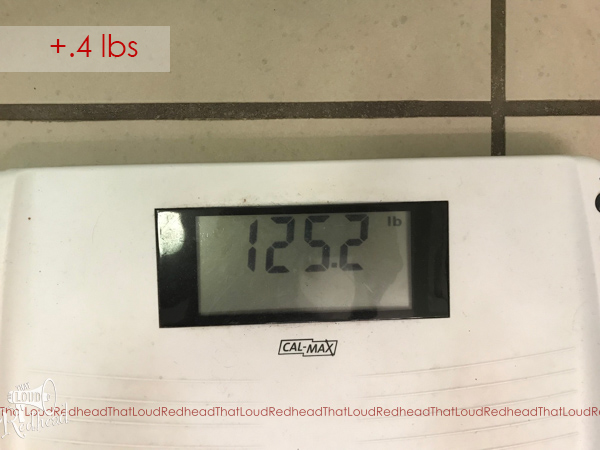 Up another half a pound. To be honest, this week's weigh-in was actually kind of a pleasant surprise. Remember all those desserts I mentioned that I made? Well, I ate a lot of them. But you know what wasn't a pleasant surprise? The pants I wore in this picture:
I pulled out my size 8s for this event, because I knew I was going to need some room. And yet, they were still tight!! 😮 That's. Not. Good. I NEED to get a handle on my eating. Thank God I'm still running on my regular schedule, even though the mileage isn't spectacular. I think it's definitely keeping me from a much larger weight gain. But as the saying goes, you can't out-exercise bad eating habits!
OK, this post needs to be done. I'd like to say I'll get on a more regular posting schedule now, but I've got hundreds of pictures to process, plus I'm doing photographs for another team this coming Saturday, so don't be alarmed if you don't hear from me for a little while. Just know that I am still doing my best every day, and I'm not giving up. Life happens, but one thing I have definitely learned in five and half years of maintenance is that you have to stay vigilant, even if it's not always pleasant, because being healthy is the BEST feeling in the end.
Thanks for reading this very long post! (It's kind of like two posts in one, ha ha!)