Let's talk about running, shall we?  Because God knows, I've been doing a lot of it lately. 😛
I mentioned a while back that I signed up for the Detroit Free Press Marathon this year.  I actually signed up in early December, when the first opened up registration.  I had run the Half last year with my friend Toddra, and I had actually found it to be a great experience.  We ran it at a pace that was fairly slow for me (our overall average pace was 12:33), and at that pace, I found I really enjoyed the run.  I love Detroit, and the day of the Freep Marathon is a great day to be in the city.  There is so much positive energy, it's hard not to get caught up in it.  So when registration opened last year (when the price would be the cheapest), I decided I would run it, but instead of treating it as an actual race, I would just run it at whatever pace felt comfortable for me.  All I cared about was the experience and finishing the race!
But then June came around, and I realized that as much as I liked the idea of "just finishing," I still had to figure out how to train for it.  I mean, I don't know of any training plans for a "just finish" pace, lol!  I had been talking to two people (my friend Katie at runsforcookies.com and my friend Ann, who paced me for part of my last marathon in 2015). Each of them had successfully used the Hanson's method of training.  And it wasn't just that they were "successful"…they both had their best finish times using the plan, and, more importantly to me, they said it was the best they'd ever felt after a marathon.
Since my goal is to have a good experience, and I know that the best experience will come with appropriate training, I decided to give the Hanson's method a try.  It was a big decision, though, because, in case you don't know, the Hanson's method is CRAZY.  😮  Okay, maybe not crazy, but definitely not for the faint of heart.  If you've read or seen the book, the cover touts that it is "A renegade path to your fastest marathon."   On the "Run to the Finish" website, it is described like this:  "The Hanson Marathon Method operates on the idea is that by running more miles during the week, you are in essence running on tired legs for your long run. You will build more mental and physical endurance by consistently running in that fatigued state."
I will say that after 10 weeks of the 18-week program, I agree with that statement.  I am doing a lot of running.  A LOT.  Running for six days a week is not for the faint of heart.  Especially when you have very long runs during the week (and have a full-time job plus kids in sports).  I have seen the night sky at 4:30am far too many times this summer. 😛  And yet…it's honestly very peaceful to run that early, and there is a tremendous feeling of accomplishment in knowing you've run 8 miles before 6am!
On the other hand, the "long" runs in this plan aren't actually as long as a typical marathon plan.  The Hal Higdon plans I followed for my previous two marathons (and the plan that my two friends Jennifer and Ann are following) have some really long runs.  The dreaded "20-miler" that we all know, as well as 17, 18, and 19 in the weeks leading up to it.
In comparison, here is my plan:
The longest run is 16 miles–but you do it THREE times!  And you have a lot of running in the days preceding that run, as well.  So yes…not for the faint of heart.
So far, it's actually going okay.  The speed work is always the most challenging, but as I've said before, as much as I dread it when I wake up on Tuesday mornings, I always feel so accomplished and proud of myself when I finish the workout.  Especially this month, because we've had a ridiculously hot and humid summer here in SE Michigan, and running hard is really strenuous and unpleasant when the humidity is 90-98%!  But I have completed every workout, within the stated pace range for every interval, and I am damn proud of that. And I've seen some lovely sunrises!
My last speed workout was actually this past Tuesday; from here on out, the speed days turn into "strength" days, where you run 1-3 miles at 10 seconds per mile faster than your marathon goal pace, with short (400m) recovery periods.  I'm not dreading these quite as much as the speed workouts, mostly because this training plan also includes "tempo" runs (on Thursdays for me), where you run miles at race pace with a one-mile warm-up and one-mile cool-down.*  Even in the worst humidity, I've been able to power through the tempo runs at the required pace.  On the humid days, it was tough, but when it cooled down this past week, I felt pretty damn good at the end of the 8-mile run.
So after 10 weeks, I haven't died, so that's good.  I did skip my 7-miler this past Monday, but that's because I have been frantically trying to finish all the football pictures and especially the banners so that we could have them up for the first home game.  That particular night (Sunday), I was up until after midnight, and I just wasn't ready to get up and run at 4am on Monday, so I rolled over and went back to bed.  I felt guilty all day, but there wasn't time in my evening to go out and get it i. But I managed to get up and power through the Tuesday speedwork, despite the horrible humidity, and then I got right back on track.  Crisis averted!
My two friends who are also training for the full have run most of the long runs with me, and we've had some good conversation along the way.
That was last week, after I finished my 15-miler (they did 13, per the Higdon plan).   God, it was humid and miserable!  So miserable that during the last half of the run, I was fantasizing about a pina colada like the ones I had in Hawaii. So–I made myself one. 😉
With all this running, you might wonder how my weight and eating habits have fared.  Beyond all the miles, I have had a lot of other things going on in my life:   both kids are in school now, and both are in football, plus JJ is also in hockey, and on top of that, I offered to do the team pictures for the high school football program, which means processing pictures for 50 kids. 😮 .So yeah, my life is pretty chaotic right now!  In fact, two weeks ago, I had to get up at 4am on a Saturday to run 10 miles by 6:30am so that I could be at the field by 8am to do the team pictures for varsity.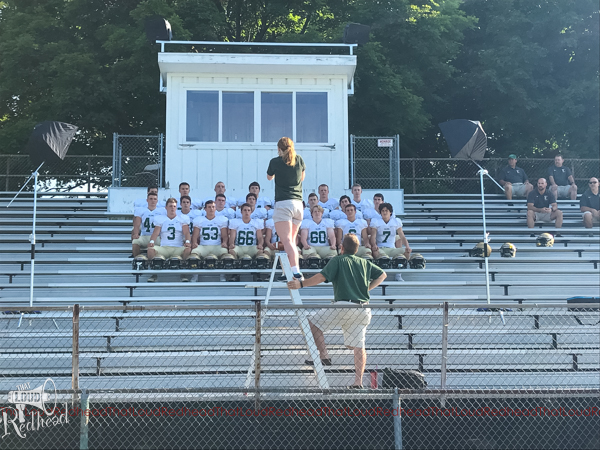 I will admit, I was super-geeked to have that opportunity.  I didn't even ask for it–I had a few moms who campaigned for me and I was given the job based on their recommendations. (Lest you think I'm changing careers, I will tell you that I did the entire shoot for free–I structured it as a fundraiser and am proud to say I raised almost $1000 for the team!)  It was so fun, and I even got to do banners for the seniors.  That was SO fun!  We have some very handsome football players, and it was just a blast to turn them into "big stars." 😉
Okay, so back to my eating.  The point of me telling you how busy I am (besides bragging about my football pictures, lol) is to say that I literally have come home some nights and barely eaten before falling into bed because I have a very early wake-up time.  So not only am I running farther and burning more calories, I'm not even eating all those extra calories!  The week after I did the football photo shoots, I weighed in to this:
Then this week week, after I ran 45 miles last week, I weighed in and saw this.
That's the first time I've been that low since May 21.  It feels good to finally be only 1.5 pounds from my goal weight range (120-125).
So all in all, marathon training has been going fairly well.  Of course, I still have 8 weeks go…the 8 hardest weeks. :/  But I can say that I haven't hated running 6 days a week as much as I thought I would.  It's hard, don't get me wrong, but it leaves me feeling accomplished each day…and I do not have trouble sleeping at night, lol!
That's it for now.  Thanks for reading!
*This is the only area of the training plan where I've altered the training: the total mileage shown on the chart is NOT including the warm-up and cool-down mile, and I'm sorry, but I am just not up for 12 miles before work on Thursdays (which is what I'd be doing in weeks 15, 16, and 17).  Honestly, doing 10 miles before work will be hard enough in weeks 12, 14, 15, 16, and 17. 😮