It is been a few weeks, but I did want to give a race report for my latest half marathon— number 11, believe it or not!
I ran the Dexter to Ann Arbor half marathon on June 2. This was also my first half marathon six years ago, so it was kind of a "coming home" experience. I ran that race by myself, but with the support of my friend Renee, who drove me to the start line, cheered me on along the way, and met me at the finish line, along with my mom and the boys. It's hard to believe that was six years ago!
I signed up for this race mostly on a whim, after having had a less-than-optimal experience for the Rock CF half that I ran in March. Because my running partner had gotten sick, and I had spent a lot of time standing around waiting for them to come get her, I felt like I wanted a do-over for a race at that distance. Training for a half-marathon is a lot of work, and although I would never fault my friend for getting sick, I did feel somewhat disappointed when I was finished running.
But then, as I continued in my training, essentially spending five months training for a half marathon this year, I began to question the wisdom of my decision, ha ha. But I had my running partners to keep me going, and I do like having something to train for to motivate me to get out of bed in the morning.
My friend Ann was running this as well. She initially signed up to run it with her niece, who was running her first half marathon as part of an eighth grade school project (!), but Ann's brother told her as the race got closer that she would probably be better to run the race solo, because her niece was probably going to be walking a lot of it.
Ann texted me the day before and asked me what my pace plan was. I told her I really didn't have a firm one. I knew that I had finished this race in about 2:15 and some change the first time I ran it, but that was six years and 15 pounds ago. My best half finish was at Rock CF two years ago, but that was about 10 pounds ago, and it was also a very flat course. I knew from experience that the Dexter to Ann Arbor race was pretty hilly, at least for this girl from the flatlands of Monroe County. So, although I didn't have a specific goal in mind, in my head, I thought that a 2:20 finish would be respectable, given all the prevailing factors. I wanted to feel like I had worked for this race, but I didn't want to kill myself to try for another 2:07 finish or anything like that.
Ann mentioned in a text the day before that she wanted to stick to about 10:30-minutes per mile. At the time that she mentioned it, I had no idea if that was more or less than what I needed for a 2:20 finish, but I desperately wanted someone to run with, so I cheerfully told her that sounded great! 😛
The race start wasn't until 8:30 a.m., but because it was a point-to-point race, a runner either had to be dropped off at the starting line or park at the finish line and take the shuttle. I got to Ann Arbor by about 6:40am, had no issues parking, and got my packet (very easily). I even had time to hit the porty potty a couple of times. (I swear, my bladder is the size of a thimble after two kids.)
At that point, I was ready to line up for the shuttle. The line was short when I first arrived, but by the time I got in it…it was down the road and around the corner! 😮 Standing in the wind was CHILLY, but once on the bus, we were good. The trip was fine and I chatted with my seat-mate most of the way (runners are such friendly, awesome people), then we arrived at the middle school in Dexter. I met up with Ann, stood in a super-long long for the bathroom, then before we knew it, it was time to race!
That first mile or so was really congested, which made it tough to keep to our 10:30 pace. Once we broke free, it was better, and we found ourselves going a bit too fast. But it was hard to slow down when I was feeling so good! I forgot to get pictures in Dexter (again–just like 6 years ago!) but it really is a cute town.  Some day I'll go back and NOT run through it so I can take pictures and enjoy it.
I felt pretty good for the first half of the rice, but I was fading a bit with all those hills mid-way, so I started doing .95 run/.05 walk intervals at that point. That actually helped more than I expected! Although all those "gently rolling hills" were tough, the river views were great, and the race support and crowd support were excellent.  Here are some pictures…
Now THAT was a first for me at a race–a life-size balloon-animal! LOL!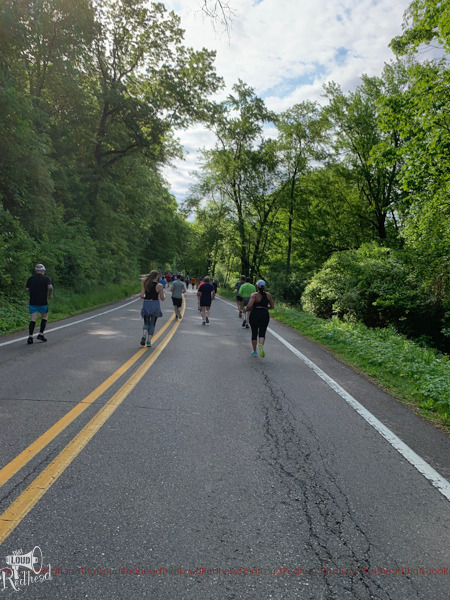 Nice and shady…isn't it beautiful?
I thought the mill in Dexter was very cute.
I think this was in Dexter, but beyond the downtown.  Nice houses, though!
Isn't that beautiful??
Lots of water views!
This was the view that awaited you when you got to the top of that killer 7.5 mile hill.  Nice!!
Ann and I had a great time talking throughout the race, and I was so grateful to have a companion. I also know that I wouldn't have gone as fast as I did without her beside me to keep me accountable. In turn, I got to share my knowledge of the race course with her, including the dreaded hill at mile 7.5, as well as the hill near the end, right before you get to the finish line. Ann was impressed with the river views and the well-timed shade along the route. Despite the hills, it really is a great course!
We managed to run "the hill" at mile 7.5, but I couldn't quite get myself up the slightly less steep hill at the 11.9 mark without walking (especially since I knew it was almost time to do my walk interval anyway, anyway). After that, we got closer to downtown and we passed a body shop that made me smile.
Must be cousins, lol!
I was fired up for the last mile to just be DONE, and then I really turned it on when we got to that damn final hill.
I swear, it was harder than it looked, lol!
I was motivated to nail it, and I did! Once we were done, we rested on the curb for a while and then we cheered Ann's niece across the finish.
She did great, and even managed to turn it on at the end!  Once we were done, Ann and I got a post-race picture to celebrate.
Overall, it was a great race. They had water pretty much every mile, with Gatorade and gels at most of the stops, too. I can't say enough about the views. I love a good course that has interesting sites, including historic architecture and water views. The hills were challenging but not impossible, and the crowd support was fantastic.
At the end of the day, I wanted to run it hard but not kill myself, and I did. I figured the 10:30 pace was probably not going to happen, considering the shape I'm currently in, as well as the hilly nature of that course, but I did stick with it for the first half, and I didn't quit the second half. I mentioned that I was hoping to finish at around 2:20, and when I got to the end, I knew I was close, so I sprinted pretty hard. The race clock is always slower, because I am not one of the first in line to race, and I knew my watch was off because I didn't start it on time, so I had to wait until I could get the official results. When I pulled them up, I laughed: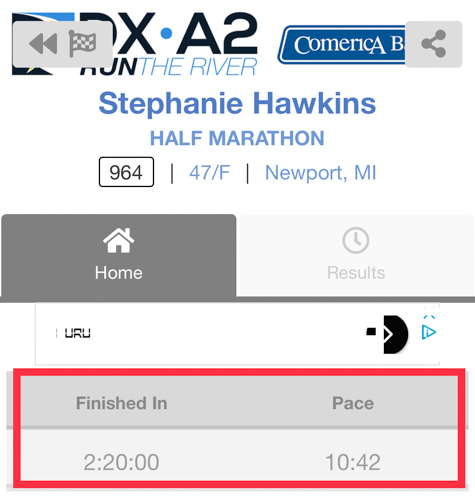 Ha ha ha!!  I could not have planned that better if I had tried!  So all in all, definitely a good race for me.  To badly-quote Toby Keith: I'm not as fast as I once was, but I'm as fast once as I ever was. 😉
Thanks for reading.  I'll try to get one more post in before the month ends (don't bet the house on it, lol), but for now, it's jam-canning weekend, so time to go crush some strawberries! 🙂