Time for another photo post!  I had an interesting week.   As I have mentioned in previous posts, DS#1 (10 years old) is on a new hockey team this spring.  We had our first game on Sunday, and of course I brought my camera.  When the coaches and other parents saw me with my camera, there were several comments about whether or not the team now had an "official" team photographer. I just waved them off and said I'm only a mom who likes to take pictures, but I would be happy to share them with the rest of the parents if interested.
The head coach asked if I would put them out on a for sharing.  I agreed, and after I created a simple Shutterfly site, I sent an email to all the parents, asking if they wanted me to add them.  I was surprised to find that many of them were quite enthusiastic, and a few of them commented on what great pictures I took and how appreciative they were.  At the next game, I heard plenty of positive comments and lots of very sincere thanks.  I guess these folks like pictures!
As it turns out, one of the moms on the team is actually a professional photographer.  So both my sons have a team mom who is a professional photographer.  Just my frickin' luck.  I mean, isn't that great!? 😉 Okay, seriously, I have nothing against professional photographers and in fact think they are awesome, but having one on each of my kids' teams is really nerve-wracking…I know I'm nothing close to a pro, and I just guess most of the time when I'm taking pictures as to how to do it correctly.  So to know that a professional is looking at my meager attempt at hockey photos always makes me nervous and self-conscious.  Of course, they are professionals and therefore I have found that both are extremely kind and encouraging.  The one on the newest team was very kind when she mentioned the pictures I took on Sunday (which I thought were some of my worst ones!).  She was also very appreciative that I would even take pictures—she admitted that she has tried to do it, but she would rather be watching the game!
So, now that I have a rather eager audience, I'm trying to give them something worth looking at!  My first experience in taking pictures for this team was on Sunday, at an arena that I've never been to.  I was not too pleased with the results. 🙁  This arena is one of those that has the shiny silver padding on the ceiling.  Why do they do that?!  It totally messes up the white balance and just makes for yucky pictures, in my opinion.  Here's one shot from the 300+ I took.
Yuck! I even tried using the Photoshop autocolor feature on these, which I only do out of desperation, because I really feel like that filter just makes my pictures look so…I don't, is fake a good word?  Well, that's the only one I have, at any rate.
For our next game, we were at our home rink (but were the away team…ha ha!).  This was my first chance to take pictures at this rink, and I was only moderately pleased with the results.  Until I started messing around with the settings in the Canon software.
Hmmm…
(Imagine me stroking my chin thoughtfully)
Here, let me show you.  Below is a picture I took of DS#1 at this game.  This is straight out of the camera, no adjustments.
Next, here's the same picture after I did my usual changes (increasing brightness, dropping shadow by 1, increasing contrast by 1, bumping up color tone by 1, setting sharpness at 7).
A little better, right?  But then, for the heck of it, I went crazy with the shadow reduction, which allowed me to drop the brightness a bit.  Here's the result:
I was pretty happy with how the shots turned out with these new settings.  Here's another one…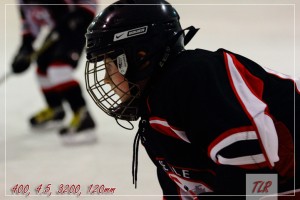 The standing-still shots are always better, right? 😉
Actually, these two aren't even the best examples of my new settings; the best ones were of other peoples' kids.  Since I don't know these parents yet, I'm not brave enough to ask any of them if I can use pictures of their kids on my blog.  I'm hopeful that their enthusiasm over the pictures will eventually afford me the opportunity to broach the subject with a few of them.  Maybe even the photographer mom if I get the nerve to ask. 😉
And though I profess to be the world's most enthusiastic hockey mom, tonight I do want to share some non-hockey pictures.  So…
Are you ready for some baseball? :p
DS#1 just loves baseball, which I really hate, to be honest.  I watched him play all last year, but gosh it was boring. (Hockey vs. baseball? No comparison!!) Last year was his first year ever playing the sport, so he was stuck in the outfield and didn't really contribute much as far as offense.  He was still learning, so that was okay.  He had a great time, and as luck would have it, his team won the championship for the league, lol!  So I guess it's no surprise he wanted to do it again this year. Here are some shots from DS#1's first scrimmage yesterday:
His first base hit ever! (Yes, it's true, he didn't have a single base hit last year…)
And stupid me, I had the wrong setting on my camera, which made it all blurry! Argh…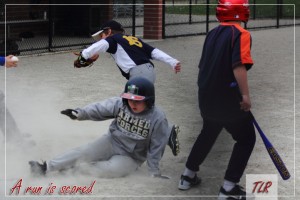 Thank goodness I got the setting figured out by the time he came home to score! (Just the sports setting…baseball shooting is new to me, so I didn't feel confident in venturing too far on the other side of the camera dial yet.)
This year, DS#1 is playing catcher, and I must say, I think he's found his niche.  He still has a lot to learn, but he worked his butt off out there last night, and I think he did great.  He even tagged out two kids at home plate, including a spectacular collision at the plate in which he ended up with a mouth full of dirt, lol!
This is one of my favorites from the game.  It's not that I'm thrilled that the pitcher put the ball in the dirt (it actually happens A LOT at this age, and this is one of the things DS#1 needs to learn how to react to), but I love that I got the dirt in mid-air!
I'll have more pictures from one of my favorite rinks (the one with the best lighting!) soon. Thanks for reading!