Ha! That post title could actually be the title of my autobiography. 😉  I'll be the first to admit that I am perpetually late to things.  It's not my fault…I inherited it from my mother. 😛  I spend way too much of my time trying to "catch up" from being late to pretty much everything.
Yesterday morning, however, I was, literally, running late.  As in, I was supposed to set my alarm for 4:40am to get up and run four miles at 5am.  But, stupidly, I set it for 5:40am (which is actually my normal alarm time), not realizing that I was an hour off.  I woke up when the alarm went off and thought, "Oh, I don't really need a full hour to run 4 miles. I can sleep another ten minutes."  So I did.  When I dragged myself out of bed at 5:50, thinking I had 20 minutes to get ready before heading out the door, at first I had no idea I was an hour behind.  I looked at the clock, which clearly said 5:50 and not 4:50, and didn't think anything of it.  It was only when I started walking downstairs and saw how light it was outside that it began to dawn (ha! another intended pun!) on me.
When I looked at my downstairs clock and realized that I had just awoken at my normal work-day wake-up time, I had a few choice words for my own stupidity. :/ I stood there for a moment and thought, "Now what?"  I didn't want to skip my run…I really do enjoy those early morning runs once I get out there and get going.  But there was just no way I could get to work on-time if I ran four miles at that point.  As much as I hate it when I am late, I knew that I would rather get to work late (and therefore have to stay late) than miss my run.  So, I dressed as quickly as I could and made it out the door half-awake by about 6:05am.
My Thursday runs are easy runs, and my goal pace was 10:43 to 11:33.  I started out in the low 10s, and I made a conscious effort to slow down, and even take a few pictures in that first mile, which put me at 10:48 for that mile.  However, as difficult as my previous runs on Tuesday and Saturday had been, for yesterday morning's run, the weather was just perfect (the humidity had finally broken the night before!) and despite my best efforts, I just could not seem to convince myself to slow down.  I felt like if I slowed my pace anymore, I'd be walking!  It's amazing what a difference the weather can make in a run.  Of course, the fact that I already knew I was running late was probably not helping me slow myself down, either. 😉
When it was all done, I did not have a "good" run in the sense that I didn't keep to my prescribed pace.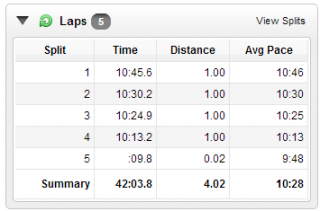 Bad running student!!  That 10:28 average actually includes the times I stopped to take pictures.  My average moving pace was actually 10:19.  Oops!  I really didn't want to go faster…but sometimes, following the plan just isn't in the cards.  🙁
I ended up being only about 35 minutes late to work, having made up a little bit of time after my run with the aid of my two super-helpers, aka, my sons.  While I got cleaned up, they put my lunch together, made my coffee, and Jamie even put the ingredients for dinner in the crock pot and got the homemade bread set up in the bread maker so that it would be ready when we got home.  (Hey, I'm back on maintenance now, so I'm going to enjoy those carbs!)  He did a magnificent job with dinner!
The boys did such a great job with helping me get ready that I felt they deserved a special reward after I picked them up from day care.  Despite the fact that I had to get to DS#2's baseball game and then get Jamie to his off-ice training right afterwards, I decided that since yesterday was a special day, I would take the time to go out of my way and do what thousands of other people did yesterday…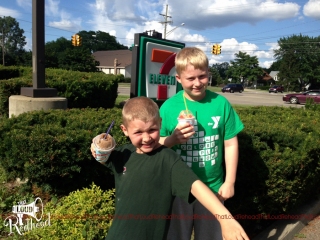 Yes, that's right, yesterday was 7-11, aka, July 11th, and the 7-11 convenience stores were giving out free Slurpees.  I have never taken my boys out for a Slurpee before, simply because there is nothing remotely healthy about them (before you call Child Protective Services and report me as a terrible mother, don't fear; my husband has taken them plenty of times).  But, besides the fact that they deserved a reward, and the Slurpees were free, I decided this would be the one year that I would let them have the free Slurpee on 7-11 because the two of them happen to be ages 7 and 11 this year. And that's kinda cool. 😀  They were thrilled, and I enjoyed making them happy.
After that, it was a mad dash to drop DS#2 at his baseball game, then run home to get his cleats (which he forgot), then drive all the way back up to where Jamie's off-ice training was (almost on-time until we got caught by a train!!), then back down to DS#2's baseball game to pick him up and also fulfill my role as snack parent.   At that point, we were supposed to go get Jamie from off-ice training, but another hockey mom (one of my ballerina moms, actually) volunteered to just take him to her house so I wouldn't have to drive as far.  And, because God is good like that, it just so happened that the extra 15 minutes her generosity afforded me coincided with an amazing sunset.  With my camera already in my car, I made a quick detour and snapped a few pictures while DS#2 enjoyed his Kool Aid Jammer and granola bar, courtesy of his mom, the snack parent. 😉
It was a long and tiring day, but all in all, a successful one, I think. 🙂
Tomorrow morning, the boys and I will be up bright and early to run a local 5k (the one Jamie has been struggling to train for) and then, after yet another baseball game, I'll run 5 more miles to get to eight, which is on my schedule for tomorrow.  Wish us luck for the 5k–Jamie is shooting for a faster time than his last 5k, a 31:58.  I know he secretly hopes to blow it out of the water, but for now, I'm just hoping he can have a better run than he's had lately.  The weather is looking good, so I'm crossing my fingers and saying some prayers for a great race!
Thank you so much for reading!!