When I finished my nine-miler on Saturday, I was really feeling down and frustrated about my 2:10 half-marathon goal for Chicago.  Dude, the race is just 6 weeks away, and at that point, I didn't feel like I could run it in 2:30, much less 2:10.  You could probably sense some of my frustration and poor attitude in my last post.  And if you're wondering, yes, I would always like some cheese with my whine. 😉
Ha, speaking of whine/wine, on Sunday night, I actually broke my unwritten rule of not having wine the night before an early morning run. It might have been because I was feeling a bit sorry for myself. 😛  It was only 3 ounces, but boy, I sure felt it Monday morning at 6am when I was trying to drag my happy rear-end out of bed for a run.  I really, really debated long and hard about just  skipping it.  I figured missing one couldn't hurt, right?  And after Saturday's run, I felt justified.  "My body needs a break," I told myself.
But, no, I couldn't give up.  That's just not my way.  So, I got up and got out on the road just as the sun was rising to do my intervals. It was actually chilly–high 50s and just a bit windy.  Great running weather!  The run was designed as a 3 x 1600, which is basically 3 one-mile runs with half-mile walk/jog breaks in between.  My goal per my personalized training plan is to run those miles at 9:13-9:28, but based on my last 1600 interval (2 x 1600), I knew that I could probably do better than that, maybe closer to a 9-minute mile with the good weather.
I ran my warm-up mile and then put it into high gear when my Garmin beeped.  I found myself in the low 8s, but I knew that wouldn't last for a full mile, and I was right.  Still, I managed to stick in the 8:40s for the whole mile, without feeling like I was killing myself, and I was thrilled to finish my first 1600 split at 8:48.  That's really fast for me!  I walked the first quarter mile of the break, and even took time to snap a picture of the sunrise.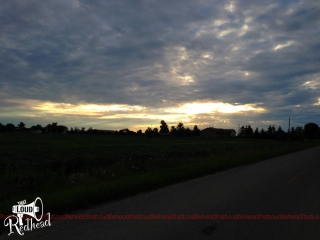 By the time I get half-way through my rest break, I felt like I needed to exert more energy than what I was doing, so I started lightly jogging the remaining quarter mile.  As I ran, I had a sudden epiphany about my run on Saturday: here I was complaining about having a less-than-stellar nine-mile run, and yet, it was so much better than my first nine-miler, when I hurt my knee and had to limp four miles back to the car.  It took me eight weeks to recover from that injury, and even longer to run truly pain free.   I realized during that little jogging break that, no matter how bad a run might be, as long as I was running without pain–it was a great run!  And really–running nine miles, even with a 5-minute rest break, is still pretty awesome compared to the girl who couldn't run 100 feet just a couple of years ago. 🙂
With that improved attitude, I started my second 1600 run strong.  In fact, I felt amazing in that mile…I was surprised to see myself staying in the low-8s and yet it didn't feel difficult.  I felt like I was really on fire, and I pushed myself to see how fast I could do that mile.  When I was done, I was ecstatic to have run an 8:34!  Not only was it a great split, but my second one was actually faster than my first!
I was really feeling good at that point, and I took a moment to marvel at and take another picture of the sunrise.
Yeah, what can I say.  I love me some sunrise pics. 🙂  Seeing a sunrise just reminds me that I am so blessed by the grace of God to live to see another glorious day…even when they aren't always glorious. 😉
For my last 1600 split, I started with the idea that I would give myself a break and run around a 9-minute mile.  But then I discovered I was still feeling pretty good, and of course, it became a challnege for me to see if I could run all three of my splits at not only sub-9, but sub-8:50.  I ran hard, but it was a little bit tougher because I was finally starting to feel my quads aching after Sunday's leg strength training.  But I gave it all I had and…
Hell yeah, baby!  Nailed it!  😀  I was feeling fan-freaking-tastic at that point, and I only walked a short way before jogging for the rest of the rest break and then adding in another half mile to make it a nice, even 6 miles.  I was out there for an hour and five minutes, and when I was done, I was tired, but it felt great!
I think this just goes to show me that I need to take the failures and build on them. Because if we never fail, we never know the true value of success.  Someone famous probably said that somewhere (and more eloquently than me), but for what it's worth, I just made that up off the top of my head. 😉
Thank you for reading and following along with my running saga!  🙂