When August hits, my days are filled with tomato-picking.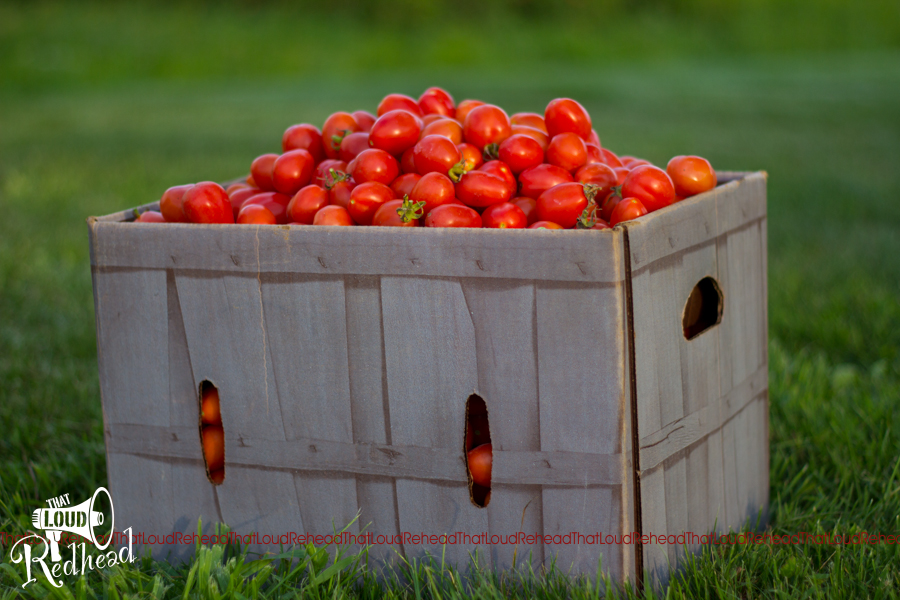 That's the product of a week's worth of ripening tomatoes from our garden. (Actually, it's not all of them; that's just all that would fit in the box!)  I think I've mentioned before that my husband plants 100 tomato plants in our garden each year.
That's our garden, back in May, when the tomato plants were babies. 😉  Most people are astonished that we plant so many tomatoes…and I suppose it is a bit overzealous, until you realize that we use them in canning salsa and spaghetti sauce.   Considering we try to aim for 60 quarts of salsa and 40 quarts of spaghetti sauce each year…well, 100 plants is actually on the low side!
Anyway, the tomatoes begin to ripen in August each year, and I spend my weekends processing and freezing them to prepare for my Labor Day weekend can-a-thon.  Processing involves blanching, peeling, and quartering them, and then putting them in vacuum-seal freezer bags until I use them Labor Day weekend.  So. Much. Work!!  But worth it when we enjoy all the delicious salsa and spaghetti sauce for the next 12 months.  (If you find it hard to believe we could go through 60 quarts of salsa in a year, well, clearly, you've never met my husband, who loves salsa so much, I'm pretty sure he drinks it straight from the jar when I'm not looking.)
Although most of the tomatoes I pick are processed, I do save a few for my favorite tomato-based recipe each August: bruschetta caprese.  I've mentioned in my "weight-loss history" post that I traveled to Italy in May 2000 (when I was at my heaviest weight). I discovered three new things to love while there: cappuccino, tiramisu, and bruschetta caprese.  The only one of the three that's even remotely healthy is the bruschetta caprese, because it has tomatoes, which are very healthy! (Of course, you have to ignore the bread and olive oil if you're focusing on the healthy aspect of it.)
Bruschetta caprese is pretty much just bread brushed with olive oil and topped with a tomato, garlic, mozzarella, and basil mixture.  It's a delightful way to use up tomatoes, and while it's typically served as an appetizer, it can be a great light meal if you wish!
Our family likes garlic, so I chop up several cloves and mix with the fresh basil we always plant in the garden.
True bruschetta caprese requires "mozzarella di bufala," ie, mozzarella made from the milk of water buffalo.  Since that's not exactly easy to find in the States, you can substitute fresh mozzarella (the kind that comes as big balls swimming in water) instead.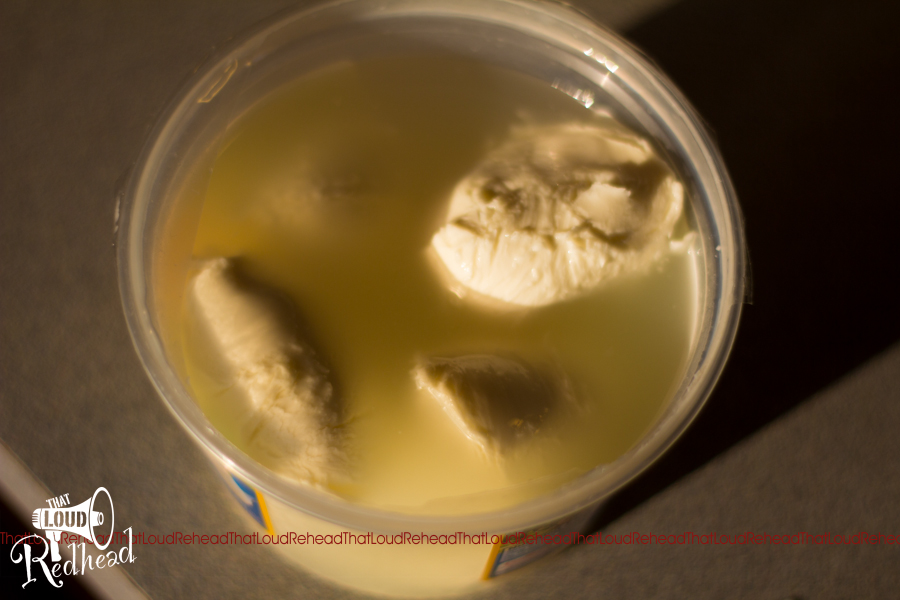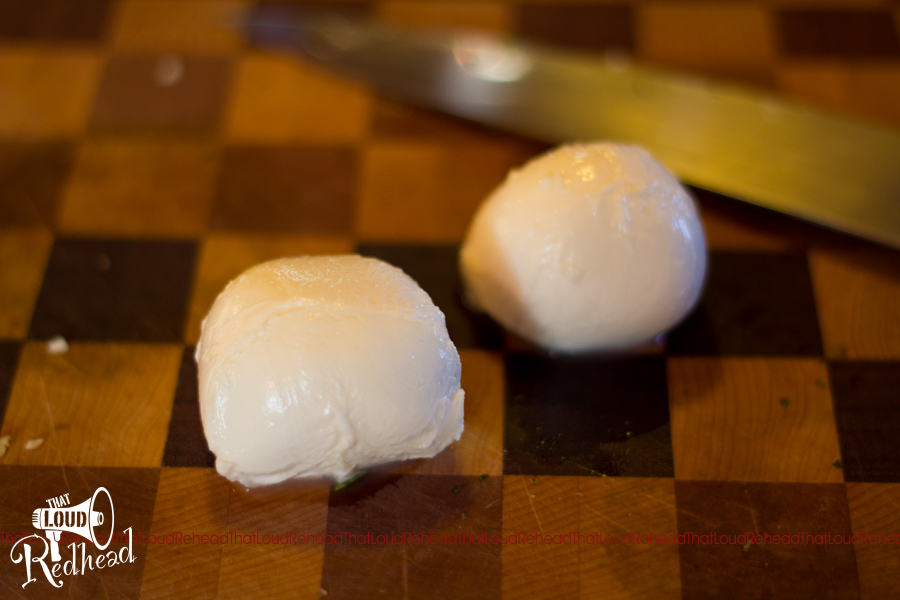 Part-skim mozzarella would be better for the diet, but I personally believe that this is one of those instances where you should splurge and treat yourself to the real thing!
After chopping up the basil and garlic, you toss in about 5 or 6 chopped tomatoes (romas are my favorite).
Then you slice the bread (I like small slices, so I use a French baguette–blasphemous for an Italian recipe, I suppose, but whatever…) and brush it with olive oil.  Broil it until just browned around the edges, and top it with the tomato/garlic/basil mixture, and voila–you have a delightful summer dish!
It almost seems like overkill to even post this as  "recipe," since it's so easy, but it's always nice to know the specific measurements and Weight Watchers points values if you're a Weight Watcher (like me), so you can plan accordingly.  It's not the greatest recipe for the diet, but I love it, and since I ran 11 miles today, I think it's totally worth the points.  (For the record, I had six servings. 😉 )
Bruschetta Caprese
Ingredients
4.5 oz Fresh Mozzarella (the kind that comes in big chunks, swimming in water), diced
3 cloves garlic (or more if you like it!), diced
3 tbsp fresh basil, chopped
5-7 Roma tomatoes (or other kind of tomatoes if you prefer; I like Romas!), diced
2 tbsp olive oil
6.5 oz French Baguette Bread (for me, this was half a loaf, sliced into 16 1/2 inch pieces)
Directions
Combine the diced mozzarella, garlic, tomatoes, and chopped basil.  Brush the bread with the olive oil and broil for a few minutes (until lightly browned).  Top the bread with the tomato mixture and enjoy!
Makes: 16 servings (1 slice of bread each)
Weight Watcher Points:  2 points per serving, although if you eat multiple slices (like me!), you get to benefit from "eating in bulk," since I discovered today that 6 slices is only 10 points. 🙂