I feel like the worst blogger ever, but this hockey (time two!!) and football thing is just really kicking my butt. 🙁  I wanted to have a race recap done by now for Jamie's 5k on Sunday, but we didn't sit down to dinner until 9:30 tonight, and I still have SO much to do before I go to bed.  So, just know that I am hoping to catch up on my own blog as well as everyone else's blogs this weekend.  And enjoy this adorable picture of my DS#2 in his first hockey game.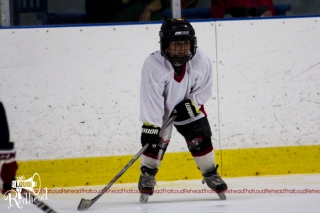 Isn't he the most adorable hockey player ever?!
Thanks for your patience and for reading!! I'll be back with a race recap and more, honest!!