I have a new recipe to share with you all, one which is both light and delightful. I have hardly been able to contain myself, I'm so excited about this recipe.  Why am I so excited? Well, besides the fact that it tastes awesome, I actually came up with this mostly all by myself! 🙂
On Thursday, my mother-in-law called me to talk about Saturday's Easter dinner.  As I always do, I asked her if she wanted me to bring anything.  I usually bring a dessert, because everyone knows that's what I'm good at. (Making real, dinner-type food is my husband's department.)  She specifically requested a "light" dessert, not necessarily light in calories, but just something light and "airy" for a spring meal.  She mentioned lemon in passing, and me, being the lemon-lover I am, glommed onto that without hesitation.
I love Pinterest for recipe-searches, so I typed in "lemon dessert" and got a whole bunch.  I didn't want a cake (though I personally love lemon cake and have a great recipe I'll share another day), because my mother-in-law said a cake sounded "too heavy."  Somehow in my searches, I found this Frozen Lemon Dessert.  It sounded like it would fit the bill, with all that lemon and cream and sugar (yeah, that's light, right? 😉 ), so I bought the necessary ingredients and made it Saturday after my run.
I forgot to buy graham cracker crumbs, but I had plenty of graham crackers on hand, so I just made crumbs.
Did I mention I hate making graham cracker crumbs? It's so much work!  But necessary nonetheless.  I was quite frustrated with the recipe at this point; it called for 3/4 cup graham cracker crumbs and 1/4 cup butter, which doubled became 1.5 cups crumbs and 1/2 cup butter.  Does that seem like a good ratio to you?  No, me either.  But I went with it anyway, and it was Not Good.  That was way too much butter! (I used Brummel & Brown, but the results wouldn't have been different with real butter.) Instead of being a nice, spreadable consistency, it was just a big ball of crumbs. :/  I ended up having to crush more crumbs, and by the time I was done,  I ended up using three cups of crumbs.  Yikes!  So, that didn't turn out well. 🙁
After that, I had to zest a couple of lemons.  The recipe called for 1-2 teaspoons lemon zest, and I was doubling it, so I figured I'd go with 2 teaspoons.  I do love me some lemon!
Then the four eggs I was using (remember, I was doubling the recipe) had to be separated.  Here is where I give you a useful trick I've learned.  I read it in a cookbook somewhere…when separating egg whites from yolks, use three cups.
One to do the separation, then one each for the yolk and the white, and make sure you do one egg at a time.  Why is this important?  Because, if you're lazy like I used to be, and you just keep separating the egg whites into the same cup, the minute you have a yolk crack and spill into the egg white of the cup below–bam! You've just ruined all the egg whites you've separated up to that point. 🙁  If you do them one at a time and put the separated white into a whole different cup, then you've only messed up one egg white. 🙂  And if you're lucky, you don't mess up any and you get perfectly separated eggs on the first try!
Next, I needed 2/3 cup of lemon juice.  The recipe strongly suggested using fresh lemon juice, and I had the lemons, so I juiced them using the cool juicer my grandma got me some years ago.
I love that thing!  Once I had 2/3 cup lemon juice (three lemons were necessary), I mixed up the yolks with a cup of sugar and the lemon juice in a pan and heated over medium heat it until it was thick and boiling.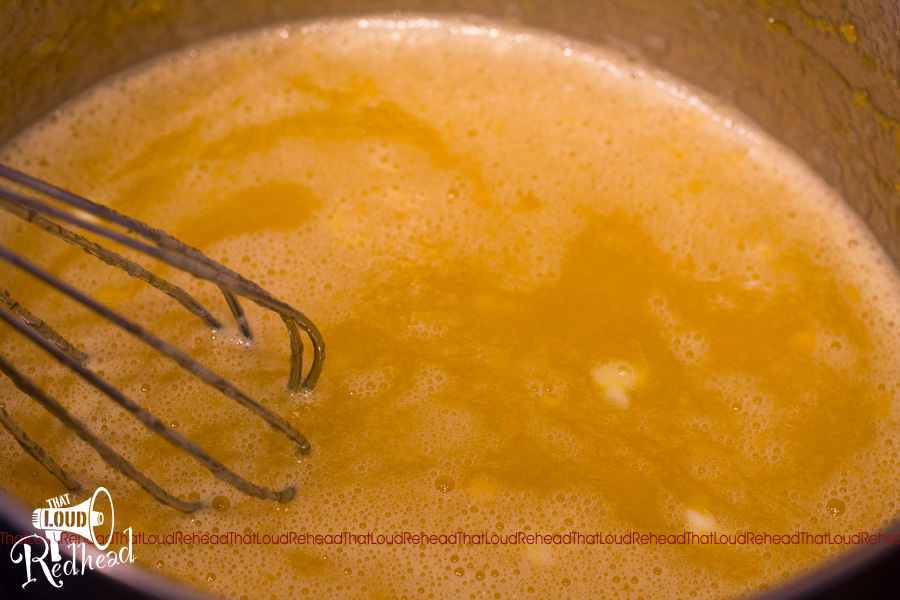 Then it was time to beat the heck out of some egg whites!  I used my super-awesome Kitchen Aid that I got as a birthday gift from my husband about 13 or 14 years ago.
It kind of felt like making meringue, but that includes sugar, and technically is baked, so I can't really call it a "meringue" recipe.  But they were still lovely when done!
After that, it was time to make whipped cream.  I love making whipped cream!  The recipe called for a cup of sugar, which seemed like a lot to me, but I went with it.
Mmmm…someone hand me a spoon and just leave me alone for half an hour. 😉  I thought that both the whipped cream and the egg whites were supposed to be beaten until stiff, which means the tips stand up straight (not curl) when the beaters are lifted.  Later I noticed the cream was supposed to be soft (tips curl), but my way worked just fine, thankyouverymuch. 😉
After that, it was time to mix it all together.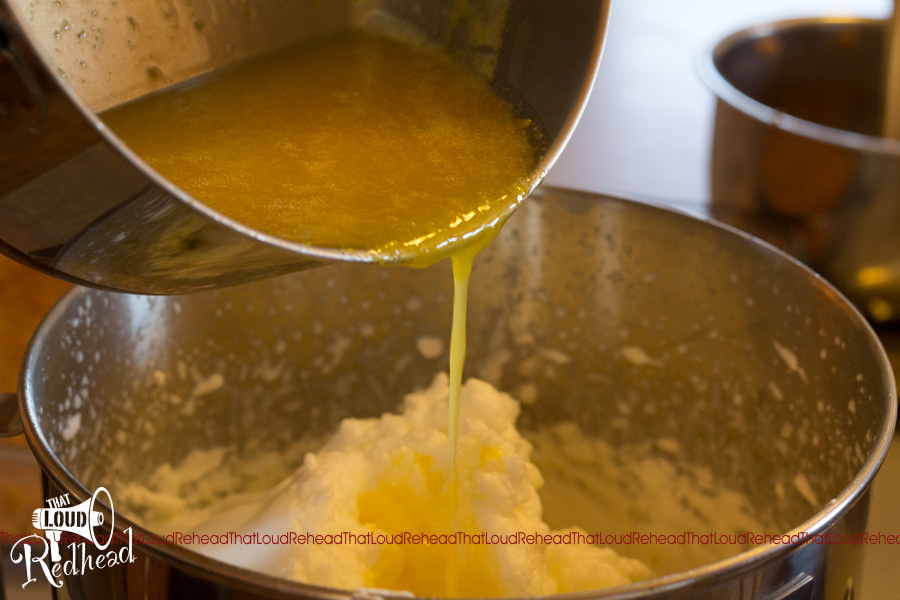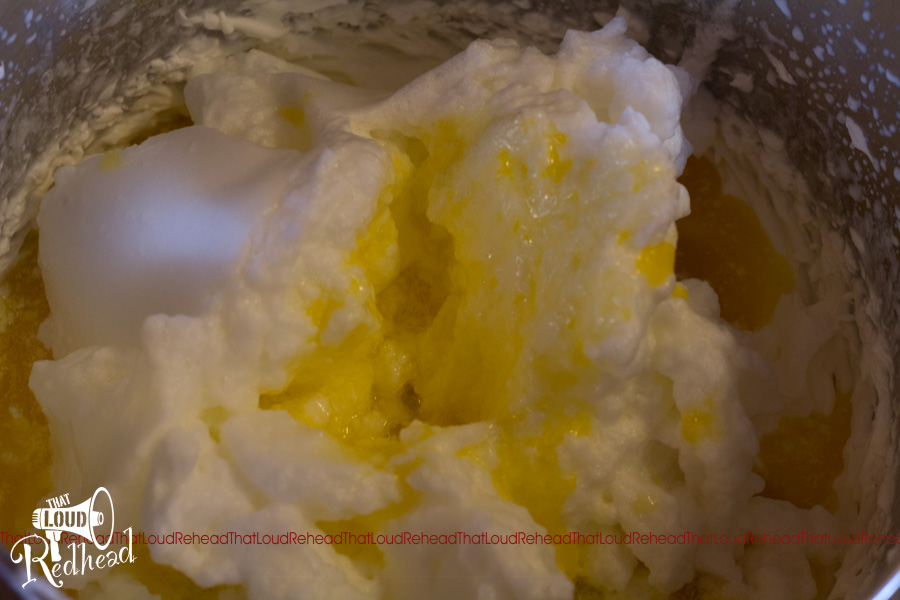 It didn't start out pretty, but by the time it was done, it was beautiful!  I love how the little pieces of lemon zest add color. 🙂  Once I put it in the pan, I sprinkled it with the extra crumbs I'd set aside and then, I did what every mom does when the kids aren't around.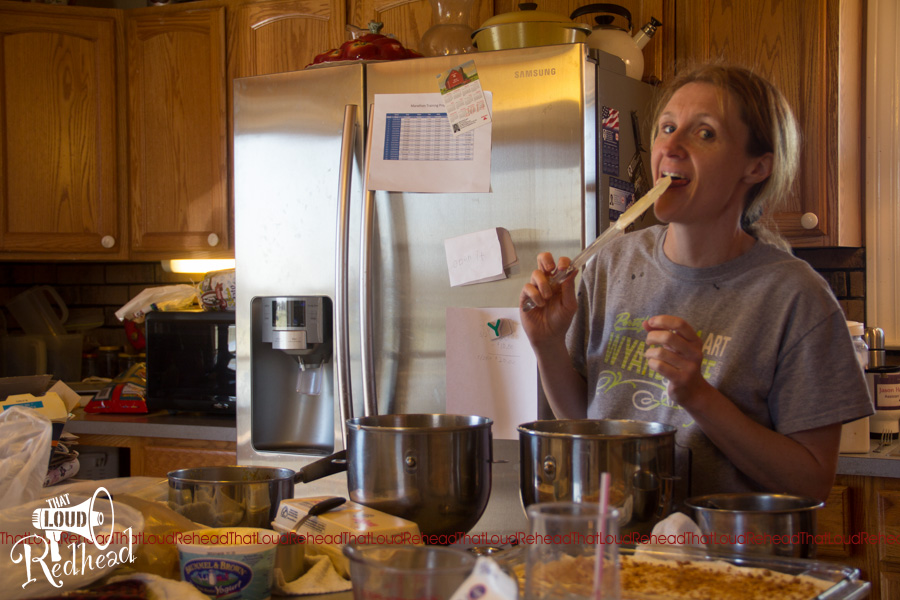 Yum!! 😉
The recipe says to freeze for 2 hours, but I discovered that it didn't freeze very well in that time.  This is the picture I took before I left for my inlaws.
Hmm…not overly pretty.  But I took it to my in-laws, popped it in their freezer, and hoped it would freeze more.  Two hours later…still not quite frozen.  I served it up after dinner…I could hardly wait to enjoy it!  But when I had my first bite…I was disappointed. 🙁  It was sooooo sweet.  And, even to this lemon-loving girl, way too lemony. 🙁  I was actually kind of ticked that after all my hard work, and all those points (13 points for one slice!!), it wasn't nearly as good as I imagined.  My husband's family ate it and raved about it (they had seconds and then asked me to leave the leftovers), but I wasn't happy about it at all.
I thought about it all the way home and again Sunday morning during the church breakfast, and as I did my Sunday morning strength training workout in the barn, I came to a conclusion.  I was going to try again, but this time, I was going to do it my way.  I felt confident I could lighten it up and make it taste even better.  My plan:
Use low-fat graham crackers
Cut the sugar in half
Cut the lemon juice in half
Use the same number of egg whites, but half the egg yolks
Use much less butter/Brummel & Brown in the graham cracker crust
Substitute fat-free Cool Whip for half the real whipped cream, thawed
After a trip to the grocery store, I put the dessert together using my lightening techniques, and then popped it in the freezer for the rest of the afternoon and part of the evening.  It probably spent about 5 hours in the freezer, and the result…
…was magnificent.
I'm not sure I've ever made a lemon dessert I love more than this one.  And I've made a lot of lemon desserts!  As for the points total?  Cut by more than half.  Normally I'm a pretty humble person, but in this case…I think I am a rock star. 😉
It is so good!!!  And at only 6 points (versus 13!!), it's not hard on the diet at all.  We had it after dinner while watching a movie, and everyone loved it (except for JJ, who is just picky and ridiculous).  The only thing that remained at that point was to give it a name.  I didn't feel like "Frozen Lemon Dessert" was a good way to describe it.  My husband and I tossed around all kinds of ideas, most of which were way too long or completely not appropriate (it's not a bar, or a pie, obviously).  I posted a picture to social media and asked for ideas.  My friend Geri suggested one and I immediately loved it…and thus, the "Frozen Lemon De-Light" was born. 🙂
I hope you make this and enjoy it.  If you do, let me know what you think!  And if you make it and don't enjoy it, I'll be happy to take down your address and see how fast I can get to your house. 😉
Thank you for reading!!
Frozen Lemon De-Light



This recipe is a lightened and then doubled version of the original, found here on the Let's Dish blog.
Ingredients
9 sheets of low-fat graham crackers (two squares per sheet), crushed into crumbs*
3 tbsp Brummel & Brown spread, melted
1 cup white sugar, divided
2 egg yolks
4 egg whites
2 lemons to make 1/3 cup fresh lemon juice
1-2 teaspoons lemon zest (depending on how lemony you like it) using lemons above
1 cup heavy whipping cream
1 8 oz container Cool-Whip Free
Mix together graham cracker crumbs and melted Brummel & Brown. Press most of the crumbs into the bottom of 9×13 pan, reserving 1-2 tablespoons for the topping.
In a small saucepan, combine 1/2 cup sugar, 2 egg yolks and the lemon juice. Cook over medium heat, stirring constantly, until mixture bubbles and thickens. (Seriously, you need to stir it constantly or you'll just have scrambled egg yolks!) After it is boiling, stir in the lemon zest. Cool the mixture completely.
While the egg mixture is cooling, beat 4 egg whites to form stiff peaks; set aside.
In a separate bowl, combine the heavy whipping cream with the remaining 1/2 cup sugar and beat until stiff peaks form.
Gently fold the lemon mixture and egg whites into the whipped cream. Then fold in the Cool-Whip. Once it's all combined, spoon the mixture over the graham cracker crust. Then sprinkle the remaining 1-2 tablespoons of graham cracker crumbs over top.
Freeze until firm, which for me was about 5 hours.
You can serve it frozen for a delicious treat on a hot day. I prefer to pull it out and let it sit for 10 minutes or so, so that it isn't quite so frozen but more creamy. But sometimes I can't wait that long and I just eat it frozen. 😉
When cut into 12 slices (the picture shown is actually cut into more like 14 or 15 slices, so smaller), it is 6 Weight Watchers Points.
*Okay, time for a disclaimer. When I made this the second time, I used 12 graham cracker sheets. I mixed it with the butter and thought it was going to be fine, but it turned out to be not enough butter for all those crumbs, and as I served it, much of the graham cracker crust remained in the pan in crumbs. However, what remained stuck to the bottom of the dessert was actually plenty enough for a bottom crust, and I determined that the next time I make this, I'll only use 9 sheets and the same amount of butter, and it should turn out perfect. I suspect it won't be long before I make this again, so I promise to come back and let you know. 🙂