I know I have a tendency toward hyperbole (I do it EVERY SINGLE TIME, right? 😉 ), but truly, these cookies are ah-maze-ing.  I have always enjoyed oatmeal cookies (as long as they didn't have raisins, which I detest), but these cookies…dude, they're like crack in cookie form.
This recipe was a gift from God given to me by a former co-worker who was an intern at my office a few years ago.  Her name is Mallie, which looks like it would rhyme with O'Malley but is actually pronounced like Molly.   She brought some cookies in one day to share with the office, and I was pleasantly surprised to discover they didn't have raisins.  (Nothing depresses me more than getting excited to eat an oatmeal cookie, only to discover it has raisins.)  I tried just one (since I'm on Weight Watchers, you know), and then I nearly passed out at the joy.  Before I knew it, I'd had 6 of the little suckers.  But I didn't care! They. Were. So. Good!!  Truly, since I got serious about my health and weight, it has been a long time since I've had a food that I couldn't resist, but these cookies fell into that category!
Mallie was kind enough to send me the recipe, and I made them not long afterwards…and I think I gained two pounds that week, lol! 😉 I haven't made them since, but this year, I decided to enter them in the fair, because they are that good.  Unfortunately, as mentioned in my last post, I didn't have time to make them Wednesday night like I'd planned, due to a surprise hockey clinic for JJ.  Because they had to be delivered to the fair on Thursday afternoon, and I had to work on Thursday, I was forced to have my husband make them.  Talk about stressful!  My husband is a great cook, as I've mentioned many times on my blog, but I am the baker of the family, and giving up control of a baking task that was so important took a lot of faith on my part.  :/  But, I had no choice, so while I was at work, he made cookies.  😮
We started out with a phone call where he asked me how much he should mix the dry and wet ingredients.  For a long time? A short time?  The recipe says, "until incorporated," but my husband didn't quite get it.  I was having a rough day at work, so that was not the phone call I wanted to get.   We argued for a while and then I just told him to figure it out and hung up on him.  Not my best moment, I suppose…
When Mallie made her cookies, she made them fairly small, and I asked my husband to make them bigger than what the recipe called for, because, well…bigger is better and more likely to win, right? 😉 About noon on Thursday, I received the following picture in a text, with the question, "Is this a good size?"
Do you like how we measure things with hockey pucks in our house? 😛  But, seriously…the cookies are bigger than a hockey puck!  Um, yeah, that's a bit big.  I asked him to make them smaller.  I prayed he would make them a size that was acceptable for the fair…
When I got home, I found that he had made them smaller, but they were still big.   Two in particular were rather eye-opening.
Nothing like having an oatmeal cookie almost as big as your kid's head. 😉  Turns out those were the last two, and he made them that big simply because he was getting sick of baking, lol.  Thankfully, there were some smaller than that, although not "small" by normal measurement.  I chose the smallest four I could find and turned them into the fair.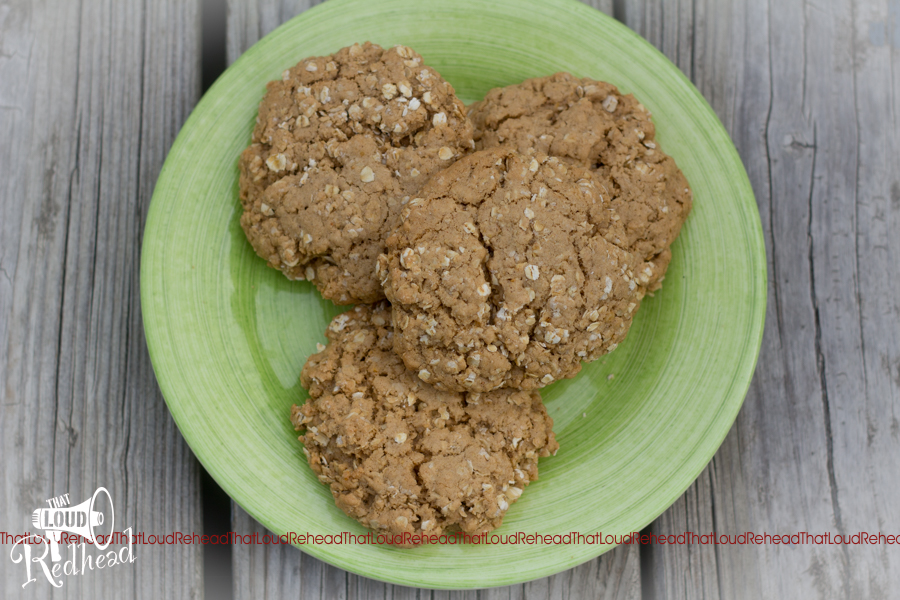 I had to rush to the fair, so I didn't get a chance to take pictures, and I told everyone in the house that no one could eat any cookies until I was able to get pictures.  Since that didn't happen until Friday night, you can imagine how unhappy they were. 😉 JJ stood next to me when I was taking pictures, and he tried more than once to sneak one.
Can't you just hear my "mom voice" snapping, "Stop it! No cookies until I'm done with picctures!"  😉  I did eventually let him have one, and he enjoyed it immensely.
I had half of one Friday night, and I let everyone in the family enjoy one as well, but I made sure they saved me a whole one so I could enjoy it after my run on Saturday.  Talk about a great post-run reward!
These are not exactly diet cookies, but they are well worth the points.  One thing I did this time around was substitute unsalted butter for the salted butter that the recipe originally called for…not because I thought it would be better, but because it turned out that unsalted butter was all I had! 😉  They tasted fantastic with the change, so I think I'll go with unsalted from here on out.
I won't know how the cookies did at the fair until Thursday, since that's the only day this week we can go.  But to be honest, I don't really care if they do well or not…I think they're delicious, and I don't really care if the fair judges think so or not! 😉
I hope you enjoy them as much as I do!
Best Oatmeal Cookies EVER!
Adapted from a recipe from my friend Mallie

1 stick of unsalted butter (original recipe called for salted, but I only had unsalted; they turned out great and I will do it this way from now on)
3/4 cup firmly packed brown sugar
1/2 cup white sugar
2 eggs
1 tsp vanilla
1 1/2 cups all purpose flour
1 tsp baking soda
1 tsp ground cinnamon
1/2 tsp salt
Dash of cloves
Dash of nutmeg
3 cups of oatmeal (Mallie indicated it doesn't matter if its the quick or the old fashioned kind; I used quick and they were great!)
1 cup raisins or chocolate chips or whatever you'd like to add (I used neither, though chocolate chips might be worth a try)
Directions
Preheat the oven to 350 degrees.
In a large bowl, beat the two eggs with a whisk, then add the sugars and vanilla. Melt the butter in the microwave and add to mixture (Mallie said she usually cuts the butter into fourths and then heats it until it is just melted; this worked fine for me).
In another bowl, mix the flour, baking soda and all the spices until it is really well blended.
Gradually add the dry ingredients to the creamy ingredients. Mallie said she usually adds about two spoonfuls at a time, whisk just until it is incorporated with the creamy mixture, and then add two more spoonfuls until all the dry ingredients are mixed in.
Mix in the oatmeal and chocolate chips or raisins, if using.
To put on the sheets, Mallie used an ice cream scoop and put the scoops on cookie sheets or baking trays so they are "nicely shaped." (No need to grease the sheets.) My husband used a larger scoop, and while they may seem big at first, they were a great size to really feel like you were having an actual cookie and not just a bite. 🙂
Bake them for 8-12 minutes, depending on the size. The smaller ones will require less time, of course. Per Mallie: "I think this is the tricky part here: make sure there is just a little brown around the bottom and the edges. Even if they seem undercooked, take them out anyway and put them on cooling racks. When they are sitting on the cooling racks, they are still very hot on the inside and will internally cook, which makes them soft yet cooked. Then they are ready to eat!" She's right–you have to undercook them just a bit to really make them perfect, so that they stay soft and don't get all crispy later. My husband baked the bigger ones for about 12 minutes. I would say you could go 11 minutes and they'd be even better!
As far as Weight Watchers points go, well…I don't think really you want to know. If you were to get 24 servings out of it, they'd be four points per cookie. Our total servings were closer to 18 (remember, my husband made big cookies!), and that's 5 points per cookie (yikes!). If you get 36 out of the batch, they're 2 points per cookie (though I suspect that having multiple cookies would increase the per-cookie point value). I guess the reality is, you're not going to make these with the intent to watch points. 😉 Just enjoy them and count them as you would any cookie. They're worth it, I swear! 😀
Thanks for reading!