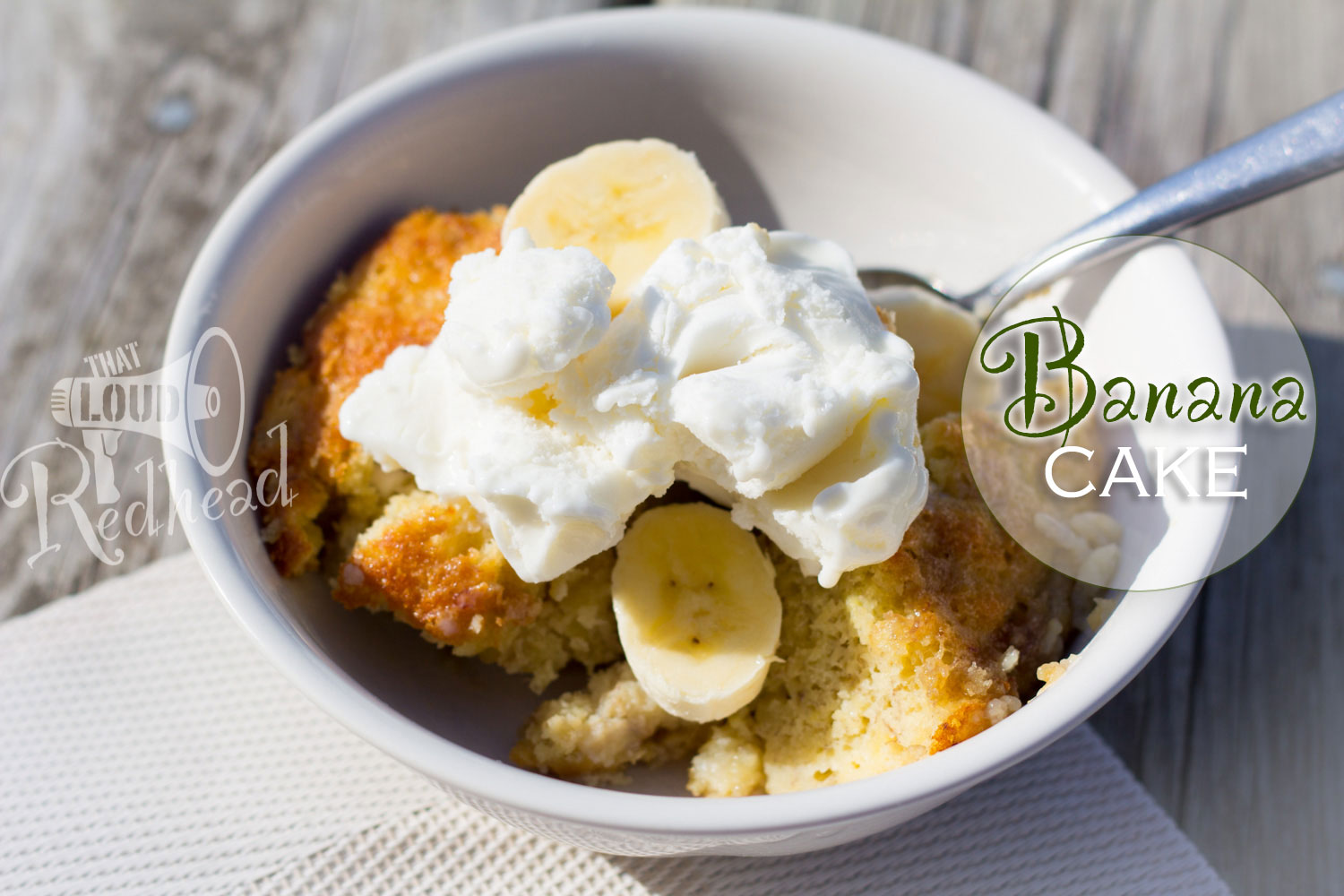 I don't know about you, but when I find a recipe using a search on the Internet (usually Pinterest, in my case), as soon as I click on the link, I find myself scrolling (sometimes endlessly) to the bottom so I can quickly see the list of ingredients.  Before I get all caught up in a recipe, I want to know that it's "do-able" for me, or if the ingredients are so specialized that it would take me a special trip to find them (wheat germ? sake? fish sauce? for real??).  Sorry, but if I can't buy it at Meijer's, it's too much work. Not very cosmopolitan of me, but, there it is. 😛 And I don't want to scroll through paragraphs upon paragraphs of description to find that out. So….with that in mind, here's the droid…er, recipe…you're looking for! 🙂
Banana Cake
Adapted from Banana Pudding Cake by Spend With Pennies

Ingredients
3 eggs, separated
1/3 cup Brummel & Brown, softened
1/3 cup sugar
3 tablespoons sugar
3 ripe bananas
1 teaspoon vanilla
3/4 cup flour
1 1/2 teaspoons baking powder
1 tablespoon lemon juice
1/3 cup brown sugar
1 cup hot water
Directions
Preheat oven to 375 degrees.
In a medium bowl, beat egg whites until foamy. Add 3 tablespoons of sugar and continue beating until stiff peaks form. Set aside.
In a bowl, combine 1/3 cup sugar, Brummel & Brown, egg yolks, 2 mashed bananas, vanilla, and lemon juice until well-combined.
Gently fold in beaten egg whites. Spread into a 2-quart casserole dish.
Sprinkle brown sugar over top.
Blend together 1 cup of hot water and the third (mashed) banana. Bring to a boil over medium heat. It will look like mashed banana in water…don't panic! Pour the water/banana mixture over the brown-sugar-topped batter in the casserole.DO NOT STIR. I know it looks pretty iffy…it's water with chunks of banana over top of batter. Again–don't panic! Just stick with me, here…
Bake 30-35 minutes or until set. It will set, I promise!
Best served warm, with ice cream on top. I like to use the Breyer's Sugar Free vanilla. It's yummy and only 2 points per half cup!
Serves: 8
Weight Watchers Points: 6 PP when made as directed above, not including ice cream (add 1 point per serving if you use real butter)
~~~~~~~~~~~~~~~~~~~~~~~~
So there you go!  Now you know whether or not this is a recipe for you.  I promise to put the recipe right up front for all of my food posts from now on.
Speaking of "all my food posts"…uhhhhhhhhhh.  😮   So yeah, I've come to terms with the fact that I'm the worst food blogger ever.  I haven't actually done a food post in over 6 months! 🙁  But the reality is that I'm not a food blogger.  I have a full time job and two kids who play hockey, and a husband who works nights.  Most nights, I'm lucky if I can slap a recipe together to feed my ever-starving children.  Finding the time to put some creative thought into the recipe, much less take fancy pictures of it, is challenging.  My food blogging prowess is also hampered by the fact that I don't have a great set-up for taking what I would consider acceptable pictures of my dishes, and I mostly rely on natural sunlight for my food pictures.  And, here's a shock–that's kind of hard to come by in Michigan from November to May! :/ The sun rises long after I leave for work in the winter, and sets long before we get home from hockey.  So, if we're lucky enough to actually have sun, I rarely get to make good use of it.
But, in the summer, things in our world move a bit slower, and we get about 15 hours of daylight from May to August–woo hoo! 🙂  So, I guess that means I'm a "summer food blogger."  Personally, I'm okay with that, and I hope you are, too! 🙂
And now…let's talk about this recipe.  This was a completely random Pinterest pick that turned out to be a total WIN.  It all started when I unexpectedly ran almost a half-marathon on Saturday morning. (I'll save that story for another post.)  I suddenly found myself with 20 extra Weight Watchers points to use up…not that I'm complaining. 😉  We had nothing going on Saturday afternoon (for a change), and we also had three ripe bananas on the counter.  I used to hate bananas, but I discovered that running and bananas kind of go hand-in-hand (ha! if you're a runner, that made you chuckle), and now, we have them in the house all the time.  However, we're picky banana eaters in our family.  I will only eat them in the perfect state of "just ripe," while my husband and son prefer them a bit under-ripe.  So…when there are fully ripe bananas in our house, they are very unloved.  😉
Not wanting to waste the ripe bananas, I asked my husband for suggestions on what we could do with them for dessert that night.  He said he was thinking about a banana bread pudding, to which I replied with a 😛 face.  I'm just not a big fan of bread pudding…which is weird, when you consider how much I adore bread.
I decided to search Pinterest for "banana dessert" and this one came up.  Although it looked like bread pudding, it was described as a cake, and didn't actually use bread.  Since I had all the ingredients on hand, I decided to give it a try.  As I usually do, I substituted the real butter for Brummel & Brown yogurt spread (this is especially useful when a recipe calls for the butter to be "softened," but you don't actually notice until you're ready to add the butter in. 😮 ).  In calculating the points, it actually only takes it down by 1 point per serving, but I'll take every point I can get. 😉
The first step is mixing up the egg whites…gosh I love mixing egg whites in my awesome Kitchen Aid.  I have a Pro Line series mixer that my husband bought me as a birthday gift in 2000.  No lie…that sucker has lasted for 15 years and is still going strong!
Okay, that's not actually egg whites. :p It's an old picture of whipping cream, but the idea is the same.  I ADORE my Kitchen Aid and will be sad when it gives up the ghost.  Although, I'd be pretty happy if one of the new red ones showed up on my countertop to replace it. Ohhhhhhhhh, Kitchen Aid people?  I would actually do a sponsored post if you'd give me one of those for free!  Or even just heavily discounted. 😀
Okay, truly, Kitchen Aid is not sponsoring this post. In fact, they don't even know I exist, lol! So, back to the recipe.  After mixing up the egg whites, and then beating up the yolks, butter and such, I folded the egg whites back in and it made a nice-looking batter, which I then sprinkled with brown sugar.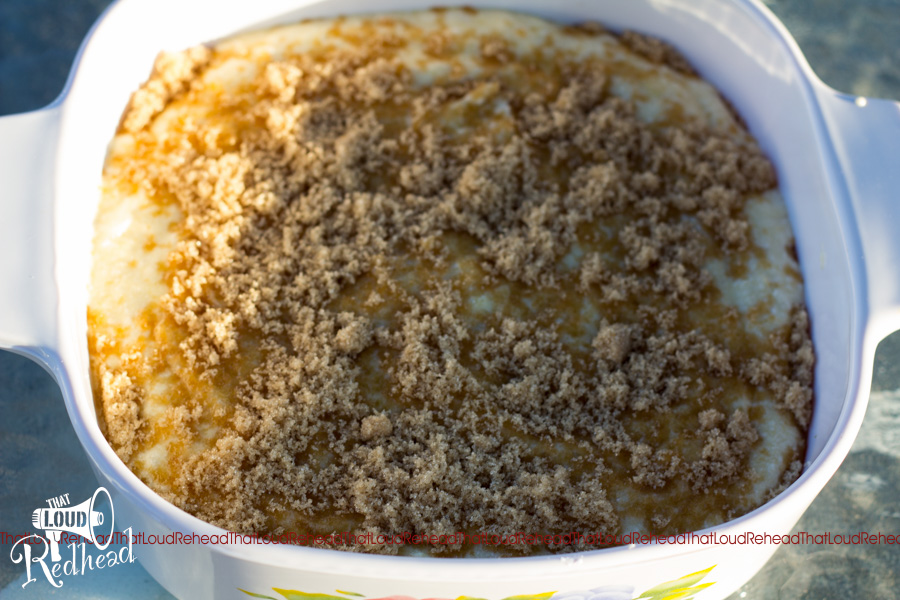 But then came the odd part.  The recipe called for mixing up the last ripe banana (mashed) with a cup of boiling water. I assumed it would make some sort of thick paste, but no…it was pretty much just chunks of banana in water. And the next step was to pour that on top of the batter. Hmmm…okaaaaaaaaayyyyyy…
It was steaming, obviously, so getting a picture was hard, but that's what it looked like. I was a bit worried at how watery it was, but I decided to have faith, and I popped it in the oven as directed.  I baked it for 30 minutes on the convection setting, so I think 30-35 minutes (versus the 25-30 stated in the original recipe) would be right for a regular oven.  Once it was done, it looked good.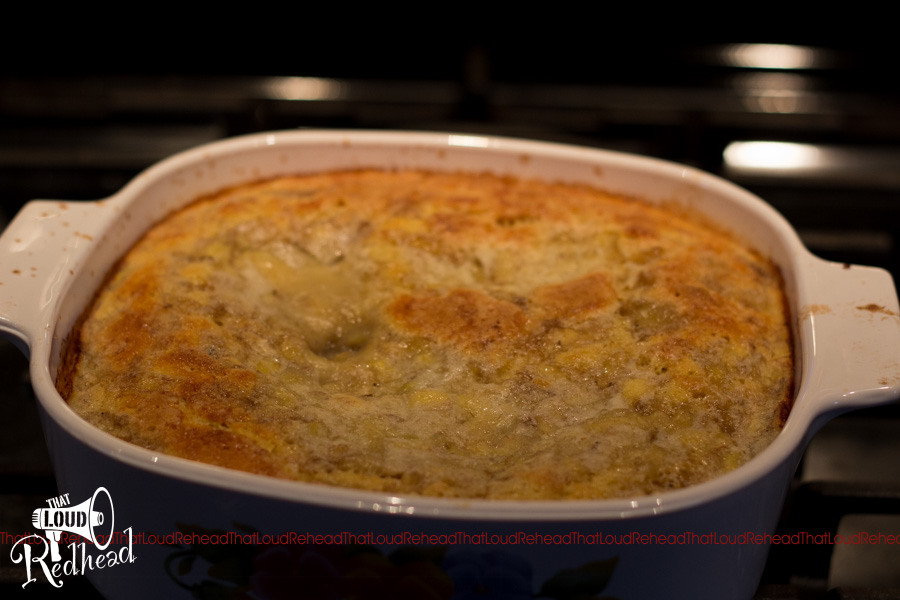 Sorry, I know it's dark, but it was late by this time, and natural light was not an option.  I served it up warm with some ice cream, and the whole family devoured it!  In fact, they loved it so much, I almost didn't have enough leftover for my natural-light photo shoot the next morning. 😉
You might notice that I removed the word "pudding" from the original recipe title, and I don't say anything about the "sauce" that the original recipe creator refers (ie, "makes its own sauce").  As you can see from the picture below of the plain cake–there's no sauce!
Maybe it's because I didn't use real butter, but I didn't find there to be any sauciness to the cake–and I was perfectly fine with that! I'm not much for saucy cakes, and this one suited me just fine. Especially when I topped it with a 1/4 cup of Breyer's No Sugar Vanilla Ice Cream (only 1 point and dee-licious!).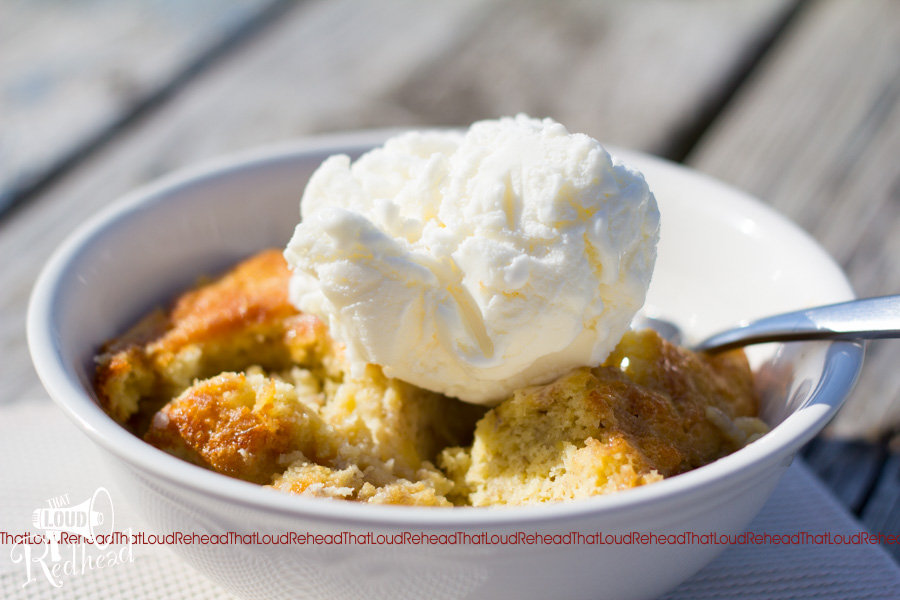 Later, I got even more creative and  and topped it with a couple of slices of banana.  Because…pretty!
The price for this dessert? A total of 7 points (6 points for 1/8 of the cake, 1 point for the 1/4 cup ice cream, 0 points for the slices of banana), which was totally worth it for me. It made for a nice, indulgent dessert, without being too points-heavy.
So that's my first food post of 2015.  I'll try to be more frequent with the food posts this summer, with recipes that are both tasty and (at least somewhat) healthy!  Thanks for reading!