Last week, Jamie had a defensive hockey clinic in Ann Arbor, Michigan.  That's about 40-45 minutes from my house, and it is, for the sadly uninformed, the home of the greatest university in the world, THE University of Michigan. 😉 (No, I am not an alumna; but I desperately wanted to be!  My parents, however, felt that the college that offered me a full four-year scholarship was a better choice.)
The camp was from 3-6pm Monday through Thursday last week, and because of my husband's schedule as well as JJ's hockey schedule, it was easiest for me to take Monday and Tuesday afternoon off and take Jamie to the camp myself.  The first hour of the camp was actually an off-ice class, where they learned the finer points of defensive techniques.  It seemed silly for me to just sit around and wait for them to come out of class and go on the ice, so both days, I decided to go for a brisk walk.  The first day, I just walked directly from the rink, which took me through a neighborhood and eventually to the U-M football stadium.
Go Blue!  Afterward, I walked back a slightly different route, but I made sure to go back by a house where two girls had set up a little "jewelry stand" when I first went by.  I didn't want any jewelry, but they promised me they'd have lemonade by the time I came back.  However, as it turns out, their mom hadn't gotten back from the store yet.  However…they did have snowcones, which was even better to me (I'm not a big lemonade fan).  Of course, I had to buy a snowcone from the most enterprising fifth graders I've ever met; it's not too often you see a snowcone/jewelry stand. 😉
I ended up walking almost 4.5 miles in a little over hour.  The next day, I actually drove in my car to downtown Ann Arbor, which I've never actually visited. (You can't count the half marathon that I ran which finished there; I wasn't exactly in the mood to go sightseeing afterwards!) I had so much fun looking at everything.  Downtown was quaint, but smaller than I expected.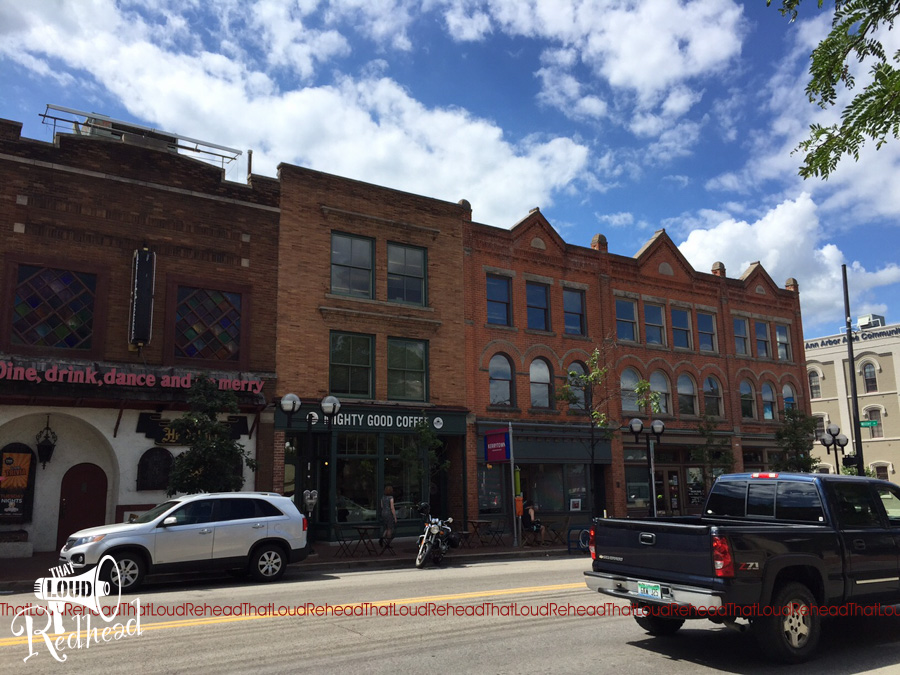 I managed to get over to the U-M main campus, and take a few pictures to show I really made it there.
I only walked 2.5 miles that day, because I couldn't help but stop to read the historical signs. 😉
I saw lots of wonderful old architecture, and some old brick streets!
So in two days, I walked 7 miles, in addition to having run 7 miles for my regular training runs.  It really made me think about how my life has changed since I got healthier.  I don't think I would have ever done that kind of exercise–willingly–just for fun before.  It felt great!
Wednesday night was fair day for our family. JJ and I headed right for the Domestic Arts building to see how our pictures and my jam did.  Guess whose two pictures took a first and second place this year?
He was so proud of himself…and I was proud of him, too!  One of my pictures took second, the one I took at the Wyandotte Fourth of July parade.
I was actually surprised, because after I had the picture printed, I discovered that pretty much everyone in the world hates clowns. :p  Two of my jams also took seconds, the strawberry and blackberry.
My raspberry never does well; I can it in the fall, so I think it just doesn't look "fresh" by the time the fair comes around in August.  I might try canning a "special" batch in June next year, just for the heck of it.
We then headed to the midway, where the boys posed for a picture before hitting the rides.
I stuck with JJ, and he even got me to go on one ride, the Scrambler.
I'm laughing there, but I was not laughing when it was over.  I forgot how much I dislike carnival rides!
I later took a break and went over to the livestock pavilion, where they were actually crowning the 4-H King and Queen (and Prince and Princess, too).
It was fun to watch…the kids were so excited!
We stayed late, actually until they closed.  I did get a few good shots.
Before we left, we had to have the "ultimate" fair food.
I do love me some elephant ear. 😉
All in all, it was a great visit to the fair, and the boys were happy with all the rides they got to enjoy (it was $1 ride day!).  I was happy that I'd avoided all the "bad" fair food and had just had that one splurge, the elephant ear.  And then it turned out that JJ ate half of it while I was talking to my husband, so I really didn't "splurge" much at all! 😉
It was a very busy week, and I slept well Wednesday night! 🙂
Thanks for reading!