It's pretty much all just random stuff about this week! 🙂  I am trying to update my blog more often, but this means you get a hodge-podge of stuff!
Tuesday morning was a run I had been dreading for a couple of days: 4 miles at race pace. I've set a goal for my September half-marathon to come in under 2:09 (my current PR is 2:09:07), which would be about a 9:50 pace. It's probably a crazy goal, since my last half marathon was at 2:30 (under pretty awful conditions), but I figure all I can do is train for it and see what happens.
For Tuesday, it wasn't the "4 miles at race pace" I was dreading, but the "4 miles at race pace in the heat and humidity." The temperature was 65.5°, and the dewpoint was also 65°, which means about 100% humidity. In addition, the winds were coming from the NNW at about 10 miles an hour, which sounds like nothing, unless you're running in it. It was challenging, but I guess that's how it's supposed to be. It took a lot of motivational self talk to get me through the last half mile, but I did it!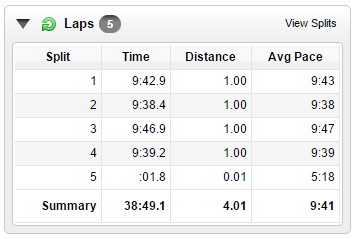 I felt really accomplished when I was done. Compare that to the run I had the following day, Wednesday. It was designed to be an "easy" run of only 3 miles. So, that's what I did:
Sub-11, but not by much, and only three miles. :/ That was my third day in a row of running already for the week, but when I was done, I felt lousy. The run had been harder than I expected, and yet, I really didn't do much.  I had no feeling of accomplishment, and it kind of bugged me all day, like I should've worked harder or something. I don't know why I felt that way. Maybe just because I had such a great run the day before, in adverse conditions, while this one had seemed hard but hadn't really been that impressive. I guess there are always good days and bad days in running, and Wednesday was just a bad day.
On Thursday, I went for my usual lunchtime walk around the grounds at work, but I was surprised to discover that there was a fairly big event going on. My company is heavy into NASCAR sponsorship, and it just so happens that the "boys" are running at Michigan this weekend. I had seen some emails and notices about an upcoming NASCAR event at our worksite, but I didn't realize it was going to be as big as it was,  or that it would be right outside the door from my office. Turns out it was a pretty big deal, with cars on display, drivers there to sign autographs, and several of our company executives giving speeches. Oh, and free food!  I assumed it would require tickets or something, but  I pretty much just walked right into it.
It was actually pretty neat, and I felt bad that I hadn't thought to bring my kids, like so many other people had done. My boys aren't majorly into cars, but I know they would've enjoyed the experience, specially the racing simulator.
I walked around and looked at everything while I was there. They had hot dogs, which aren't really my favorite, as well as a lot of snacks and several different kinds of ice cream treats (perfect for a hot summer day).  I can't lie, the temptation to just reach out and start grabbing all the snacks and ice cream was very strong, but instead, I just took a banana.  I know, right? What willpower!  Several of my coworkers were shocked that I hadn't taken anything other than a banana, but I hadn't planned on having extra food that day, and I just didn't feel like I needed it, so I skipped it all. I was pretty proud of myself for resisting, and I did enjoy that perfectly-ripe banana!
All this week, JJ had a hockey clinic down in Monroe at the rink where we used to skate.  On Thursday, on the way down to the rink, somehow the conversation of tying skates came up, and he mentioned that he could probably tie his own skates. When we got to the rink and he started getting dressed, I handed him the skates and let him give it a try. It took a little bit of instruction, but I let him do it all on his own, and for the first time ever, he tied his own skates. A few minutes later, I walked out of the rink and posted this on Facebook:
If you're not a hockey mom, you can't appreciate what a monumental event this was!! 😉
I had some time before JJ would actually be on the ice, so I took a few moments to walk around the area, since I had missed the opportunity to walk at lunch because of the NASCAR thing. I like to get in about 27 minutes of walking each day, because it just so happens that 27 minutes of moderate walking will earn me 2 weight watchers points.
If history bores you, skip the next few paragraphs. 😉
The hockey rink in Monroe is actually located on the land where the River Raisin Massacre happened during the war of 1812. Every January, there is a reenactment of the battle right next to the rink, and I was fortunate enough to get to go and see it one year. I took lots of pictures, but that was with my old camera.  I did get a few cool ones, like this:
I'd like to go again, now that I have my really nice camera, but it just hasn't been in the cards. Maybe next year.
Meanwhile, there is actually a River Raisin Battlefield National Historic Park, where you can go and learn about the battle. It's sad to know that I've lived in Monroe County for 13 years, and have never actually gone. Truth is, I know very little about that battle, just because it was not something I've ever studied. So Thursday, when I had the time to kill, I walked down to the battle site office to look around. Even though it was closed, they had a really neat display out front.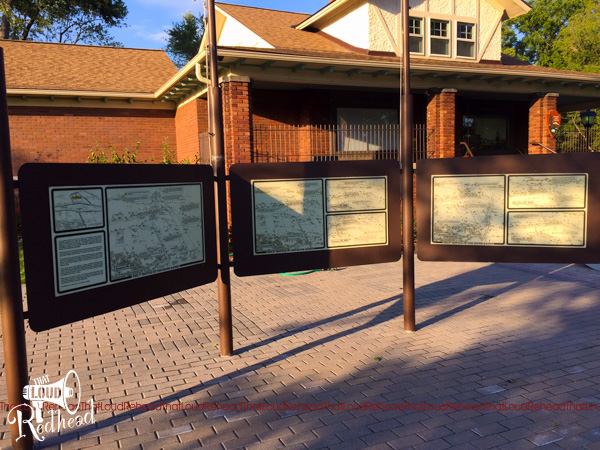 I stood there and read the entire thing, and even pulled out my phone to look at Google maps and really get an idea of exactly where the battle happened in relation to the things that are there today with which I'm familiar. It was fascinating, and I learned a lot about battles in the early 19th century and how difficult it would've been for the soldiers back then. I walked around and looked at a few more signs before heading back to the rink, I did manage to get a picture of myself in front of the headquarters.
I'm definitely going to make a point to go back one of these days and actually go inside.
Friday morning, I woke up to another dreaded run, more dreaded than even Tuesday's: intervals. Ugh. And, because it's Michigan and it's August, it wasn't just intervals, but it was intervals at 69° and 85% humidity. My previous intervals two weeks ago had also been on a humid morning, but I didn't let that deter me. Unfortunately, at that time, I ended up having breathing problems, and I nearly hyperventilated at the end of the sixth one. Not good!
This time, I decided to cut myself a break and not do any sub-8 splits (my splits are quarter-miles) and to walk through the rest breaks. As much is the intervals weren't pleasant, they actually were a little bit better when I backed off just that little bit.  I accidentally messed up and didn't start the watch until I was a quarter-mile into my warm-up run, and then I got overly enthusiastic and ended up going so far that I had to do a total of 5 miles to get back home, but overall, it was a good, if not spectacular, run.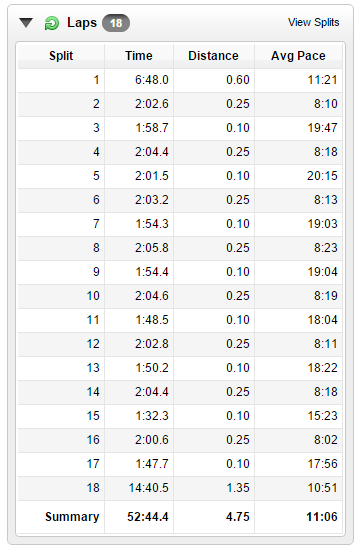 And guess what? I felt really good and accomplished when I was done! Because I'd run farther than I expected, I didn't get much time in the pool afterwards, but I enjoyed that five-minute dip!
Later on at work, we had a retirement luncheon for one of my coworkers. We drove down to a place in Detroit called Slows Barbecue, which is actually in Corktown, if you're familiar with Detroit. I am not a barbecue fan at all, but my coworkers seem to really like this place. This was our second time there this year, and the first time I got a salad I was really disappointed in. It was small, and the dressing, which was listed as some sort of tomato-based dressing, turned out to pretty much just be chopped tomatoes, so it was basically like I just added tomato to the salad and had no dressing. :/ Not to mention, I ordered the small, and it was…small!
There were only a few salads on the menu, so I knew I was going to have to order the same one, since the other ones appealed even less to me. But this time I got smart: I ordered the large, and instead of getting the tomato dressing, I ordered the garlic poppyseed. The salad had Gorgonzola cheese and bacon, as well as red onion.
This one was much better, and I was glad that I'd given it another try. I really enjoyed lunch, which is so novel, considering that I hated going out to lunch with coworkers at my old job. Not because I didn't like them, because there wasn't a lot of camaraderie between the workers and management, and social events were usually stilted and uncomfortable. We definitely don't have that problem in my new job! 🙂
So that's your randomness for this week. 🙂  Wherever you are, I hope you're having a great weekend…thanks for reading!