Ok, I promised to tell you about my insane weekend, so here you go!
First on tap was a hockey tournament for JJ. Second was a lacrosse showcase with the high school teams for Jamie. And THIRD…I had a guest come to visit! 😮 Not exactly the best weekend for an out-of-town visitor, but there was no way to know back in January when she booked the trip what we'd be doing in April.
Friday night was JJ's first game. It was a bit nerve-wracking, because the makeup of his team has changed a bit this season; we lost some and gained some, and after all the drama of last year, I was just hoping for a good, positive start to the season. And that's what we had!
We won 4-1, and one of JJ's former teammates for several years ago (who just joined this team) even got a goal. A great day for everyone!
After that, I did something super exciting: I went grocery shopping. :/ Not ideal at 8pm on a Friday night, but it had to be done and that was my only opportunity. It's surprising how empty the store is late on a Friday night, though!
After I came home, unloaded, and ate dinner, I had an hour to kill before I had to leave again to go to the airport to pick up my friend, Jenn.  If you've been reading my blog a long time, you might remember Jenn as the person I featured back in 2012 that lost a bunch of weight via Weight Watchers.  Jenn still looks great!  She's actually a big baseball fan, and she has a goal to visit every major league ballpark.  Comerica Park, home of the Detroit Tigers, was one she hadn't yet visited, and since I'm the only friend she has who lives near Detroit… 😉
Unfortunately, her flight, which was already scheduled to come in at midnight, was delayed, and she didn't get in until 12:30am. Ugh.  Then of course there was baggage claim and the drive home, which meant I didn't get to bed until about 1:45am on Saturday.  But, JJ had a hockey game in Farmington at 7:30am , and although my husband was taking him, I knew I needed to be up with them to make sure they actually got out the door. (My husband is not a morning person.)  On top of that, we had agreed to take one of JJ's teammates to the game since his dad was working, and that meant Jay and JJ had to be out the door at 5:45am. 😮
With only 3 ½ hours of sleep, I dragged myself out of bed at 5:15am, helped get JJ ready and ushered them out the door at 5:45am.  Then, because I always run long on Saturday, I got my running gear on and was out the door before 6am for a 7-mile run.  The full moon was still out when I started.
I'm still doing the MAF heart-rate training, but although I'd had some success earlier in the week with keeping my heart rate low without walking, I think the lack of sleep hurt me, and it turned out to be a crappy run. No need to go into it, though! Even the bad runs are better than not exercising, right? And I do love watching the sunrise while running.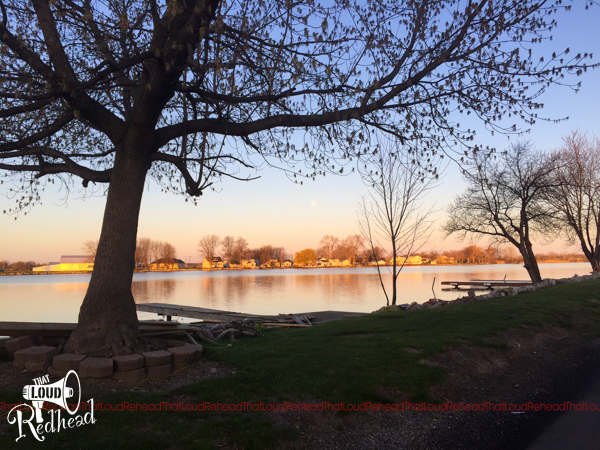 Once I got home, I showered, got Jamie ready, and then Jenn and I took him out to lacrosse on the west side of the metro area.  Once we dropped him off around 10am, we made the trek to downtown Detroit for…
Baseball!  The Tigers were playing Cleveland, and Jenn was so excited to visit the ballpark and see all the sights.
She got a certificate for attending her first game at Comerica.
(I guess normally they give those to babies and little kids, ha ha!) We went up to the second story lounge area and discovered a cool bar.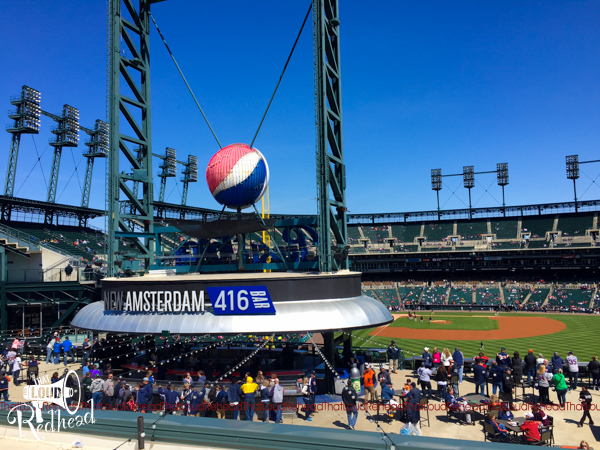 The day was cold, but really sunny, and our seats were in the sun, so we kept warm for the most part. We were just above right field in the lower deck section and had a pretty great view.
And of course, we got a stadium selfie!
One thing to note: Jenn is from Ohio and is actually a Cleveland Indians fan.  Some of the people around us were less than thrilled about that, especially when the Tigers ended up losing 10-1.  😮 Jenn got a bit excited at one point, and I had to warn her that she might want to tone it down a bit… 😉  I'm not a big baseball fan, but I hate seeing any Detroit team lose, so it was kind of a crappy game for me. :p  The most exciting thing that happened was that the single run scored by Detroit was a home run hit right to our section–in fact, it was so close to us, Jenn and I both ducked! 😀
Afterwards, we got her picture in front of the big Tiger.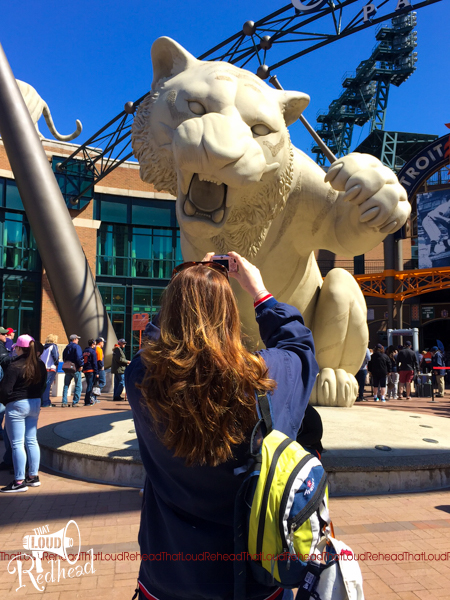 Am I wrong, or does it look like the Tiger wants to take a chunk out of that Cleveland fan? 😉
After the game (which did eventually end, mercifully…), we high-tailed it back to Farmington to catch JJ's second game of the day.  They'd won their first one in the morning 8-3, so I had high hopes for another great performance, but unfortunately, they ended up playing a team of "super stars," which sometimes happens in the spring when teams of really good players are put together specifically to play in tournaments.  They lost 7-0. Not my day for sports, clearly!
Afterwards, we headed to Livonia, where we met up with another mutual friend who drove down from the northern Lower Peninsula to see Jenn (and me!).  We had dinner at a Mediterranean place that was amazing!  Our friend ordered a "sampler" meal, and between her food and mine and Jenn's dishes, the table was filled to capacity!
I wasn't sure what to get, but I liked the sound of Sheesh Tawook, so I gave it a try.
The big orange thing is half a carrot, in case you were wondering. 😉  The whole thing was ah-mazing!  I had forgotten to eat lunch, but even so, they gave me so much, I still took more than half home.  I did eat a few pieces of delightful pita bread, though. 😉  Afterwards, we went back to our friend's place (actually, her parents') and talked way too long…I was exhausted when I went to bed Saturday night!
The next morning, JJ's team had a semifinal game—at 7:15am! 😮  Jason had to work Sunday night, so that one fell to me.  Ughhhh.  Out the door at 5:45am, but unfortunately, they drew the same team they had played the night before in the finals bracket, and the outcome was pretty much the same. 🙁  But they skated really well both times and we were all proud of them!
The game had been so early that I was still able to get us home by 9:30am…at which point I took a nap! Then, it was on to our next fulfilment of Jenn's trip "wish list": our local National Park!
Ha ha, I know it doesn't look like much, but that's the visitor center for the River Raisin Battlefield National Historic Park.  It's the country's only national park representing the War of 1812, and it's in my (almost) hometown of Monroe.  The Battle of the River Raisin and the River Raisin Massacre occurred in Frenchtown (now Monroe), and it's rather famous in historical circles.  Feel free to go look it up!
The park doesn't look like much, but Jenn and I stayed for over two hours and learned so much! I'm embarrassed to say that I've lived near Monroe for 13 years and yet had never visited before. *blush*  But I will definitely go back!  We really enjoyed ourselves.
They even let us put on some early 19th century costumes and hold (almost) real guns for a picture!
How can you not love that? 😉  Afterwards, we toured the city itself, and this history major had a blast showing Jenn all the great sights of Michigan's third-oldest city. 🙂
Eventually, we made it home, had a delightful dinner of chicken salad, and then off to bed we went.  I dropped Jenn off at the airport on Monday morning, and then it was back to reality.  That included my weekly weigh-in, of course.
Well what do you know? Despite a whirl-wind weekend that was totally out of the norm, I still managed to stay the same (actually lose .2).  I was really mindful of what I ate over the weekend, and honestly, I probably didn't eat enough on Saturday.  After 7.5 miles of running, and then a ton of walking around downtown Detroit and the ballpark, I found myself with almost 900 calories, but I actually ended up not eating any of them!  Then, on Sunday, even without any exercise, I found myself with extra calories at the end of the day…I barely ate 1000 calories on Sunday. 😮  That's what happens when I am busy and exhausted, I guess.  I honestly think I may have done myself more harm by not eating as much as I should have.  I might have actually lost weight if I'd just fueled my body a bit more!
But I won't complain, because it's a pretty rare day when I can have such a change to my normal routine and come out without a weight gain.  Jenn and I had a ton of fun, and I stayed on track, so that's what matters!
Thanks for reading!!