Is there a better title for a post than that? 😉 I don't think so!
Be forewarned: this is a picture- and text-heavy post, but on the bright side, you'll get to experience a trip to Mackinac Island and the amazing Grand Hotel vicariously through it. 😀
Last week was definitely a week out of the norm as far as my eating and exercise habits went. It started with a 3:30am wake up call Monday morning, in order for us to be on the bus for the class trip by 4:30. That was rough. :/ As I mentioned in my previous post, I couldn't possibly get a run in before that kind of early morning deadline, so I didn't run on Monday (5/9/16–I'm a week behind, sorry). We spent about six or seven hours traveling to Mackinac Island, which included a stop to pick up a group of kids from another Catholic middle school in Oakland County, and then a stop at the "Cross in the Woods", where we toured the facility and then our school priest actually conducted a mass. It was really quite beautiful, and very moving.
If you've never heard about it before, it's worth the time to click and read more about it.
We then headed up to a park just by the ferry dock in Mackinac city, where we ate the lunches we had packed. I was really trying to both stick to my healthy eating habits and be frugal, so I packed sandwiches and cut up vegetables, although I did splurge and buy some unhealthy snacks for Jamie to share with his friends. I tell you what, teenage boys are like vultures when it comes to junk food. :-p
On the other hand, as annoying as teenage boys can be, I think I'll take them over teenage girls. 😮 I mentioned that we picked up another group of students on the way up. As it turned out, there were 23 eighth graders, and only three of them were boys. That meant we had twenty girls who were vying for the attention of the "new" boys from our school.  I actually didn't notice it right away, because I was busy working on pictures (like always), but my friend who has twin daughters in Jamie's class pointed out to me during lunch that the girls eyes all got wide when they boarded, and she said the look clearly said "fresh meat." LOL!  The whole trip was actually quite an eye-opening experience for me. Middle schoolers with all their hormones can be really trying. :/
At any rate, we finished up lunch with the kids and then headed over to the island. Turns out the ferry ride to Mackinac can be rather windy if you're on the wrong side of the boat: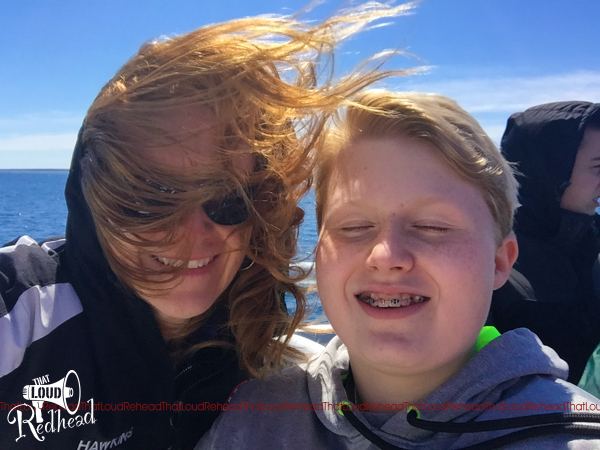 Once we arrived, we had about an hour to kill before we could head over for the beginning of the conference.  I haven't been to Mackinac in 16 years, and I'd forgotten how adorably quaint it was.
Oh, and in case you didn't know, Mackinac Island does not allow motorized vehicles!  So those horse-drawn carriages you see are the only manner of transportation. (Unless you watch the movie Somewhere in Time.  It was filmed on the Island at the Grand Hotel, and they broke the rules for the filming. I noticed they also break the rules for road construction, ha ha!) One of the boys in Jamie's class had a cousin who worked at one of the fudge shops, so he was eager to take us there and help me feed my sugar addiction buy some souvenirs for the folks back home.
Holy crap, it was like I'd found my Mecca!   We even got a discount! So, of course, I had to buy some fudge, but then, Jamie wanted ice cream. Soooo…
I got the peanut butter Mackinac Island fudge, while he got the Mackinac Island fudge mint. I don't know how Jamie's was, but mine was amazing!
After some more walking around, we headed up to the grand Hotel.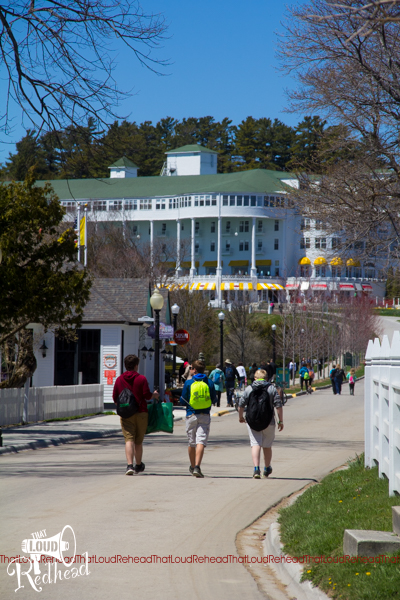 That's Jamie and a couple of his buddies with the Grand in the background. For those who aren't aware, the Grand Hotel is quite famous, and also extremely expensive. It costs $10 just to come sit on the immense porch!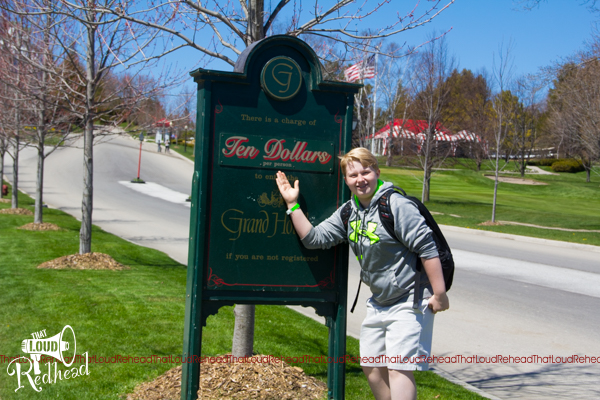 They also have a formal dress code: men have to wear a suit coat and tie and women are required to have some kind of fancy dress or pant suit after 6:30 p.m. if they are going to be anywhere in the public area of the hotel.
Luckily, they were more casual in the afternoon, and we were able to comfortably hang out and watch a couple of presentations. The entire conference was geared toward STEM for middle schoolers. In case you weren't aware, that stands for science, technology, engineering, and math. Four of my least favorite subjects, ha ha! Most of the presentations were actually pretty good, although a couple could have been improved, but for the most part, the speakers knew they were targeting young teenagers, and they presented accordingly.
After two afternoon presentations, we were finally able to go to our rooms. I totally forgot to take a picture of our room, which we're pretty much exactly what you'd expect from me 100+-year-old high-class hotel. I did snag one from their website and another from a class mom that are close to what we had.
Our beds did have the canopies, and the decor was pretty much the same theme. I think Jamie's reaction was probably the best; he and his 3 roommates had gotten a corner room, which was bigger than everyone else's.  When I mentioned that to him, his dry response was, "Yeah, but it looks like a unicorn threw up on the walls."  LOL! The rooms really are beautiful, but, if you're a boy, it's pretty gross. 😉
We had an hour to get ready for dinner, and I got done quickly enough that I was able to get some pictures of the hotel inside and out.
Then they had all the kids from the conference meet downstairs on the amazing Grand hotel balcony for a very large group picture. This wasn't even all of them–I just couldn't get far enough back to get the whole picture!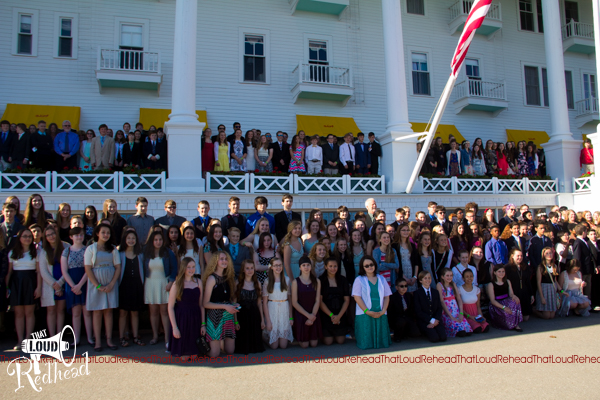 I did manage to get a picture of myself and Jamie.
Awww, don't we look nice. 🙂  As well as Jamie and his friend being goofy on the balcony.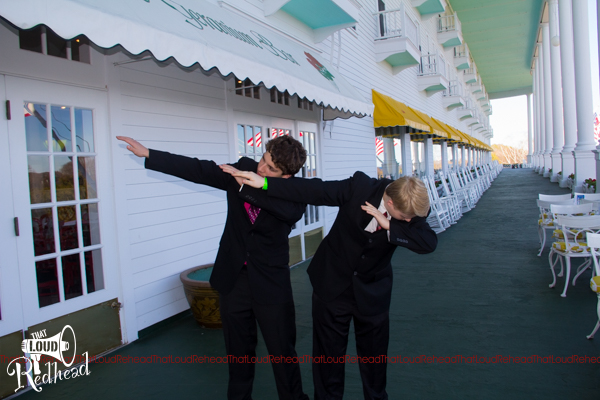 And then it was time for dinner, where we enjoyed a five-course meal served by waiters in tuxedos. It was amazing!  I think my favorite part of the evening was that every member of the wait staff called me "my lady." I know it sounds corny, but I could seriously eat that shit with the spoon. 😉
Here's the menu that we were able to choose from:
And here's a visual representation of my food: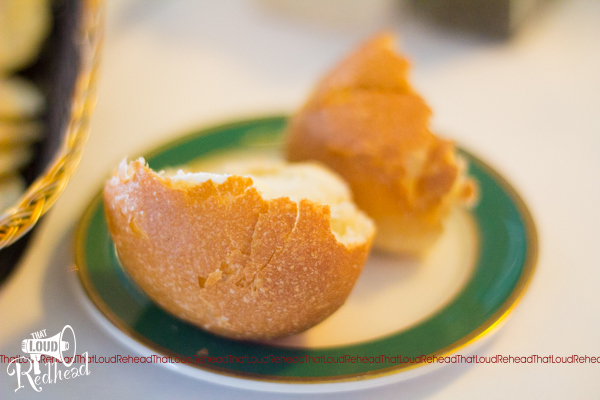 Bread.  Very important!!  😉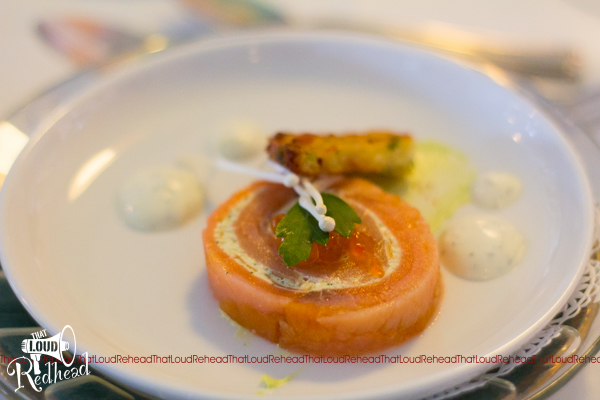 Smoked Salmon Roulade (with caviar!).  Yeah, baby!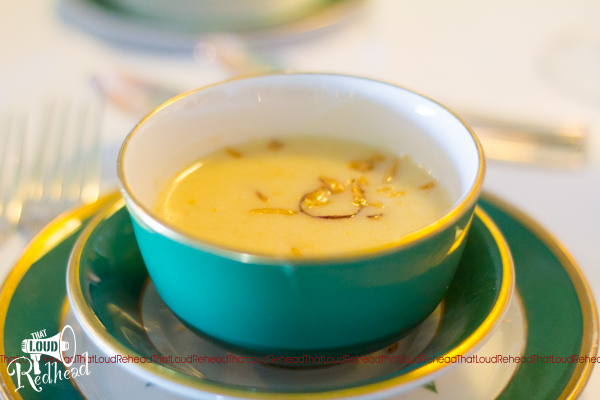 Swiss cheese soup.  Very yummy! Not sure what "tobacco onions" are, though…?
Mixed greens with goat cheese and hazelnuts.  LOVED it.
Roasted eggplant casserole.  Good, but not spectacular.
Banana Foster bread pudding with bourbon cream. Meh.
The only miss of the entire meal was the desert. Which of course was the most important part!! Bananas foster bread pudding should be soft, spongy, and moist. This was very dry, kind of hard, and not all that tasty. And it was small. Dammit. :p Nothing will ever compare to the coconut/pineapple bread pudding we had at O'hana in Disney World, honestly. Overall, though, the meal was great, and I'm glad I was able to experience it. If I ever go back, though, I will definitely opt for one of the other desserts.
After that, it was not one but TWO additional presentations. I know they wanted to give the kids plenty to do to keep them out of trouble (ha ha!), but dude. We were exhausted by the time we got back to the room at 11 PM! One of the presentations with about half a mile away, and we had to walk, uphill, to get there. And that was after dinner, when many of the girls were in their fancy shoes. I myself had seen the agenda and had been smart enough to at least bring along my running shoes, but it was still pretty hard to enjoy the presentation in my fancy clothes.  The poor kids had to sit on the hard concrete at the Mackinac stable, so you can imagine how uncomfortable they were!
Although I didn't technically exercise that day, I got in a lot of steps from all the walking we did. I don't usually count the calories that My Fitness Pal tells me I've earned with my iPhone steps, but that day, I did. Not that it mattered, because I totally went way over. 😉
One thing I failed to mention was that I was sharing a room with three other moms. 😮 If you know me, you know I am not a big fan of sharing my space. But, that was just how it worked out, and actually, it wasn't so bad. Luckily, we have some great moms in Jamie's class, and the four of us got along just fine. I asked my roommates if they would be upset if I set my alarm for 5 AM so that I could get up and get a run in. They all just laughed and said, "More power to you, we'll just roll over and go back to sleep!"
I put my head on the pillow about 11:10 PM, and I was concerned that I wouldn't be able to sleep without the 17 pillows I normally use at home (LOL). But the next thing I knew, the alarm was going off at 5 AM–and I absolutely did not want to get out of bed. I was so tired! But, the thing is, I had told my three roommates that I would be running at 5 AM. If I didn't do it, I would look like a total lazy-ass, and I just couldn't have that. So, I dragged myself out of bed, got ready quickly in the bathroom, did some stretches in the hallway, and then was in the lobby by 5:15am.  The few staff members that were on duty looked surprised to see me in the completely empty hotel, but they smiled and greeted me cheerfully as I walked out onto the big covered porch. As I stepped outside, it was still very dark, but it was very peaceful. As I waited for my Garmin to catch the satellites, I saw something kind of neat: the hotel staff member in charge of putting up the huge flags on the Mackinac porch was just starting to run the first flag up the pole.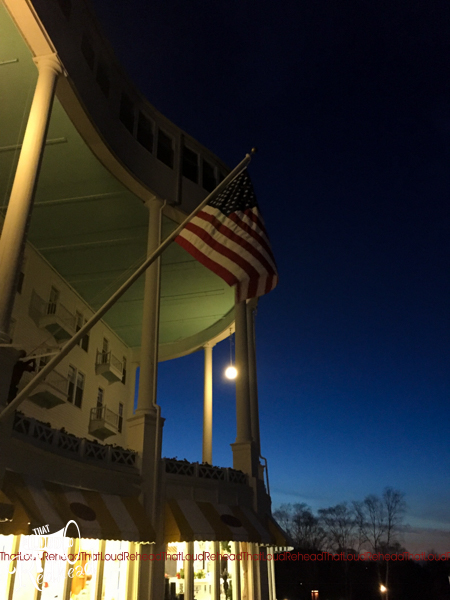 That was pretty neat to see in the quiet darkness.
After that, I started my Garmin and ran down the driveway back to the main road. I didn't really know where I was going, so I used Google maps to try to plan out a route as best I could that would get me about 3 miles. It was kind of freeing to not really know where I was going, but instead  just explore whatever I could see in front of me. And what I saw was positively amazing.
That slow, aimless three-mile run was probably one of the best I've ever had in four years of being a runner. I ran by some of the most beautiful scenery in the quiet peacefulness of the early morning:
Churches silhouetted in the early morning dawn
The back side of the enormous governor's mansion
The 200-year-old historic fort Mackinac
A police officer walking the beat (how much of a "beat" is there really on an island town where no cars are allowed? 😉 )
Island locals up and getting ready for their day, who all waved and smiled when they saw me
I saw that and so much more, but my absolute favorite part was when I found a way to the eastern shore of the island, where I experienced an incredible sunrise.
I even got to touch my fingers to Lake Huron for the first time in my life. (I've lived in this state for almost my entire life, and have seen the lake many times, but I have never actually touched it before!)  Once I got back, I was in for another beautiful view of the sunrise from the porch.
That run was definitely the high point of the class trip for me, and it made all the expense, inconvenience, and sleep deprivation worthwhile. 🙂
The second day included another presentation and then a fabulous but EXTREMELY cold carriage tour of the Island. I am a total "guided tour" geek, though, so I happily suffered the cold to get all the interesting info and take lots of pictures. Here are a few: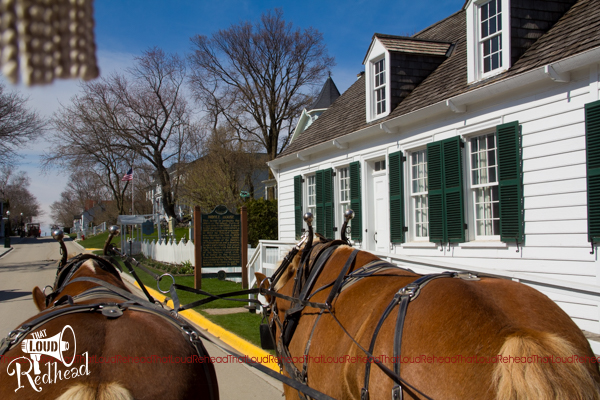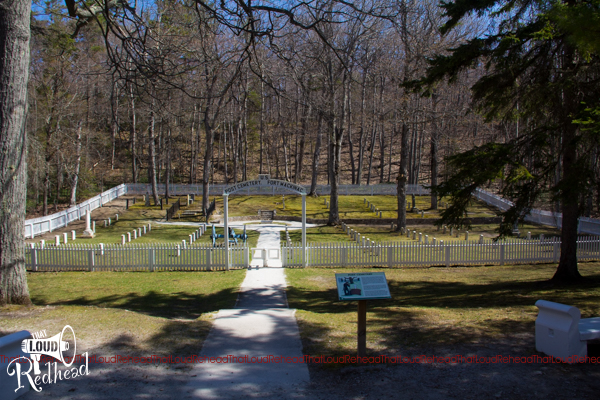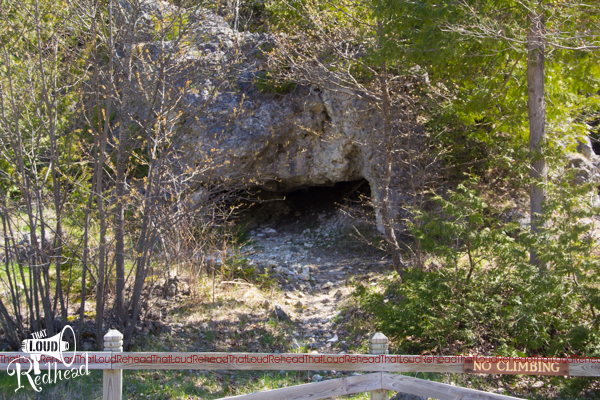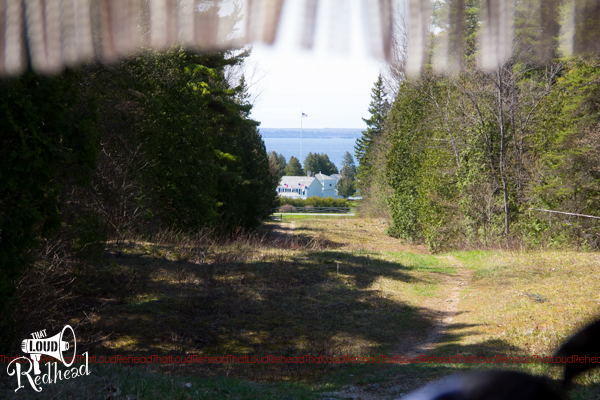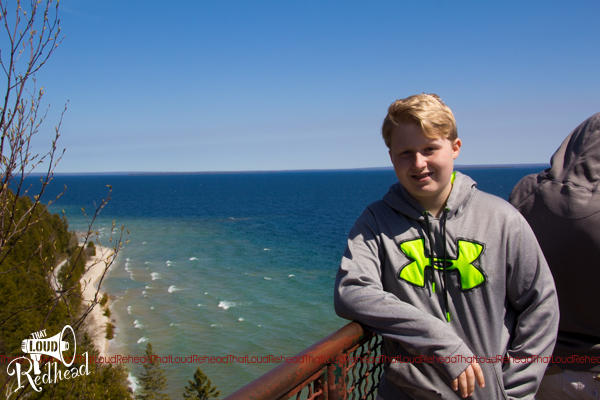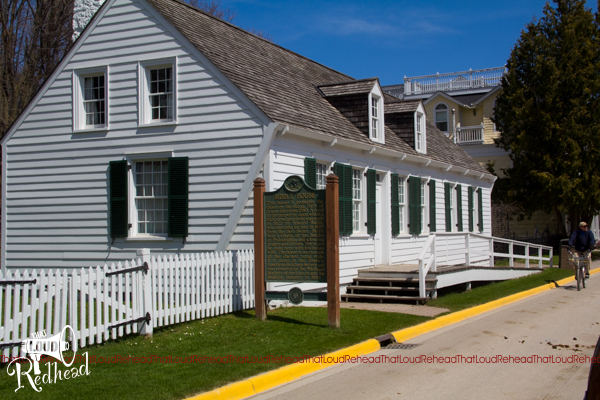 Okay, more than a few, ha ha! 😉
After the carriage tour, we had a couple of hours for lunch and more sight-seeing. I stopped at the same fudge place from the day before and got a piece of cookies and cream fudge for the school mom who watched JJ for three nights so I could go on the trip.
We had lunch at a place called Goodfellows, and I splurged and got a salmon BLT with fries.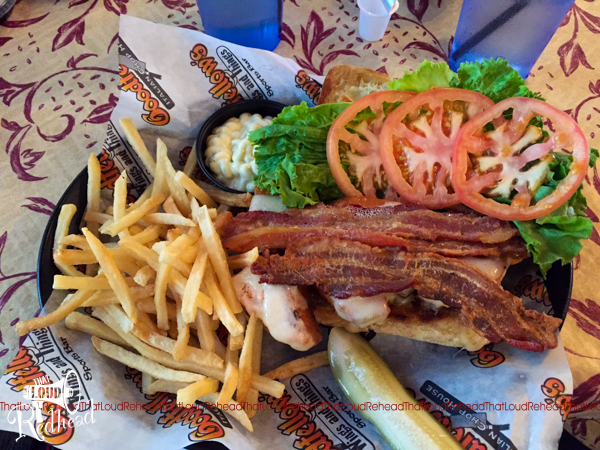 It was delicious! I only ate part of the bun and a couple of the fries, but it was still really filling. Afterwards, we went to the dock to wait for the boat, and I caved and let Jamie get a sweatshirt. I wasn't going to, but I'm a sucker for my kids. 😉 And honestly, ALL of our kids were wonderful for the whole trip. No issues at all, even in a swanky place like the Grand Hotel. 🙂
Eventually, we made it back on the ferry, heading north to Saint Ignace this time, so the wind was a lot less. I hated to say goodbye to Mackinac and the Grand Hotel, but hopefully one day I'll get back.
The trip home was uneventful, although I was forced to choose between fast food restaurants on the way back, because that was all that was offered. I chose a chicken salad from Burger King, because it was the lesser of all the evils. But it wasn't very good. :/  We arrived home around 9:30, and headed right to bed. Yes, the kids still had to go to school the next day!
Wednesday and Thursday were tough, because I was still tired from the trip, but Friday started another round of excitement: A weekend full of sports tournaments! JJ's hockey team had a tournament on the west side of the Detroit area, while Jamie had a lacrosse tournament in Lansing. It was clear that my husband and I would have to split up for the weekend, but with the choice being a 2-hour drive to Lansing or a couple of 7:15 a.m. hockey games, it was kind of a crap shoot as to which one I picked.
I ended up with hockey duty on Saturday, which meant I had to be in Farmington Hills at 6:30 a.m. Saturdays are my long run day, and of course, I couldn't skip it. I suppose I could've, but I just couldn't do it. So guess who got up at 3:30 a.m. and was out on the road at 3:57 to run 6 miles? Oh, there is just something wrong with me. :p It was a difficult run, and I had to throw the MAF plan out the window fairly quickly, because I could not get my heart rate down, but neither could I afford to walk a lot with my time crunch. I ended up running a 13-minute mile for those 6 miles, and then I hurried into the house, took a shower, made some coffee, and was headed out the door with JJ by 5:50 AM. Dude, that's just cruel!
They lost the game, unfortunately, but on the bright side, JJ and I went out to eat with a couple of the coaches, and they bought us breakfast! Score! I had some delightful hashbrowns and eggs with my favorite: rye toast. I do love me some toast.
By the time the game and breakfast were over, it was only 10:15, so JJ and I went home…where I promptly took a nap. Later, it was back up and out the door for another hockey game in the evening. Unfortunately, they lost that one too, but at least we got done by about 6 PM, which allowed me to go home and make dinner and even surprise my husband with a special "birthday brownie."
His birthday was actually this past Monday, but he had to work, so I hurried up and came up with a plan to do a quick celebration Saturday night. But since they didn't get back from Lansing until 9:30, it was a pretty late birthday celebration. And then it was back to bed, because Jason had to be up early for JJ's hockey game, and I had to be out the door with Jamie to get back to Lansing for the second day of his lacrosse tournament by 6:30 a.m. Oh my gosh, does it ever end??
Sunday was, to put it simply, a miserable f' G day. This was my first experience with a lacrosse tournament. It turns out that there were about 20 lacrosse teams at this high school in Lansing, where they had nine fields to play multiple games at once. Teams came in with canopies and tailgating supplies to camp out for the entire day while they played games or waited for their next game. In reality, it looked like it would've been a lot of fun…if it had been about 35° warmer and not snowing!!
Those little white dots are snow.  For real. It was so freaking cold, I could barely function. I wanted to sit and hang out with the other parents, but I just couldn't stay warm, so I unfortunately spent a lot of time in my car. 🙁  Jamie's team isn't the greatest, but they did their best against some very difficult teams, and they had a good time. In between games, they hung out in their short sleeve shirts (because they're teenagers) and practiced lacrosse, even going so far as to play lacrosse on the tennis courts. :p
Everyone had brought something to share, and my contribution was four packages of cookies and a couple of bags of potato chips that I had picked up quickly at Meijer on the way. I also brought carrots and cucumbers for Jamie and me, and I picked up a sub for him and a salad for me at Subway. So, ideally, I would have a good, healthy eating day after several days of being off track. Yeah, no. I brought cookies, and I ate cookies. Lots of them. And a doughnut because somebody brought Tim Hortons, and, well, donuts. And I can't fother the leftover brownies from Saturday night. I might've eaten three of them on Sunday. But, there's no actual evidence of that; it's all just hearsay.
Are you sensing a theme here? Yes, that was me, totally going off plan for a week straight.  By the time I woke up Monday morning, I was positively exhausted from the lack of sleep, the constant running around, and the sugar overload. So instead of doing my usual speed run, I rolled over and went back to bed. And, for the first time in a long time, I did not feel an ounce of guilt that caused me to run later that day. Instead, I postponed my weigh-in for a day, and hopped on the scale Tuesday.
That's up 1 pound from last week. Which, honestly, is really not that bad! I expected a lot worse, but I guess the runs that I did manage to get in, along with all the walking I did, helped keep the gain from getting too out of control.
Hopefully, this week will be a little less out of the ordinary, and I'll get back on track. So far, I've been doing OK, and I don't have any major plans this weekend, so here's to a much better way in next week!
Thanks for reading! I hope you enjoyed your little "virtual" trip to Mackinac Island and the Grand Hotel! 🙂