It must be June–all my posts are about strawberries, ha ha! 😉
Saturday afternoon, we hosted a birthday/Father's Day gathering for my husband's side of the family. My mother-in-law's birthday was Friday, and because she has a mid-June birthday, I tend to make strawberry desserts to help her celebrate. This year, I was strapped for time, so I looked up "strawberry dessert" ideas on Pinterest to see if I could whip something together quickly. Pinterest is my friend for sure in these instances. I found this recipe, but I didn't have time to make a homemade cake. I did, however, have a boxed "butter golden" cake mix, so I made do. When I had finished putting it together, I was actually pretty impressed with it.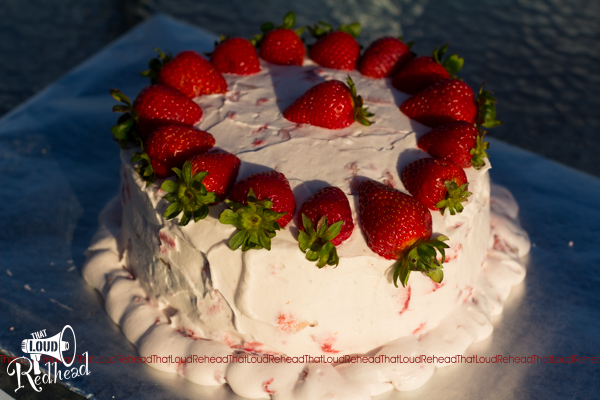 That's a pretty darn good looking cake, isn't it? Especially for having whipped it together with about three hours notice. Looked pretty impressive when it was sliced, too.
As far as the taste goes, unfortunately, I didn't have any butter, which is what the butter golden cake calls for, so I jjust made it with oil. Because of that, and just because it was a box mix anyway, I don't think the cake part turned out very well. But the strawberry frosting? Holy crap!! when it comes to things I really like, I have this saying that I use probably more often then I should: "I could eat that shit with a spoon!" In this case, it was literally true! The recipe made way more frosting than I needed even to frost that triple layer cake, and I was just sitting there in the kitchen, eating it straight from the bowl with a spoon. :p It was soooo good. Not at all healthy, of course. No, wait, there were strawberries…that's healthy, right!? 😉  At any rate, I am definitely going to make the cake again, but I will do the full-on from-scratch cake next time.  I'll take better pictures and make a real post out of it next time!
Since then, there hasn't been much going on in my world this week. Well, not much other than me enjoying PEACE AND QUIET AND CLEANLINESS!!! 😀
Why is this so monumental that it requires ALL CAPS and THREE exclamation points (!!!)? Because normally my house is chaos-filled, dirty, and echoing with nonstop bickering. But not this week! Because…
Yep, those are my little darlings, packed and ready to leave for camp. That picture was taken Sunday morning after church, and even as I type this, they are having a great time on the west side of the state, making new friends, swimming in Lake Michigan, and reaffirming their faith. Church camp is the best!
Meanwhile, I am enjoying relaxed evenings in my pool with a book and a beverage, food that *I* like, and the above-mentioned peace, quiet, and cleanliness. Food I've been enjoying includes salads every night, pasta with shrimp, and this delightful asparagus spinach quiche:
Ah, freedom. 😉
I do miss my kids a little, but not THAT much. And if that makes me a bad mom, well…whatever. 😉
Health wise, I'm still tracking all my calories, which is crucial for me this time of year, and yet also difficult. I've learned over the last 5 years of my weight loss journey that I tend to retain water in the summer, so I have to really watch my eating habits to keep from going too high on the scale. This week's weigh in was okay:
That's down .6 from last week. Still too far above my goal (120) for my liking, but better than gaining!
In other news, I also started my NEW half-marathon training program this week. I'll give more detail around that after I've done a few weeks of it, so as to give a more accurate report. But I've been enjoying it so far. Yesterday morning was an easy run, and it was really nice to be able to truly enjoy the beautiful sunrise:
Summer sunrise runs are the best part of running!
That's it for now, because I need to get my last "pool night" in before the kids return tomorrow and rob me of that "alone" time. 😉
Oh! One other thing I've been doing this week is a big photo cataloging project I've been wanting to do for a while: I'm scanning and organizing all my NON-digital pictures (for me, that's anything before May 2000, when we got our first digital camera). I've been working backwards, and it has been fun and also enlightening to go through these old photos. Here are a couple of me from the late 90s:
It makes me laugh to look at myself back then–I look so different now, in so many ways. I like to think that I look better, actually, despite the addition of 17 or so years. 🙂 I have to say, though…I sure do miss the 90s. Appearances aside, I had some good times in my pre-kid days.
I sure do wish I could find some girl to ask me to stand up in her wedding though…now that I'm small enough to actually FIT into one of those tiny bridesmaid dresses, and actually have enough hair to make use of that ridiculously expensive pre-ceremony hair salon appointment! 😉
Thanks for reading! 🙂