My family is very loving and was so kind as to share their cold with me. :/ It started with Jamie, then Jay (my husband), them poor JJ (who had to miss a hockey game because he was sick):
He was one sad little hockey player.  🙁 But at least he got to watch his team win (and he had plenty of company there in the penalty box :p ).
I fought it for a week, but I finally got it late Sunday.  I'm plowing through as best I can, but all this is basically an excuse for why I haven't posted I'm yet this week. :p Well, one excuse, anyway. 😉
Since I last wrote, we had Paczki Day in Detroit. I ran five miles that morning to enjoy the paczki my husband waited in line to get me. (Two hours in the rain…wow does he love me.)
They messed up my order, mishearing the three extra "Bavarian Creme" as "butter cream," unfortunately. 🙁 They did manage to get one Bavarian Creme in there, but after all his efforts, I had to give it to my husband. I was perturbed at first, but as it turns out…the butter cream actually wasn't too bad! 
It'll never top Bavarian, but I liked it better than the fruity ones, which I think are just a little too sweet. (Not that that stopped me from eating half of a raspberry, lol!)  If you've never seen one before, here's the inside of a fruity, gooey one: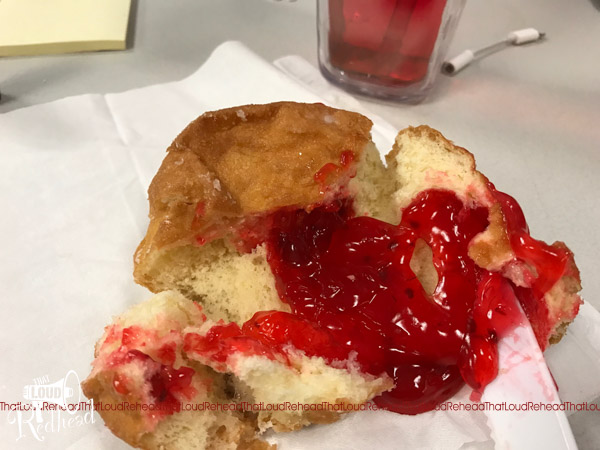 I scooped out most of that jelly–it's just too much!  I was proud of myself for eating wisely and staying within my points that day, despite the 1.5 paczki. That five miles definitely helped! 
The rest of the week included Jamie's last hockey game of the season (they lost in the first round of the playoffs, but they played well against a tough team, coming back to tie after being down by FOUR goals, only losing on a fluke break-away with less than 2 minutes to go). I ran 8 miles with my girlfriends on Saturday, then on Sunday, Jamie and I went to church to enjoy the first service with our new pastor. I let JJ stay home since he was still tired and weak. 
Toward the end of the service, Jamie leaned over and whispered, "Can we go to breakfast after service?" 
My initial answer was no, not because of money or time constraints, but because of my own weaknesses. Breakfast is my favorite meal, because I love all the food associated with it: biscuits, pancakes, potatoes, more biscuits… I had been doing so well all week, I didn't want the temptation of breakfast to pull me down into an over-eating spiral. 
But then I realized I was being offered a great gift: my teenage son, who usually wants little if anything to do with me, actually wanted to spend quality time with me. Yes, he was doing it because he was more interested in feeding that voracious teenage appetite than being kind to his mother, but why should I turn down the rare opportunity, regardless of the motives? 
So I changed my mind and took him to breakfast…and we had a great time. I even made him do a breakfast selfie with me so I could let all of social media know that sometimes my surly kid does love me.  Of course, he complained and poked fun at me, but he did it:
As far as food, I got an egg-white veggie omelette with hash browns and pumpernickel toast, and they must have gotten the message about the egg whites, because the potatoes had very little oil on them.
I took the cheese out of the omelette because I really didn't need it, and the whole meal was delicious and filling…and low in points, too. 
The next morning, I weighed in and discovered this:
Not bad! That's five pounds down in six weeks, and it puts me less than 2.5 pounds to goal. I feel good (not counting the cold), my clothes are fitting better, and I'm looking forward to spring and warmer weather. Maybe even swimsuit season, lol!
The moral of the story (if there must be one, lol) is that I'm glad I didn't let my fear of food stop me from going to breakfast with my kid. I would have missed out on quality one-on-one time with him! I've been doing this "healthy living" thing for five years, and I know that I need to learn to live my life around my eating choices, not the other way around. It's not always easy, but successful, long-term weight loss requires it!
Next time I will tell you all about my other excuses for not writing this week.  I'll bet you'll be shocked to know that it has to do with weather! 😉
Thanks so much for reading!