Good grief, we sure packed a lot into last weekend! Not only did we have to take our items to the fair Thursday evening, that same night, we had the first of five hockey games in four days. But wait, that's not the end of it: we also had my family reunion this weekend! I was crazy busy, but it was a fun weekend.
I mentioned in my last post that JJ and I entered four pictures in the fair, but we also entered a few edible items as well. Here's a picture of everything we entered:
The two cakes you see are a lemon bundt cake and an angel food cake.  I have mentioned the angel food cake previously, when JJ made it for my mom for Mother's Day. I would've love to include the roasted strawberry sauce, but the fair doesn't want extras; all they want is a plain angel food cake. Personally, I think angel food cake is kind of boring without some sort of sauce and/or whip cream. But, hey, they're the ones that have to eat it, not me. 😉
The other cake was a brand new recipe to me. I found it on Tuesday, the day before I had to make it, by searching Pinterest for "lemon bundt cake." I found a few, but I decided to go with the Martha Stewart poundcake version. I know some people make fun of her, but I actually really like Martha Stewart. Her recipes are always very good, if somewhat complicated at times, and to be honest, my house still has plenty of Martha Stewart home decor from back when it was sold at Kmart. 😉
I have to say, this cake turned out pretty awesome. It is truly a poundcake (you should've seen the look on JJ's face when he went to pick up the plate I'd put it on and discovered how heavy it was), but it is definitely delicious! I did grumble a little bit at the fact that she expected me to come up with 2 tablespoons worth of lemons zeat. Have you ever tried to produce 2 tablespoons of lemon zest? It takes a lot of damn lemons, and a whole lot of zesting! I think I was a little under the required amount, but it was still awesome.
The cookies you see on the rack were made entirely by JJ. When I asked him back in late May what category baking he wanted to enter, he said he wanted to do chocolate chip cookies. So I entered him in the "toll house" category, and then we had to pick a recipe. I know a lot of people are very traditional about their chocolate chip/toll house cookies, but it's been my experience that the fair judges, whoever they may be, seem to like things that are different or unique. JJ and I decided to go with a cinnamon chocolate chunk cookie. I found the recipe by searching for a cinnamon chocolate chip cookie online, and I think it turned out to be a real winner!
I can't tell you how the fair judges felt about our baked goods, because we haven't actually been to the fair yet to see (plan to go tonight), but I'm not too worried about it. I've learned that the fair is extremely subjective, and it does seem to be a lot about who you know versus what you've entered, but JJ and I just enjoy entering and seeing our stuff actually displayed at the fair. And sometimes, we get lucky and we win one or two ribbons, that's pretty exciting. 🙂
As soon as we dropped our stuff off at the fairgrounds at 5:30, we had to rush back home, have dinner, and then make it to the hockey rink for Jamie's first game of five over the course of a 4-day weekend tournament. They played against a team they had played just last week, and although I was excited that they beat the team rather soundly, I was less than excited about my son's performance.
If you're wondering why am showing a picture of him on the opposite side of the rink glass, that's because that is where he spent more than half the game. :/ He and his buddy got kicked out for fighting! 😮  I was pretty mad, but his coach and his dad both seemed to take it in stride (I was told that Jamie was defending his bUrdu, who was in the middle of a two-on-one altercation), so after my initial grumbling and swearing during the game, I let it go.  It is hockey, after all. 😛
And, on the bright side, he made up for it on Saturday night… by scoring the first goal of his high school career.
I was so proud of him. I don't think I stopped smiling all night.  And he got to enjoy the accolades from my family after the game, since we went to our family reunion as soon as the game was over.
The reunion was a great time, as always.  I hung out with my dad and all of his relatives, and of course there was plenty of food, including the leftover cake and cookies that JJ and I had made for the fair.  I made some of the roasted strawberry sauce and brought it and Reddi Whip for the angel food cake, but the lemon pound cake was just fine on its own.
Our family reunion is always "BYOB", which works fine for me, since I'm pretty particular about the alcohol I drink. I don't like beer, but I do like my unoaked Chardonnay, so I always just bring a bottle.  Once I arrived, I poured about 4 ounces in a Solo cup and then proceeded to sit down and chat. I had barely even had a sip before my dad was offering me a plastic cup full of some sort of fruity looking beverage.
You can see that there isn't very much in the cup, but let me assure you, it was more than enough. It turns out it was blueberry "moonshine" mixed with lemonade.  My dad and stepmother had driven up from North Carolina by way of Kentucky, and they stopped at a distillery, where they bought this blueberry moonshine.
I have never had moonshine or anything similar before, but I found out pretty quickly that it was extremely potent! So potent, in fact, that I felt like I just had three glasses of wine after just that little bit of alcohol!  I stopped drinking all alcohol for the rest of the evening as soon as I finished it. I was pretty woozy for a while, and I still had to drive home! I was really astonished at how strong the drink was, so when I got home, I ended up looking it up. It came from a place called Thunder Road Distillery, which you can read more about by clicking on the link. It definitely tasted good, but I would not want to have that on a regular basis!
After I finished my little shot of moonshine, I had a few helpings of chicken, potatoes, and green beans, and then I settled in on dessert. I can't lie, I had more than my share. Three servings of lemon pound cake and one serving of angel food cake. 😮 Seriously, that Martha Stewart lemon cake is addicting! I had been saving my activity points all week, trying to repeat last week's success in leaving a dozen or so on the table at the end of the week, but even though I'd run 7 miles Saturday morning, and not eaten much all day, I totally went overboard on Saturday night…to the tune of 55 points in one day. And actually, that's just a guesstimate, because it's hard to track food that I didn't make myself. I did calculate the points on the two cakes, but the rest of my meal was pretty much a crapshoot.
The next day, I decided that I would try to overcome some of the food overload by going for a nice, long bike ride with JJ. Once I told JJ we should go for a bike ride, he of course wanted to bike to the local ice cream shop. It's a good 4 1/2 miles one way, so I figured a 9-mile bike ride would be just the ticket for me to earn plenty of points, and I was confident that I could resist the temptation of ice cream. Of course, that was before we arrived and found out what they had on special in the "mistake" category.  (Our ice cream shop does this thing where, if they make an order for someone that turned out to be not what the person asked for, they'll put it in the freezer and selk it at a discount. They're called "mistakes," and JJ has gotten to the point where that's the first thing he asks when he gets to the ice cream store: "What mistakes do you have today?" 😉
Turns out that JJ hit the jackpot on Sunday, because they were selling a medium-sized brownie/peanut butter cup/marshmallow/hot fudge sundae on special.
There are a lot of things I can resist, but that was just too many awesome things in one cup for me to pass by.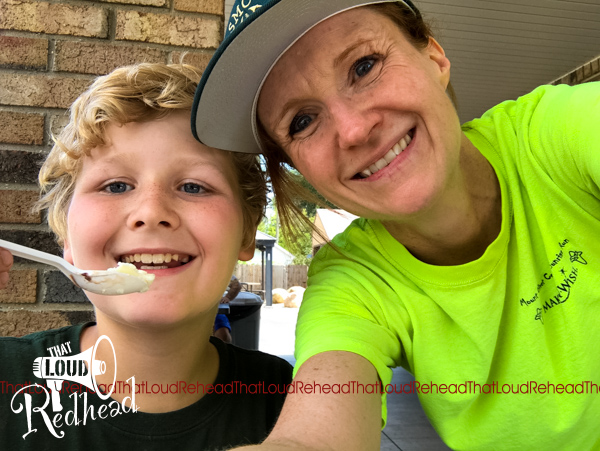 I ate probably a third of it, and left the rest of JJ. The reality is that even a 9-mile bike ride could not overcome the super-awesome "mistake" coupled with all the lemon cake I'd eaten the day before. This was made extremely clear to me the next morning.
Up over theee pounds. It didn't even come as a surprise. And I don't regret it. I know that with diligence, I can get most of it off fairly quickly, and in the meantime, I had a really great weekend, desserts included. 🙂
Thanks for reading!