Yes, I totally skipped last week, but it is what it is. So here is a catch up.
Two weeks ago, I ran a half marathon. That night, the boys and I went out  to Longhorn steakhouse, where I got a great big burger along with some fries and a delicious chocolate peanut butter brownie dessert. Also, a super large sangria.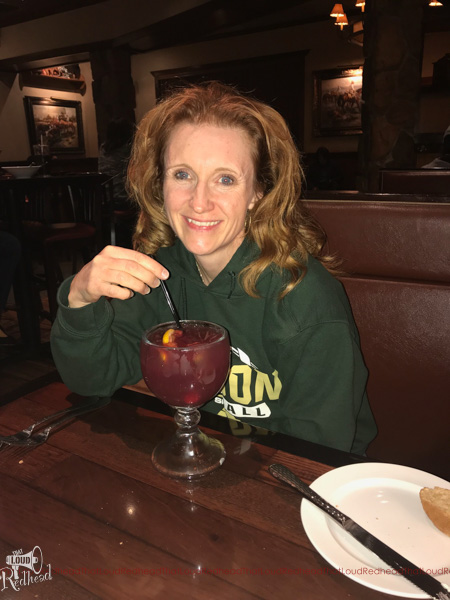 True to my rule of taking one day off work for every 13.1 miles raced, I was off on Monday and drove into Monroe to get my favorite cinnamon roll.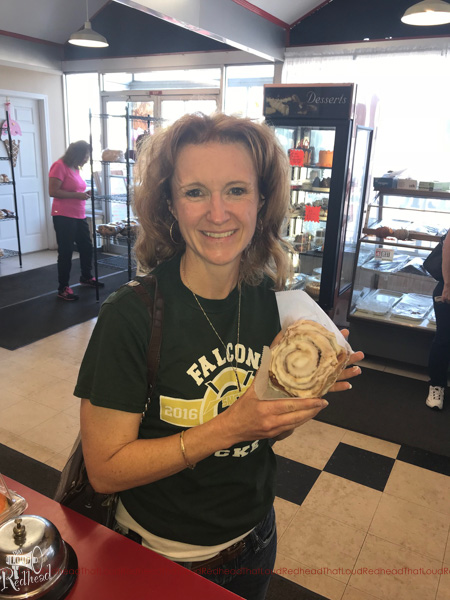 I suspect that running 13 miles was not enough to make up for that dinner, plus the cinnamon roll, so when I weighed myself Tuesday morning, it didn't come as a big surprise.
It definitely could've been worse.  The following week, I buckled down more and the results were definitely better.
Phew!  I'm still running 5 days a week, because even though it's hard getting up at 5am (or earlier), I do still enjoy it, and I love the way it makes me feel afterwards. 🙂
In other news from the last few weeks, my life has been taken up with two obsessions. The first is pretty much the same obsession I always have, pictures. This time, it's a little more targeted. I've been taking classes at a local photography shop, and I also subscribe to an online training membership that gives me access to lots of training videos. Between the in-person class and the online videos, it has been very interesting (and eye-opening), but also very time-consuming, because I'm trying to get my money's worth! I'll be taking team photos for both of my boys' hockey teams next month, and I'm trying to up my game, as it were, and improve upon last year's photos. Because you should always be improving, right?
The other obsession I've had is researching the history of my house. If you read my blog, you know that I love history, and actually have a degree in it. That's why I bought an old farmhouse when we decided to purchase our "forever home." The reason why I've been researching it lately is because we were originally told when we bought the home that it was built in 1912, but new information has come to light that seems to strongly indicated that it was billed quite a bit earlier, like maybe 20 years earlier! Because the thought of having a pre–1900 home is so appealing to me, I've spent the last month going to the local library, museum, and municipal offices to see what I can dig up. It has been fascinating and sometimes frustrating, but i've loved every minute of it. If I could actually make a career out of researching old homes, I totally would. Alas, I discovered while in college that you really can't, or at least, it's pretty difficult, so corporate training is what I do to pay the bills.
At any rate, that's what's been taking up my time as of late. And sports, of course! JJ has had a multitude of hockey games since the beginning of October, and Jamie has been playing football every Thursday night, and now, Friday nights!
That's Jamie on the left, with his best friend since Kindergarten on the right. His high school football team made the playoffs a couple of weeks ago, just barely, but they did. It seems to be a common practice around these parts that, when the varsity makes playoffs, they call up the sophomores to practice with the team and go to games to be on the sideline. Some of the very good sophomores might even play. Since Jamie is a sophomore, he got called up, and he practiced with the varsity team all week.
They had their playoff game last Friday night, 90 minutes from where we live. Besides being a long drive, it was raining the whole way, and then when we got there, it was so cold that the rain became sleet! And there I was, trying to shoot from the sidelines with numb fingers. 😮 That was definitely one of the hardest sporting events I've had to shoot, but even though it was pretty miserable, I stuck it out till the end. It was almost as miserable for Jamie, who spent the entire game on the sideline until the very end, when he went in for a couple of plays.
As it turned out, our boys, who were very much the underdogs, won, and won big! That's great news, of course, but on the other hand, that also means that hockey has to take a backseat for a bit, since Jamie can't play both sports at the same time. They have another playoff game this coming Friday, even farther away than the last one!!
After last Friday's game, when we were on the drive home, since our team had pretty much shocked all the "experts" by winning, I thought I might as well send a few pictures to the paper, even though I knew they were using a reporter and probably photographer from the local paper in that area. I didn't really expect anything to come of it, but as it turns out, they used two of my pictures, one on their website that very night, and another one in Sunday's post-game wrap up!
That's the first time I've had a football picture in the paper. 🙂  I've had hockey and lacrosse, but those are pretty minor sports in our area; they take football pretty seriously in our county, and the paper usually works with the better photographers in the area, so I was incredibly shocked to see them use two of my pictures. It was pretty great day when I discovered it on Sunday. 🙂
OK, enough about pictures. Back to healthy eating and stuff or rather, the lack thereof. I was pretty exhausted when I got home Friday night, since it was almost midnight by the time we got back from the game, and it was extremely difficult to drag my ass out of bed the next morning to run with my girlfriends. I'll admit that I got lazy and suggested we only run 5 miles. That's really not much of a long run for me anymore, considering I regularly ran 5 to 6 miles before work during half marathon training.
After I spent about an hour running, I went home, took a shower, did some laundry, and then went right back to bed. I slept for another three hours! By the time I woke up Saturday afternoon, it was close to 2 PM. I never sleep that late! Even though I didn't run very far, I pretty much ate like I did, both Saturday and Sunday. I made some pumpkin muffins for our work holiday party, and they tasted so good earlier in the week, I made another batch Saturday night. I didn't think to take a picture of them, but here's a link to the recipe. I used that Land O Lakes European butter for the cream cheese frosting, and it was so good that people at work were scooping it out of the tub and just putting it on their plates to eat. I've never made frosting that people liked that much! 😛
Between the pumpkin muffins and the beef quesadillas we had Saturday, and then more pumpkin muffins on Sunday, I definitely dipped into my weekly points, which I usually don't do. Even though I didn't want to, I went ahead and weighed myself Monday morning, because I didn't want to get too far off track.
Down .2 pounds, so in essence, staying the same. I feel like I really dodged a bullet with that one! 😉 This week it's back on track, although Halloween certainly does complicate things. I do love chocolate, and even though we live in the country and get very few trick-or-treaters, my husband always insists that we hand out candy for the few brave souls who make their way down our country road. When I buy candy, I always feel like I can't buy the stuff I don't like, because if I don't like it, pretty much nobody does, and that just doesn't seem fair to the kids. So I buy all the things that I like.
I'm sure I will regret that later, but hopefully I have some happy kids. And if I'm lucky, I'll give most of it away.*
So that makes me wonder: if you buy Halloween candy, do you buy the things you don't like to help you avoid the temptation, or do you buy what you like because you want to be the "cool" house? :p I'd be curious to hear your answers!
Meanwhile, have a great Halloween and a great week. Thanks for reading!
*Follow up: I wrote this post up earlier today and am now finishing it at 9pm.  Sadly, we only had 8 trick-or-treaters (probably because it's damn cold tonight!), which means I have way too much candy leftover! :-'(