I saw this meme posted on Facebook last Saturday and laughed out loud.
Yeah, that pretty much described me between Christmas and New Years.  I had the week off, but there was a lot of hockey in that time, so not much of a rest.  In terms of eating habits, I had my decent days, but I never had any "good" days, and I definitely had some bad, bad, bad days.  In fact, on Saturday, I went a bit crazy at a post-game hockey mom birthday party.  I had onion rings, mozzarella sticks, and even a jalapeno popper (first and last time for one of those), which is the first time in years that I've eaten fried appetizers.  And THEN I had a big bacon Swiss cheeseburger.  And birthday cake.  And a Hawaiian Long Island ice tea. (Which is a total contradiction in terms.)
Anyyyyyyywaaaaaaaaaayyyyyy.  Yeah, that was just one day, but there were more.  Plenty of food and plenty of drink as the week wore on, and then New Year's came and went and it was time to go back to work and reality.  I waited until Tuesday to weigh in, because I figured weighing in the morning after New Year's Eve was a bad idea.  As it turns out, weighing in two mornings after New Year's Eve wasn't exactly a feat of great genius, either.
Oh for sure, I deserved that 2-pound gain*.  I probably deserved more. 😛   BUT, before you think I threw all good sense out the window, let me tell you that while my eating habits weren't stellar for the last week or so, my exercise habits have been on point.  I want you to know that I did not skip a run at all while on vacation, and that is really saying something, because, DUDE…have you SEEN the weather here in southeast Michigan these last ten days?  Holy Lord, it has been SO cold.  (My apologies to anyone who lives in a colder climate, but this is cold to me!)  The temps during my runs in the last week have been:
12/25: 20 °
12/26: 5 °
12/27: -.1 ° (yes, I will take that as a sub-zero run 😛 )
12/28: 14 °
12/30: 14 °
1/1: 5 °
1/2: 7 °
1/3: 6 °
It was definitely a rough end to December, although we did get our white Christmas. And New Year's. And first week of January… 😮
I was actually doing pretty well with my eating up until December 30th. I ran with my girlfriends Saturday morning, like we usually do, but it was probably the worst run I've had in three years. I don't know what was wrong, but I absolutely was not feeling it, and I actually bailed on my friends after 3 1/2 miles. Usually I'm the one saying, "Let's just do one more mile!" But I was tired, and the footing was difficult because it was snowing, and it was getting harder to avoid the snow or the traffic, and I just gave up. I felt guilty about it all day, because 3 1/2 miles is not even close to being a long run for me. I did more than that on Thursday!
That guilty feeling, combined with the stress of a hockey practice and a hockey game that were close in time but not proximity, and by the time I got to the bar for the birthday party, I was totally done with sticking to the plan. That lousy eating carried over into New Year's Eve, which carried over into New Year's Day (and some delicious butter milk biscuits that I probably didn't need).
But the good news is, I know how to get back on track, and that's just what I've done the last couple of days.  I think that's the difference between now and all those New Year's that I tried (and failed) in the past: it's not a " New Year's resolution" or a "healthy eating challenge." Now, it's just life. This is how I roll: get up at 5 AM to run, regardless of the weather, and then plan out your meals for the day and stick to the plan. Make good choices. And above all, remember how great it feels to be healthy and in control.
That is my wish for you this new year: that you find the enthusiasm and motivation to make permanent changes for your health, too!
I have no real pictures for this post, so here are a few from last week.
This was me on my "sub-zero" run…still feeling good, before I knew the frigid temperatures were never-ending. (Note: I love this ski mask that came free with the gloves I got Jamie for Christmas; too bad JJ lost it.)
Winter running in Michigan is not for the faint of heart. 
But, man, sometimes the views are beautiful.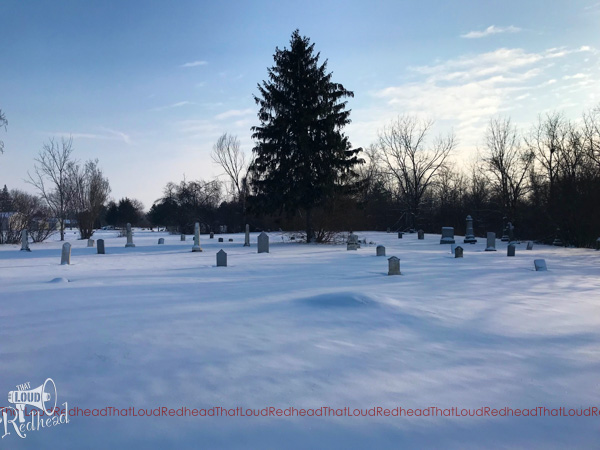 So, I told you that I've been obsessed with determining the year my house was built, right? On one of our frigid days, right after another round of snow, I stopped by the cemetery to do some research. It was damn cold, but also so pretty. 
On New Year's Day, the boys spent the afternoon watching the NHL Winter Classic, and then became obsessed with pond hockey.  Being the awesome hockey mom that I am, I found them a place nearby that had exactly that, and, even better, I braved the frigid temperatures to stand out there with them and take pictures as they skated for two hours with some college kids home on break.  They had a blast.  I had frostbite. (Okay, not really.)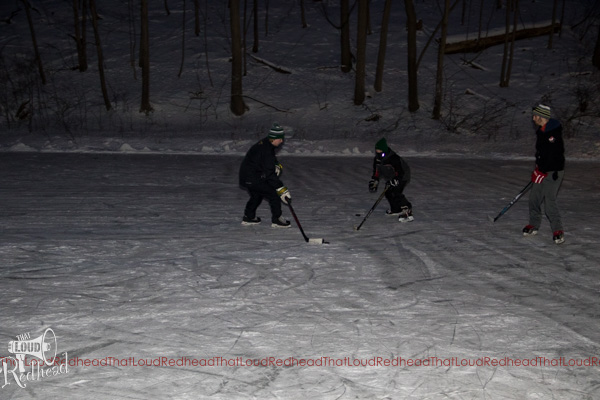 Pond hockey is fun to watch, even if it is freezing.

Aren't my little hockey players cute? Note that JJ is wearing my new facemask. That is the last time I ever saw it. *sob* (And the price has increased 50% since I bought it last month!)
Thanks for reading!
*Edited to add: I realized after I published this that I hadn't reported my weight from the previous week (Christmas Day), which was 125.8, up .8 from the week before (my last published weight). So that's why I indicated a 2.2-pound gain, as opposed to a 3-pound gain. Regardless, it's still a big gain! 😮