So, I had this post all typed up on Thursday, and then life got the better of me and I never got it uploaded.  I don't want to waste it, so I will post it today, but with a date of last Thursday (it's my blog, I can cheat if I want, lol!), and you can all just pretend you're reading this on February 1. 😉
This past Saturday, Jason and I celebrated our 21st anniversary a little early.  Our actual anniversary is on January 31, but every year for about the last 12 years, we've gone away for an overnight the Saturday before our anniversary. It's a tradition that started when JJ was still a baby, and was brought about by my need to have some time away from the very cranky baby that he was. Because I am such a huge fan of all things historic, especially historic architecture, going to a bed and breakfast was a no-brainer. I don't remember exactly how we started the tradition of Jason picking the inn as well as the location for dinner, leaving it as a surprise to me until we arrive, but he's been doing it since that very first year. He does the research and makes the reservations himself, with no input from me, and since I love surprises, it works out pretty well.
I started out my Saturday morning with an 8-mile run with my girlfriends. I chose 8 miles because it was more than I had done in a while, and I wanted to burn as many calories as I could, because I knew I'd be eating and drinking plenty at dinner. Ann and Toddra did the first 5 miles with Jen and I, but then they had to cut out and Jen and I finish the last three by ourselves. It was a good day for a run, and we managed to get all eight in before 8:30. I took this picture on my way home.
After the run, I came home, tried to get some laundry and dishes done, and then I headed out for a hair appointment. (That Loud Redhead was starting to become That Loud Not-So-Red Head. 😉 )  A couple of hours later, after my husband dropped the kids off at my sister's, we were on our way to points unknown, or at least, unknown to me!
We ended up on I-94 west for quite a ways, and we ended up in…Kalamazoo! (Yes, there really is a Kalamazoo.) I rely on my husband to pick the best bed and breakfast locations, and he did not disappoint. This place was truly beautiful! It was a Victorian home, built in about 1878, buy a cigar and alcohol baron. The family was quite wealthy and well-connected; I stood in a front parlor where President Ulysses S Grant once sat and smoked a cigar.
After we checked in, we hung out in the room for a bit. My stomach was feeling a little off, so it was nice to have a chance to just relax and enjoy the lodging. Pretty soon, we headed out to dinner. Again, I was left wondering where we would be eating until we actually arrived. It was a very short wait, however, because we went just a few blocks down the road to a restaurant called Webster's Prime, located in the Radisson in downtown Kalamazoo.
It was a long walk from where we valet parked until we actually got to the restaurant, but it was a lovely hotel, and we got to see a lot of teenagers in finery who were obviously attending some sort of winter formal event that I assumed was being held there at the hotel. It's always fun to see teenagers dressed up!
After we sat down to dinner and ordered, we asked the waitress to take a quick picture of us.
My ever-patient husband, always so compliant with my need to document everything for history's sake. 🙂
I ordered a salad, a chicken-artichoke-potato entrée, and a glass of white wine.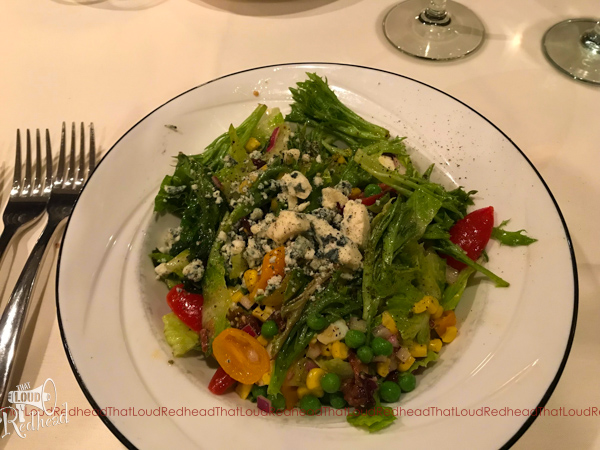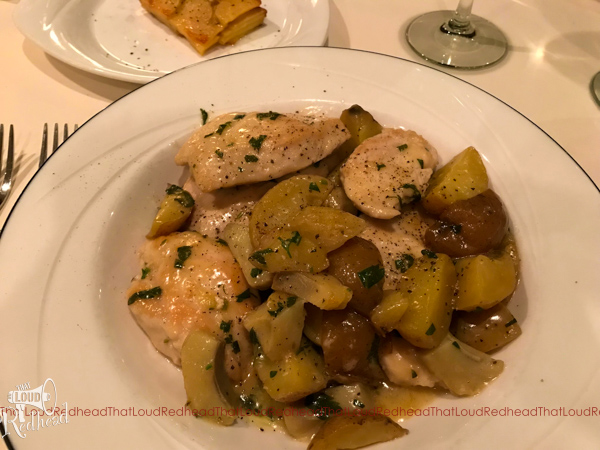 I would like to tell you that my meal was fabulous, but I can't actually say that. It's not that the food was bad, but I didn't really get to enjoy it. 🙁 I had mentioned earlier that my stomach was feeling a little off. By the time I got about halfway through my salad, I was absolutely sick. At that point, I couldn't eat, I couldn't drink, and I could barely even sit there, my stomach was cramping up so badly. It was a pretty miserable experience. Mostly because I was wasting such a wonderful evening, the one night I wait all year for! 😮
The waitress seemed really surprised when I asked her to box up my meal without having eaten very much, but she obliged, and boxed up the remainder of Jason's as well. At that point, I just wanted to get back to the room.
Meanwhile, the chef had come out to personally address a couple sitting a couple tables over from us. I guess she had sent back her meal (I don't know exactly what the reason was), but he brought the replacement meal out himself and then actually pulled up a chair and sat next to her to make sure that it was to her liking.  I actually felt kind of bad for her, and she even mentioned that she was mortified at the chef having pulled up a chair at their table to watch her eat, but maybe that's how they do things in really nice restaurants when you send your food back…?
I have to admit, although I can understand the chef wanting to be assured that her meal was satisfactory, I don't think the way he went about it was really conducive to enhancing her dining experience.  She assured him that her meal was delicious, but I have to wonder if she was just so embarrassed and intimidated that she simply said what he wanted to hear! The whole thing seems kind of pushy to me, to be honest, but again, I don't work in a five-star restaurant. Feel free to weigh if you have experience in this kind of thing, or if you just want to offer your thoughts.
He did actually sit with them for a few minutes afterwards and they seemed to have a pleasant conversation, and then, when he arose, he looked over at our table and saw that we had to to-go boxes. He came over and asked how our meal was, and we told him it was delicious, and then he pointed to the boxes and said, "Well, I hope you saved room for dessert, at least." I indicated that I was too full for dessert, and he replied, "Not even a chocolate torte?"
The way I was feeling at that moment, chocolate was the last thing on my mind, but I was trying not to let on that I was feeling ill, so I just waved my hand and laughed, saying, "Oh don't tempt me, chocolate torte is my favorite." He tried cajoling me a little bit more, but when I told him I really couldn't eat another bite, he smiled and thanked us for coming, and then went on his way.
By that time, I was feeling so lousy, I was desperate for the waitress to come and bring us our check so we could leave. A couple of minutes later, to my complete surprise, the chef came over to our table again and quietly slipped a small to-go box on the table, saying, "You can't NOT have dessert. Please enjoy this chocolate torte later."  I was like, wait…what?! Sure enough, the chef had given us a (free) slice of chocolate torte to take home!
I was half angry, half thrilled. I mean, on the one hand, as a lifetime member of Weight Watchers, I really get frustrated with food pushers, and that's why you'll never see me trying to push food on people, even if it's something that I worked for days on.  I truly believe that when someone says they don't want something, you should take them at their word. If I had turned the dessert down because I couldn't fit in my daily points, I would've been really discouraged to have it given to me when I specifically said I didn't want it.
But on the other hand, I do love chocolate, and I certainly couldn't argue with the chef wanting to treat us. It was a nice gesture, and even though I couldn't possibly eat it at that moment, I knew that it would keep well, and I might be able to eat it the next day. So of course, I smiled and thanked him very much.
A few minutes later, the waitress came back, with both our check and…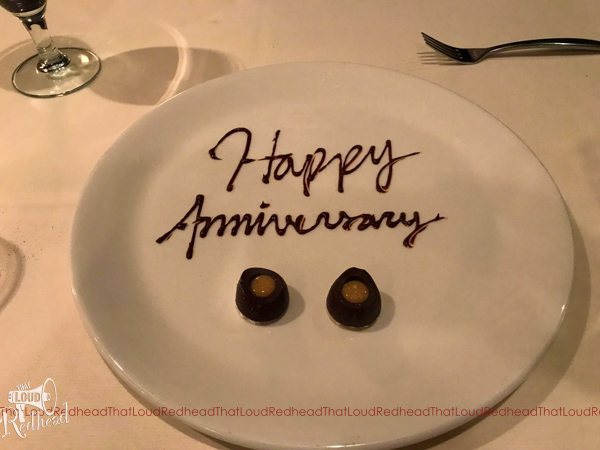 I actually laughed at that point. It seemed that no matter how hard I was trying to avoid food, everyone at that restaurant just kept wanting me to eat! The happy anniversary lettering is done in chocolate, and then there are two homemade chocolate caramel candies underneath. Even though that would normally be something right up my alley, even those little candies were too much for me at that moment. By then, I was feeling guilty enough that I had to lean over and admit to the waitress that I just wasn't feeling well, so I was going to have to box up the chocolates, but I thanked her profusely.
We finally managed to get out of there and get back to the room, where I promptly passed out on the bed. Well, I didn't actually pass out; I just lay there all night, my stomach churning. So much for a romantic evening with my husband!
I tossed and turned until about 3 AM, when I remember rolling over for the last time. I woke at about 8 AM, feeling better, and also feeling very guilty. I apologized to Jason for being a total dud on our anniversary, and promised him that someday I'll make it up to him. 🙂
I was feeling well enough on Sunday to eat a delicious egg dish for breakfast and also walk around and take some pictures.  You can find better pictures on the inn's website, but here are a few to enjoy.
The boys and I split the chocolate torte three ways on Sunday night (Jason had to work, so he missed out).  On our actual anniversary, we celebrated in style…by working Jamie's hockey game. 😛  Jason did admissions, while I (as always) took pictures.  However, when we got home, we had dinner with the boys, and then we did celebrate a little with Kroger cupcakes and champagne in our wedding flutes.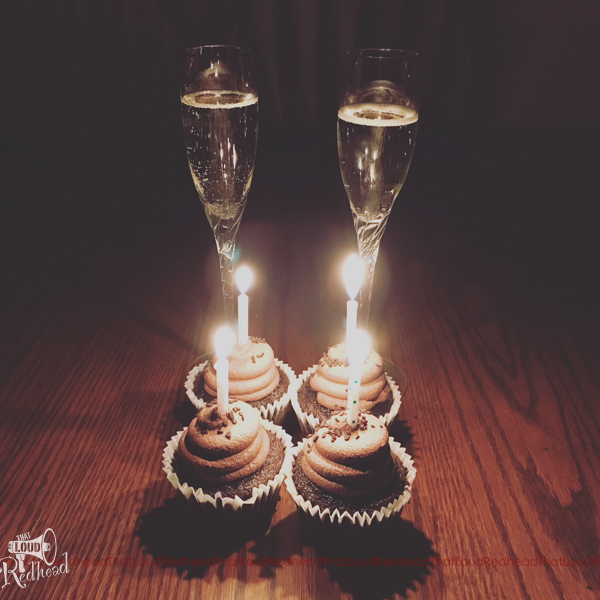 The Kroger cupcakes were actually pretty good!
Considering that I didn't eat much Saturday or Sunday, I was kind of surprised to only have a slight loss the following Monday:
Not even half a pound, but better than a gain!
That's it for this "catch up" post.  I'll have another one soon, I promise.  Thanks for reading!