If you know me at all, you know how much I love talking about weather. So let's talk weather, shall we?
As in many other parts of the country, Michigan has seen an uncharacteristically cold spring. To be honest, it hasn't even felt like spring. This past weekend, we had about 2 1/2 inches of precipitation in the course of two days' time. My girlfriends and I had planned to run 11 Miles Saturday morning.  Not that I need to run 11 miles right now (since I'm not training for anything), but Jen is training for a half marathon, and it's always more fun to run with a group. Unfortunately, we woke up Saturday morning to drizzle, with impending heavy rain coming.
I was willing to give it a go, but the others decided that sleeping in sounded better, so no group run. But I hate skipping runs, even runs that I don't necessarily have to do, so I decided to head out and do a run in my own neighborhood. As the new president of our township historical society, I decided I would drive a little ways into one of our three villages and run through the neighborhood and look at historic houses.
By the time I got there and got out of the car, it was 6:45, and the rain wasn't too bad. It was light, but not miserable. I decided to run toward the lake, and then do a loop around a side street and come back using a different route, allowing me to see as many different houses as possible.Unfortunately, I discovered about 2 miles in that I had dropped my tissues, and I am not a person who can run in the cold rain without tissues. So, I had to turn around and go back exactly the way I came, and eventually, I did find the tissues.
Luckily, I had planned ahead, so they were in a plastic bag and still dry.  The irony is that they were not far from where I started, so I actually missed out on seeing all the pretty houses for nothing. Although, it's not like I can't just drive by anytime I want, ha ha!
After I got back to the tissues, I went in the opposite direction, more into the neighborhoods, and that was interesting. The houses weren't as old, but there were a few that were very interesting. Unfortunately, by the time I got to about mile 3.5, the rain was coming down really hard. At that point, however, I was all in, so I just said screw it and kept sloshing along. When it was over, I had a little over 6 miles in.
There's a big trend in the Detroit area right now with people checking into their gym as they do these six week challenges (or whatever they are), I guess because it gets them points or something. At any rate, after seeing a few dozen of these check-ins over the last several months, I decided to do one of my own, using that picture. I checked in at the Huron River, after running 6 miles in the pouring rain, and invited all my exercising friends to join me next time. 😉
I was soaked all the way to my socks by the time I was done, and when I got home, I took the hottest shower I've taken in a long time. Then I laid around for a while before heading over to a township resident's house to interview her about her family history. Because that's when do you do when you're starting a historical society. 😛 Not only did I have a fabulous two-hour conversation with her, she made me cookies, too! If only I could quit my job and do this full-time. 🙂
We had a hockey game Saturday night, so I did up not eating as many of my exercise calories as I could have. However, the next day was incredibly busy. It started off when I woke up to go outside and do my work out in the barn and discovered this:
I almost wiped out when I went on the deck, it was so icy. My anemometer was even frozen!
I had to take JJ to church and Sunday school, and then we left there and headed up to the birthday party about half an hour north. Thankfully, by the time we got out of the service, the ice had melted, but by then it was raining pretty hard, and it continued to rain, cold steady rain, the rest of the day.
And the wind! Ugh! It was a long, miserable day to be driving back-and-forth to four different activities, but in reality, I made out much better than many other people in our area. The ice weighed down the tree limbs, which eventually fell and took down power lines in many areas around metro Detroit. And then, on top of that, the 40-50 mph winds coming from the northeast caused huge waves to crash on the shores of Lake Erie down in Monroe County where I live, and many of my friends who live on the water suffered severe flooding.
So, yeah, this past weekend was terrible for weather. There were some bright spots to the weekend, though. I mentioned that we were very busy on Sunday, and one of our activities was Jamie's induction into the French honor society at school.
He really enjoys French, and he does well in it, so it was nice to see him get some accolades for it.  After the honor Society induction, I headed back north to get JJ from the birthday party, and then we all came back down to Monroe County for the next event: the hockey awards banquet.
That's Jamie with his preferred defensive partner. Those two have been skating together on and off since they were six years old, and they call themselves "the duo." It's fun to watch them skate together, but sometimes they do get into trouble when they're together. ("Trouble" in the hockey world usually means penalties…)
We had the banquet a local bar/restaurant, and it was great seeing all of our hockey friends again. (Although, honestly, I see many of them all the time anyway, because so many hockey players are also on the lacrosse team! ) At the end, I was surprised when one of the team managers came over to me and handed me a plant that included an incredible number of gift cards attached!
I was stunned at the generosity. There are at least a dozen gift cards in there (Plus $15 cash because I guess they ran out of ideas for gift cards, ha ha!) The best part, though, was that the thank you card was actually created using the team picture that I took last fall. It was so cool! They got a picture of me with all the players, and it made me feel very special.
Picture
I love taking action shots of these kids, and it was truly humbling to have been shown so much appreciation for something that I gladly do for free.
The downside to the banquet was that they were serving pizza. Oh, my favorite! 😛 They had a vegetable tray, and they also had what essentially amounted to various types of sliders. Only instead of being hamburger sliders, though, there were chicken and ham. There was plenty of cheese and sauce on them, but I figured I could take a chicken one. They had to be better than pizza, right? I didn't have any alcohol, even though that particular restaurant serves one of my favorites (a Hawaiian iced tea, along the lines of a Long Island iced tea). I normally would've gotten one, but it was such a cold miserable day, I didn't feel like a cold, fruity drink.
After all that food on Sunday, I wasn't sure what my weigh-in would be, but it wasn't terrible.
Being down half a pound isn't a lot, but it's certainly better than being up half a pound, or more! But beyond the scale, I did have a victory:  when we went to the French honor society induction on Sunday, I of course had to dress up. I wore my usual black pants, and I was kind of dreading putting them on. Back in my heyday, when I weighed 113 pounds, they were my "loose" pants that I didn't wear because they were always so hard to keep up even with a belt. Ha, the good all days. (You can find them on my blog by looking at pretty much any of my 2013 posts.)
Once my weight got a little more stable around 120, I found that these size 8 pants were probably about the right size for me. They were comfortably loose, but not baggy. Unfortunately, with the 8 or so pounds that I've gained in the last year, the last time I wore them, they were kind of tight, and even getting close to being uncomfortably tight. Ugh. However, I am happy to report that when I put them on this past Sunday, they were not tight. They certainly weren't loose, but I wore them all day and was comfortable in them. So despite what the scale says, that was something that I can feel good about.
You know what else I can feel good about? Spring IS coming. Or so they tell me, ha ha! This past Wednesday, I drove 80 minutes out to Lenawee County to shoot Jamie's school lacrosse game. The weather was awful: it started with rain, turn to sleet that pelted me, and then to snow, before returning back to rain. The temp was in the neighborhood of about 36°, and it was pure misery. The pictures from the game were interesting. Here's one of my favorites:
Lacrosse in the snow–that's hard-core!
And speaking of hard-core, let's talk about JJ's lacrosse team! The weather has been so cold here in Michigan this spring, I feel like I picked the worst possible year to start lacrosse team! Because these kids are all brand new to the sport, the coach is really hesitant to cancel practice due to weather unless it's pouring rain. We did indeed have to cancel practice on Sunday, so even though the weather on Tuesday was a frigid 36° with 20 mph winds, he still had practice, and they all came. 😮  Bless those kids for spending 90 minutes in those miserable conditions, but I can tell that they're having fun, even though they are occasionally miserable. The good news is, the hard-core practice paid off…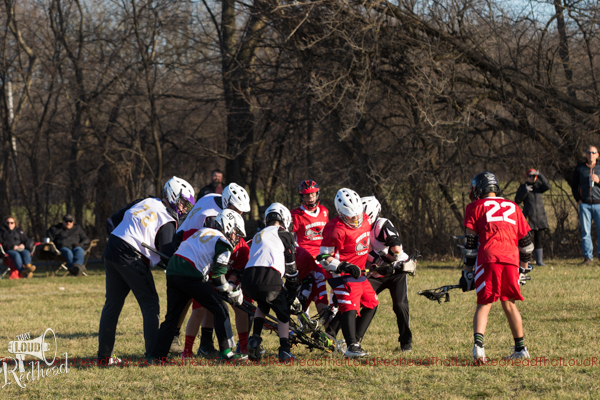 The kids played their first game on Thursday, and they ended up winning 3-2!  It was a very unofficial scrimmage, since we didn't have official refs available that day, but it still counts in my book! And the biggest win for me was that our goalie played outstanding.
Oh by the way, that goalie is my kid. 😉  I'm so proud of all the kids, but I am just bursting with pride for my JJ. On a team of 28 kids, he was the only one willing to stand up and say, "I'll be the goalie," despite the fact that he's only in 6th grade…and he's kind of a short 6th grader at that. 😛  But you wouldn't know it from watching him in net–he has a big personality, and it showed! He was so focused and so excited, and he clearly enjoys the challenge. I think mostly, though, he just enjoys being able to bark orders to his teammates for the entire game.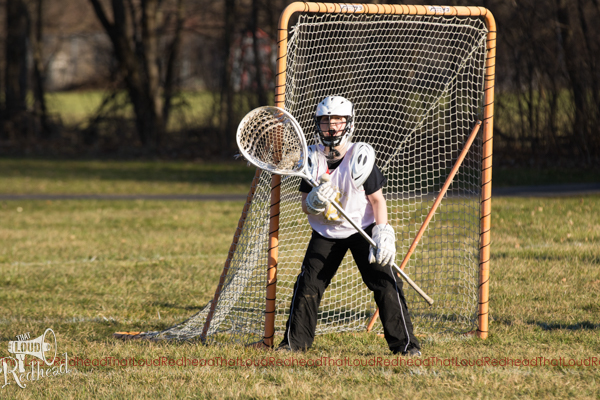 JJ does love to talk.  Not sure where he gets it from. 😉
Okay, that's enough for this week!  Thanks for reading!