If it's June, it must be time for another post about canning strawberry jam!  I do it every year (both the canning and the posting), and although it's tiring and at times frustrating (just the canning, hopefully not the posting, lol!), when it's over, I am always glad I did it.
Once again this year, we picked our own strawberries, although this year was a bit of a change in that we picked them Thursday afternoon instead of Friday afternoon or Saturday morning.  The boys had a doctor's appointment Thursday, so since I was already off work, it just made sense to go picking right afterwards.  The farm we went to technically wasn't even open yet (they had announced on their Facebook page that they'd be opening on Friday morning), but because I'm not shy, I called and asked them if we could come that afternoon, and the owner was perfectly fine with it.
That meant we literally had the whole place to ourselves!
I know they say that we're making family memories to last a lifetime or something, but my boys weren't exactly enthusiastic about going.  I suppose I could have let them stay home, but the reality is, when you're picking 35 pounds of strawberries, you really need the help!  And although they were pretty surly at the beginning, they did liven up as the time went on, and towards the end they started hurling strawberries at each other (for which I severely reprimanded them!).  I think they'll probably look back on these days with more fondness than sourness when they're older.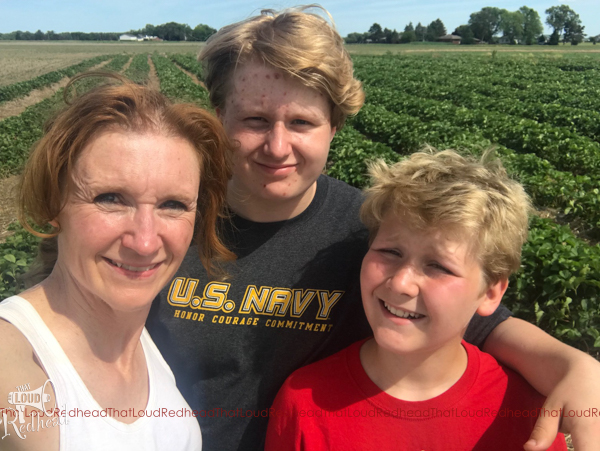 I was going to start canning on Friday evening, but I was tired and decided against it.  Instead, I went to bed early and then got up to meet my friend Jennifer at 6am to run seven miles.  Unfortunately, the weather had other plans.
The storm clouds were coming up just as we were getting ready to start, and when it started to sprinkle, we decided to wait it out in her car.  Forty-five minutes later…!!  We almost gave up, but we were glad we didn't, because although it was a miserably hot and humid run, we were glad to have gotten it in.
Then it was back home to can jam!
It went well, especially since I had this awesome new scooping ladle that I'd gotten for Christmas from my step-mother.  It hooks right onto the pot!
Since I was trying really hard to stay on track this last week, after having gotten so far OFF track the previous several, I focused on making healthy food choices all weekend, which is not necessarily how I usually operate.  Typically, because canning is very time- and labor-intensive, I will cut myself some slack and not track so well.  Another thing I typically do during strawberry canning weekend is make biscuits.  Because the best way to enjoy fresh jam is to put it on a homemade biscuit! (Check out last year's post for proof.) But not this year.  I decided I didn't need biscuits, since a multi-grain English muffin would do just as well.  Okay maybe not just as well, but well enough.  I did miss the biscuits a little, but not as much as JJ, who actually called me out on it. ("Mom, why haven't you made the biscuits yet?" 😛  )
My bounty was plentiful, although less than last year.  I finished with 84 jars of strawberry jam from 31 quarts of berries, compared to 88 jars from 28 quarts last year.  Although the berries we picked this year were smaller and a little less fresh (having been picked a day early), the jam still tasted great!
Eating wise, I did well last week.  I actually had a calorie surplus every day last week, including a whopping 500+ on Saturday.  I was hoping that would translate big time on the scale, but not quite.
I definitely would have liked to have lost more of that 4 pounds I gained last week, but as we all know, even a small loss is always better than a gain!
That's it for today.  Short post this week, but don't worry, chances are good that I will make up for it with the next one, because I have had a one incredible week–and it's not even over yet! 😛
Thanks so much for reading!