I've had a lot going on in the last five or six weeks, and that has kept me from writing. I've started this post more than a couple times, but something always comes up that prevents me from finishing it. I tend to get wordy, which is my downfall. So I just need to hurry up and write something and then be done!!
Hockey is over. JJ's team's season ended pretty early, unfortunately. Jamie's team had started out the season well, then kind of fell apart in the middle and towards the end. However, all the teams get to go to the playoffs, and some teams are lucky enough to get a first round bye. We were one of the lucky ones, but that meant we had to play a very good team in our first playoff game. Our boys really stepped it up, but unfortunately they ended up with a 5-4 loss. It was heartbreaking to see some of our very talented seniors visibly upset on the ice afterwards, but someday they will at least have good memories to look back on. I took a photo of two brothers on the team after the game, the younger brother consoling the senior who was pretty shaken up at the realization that he had played in his final high school hockey game.  I intended to just send it to their mom, but I accidentally included it when I uploaded all the shots from the game for the kids to see. (I didn't think either of those big, tough boys would want that put out for all to see.) I was stunned to see this in my Instagram feed the next morning.
(Bruce is not the brother's real name, by the way. It's a family joke.) I've known these two brothers since they were little tykes, and I see them fight ALL the time, so for them to use my photo to show their love for each other just had me all teary at my desk.  People often tell me I work too hard taking all these actions shots at my kids' various sporting events, but that is the reason why I do what I do.
In running news…I've been training for a half marathon since the beginning of January, and one new addition this year is that I have a running partner during the week. A school mom whose family had been in Japan for the dad's job the last four years came back in January, and when she saw me, she asked me if I still run in the mornings. I told her that I did, and she asked if she could join me. We've been running together most weekdays ever since, and it has been really great.
I didn't realize how much I was missing by running by myself every weekday. It goes by so much faster and is so much more enjoyable when you have a partner!  She has been running since she was eight years old, so she's quite a bit faster than me most of the time, but she slows it down for me. She does tend to push me a little more, though. Meanwhile, I'm trying to convince her to join me on Saturdays with my other girlfriends, but she likes sleeping in on Saturdays. She'll get up and run with me at 5 AM during the week, but anything before 8 AM is too early for her on Saturday, ha ha! I haven't told her yet that I have a blog (not that I'm super-active with it right now 😮 ) but one of these days I'll get up the nerve to tell her, ha ha!
We had some difficult weather in February and early March. I'll admit there were a couple of days that I skipped, just because running in the frigid cold and the high winds just isn't any fun. But for the most part, I've done pretty well with my training, and I'm excited to pace my friend Meg a week from tomorrow at the Rock CF Half Marathon.
Eating is a whole different story. After a couple of years of calorie counting, I have been back on Weight Watchers for the last…is it five weeks? Somewhere in that neighborhood, anyway. I'd like to say it has been an amazing transformation, but, I can't. I'm really struggling with their program after they changed it a couple years ago, making so many foods free but reducing the number of points you get in a day.  I also struggle with whether or not to "eat" my activity points (or whatever they call them now).  I haven't been "swapping" activity points for food, but I will say that a few weeks, I've gone into the negative on my "weekly" points. (The ones they give you above and beyond your daily points.)
To catch you up on my weigh-ins, I'll just show you a chart. Although I do take a picture of my scale each week when I weigh myself, it's extra work to put together the picture with the +/- on it, and honestly, I would hope after 7 years of blogging that I don't need to post a picture of my scale to "prove" that I'm not lying about my weight! 😛
I started back on WW after my weigh-in on 2/4 (the day after the Superbowl Sunday party where I ate so much food).  So in five weeks, I'm down 2.8 pounds. Considering I was in the heart of half marathon training in that time, I'm rather disappointed.  I know a lot of that 4.4 pound gain on 2/4 was water weight from the bad food I'd eaten the day before, and it DID come off the next week. But then in that time, I've actually gained almost two pounds. Say what??  Did I mention I've run a whole lot of miles in that four weeks??
I decided to sit down and calculate my point and calorie deficit or surplus each week.  It was a lot of work (I had to go back and fill out My Fitness Pal for five weeks!), but I did it.  Here are the results:
The calories are the daily average surplus/deficit, while the points are the total surplus or deficit for the week, and both are without counting exercise points (and there were two weeks in there where I had 12-mile runs in addition to the weekday runs).  You can see my deficit or surplus compared to my weight change.  I also added in my exercise calories for another comparison.  What does it say? Honestly, I don't even know! I don't know that I can really find a rhyme or reason behind it all.
My running friend Jennifer told me last week that her husband joined Weight Watchers that week for the first time, and he, too, was skeptical about all the free foods and also questioned the rationale behind not eating the activity points.  She told me that the leader told him that the program works well that way, unless, as she said, "you're a marathon runner."
So that got me to thinking.  When people say "marathon runner," they pretty much mean anyone who does a lot more exercise than the average person, and I'm pretty sure that I qualify for that as a half-marathoner in training. Based on that, this week, I decided to try adding in more food (though that is totally contrary to how I think and it's not as easy as it sounds).  I've been TRYING to add in more proteins and good stuff, not just bread and chocolate (lol).  We'll see how it goes.  I only ran 8 miles this morning ("only," ha ha!), so not as many calories burned this week.
Meanwhile, I have to go get ready for a lunch with my sorority sisters in Mexicantown.  I haven't seen some of these ladies in 20 years, so it should be fun!  I'll leave you with some pictures from the last month.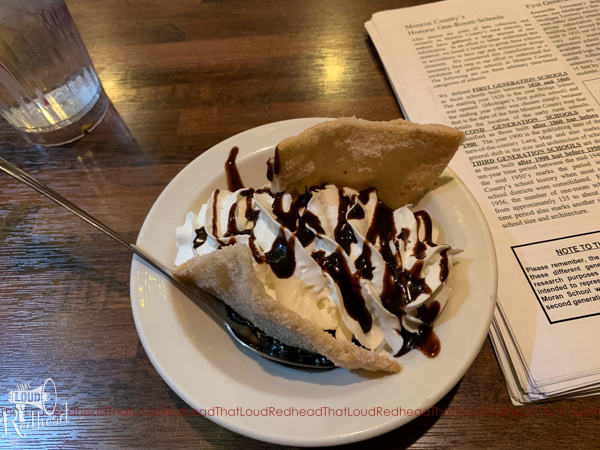 I forgot until I was going through my pictures that in week 2, I had Mexican twice in that weekend, including fried ice cream on Sunday, which I love so much.  Hmmm…that 3-pound gain is starting to look a little less surprising… 😮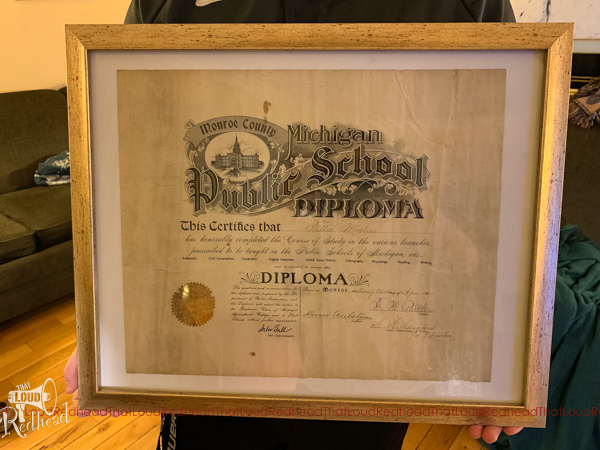 I was visiting a former resident of our township and he surprised me by giving me his great-grandmother's high school diploma–from 1901!  He said, "I wasn't sure if you wanted this…"  Oh heck, yes, I do!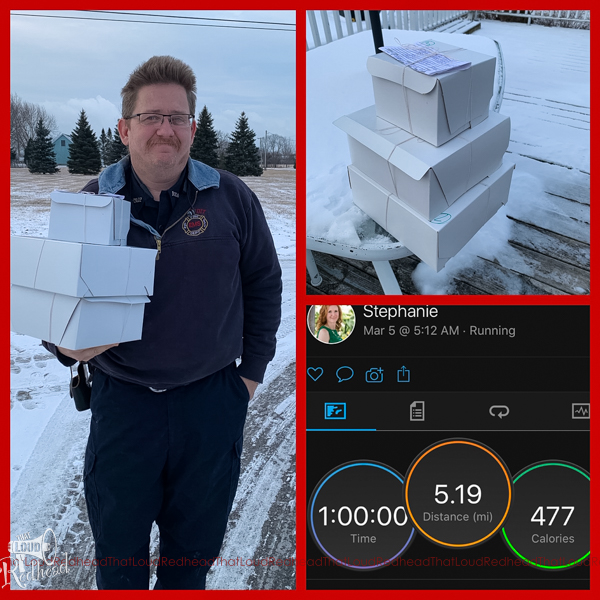 Paczki Day was on March 5, and my sweet husband did his annual duty of getting me two dozen authentic Hamtramck paczki while on shift.  I ate three, but I ran five miles for those paczki!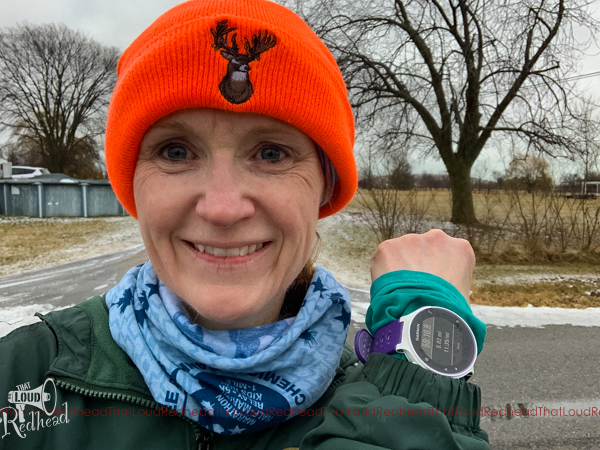 A rare late afternoon run for me, but the roads were too icy in the morning. Another 5-mile run!
The sunrise this morning during our 8-mile run.  The picture doesn't do it justice, but I can't run with my DSLR camera, ha ha!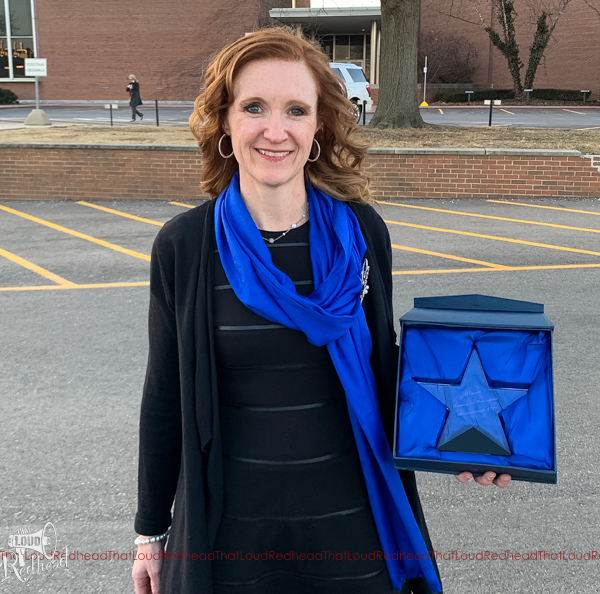 And finally–do you remember the "big" presentation that I had been scheduled to do in front of our company president, CFO, and VP of product and strategy? The one that got cancelled in January because it was "too cold."  (And I was so ticked off over it.)  Well, it FINALLY happened this past Tuesday, and I am happy to say that my partner and I totally NAILED it.  I've had so many compliments, both that night and in the days since then, over our presentation and the video that I worked SO hard on.  Random people I don't even know have been coming up to me in the hall and telling me what a great job I did, ha ha!  I went all out and had my hair done for the event.  You can't see it as well in the photo above, because we were outside and it was windy, but you can see the back below (taken later at home).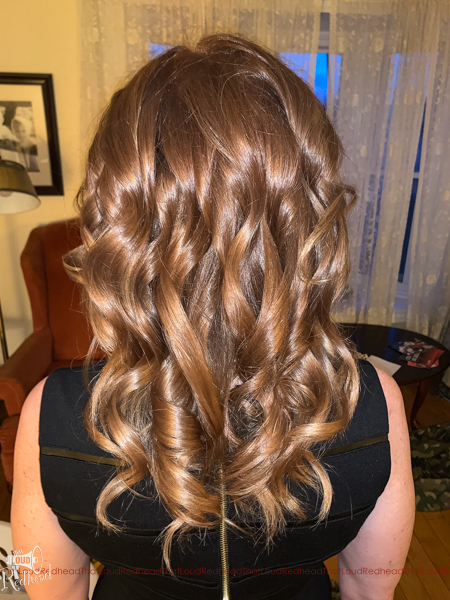 I was so proud of that hair, ha ha!  Considering that I spent my entire adult life with super-short hair until ten years ago, when I can take the time to really show it off, I do. 😉
Thanks for reading!