I ran a race last week.  Well, sort of…
The race was the Grosse Ile Rock CF half marathon.  The intention was for me to pace a friend to a 2:40 finish.  I knew she wanted to run/walk the race, which was cool with me (I like walk breaks!), and a few weeks before the race, I asked her what her run to walk ratio was.  As it turns out, it was 60 second run, 30 second walk intervals (yes, for 13 miles!). I won't lie, I wasn't too excited about that, but I had already promised to pace her before I learned of her racing plan, and I couldn't back out after that, because, well, I made a promise.
When we arrived, she had to pick up her packet, and I was able to get a shot of the beautiful sunrise over Grosse Ile.
The first four miles of the race actually weren't so bad.  I didn't LOVE all the stop/starts, but it didn't feel as bad I expected, probably because I talked the whole time.  With all the walking, I had plenty of time for pictures.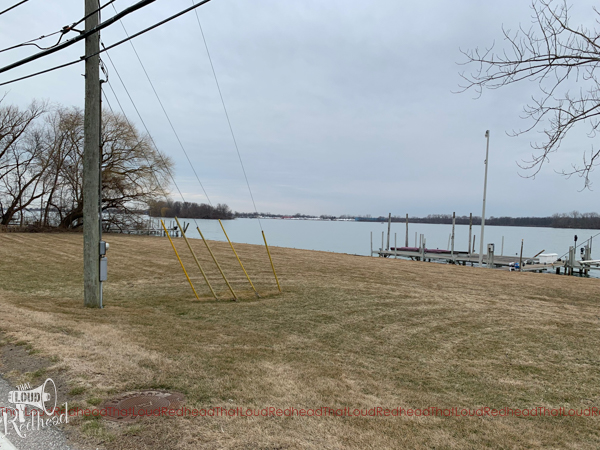 Unfortunately, at mile 4.5-ish, my friend suddenly turned around and ran back to a portajohn.  I waited what seemed like forever (in reality it was probably 3-4 minutes), and then finally walked back to the portajohn and discovered she was NOT ok.  She was very sick. VERY sick.  After that wave of sickness, she actually tried to run and then walk for another half mile, but I could tell she wasn't feeling well at all.  She didn't want to quit, but eventually, I convinced her to let it go.  When one is THAT sick, it's just not worth it.
She was really upset (as would anyone be, after training 12+ weeks for something), so I waited with her until they came to pick her up to take her back to the start.  I hugged her before she got in the van, and I felt SO bad for her–I know that in that moment, she felt horrible.  But in the long run, I truly believe it was the best thing she could do.
Once she was gone, I went out and finished the race as best I could.  I decided not to overexert myself, since I was already WAY off any of my best times, but I also couldn't be really lazy, because I had to get JJ to a hockey tryout before 12:30 (and technically, the skaters should be there an hour before the ice time starts–and I still had to get home and shower!).
I stopped once at about 6.5 for a much-needed bathroom break, and then I had a couple of spots where I stupidly thought it would be a good idea to drop my watch in an "out and back" situation to get my distance back to normal (because I'd done close to 2/10th of a mile extra distance in helping my friend), but all that did was add time to my final results.  Despite all the issues, I actually enjoyed the race–we had pretty much perfect weather conditions at 35 degrees and almost no wind.  One of the cool perks of this race is that you run through an airplane hanger (Grosse Ile Municipal Airport, formerly Grosse Ile Naval Air Station).  I did this two years ago when I ran this same half (my best half, actually), and doing it again was cool, as always.
When I hit the River Road on the east side of the island, I was please that there was NO wind.
Two years ago, the wind off the river almost did me in, lol!
At the end, when I turned it on because I just wanted to be DONE, I got a lot of cheers from the few remaining people at the finish line because they weren't expecting someone at the back of the pack to be finishing so strong, lol!  It wasn't my slowest half (that was a previous race where I'd paced the same friend), but it was my second slowest, lol.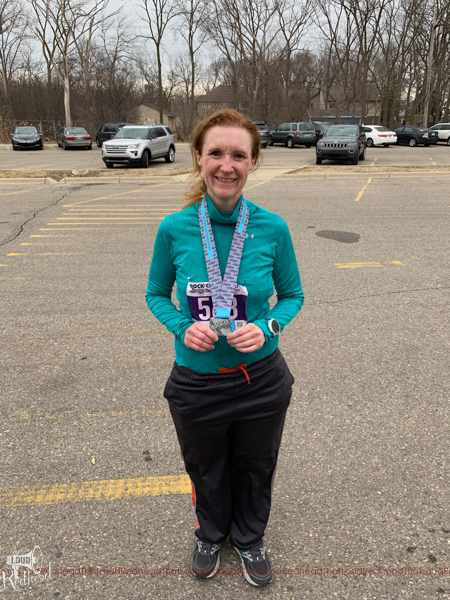 Still, despite my slow finish, I DID run 13 miles, and I'm proud of that.  I didn't get a chance to reward myself that night, because I had the hockey tryout and then I had Jamie's end-of-season hockey banquet, where the food wasn't all that exciting and I didn't each much. The next day, I spent the whole day on the couch while I binge-watched a few shows and hung out with the cat.
That day also happened to be March 25, Jamie's 17th birthday.  While his brother was at a hockey practice (yes, he made the team, lol), I treated Jamie to a SUPER fancy dinner on his birthday.  As repayment, I made him pose for a picture, lol.
We had a delightful meal of pasta and shrimp and other things, plus dessert of course.  (And champagne because I had a built-in designated driver, lol).  Before I know it, this kid will be off to college, so it was nice to spend quality time with him one-on-one.
Speaking of college, this has happened in the last two days.
Yep, college visits. 😮 The first one is pretty obvious,but the second one is the University of Michigan. (That's the famous Diag in the background, which anyone who is familiar with the university probably recognizes. No, we did not step on the M. 😉 )  We have four more this month, all of them out-of-state.  As it turns out, my first-born is pretty desperate to get as far away from me as possible after high school. 😛
To catch you up on my weigh-ins…I weighed 132.0 the last time I posted.  The following week (March 19), I was down to 130.8.  Woo-hoo, right?  But that was the week before the race.  I didn't weigh myself until Tuesday after the race (after Jamie's birthday dinner), and that wasn't great…I weighed 133.  Damn. But honestly, after the dinner I had, it wasn't a surprise.
I worked pretty hard to keep within my points this week, although I did go over by about 5 by the end of the week.  I still managed to get 3 runs in post-race, including a pretty rough "mud run" in the rain on Saturday. (I learned that a "seasonal road" is NOT the same as a "dirt road" in this county…what a mess.)  I weighed myself on Monday, and I ended up at 130.6.  Hooray!  Of course, now I'm about to go away on a mini-vacation for college visits…and eating out is my nemesis.  But I'm determined to not let this trip get the best of me.  I expect to eat a lot of salads. 😛
Thanks for reading!