Had to hurry up and get my once-a-month post in before the month is over!
I finally fixed the issue with my blog not accepting photo uploads. But since it took so long, by now I've lost a lot of the enthusiasm I had for that pictures I was going to post. Sorry. It has been a long spring. Not in a good way, either. I know I can't complain, because others have it much worse than I do, but we've had over 8 inches of rain in the last six weeks around these parts, and when you manage a spring sport that is played outdoors, weather like that can be very trying.
In a nutshell, my April was spent doing two things:  going on college visits and trying to find a field for my son's lacrosse team that wasn't underwater.
Here are a few pictures from college visits.
The two above are from the law library at the University of Michigan. Talk about an architectural marvel!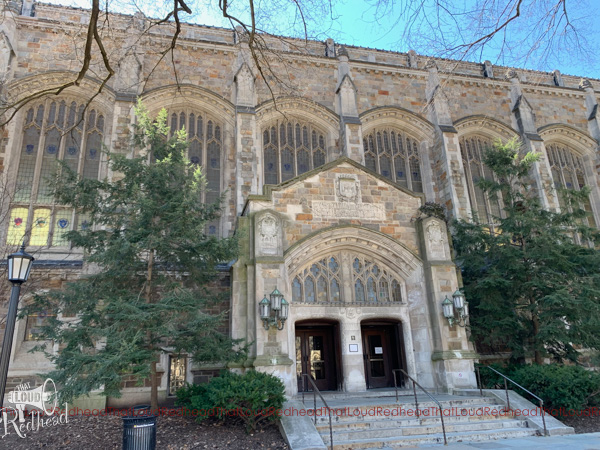 Another building at U-M that I can't remember.
Jamie and I having dinner at a fancy Italian restaurant in Niagara Falls, Ontario. I haven't driven to Canada since they implemented all the new restrictions (enhanced driver's license, etc.), so it was quite an adventure.  This was only my second time in Niagara Falls (with about 30 years in between!).
The Falls at night. Very cool!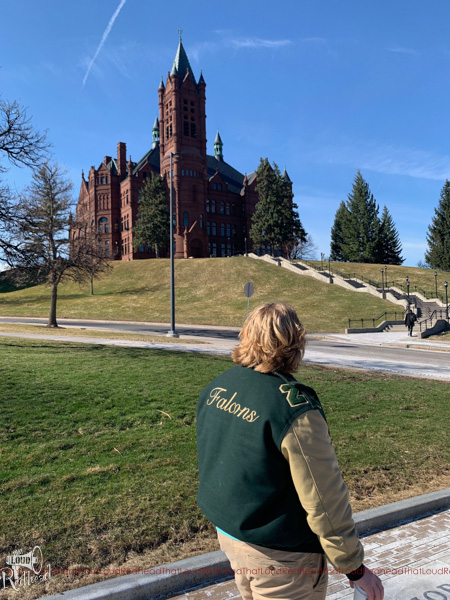 Jamie looking at a super-cool building on the campus of Syracuse University. (They told us the name, but I don't remember.)  I really enjoyed Syracuse's campus.
Another building at Syracuse. These steps are significant because Martin Luther King Jr. gave a speech while standing on them about 50 years ago!
You know I love to go for runs when I travel, and a trip for college visits was no exception. This is one of the hills I ran up when I was running through Ithaca, New York. It was WAY more intense than this picture makes it seem.  This winding road went up a hill that was really steep!
However, at the top, I was rewarded with this awesome cemetery and a beautiful sunset.  Do you see how hilly it is there??
Jamie and I in a garden on the grounds of Cornell's campus.  Yes, that's right, I said Cornell.
The "seal" on the campus of Miami University (of Ohio).  Like all college seals, you MUST NOT STEP ON IT!!  Apparently, bad, bad things will happen to you if you do. 😛
I've been to Notre Dame many times for hockey tournaments in the last decade, but it wasn't until I went on an official college tour that I learned that this mural is nicknamed "Touchdown Jesus."  😀
Jamie and I in front of the famous Notre Dame cathedral.  What a gorgeous day, right?  This was the ONLY day in all 6 of our college visits when it wasn't snowing, raining, windy, or frigid with temps in the 30s (and Cornell was actually all of those things at once–not an exaggeration!).
When all was said and done, we'd traveled over 2000 miles by car to visit six colleges (the sixth one was mentioned in the last post), and it was an eye-opening experience for both of us. Jamie is a very intelligent kid, but sometimes he lacks motivation, and after hearing from 6 different admissions counselors, he came to realize that he can't assume that his good test scores will get him into the college he wants. The 2000 miles and many meals out were worth it, because he has developed a renewed sense of purpose when it comes to school now. If only we could've done these college visits two years ago, it might've saved us both a lot of headaches. 😛  But honestly, I'm glad we did them this year; we made a lot of memories, and I came to realize that when he isn't being an idiot, my son is a really good person who I enjoy hanging out with.
Here are some lacrosse pictures of both my kids.

Both boys had good seasons, although Jamie's team ended up losing in overtime in the first round of regional playoffs. He actually scored a lot of goals for his team this season, and got his name in the paper a few times. And yes, I got a few pictures in there as well!
JJ's team (or rather teams, since I manage both the older and younger teams) have actually had a great season. Both teams only had one loss all season. (Ironically, JJ was in net for both losses, since the younger team's goalie was sick one day and JJ filled in.) The kids had their last game on Wednesday, and I'm happy to say that I'm officially done with spring sports. Although I do kind of miss it…lacrosse is very exciting!
Work has been…challenging. There have been ups and downs, the most recent "down" coming last week. If you follow along with my blog, you know where I work, and if you live in Southeast Michigan, you know what happened in the last week at my work. I am still employed, but some of my friends are not, and that makes for some sad times, not to mention a tough work environment.
So you might be wondering about my health and fitness in all of this. The good news is, I've continued to train for my second half marathon this year, the Dexter to Ann Arbor Half. The race is this Sunday, and I'm currently in "taper" mode. On Tuesday, my running buddy and I ran our last round of speed work. It should've been an enjoyable experience, since it was a fairly easy work out, but all of the rain we've had, coupled with the higher temperatures and humidity, brought out all the bugs that have been in hibernation all winter. It was literally like going through a rain forest. Anyone who drove by us would've thought we were crazy the way we were flailing our arms and sweat rags around, trying to clear away the bugs. We each swallowed at least one. Gross!!
I'd like to say that all the running I've done for this half marathon has brought my weight down to goal, or close to it, but unfortunately, that's not the case. I'm still stuck at right around 133, which is 8 to 10 pounds more than I want to weigh. It's also the most I've weighed for since I lost the last of my weight seven years ago. I pulled out my summer shorts this weekend and was dismayed to find that only one of the five pairs fit. It has been a long time since I've had to worry about clothes that are too tight, and I can tell you that it's not any less unpleasant now than it was many years ago.
So why am I not losing the weight? Well, it's probably a couple of factors, which include the fact that I have been snacking more than I need to be, especially on chocolate and cookies. I haven't gone completely off the wagon, but I find myself unable to resist a few temptations here and there throughout the day, and they add up. I'm not 100% sure that's the entire reason, though. Now that I'm deeply buried into this post, I will just go ahead and admit that I'm fairly certain I'm heading into menopause. (That's not something that I'm overly excited about discussing on the web, but I figure this far down, only people who really care are still reading. That would exclude my boss and pretty much any man, so I think I'm safe.) I've gone almost 13 weeks now without having a cycle, where as I used to be very, very regular, to the tune of about 3 to 4 weeks. Big difference! I don't know if I'm imagining it, but I really do feel bloated and just heavy, like my body is holding onto water or something. I used to get that feeling about once a month, right before my cycle hit, and then everything would be fine until the next one. Now I feel like my body just can't seem to let go of this extra water weight.  Or maybe I'm just imagining it, I don't know.
Here's a chart of my weight over the last seven months, since I finished the marathon last October.
You can see that for the last six months, I've been hovering between 130 and 135, and for the last three, I've been pretty steady right around 133. This might not be surprising, except for the fact that I've trained for two half marathons in that same time period. I've run a lot of miles in the last 12 weeks! On the other hand, in full disclosure, I have stopped my twice-weekly workouts. I can't lie: I really don't enjoy working out. I've been doing the same work out for about five years now, and I'm just not all that motivated to get it done anymore.
So I know I can come up with every excuse in the book, and I will if you let me, but I also know that excuses aren't going to make my shorts miraculously fit. They also will not get me down to "racing weight" for my 30th class reunion coming up thisJuly.
Enter my running buddy, Colleen. Colleen and I have been running together for the most part since early January. (She bails on me sometimes, because she likes sleeping in. A lot.) Colleen has been running since she was eight years old, and in the not too distant past, she taught a workout class when she lived overseas due to her husband's job. She's been trying to convince me to add high intensity training to our workouts pretty much since we started running together, and I think I've finally gotten to the point where I agree that it's time. Earlier this week, I gave her the task of coming up with a workout regimen for us to incorporate with our daily runs, because even though I know I need to mix things up, running is still my favorite activity. Even my bad days are better when I run!
Since I'm running a half marathon on Sunday, we won't be starting right away. I figure I'll give myself a couple days rest, and then maybe we can start some workouts and then get back into running, too. I sure hope it works. I know I'm not overweight; there are plenty of people who would love to weigh 133, even at five foot two, like me. I could be happy and just settle in where I'm at, and attribute the extra few pounds to getting older, but the truth is, I'm just not comfortable at this weight. I don't feel good about myself anymore, and I miss that feeling.  I also worry that 10 pounds will lead to 20 which will lead to more…and more. I don't want that to happen!
I'll try to be more regular about posting, which should be a little easier now that my kids will be out of school and done with sports for a hot minute (before summer hockey begins).
Thank you for reading, and for not giving up on me. In return, I'll do my best not to give up on myself!