Last night I was totally panicked about getting my "monthly" post in by the end of July…but then I logged into my blog and realized I already had a July post. 😛  Since I had already written most of the post, I just decided to delay it a day and…voila!  I'm done with my monthly post for August! 😉
I am on week number six of my "carb detox." That's kind of a misleading title, since I'm not completely cutting out carbs, but I'm cutting out the ones that are important, at least to me. And yet, after five weeks, I'm learning that they weren't quite as important as I thought they were.
Back on June 24, when I weighed 135 after my canning weekend, I took what to me was a drastic step and cut out all the starchy carbs that I have loved all my life: bread, cereal, potatoes, rice, pasta. People who know me well, when I tell them, are shocked. I have always been a person who loves all of those things, especially bread. Especially bread.
I can honestly say that after five weeks, it's not as bad as I thought it was going to be. I mean, it's not the most awesome thing every, but it's tolerable enough that I'm still doing it. I haven't had one of my prized English muffins in five weeks, or cereal, or potatoes. Early on, I think I had a little bit of pasta, but eventually I figured out I didn't need it, so I stopped eating it. A couple of times I have had half a piece of bread at the end of the day, but that's about once a week if that. It kind of feels a little bit like when I gave up Diet Coke seven years ago. Eventually, you forget what you loved about it.
To be perfectly clear, I have not given up all carbs. I still enjoy my sweets. Early on, I would allow myself half a donut if my boss brought them in, but eventually he figured out that no one was eating the donuts (I think I was the only person in the office who really likes donuts besides him), and he stopped bringing them in. I faithfully have my six Hershey's kisses every day for lunch, and two after dinner. I might even have a couple extra before I go to bed. 😉 But that's a lot less than what I used to eat. I also have an occasional cookie or other treat when I'm in a social situation and they're available. I've been to a lot of graduation parties in the last five weeks, and I'm sorry, I just can't resist little tarts or cookies or small pieces of cake. I don't feel deprived without the starchy carbs, but if I don't allow myself to at least have a little treat when it's available, that's when I feel deprived.
So what have I been eating instead? Lots of protein, lots of vegetables, a moderate amount of fruit. And eggs. I actually worry a little bit about the number of eggs that I'm eating. Instead of my half an English muffin and 3/4 cup of cereal every morning, I have one scrambled egg, along with a slice of Havarti cheese. (Why Havarti? Simply because the day that I decided I was going to start eating less carbs, I needed a protein to replace my breakfast, and when I stopped at Kroger on the way into work, Havarti was the only sliced cheese on sale. It wasn't something I had tried before, but it turns out, I really like it!)
I was the person who didn't eat eggs very often previously, so now to be eating a minimum of one egg per day (sometimes two or three on a Saturday morning, with salsa and a little cheese), I do worry that I'm going to have a spike in my cholesterol readings on my next doctor visit. On the other hand, at my last doctor visit in June, my doctor said that my cholesterol readings were the best he had ever seen in all his years of practice, so I guess there was some room for an increase, lol! (He actually asked me if I could comment on why I thought my readings were so good, and I told him it's probably because I eat dark chocolate every day! LOL  Honestly, though, I've no idea.)
The hardest thing to get used to was not eating a starch with dinner every night. I come from a "meat and potatoes family," so the lack of potatoes, pasta, or some other starch at dinner was a challenging mindset to overcome. I tried eating zucchini noodles, but I remembered after I had bought and cooked them that I'm not a big fan of zucchini. Yeah, zucchini noodles are gross. 😛 So then I tried this thing I'd read about called "riced cauliflower." It's basically cauliflower in little tiny pieces. I like cauliflower, and it turns out that riced cauliflower is pretty good. I buy it frozen, and I find that when you mix it in with stir-fry or whatever sauce is on your chicken or beef, it satisfies the mental need for something else on your plate besides protein and a vegetable (yes, I'm aware that it is still a vegetable, lol).
As far as results go, one thing I noticed pretty quickly was that it's a lot easier to stick to 1200 calories day when you're not eating starches. Even when I have my dark chocolate or a few ounces of wine, I still stay right around 1200-1300 calories each day. Before I gave up the carbs, I was always eating not only the 1200 calories I allow myself while calorie counting, but also the extra calories I earn in running.  I still run five days a week, so that means I'm burning calories that I'm not then eating. It makes sense that I'd lose weight doing that right, right?  Eating less calories than you burn = losing weight.  Go figure!
You may remember that in my first week, I lost over 3 pounds. Here's how the progression of weight has gone since then:
Week 0: Weight 135.0
Week 1: Weight 131.8 (-3.2)
Week 2: Weight 130.0 (-1.8)
Week 3: Weight 131.6 (+1.6)
Week 4: Weight 129.2 (-2.4) !!!
I'm not sure what happened in week three. I had my 30th class reunion and a golf outing the Saturday before, but although I actually didn't eat that much, and I didn't drink at all (What? No drinking at my 30th high school reunion? It was like back when I was in high school and everyone else was drinking, and I was Susie Sober, oblivious to it all, lol!). Now that I think of it though, I did have one of those graduation parties the day before I weighed in that week, and I helped myself to a couple of cookies along with the required slice of cake. So yeah, I guess that does make sense.
But as you can see, I made up for it in week 4: that was the first time I had been below 130 since November 2018 (a month after I finished a full marathon).  To say I was pretty geeked when I weighed myself that morning was an understatement. 🙂  It felt good, and it also felt good that my clothes were feeling a little more comfortable. That was a little over a week ago, July 22.
But then came the rest of the week…the week before our county fair, when we have to put together all of the entries that we submit for the domestic arts categories. Besides my jams, my salsa and spaghetti sauce, and my pictures, I entered baked goods, as did both of my boys. Between the three of us, we entered five different baked goods.  There were three kinds of cookies, some mocha brownies, and a lemon Bundt cake.
Most of those recipes were new to us, and everything required taste testing. The peanut butter cookies were especially challenging, because the recipe wasn't turning out the way we thought, so we kept adding ingredients and changing baking times, and each time we did, we had to taste test all over again. Last Thursday was the first time in a month that I went absolutely crazy over my calories for the day. I actually got to a point in the afternoon, when we were on our fourth try with the peanut butter cookies, where I literally didn't want to eat another sweet; I was sick of sugar! It had been so long since I'd eaten sweets in any large quantities, I think my body was on overload.
I did better over the weekend, even though I had my family reunion, but I was really worried that the large number of sweets I eat on Thursday was going to come back to haunt me when I weighed myself this week. After all that work to get down below 130, I knew that I was probably doomed to be right back above it. Not the end of the world, I know, but a downer nonetheless. So when I weighed myself, I wasn't unhappy with the results: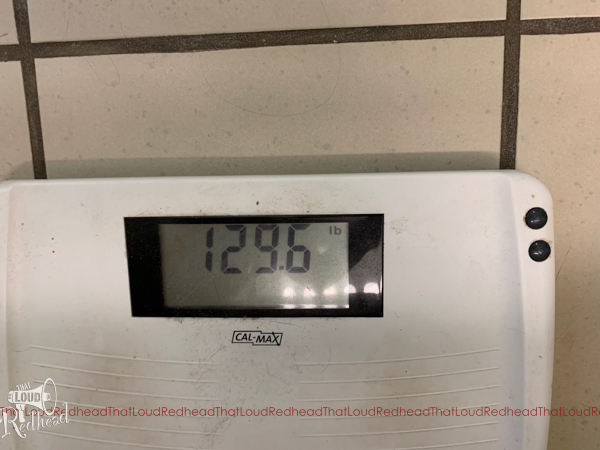 Woo hoo, not even a half a pound gain! I think I ate way more than a half a pound of baked goods on Thursday, lol, so I got off easy.
I was even happier when I went to my Weight Watchers meeting for July (on the last day of the month–nothing like cutting it close!):
Down over 4 pounds!  That was surprising…Weight Watchers never seems to be as forgiving as my personal scale. 🙂
My goodness, there are so few pictures on this post!  Here's a few to make up for it:
That was me on my way to my high school reunion.  I was illustrating the fact that you know it's your 30th reunion when you pull out your cute "bar" purse but have to include your reading glasses so you can actually see the drink menu. 😉
Still running five days a week, getting up at 5am or earlier before work to run a minimum of 4 miles.  I love summer running because it means I get to see lots of sunrises.
Summer running also means I get to end my run with a dip in my pool.  I love it so much!!
A sunrise over the Detroit River during a Saturday run with my girlfriends.
I tried yoga in the park last week.  It was hard!  I have terrible balance, admittedly, but that stuff is not for the weak.  I enjoyed the part at the end where you lay on your back and close your eyes for five minutes. 🙂
I was in the neighborhood of Bob-Jo's Custard (a Downriver tradition since 1947) when they were open, so of course I had to stop.  I only ate half, and this was the smallest size they had!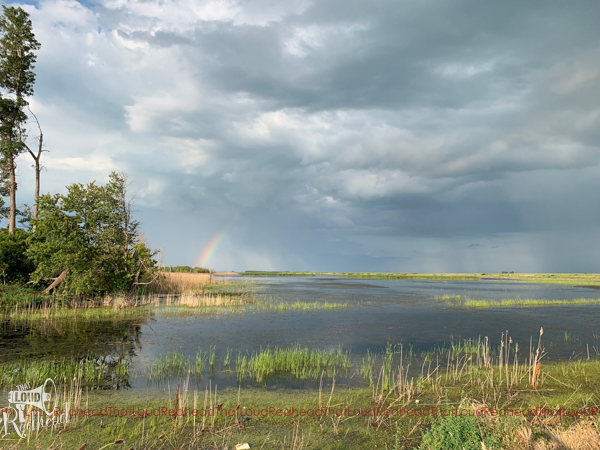 This is the state game area not far from my house.  I had a feeling there would be a rainbow after the storm a few days ago, and although it was small…I was right!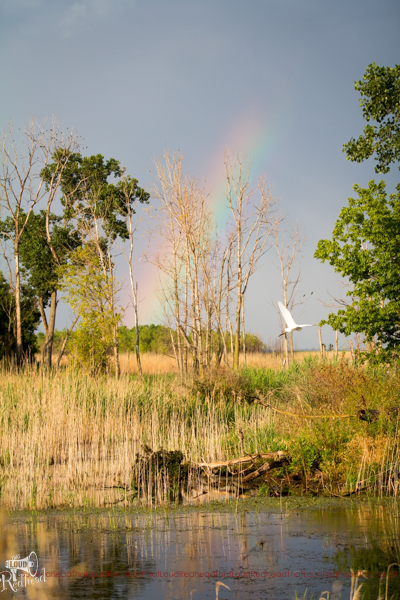 Sometimes, everything just aligns.  This might be next year's fair photo…
Thanks for reading!