I haven't posted in 60 days. 😮 Since my goal is technically to post once per calendar month, I would have still been OK if I had posted yesterday, because my last post was August 1, and yesterday was still September 30. Unfortunately, I had technical issues when I logged in last night, and so, I am a day late. I did try, though!
At any rate, I know the reality is that I am sorely behind, and for that I apologize. I think I have a pretty good excuse though; I started a new job last month! You might remember the post I did about my big presentation at work in March. In that presentation, my coworker and I pitched an idea for a new product feature, and, to make a long story short, the idea has been picked up and I was asked to join the team to make it a reality! Super exciting, to be sure, but also pretty stressful. Previously I worked in a group where I did a lot of writing for training. Now I work with all engineers, and it's a little daunting. I have a history degree and an MBA, neither of which required any engineering, ha ha! I'm doing a lot of customer-focused work, which is fun, as well as some design work, which is also cool, but sometimes they talk really technical stuff and it hurts my brain. 😛 I'm learning a lot of new things, though, but one thing I don't like about my new group is that they love meetings. All day every day, it seems. It makes for a very exhausting days.
Over Labor Day weekend, I of course did my usual canning extravaganza.
Yet another exhaustive weekend, but very rewarding. At the suggestion of one of my new coworkers, I actually tried some new recipes for my jam, and once unleashed, I was out of control, ha ha! For the first time ever, I made blueberry jam, and I added a lot of spices to my usual recipes. I'm not sure which one was my favorite, although the triple berry spiced ginger one was pretty amazing. The lemon vanilla blueberry was delicious as well.
School has started for both kids, and with it, intense sports schedules. This is Jamie's senior year, and he is busy working on college applications, playing football, and trying to keep up with six AP or honors classes. 😮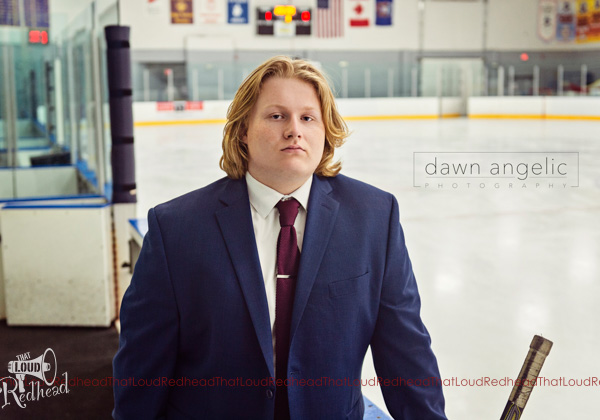 The photo above is just one of the many taken by my friend Dawn for senior pictures. Hard to fathom that my first-born is a senior!
JJ is surviving his eighth grade year pretty well so far, and is playing both hockey and football with pretty good success.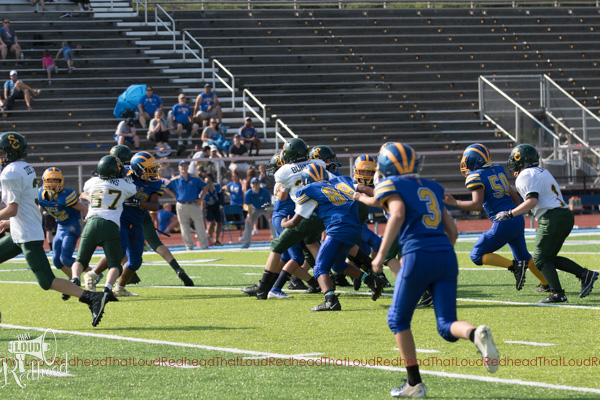 I forgot to crop that correctly, but JJ is #67 on the left.  Small but mighty!
As for me, I'm surviving each day, driving way too many miles, and not eating nearly as well as I should. I am still eating significantly-reduced carbs, although I have not completely cut them out, and I've had a few bad weekends between football games and other events. A couple of weeks ago, I splurged and had a chicken wrap with onion rings while celebrating a big varsity football win, and boy, did I regret it the next day! It's been so long since I've eaten greasy food, my stomach was not at all happy about it. My scale wasn't overly enthused either. 😉
Speaking of my scale…it died. Well, technically, it didn't die…it just became extremely inaccurate.  The last day that it worked, my weight was a little up from the previous week:
Then, the following Monday, it was significantly lower.
Ha ha ha!  Don't I wish.  I thought maybe it was a one-time anomaly, so I stepped off and tried again a few minutes later…at which point it went down even more, ha ha!  Apparently it was delirious and ready for retirement.
I went out and bought a fancy new scale, which seems to be less temperamental than the other one. I've noticed my weight doesn't seem to fluctuate as much as it did with the old one.
The last time I posted, I was so excited because my weight was under 130 for the first time since last November, but since then, my eating has been pretty bad. My weight has been up-and-down the last several weeks, but I tried to get it back under control this past week, and didn't let myself go crazy over the weekend like I have been doing. The result…
That's honestly not that bad. Yes, I am above my preferred weight by 6 pounds, but on the other hand, despite all my bad eating, I'm still only about a pound and a half above where I was two months ago. And that's OK! I know that reducing the carbs has definitely helped keep me from going out of control, but I do need to buckle down and really stick with my calorie counting.
Oh, I forgot to mention one other important thing that's happened in the last five weeks: I've been bombarded by illness and injury! It started about five weeks ago, when my ankle began to hurt for no apparent reason. I remember that it was the day I had gone to Jamie's school for Meet the Teacher night. I had to walk through Jamie's schedule on a shortened basis, and as it turns out, he has a lot of classes that are on different floors and at opposite ends of the school.   I remember my ankle suddenly hurting when I was walking up the stairs in between his fourth and fifth hour. That was August 19, and my ankle has been sore ever since.
In addition, a couple of weeks ago, when I was trying to run a short two-miler (because although my ankle still hurt, I just missed running so much), I ended up pulling a muscle in my back! Geez, I just can't win for losing! I went to the chiropractor and my back did get better after a few days, but the ankle has lingered. I've still tried to run, but I'm doing it much less, only two or three days a week for a few miles. It makes me sad. I miss running so much! Which is part of the reason why I can't seem to just lay off my ankle and let it heal; I hate not running, and my guilt overcomes my common sense I go out and run 6 miles with my girlfriend and then regret it for the next three days. :/
Then on top of all that, I came down with a cold this past weekend, thanks to Jamie. I'm pretty miserable, but I really can't complain, because Jamie had it worse than me, and he only took one day off of school and then went and played in a football game in the pouring rain the next day! (I tried to tell him not to, but you tell a varsity football player in his senior year not to play…) I was out in that pouring rain taking pictures on Friday night, trying my best to keep my camera dry, and I suspect that being out in the elements didn't help my cause in preventing me from catching Jamie's cold. But again…three days off running and counting.  I did run six miles on Saturday afternoon, but boy it was a tough run–humid and just tiring. It's so frustrating!!
Are, well, such is life. I'll get over this cold eventually, and in the meantime, despite the challenges, I'm feeling pretty good about where I'm at. I'm hoping things get easier at my job, and that I can buckle down and get my healthy habits back up to snuff, including running injury- and pain-free. For now, I will take each day as it comes and be grateful for what I have.
Jamie got his first college acceptance letter last week, and the reality is kind of sinking in. Next year at this time, it will be just me and JJ doing all the sports and school things, so I'm going to enjoy Jamie's last year with us while I can. Just last Friday night, I found out that our head coach had been interviewed on our local radio station before the football game, and he and the announcer spent a considerable amount of time not just discussing Jamie, but praising him in glowing fashion. I was alerted to it by a mom who was out of town and was listening to the broadcast online, and I was able to tune into the rebroadcast later in the evening. I was shocked to hear them say so many great things about my son, who plays a position that gets very little notoriety. He's a lineman, and they don't catch balls or make touchdowns and or even make tackles. So for me to hear him being praised so effusively by both his coach and the announcer almost brought me to tears. It just reminds me that I have so much to be thankful for, and that I need to remember to focus on the things that matter every day.
I'll leave you with a few of my recent pictures that capture a sunrise (back in August) and a sunset (just last Thursday at the JV football game). I feel so lucky to be able to capture these moments!
Thank you for reading!