Another Christmas is upon us, and I know it's been a hot minute since I posted. 😮 I think I have good reasons. Let me see if I can recap the last three months.
Since my last post on October 1, I've been pretty busy. I turned 48, for starters. Another step closer to 50 😮 I also had a lot going on at my new job…it has been a bit challenging to go from working with writers and artsy-type people to all engineers. I'm sure they're not sure what to do with me, either! 😉
JJ played his last game of middle school football, and even won the Coaches' Award at the banquet! Something about being hard-working and coachable, I think. I was so surprised, I didn't even pay attention to what they said about him, lol. I think it's pretty impressive for him to win an award at all, considering he wasn't there for 1/3 of the practices due to hockey. I was very proud of him.
Speaking of hockey–he's also in his last year of travel (youth) hockey, and I have to say that so far it has been a great experience. I contrast it to Jamie's 8th grade hockey experience four years ago, and what a difference! That team was…challenging…both in wins/losses and in relationships. Not to say that it was a terrible experience, but I wouldn't want to have repeated it. The team JJ is on right now is a lower-level one, but the coach has done a great job matching the players to their skill level and they're actually doing well in their division.
In October, I also took on a "side gig" by agreeing to photograph two hockey teams in one sitting. It was crazy! It also took up a tremendous amount of my time, which is why I haven't posted in three months. I spent every spare moment working on those pictures, and I couldn't justify doing a blog post when I had people waiting on me. It took me well into November to get those done. The pictures turned out well, I'm happy to say, so much so that I had other teams calling me the very next day after I sent out the proofs, asking me if I could do their team. I said no. 😛
In November I also had a big project due at work. I've become known for my ability to make videos, so I was asked to do a 5-minute video demonstrating a new vehicle feature. That required me going out to the company test track and shooting 10 hours of video, which was fun but COLD (we had a big cold snap in November). The resulting video turned out well, but it also took up a lot of my time. (Many late nights.)
Also in November, my historical society hosted a forum on the history of trains in our area. It was well-attended and very interesting, but there was so much prep work for it! I do love my work with the historical society, though…it's my favorite of all my "volunteer" jobs. 🙂 Then in November, we had a float in the local Christmas parade, and I got to live out my "dream" of being a Victorian lady for a night with the new dress I bought myself using the generous gift I received from the football team.
Throughout ALL of this, every weekend, there was high school football. It is Jamie's senior year, and as it turns out, his team was really good this season. We made it through the regular season with just one loss, then started the playoffs the first Friday of November. We won the first week, and then the second week, which made us District Champions for the third year in a row. That brought us to the Regional championship, which has eluded us the last two years. The game was scheduled for Saturday, November 16, and on that Tuesday, we had a freak November snowstorm! It took the help of many, many friends and family from our team to clear the SIX INCHES of snow off the football field in time for our Saturday afternoon game. 😮 (For real!!) But I'm happy to say that our team was fired up and they won, becoming regional champions for the first time in 28 years!
After that, we went to a neutral field in Ypsilanti for a nail-biter of a semi-final game. Our team has actually not had a close game all season, with the exception of our one loss against a higher-division team, but it went down to the final 2 seconds, tied at 14. Unlike last year, our kicker/quarterback was healthy, and he ended up kicking the game winning field goal. It was truly the most exciting sports moment I've ever experienced. 🙂
That win meant that we'd made it all the way to the final game–the state championship. 😮 If you had told me in August that my son and his team would be playing at Ford Field (where the Lions play), I wouldn't have believed you. But not only did they play there…I got to shoot ON THE SIDELINES during the game. 😀
I could drag this out for 1000 words, because it was truly the most incredible experience I've had when it comes to my kids and their sports, but I'll skip the suspense and tell you that they won.
Jamie is number 60 on the far left in the top picture, and you can see his name on the screen.
It was one of the lowest-scoring games in Michigan high school playoff football history (7-0!), and it was awesome. Stressful, but awesome, lol! And it just got better, because when you come from a small town and win a state football championship, you become an instant celebrity. In one day, Jamie was on the local radio station, on the Detroit television news, and on the front page of our local paper! 😀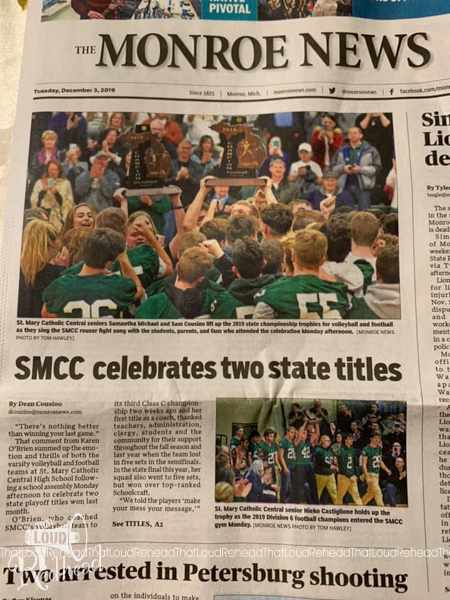 Talk about peaking at 17, ha ha! 😉
Of course, this blog is supposed to be about my health and fitness journey, not just a chronicle of my amazing life, ha ha. I'd like to say I'm totally killing it in those areas, but alas, I have continued to suffer from the ankle injury that first reared its ugly head in October. My running was significantly decreased these last three months, down to only 2-3 days a week, but I'm slowly getting better. My eating was, in a word, atrocious. No, that's not entirely true. I didn't completely jump off the band wagon, but I definitely was listing to one side. The last time I posted, I weighed 131. I weighed myself last week (I'm visiting my parents this week so no weigh-in) and was up about 2.5 pounds.
Not ideal, but I know it could also be a lot worse (and actually, it WAS worse a few times in November). I'm still committed to being healthy and to lose the last 8-10 pounds, and I'm hopeful that I'll be in better shape now that football season is done and my ankle is getting better (finally).
For now, I want to wish you all a Merry Christmas–see you in the new year!