Last week was tough. It was week three of working from home, and as I think I've mentioned, I hate working from home. There are so many downsides to it, including the discomfort of my office set up and the fact that work is always there, even when you're "done for the day."
On Thursday, we got some lousy, if not completely unexpected, news: the governor of Michigan officially mandated that all schools, public and private, will remain closed through the end of the school year. It had been leaked earlier in the week, but having it officially announced was just so heartbreaking.  I went out on the porch and cried for about half an hour.  I just can't believe that Jamie will never go back to high school.  The same with JJ…he's had his last days at the only school he's ever known.  It feels like they were both robbed of so much.  Never to wear the uniforms again. Never to see their friends during lunch again.  No 8th grade trip for JJ. If I had known that March 12 was going to be my kids' official last day of school, I think I would have taken their picture or something. 
I think what's even harder is that both were robbed of "lasts" in sports.  The official announcement came Friday, but it was pretty clear Thursday after the governor's announcment: the MHSAA cancelled all sports for the end of winter and all of spring.  For Jamie, that means he will never get a final season of lacrosse. This is especially heart-breaking because this was the year we expected that he would be appointed as a captain.  In fact, he told me that before school shut down, during practices, he was one of the four leading the warm-ups, which typically indicates your team leaders and therefore captains.  He was a leading goal-scorer on last year's team and has been a great mentor to the underclassmen. (That isn't just me saying that; I had several parents text me early this year when practices started to tell me how much they appreciated the guidance Jamie has provided their sons. That warmed my heart.) I know it's trivial in light of everything, but I feel bad that after four years working hard at three different sports in high school, Jamie was most likely robbed of his one chance to get the recognition for his efforts. But, nothing we can do about it now.
JJ also loses out on his chance to play one final season of youth lacrosse. This year the team was destined to be pretty amazing—we had 20+ kids on the 7th/8th grade team alone!  And at the forefront of it all would be JJ…my 3rd year goalie who was ready to really shine in his final season of this team that he essentially helped create. We always said that without him stepping up to play goalie, there wouldn't have been a team. Unfortunately, he doesn't get to complete his career with them, but at least we know he'll have four more years of high school to play. (And probably be a starter every year–there are no other goalies, ha ha!)
My husband is still going to work three to four days per week, and on Thursday, he came home while I was on a conference call and immediately put his clothes in the washing machine and then took a shower.  He's only done that twice before in 23 years…once after delivering a 6-month pre-mature baby and once after a particularly-involved stabbing.  When he got out of the shower, I hung up on my conference call and asked him what had happened that he felt he had to immediately shower upon arriving home.  He told me that he'd had to take a patient to a certain hospital, and that when he arrived in the ER, he said he looked "just like a WWII triage, with beds lining the hallway and emaciated 'soldiers' lying in them." That was sobering. It was a reminder to me that while I lament the events my children are missing (and that I'm missing, too), they aren't nearly as important as our health and well-being.
Last year at this time, I was driving all around the east coast and midwest, visiting colleges with Jamie. Jamie applied to way too many colleges (ten!) and got into all but two. We knew that even with his pretty incredible stats, Notre Dame and Cornell were long shots, but still, getting those two rejections within a week but a bit of a downer for him. However, he's young and more resilient than his mother, and he bounced back fast.
About a week after all the colleges closed their campuses for the rest of the academic year, Jamie received an email from the third university that was in his "top three," the one that actually accepted him during early admission in December. We had planned to visit their engineering school over spring break (since we didn't have time during last year's visits), but with all events cancelled, that wasn't going to happen. The email he received apologized for the fact that he wouldn't be able to attend an admitted student preview day, and then asked him for his shirt size, because they were going to at least send him a t-shirt. Poor kid was checking the mail every day for weeks…nothing.  I was so downhearted about the things I was reading and hearing on the news and in social media, I decided early last week to do something to help cheer him up.  I put in a special order that arrived on Friday.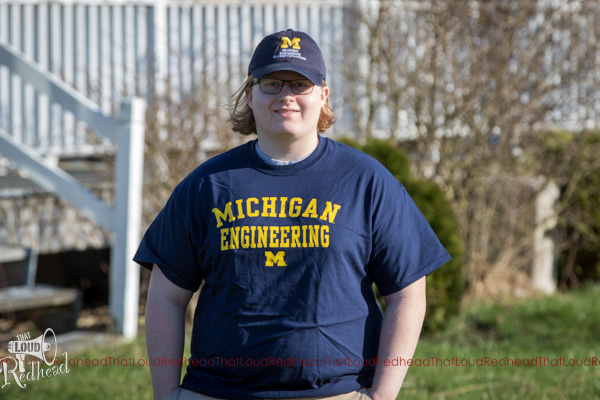 Yep, after all that traveling, over 1000 miles in five different states…my son will be attending college a scant 40 minutes away. 😋 But Jason and I couldn't be happier, or more proud. (Next time we'll wash the shirt before he models it, though. 😂 )
This week, I'm trying my best to not let the negativity get to me. I've stopped surfing all the news sites and I've limited my Facebook time as well. I'm still training for the Glass City "virtual" half marathon. I'd been running with my weekday partner most days (unless one or the other of us bailed–usually her, ha ha!) and then on weekends I run with my usual group of three. I know that not everyone thinks that's a good idea. Running in groups or even pairs is being discouraged by a lot of people, even if you maintain a six-foot distance. We really didn't think much of it until the last week. My weekday partner and I ran on Friday, and I was really careful to stay at least 6 feet away from her (pretty easy to do on the country roads in the wee hours of the morning), but on Monday, she told me she wasn't comfortable running together anymore and she was going to run solo. I was bummed, but I certainly can't argue. So my weekday runs are solo right now.
On Friday, my other girlfriends and I had a long text conversation about running together. We went back and forth and then we finally decided that running was too good for our health, both physical and mental, to skip. We got together and ran in a more remote area instead of a downtown like we usually do, and then we paired off, with one pair running ahead and one pair lagging farther behind (my pair, ha ha!). The pairs kept a six foot distance and we all had an enjoyable run. (A lot more shouting than usual, though, ha ha!) We ran through a metro park, and we witnessed a gorgeous sunrise and saw SO many deer.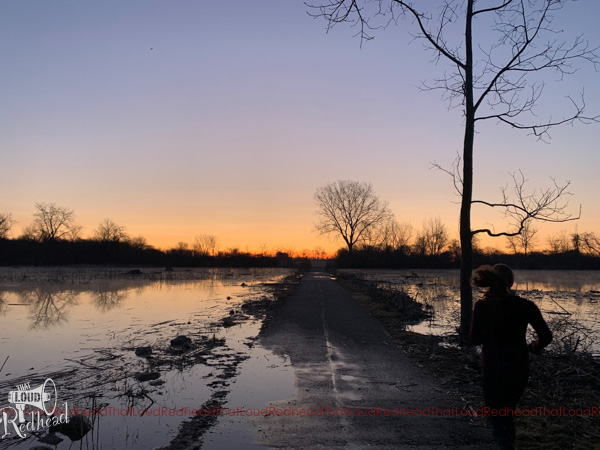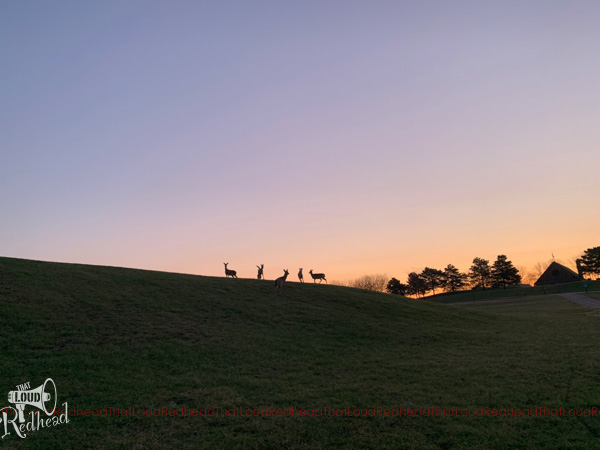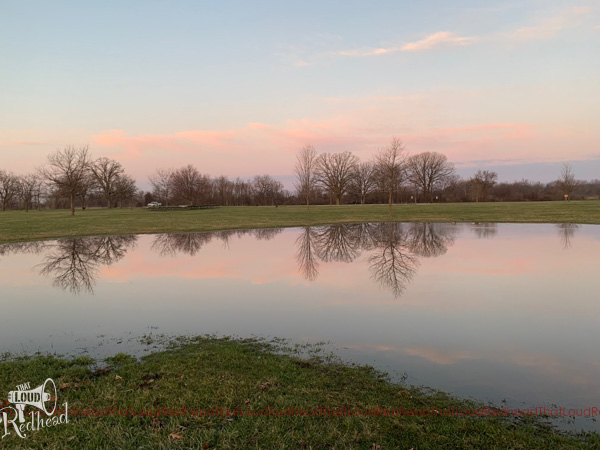 It was a great boon to my soul, that's for sure.
Another positive event happened on Sunday. Actually, two: the first was my church's "online" Palm Sunday service. Our pastor has been on leave and this was his first day "back" (if you can call it that!). He had a whole Palm Sunday "playlist" of videos for us on YouTube, including his sermon that he recorded, and it was really uplifting. Later in the afternoon, I got a message from someone I know in my area who knows me both as the president of the local historical society and an amateur photographer. She told me that the priest of a Catholic church in our Vicariate was going to (literally) fly over all the parishes in the county with the Eucharist on board and bless them all in celebration of Palm Sunday. She asked if I'd come take photos when he passed over our township's parish (the same one whose school my kids both attended).
Of course I had to go take photos for our archives, and it was truly an amazing event. Everyone parked in the lot by the athletic fields and stayed in their cars, with the parents "socially distancing" by talking out the windows, and the kids (being kids) hanging out the windows and sunroofs. It was a beautiful, sunny day and everyone even brought white "rally towels" to wave so the priest could see them. He did a Facebook live stream while he was flying around, and he even mentioned all the "white things" he could see when he flew over our church and gave the blessing. Despite the heaviness of our hearts these days, for that hour, everyone was laughing with each other and cheering when the plane flew over–there was so much joy. It was truly a beautiful, amazing experience. I took a bunch of photos, and a few of them even ended up on the Archdiocese's website. 🙂
In other news, I stopped tracking my food on Friday. Before you lecture me, I do want to point out that I managed to go 20 days of quarantine before I stopped! I wouldn't say I've totally given up on my health, though. I'm still very conscious of what I eat, and I'm happy that I've at least maintained my weight since last week. Of course, all the running helps. Not sure what I will do when I finally "race" this half marathon. I have to say I like having a goal…even when I'm at my lowest, I still find the motivation to get up and run. It gives me a purpose, which isn't always easy to find right now.
We're still taking it one day at a time, and I can only hope that we'll see the light at the end of this tunnel soon. Or at least, sooner rather than later. That's what I'm banking on right now.
Stay safe and healthy. Thank you for reading!