Look out–this one is picture-heavy!
I've mentioned before on my blog that Easter is my favorite holiday, so it shouldn't be a surprise that even though we were on vacation, I made sure that we were able to go to Easter morning service. And not just any Easter service, either: we attended a sunrise service at a church on the beach!
I was excited because it was actually a church of our Christian denomination (which is not very big)! It was a beautiful service, mixing the traditions we know with many Hawaiian elements (and many Hawaiian words that I could not pronounce, ha ha!). It was a great experience, and I'm so glad we had the opportunity to worship with them.
After service, we went back to the hotel and hung out in the room for a while, because the earliest reservation we could get for Easter brunch was 11:45. I was just glad to get a reservation at all, because the first place I'd picked had been sold out more than a month ahead of time! We ended up at a restaurant called the Plumeria Beachhouse, in the Kahala resort. It was pretty pricey, but it was amazing!
The first thing I did when I sat down was order a Mimosa.
After a few gulps sips, I headed up to check out the buffet. Or rather, buffets.
That was just a few of the buffet tables and the omelet station (our chef was so fun!). There was so much food. I basically had breakfast, then lunch, then dinner. Then…I had dessert!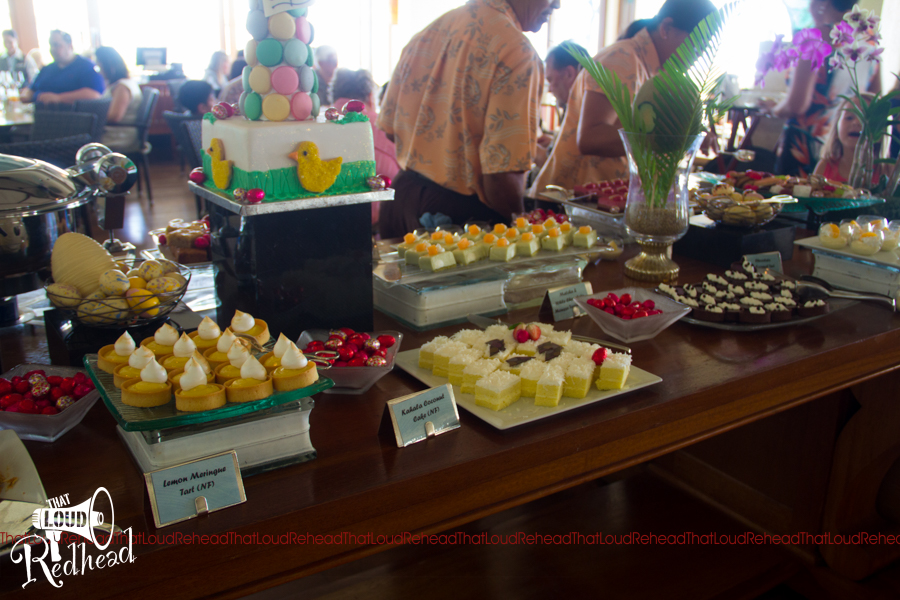 Dessert was, needless to say, my favorite part. I had 12 different desserts…one of everything except for the couple of things I knew I wouldn't like. The best one by far was the bread pudding. I had two helpings of that! 🙂 Oh my gosh, just thinking about it now makes me want it!!
By the time I was done, I was absolutely stuffed. I mean, like uncomfortable stuffed. I did not actually eat another meal until lunch the next day…that's how much food I! Yes, it was way too much, but I had been looking forward to brunch for a month, and I definitely made sure I got my money's worth out of it. 😉
The hotel had dolphin and turtle pools, and while I was gorging myself, JJ grab the camera and took a few pictures.
He did a pretty good job, I think!
One other note about brunch: my sister-in-law told me when I made the reservation that the restaurant is patronized by a lot of celebrities, because it is out-of-the-way and pretty expensive. I mentioned it to Jason on our way there, and then didn't think anything of it until we were leaving and Jason leaned over to whisper to me, "Speaking of celebrities, I just saw a Dog the Bounty Hunter in line for the 1:45 seating." Ha ha! I snuck back in and looked to see him, but I left him alone. I knew he only wanted to eat brunch, just like me!
After brunch, we headed back to the hotel to change and then we walked a block down the road to Big Wave Dave's surf shop. I had signed Jamie up for surfing lessons at his request a few months earlier. I offered it to Jason and JJ as well, but they both declined. As for me, I had no desire to surf. I'm much happier sitting on the sand and taking pictures.
When we arrived, they signed Jamie in and then when the associate saw JJ, he asked him if he was interested in surfing, too. I started to say that he wasn't, but JJ surprised me by saying yes! Considering he had seemed afraid of the idea when I mentioned it a few months ago, I was pretty shocked. I was also a bit nervous, because he is only 11 years old, but they assured me that he would be just fine. I figured he wouldn't do very much actual surfing at his age, and I suspected Jamie would probably struggle as well, but I figured they would be safe with the trained instructor and would probably have fun trying.
They had a professional photographer who had the most incredible set up, with a 600 MM lens with 2x converter. If that makes no sense to you, just know that it was sweet.  I took a few pictures at the start, but once they got way out there, it was useless, especially since I didn't have my good lens. Eventually, I just put my camera side and let Chris, the professional photographer, do his job. And let me tell you, he is talented! All the pictures below were taken by Chris (and purchased by me, sucker that I am).
I waited on the shore and watched the boys listening attentively to Pono, their surf instructor. He was very patient and, since they were the only two in the group lesson that afternoon, they had his full attention. For as skeptical as I was going into it, I was astonished to discover that my boys didn't just try to surf – they actually surfed!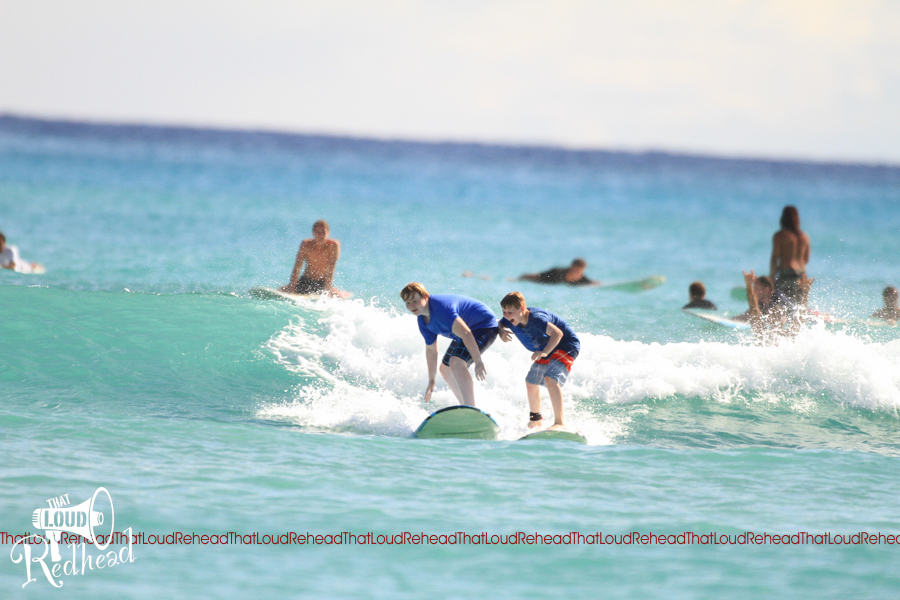 Aren't they amazing? They were up on their boards over and over, riding the little waves. Jamie, as you can tell from the pictures, was pretty methodical about it, concentrating hard and using his "engineering" mind to get him through. JJ, as is typical for him, pretty much just jumped in with both feet and attacked the whole process with gusto. As we were going through all the pictures afterwards in the store, even Pono joked about how enthusiastic JJ was and how he always did his "shakas." (The Shaka is the "hang 10" symbol you see surfers do with their thumb and pinky finger extended out. Kono told the boys that whenever they were up on their board and doing well, they were supposed to do the shakas to show him that they were doing just fine and having a good time. JJ clearly took it to heart!) As we went through all 600 of the pictures Chris took, I could tell that Pono was really proud of them, and I could also tell that he really loved the sport and loved sharing it with others. I'm so glad that he was the instructor for my boys!
Here is a kind of funny progression of pictures that we all laughed about (look on the left):
I don't know what went wrong for that guy, but you can tell by the pictures he was not planning on running into Jamie. Poor Jamie! But he took it like a champ.  JJ found it rather amusing. 😉
I had asked Chris before they got out there if he would do me a favor and try to get a picture of the two of them together smiling, since they had pretty much done nothing but squabble for the trip so far. When we got back in, he showed me this one:
I was so thrilled! Honestly, there weren't too many bad pictures, and I was happy to buy them from him.
Eventually, they did have to come in, although Pono gave them more than the 90 minutes of instruction I paid for. I could tell he was having a great time with them, probably because they were both so enthusiastic. Chris had told me when we were sitting on the beach watching them that one of two things would happen when the lesson was over: they would either come out of the water with Pono towing them in because they were so exhausted, or they would come out and immediately ask if they could rent surfboards. He was half right; when JJ came out of the water, the first thing out of his mouth was: "What's for dinner?" (Somethings don't change, even on vacation.) About a minute later he added, "How much does it cost to rent a surfboard?"
I would say the surfing lesson was definitely a surprise highlight of the trip for both kids and even for me. I enjoyed watching them as much as they enjoyed learning and surfing. I highly recommend Big Wave Dave's and especially Pono, their instructor, if you ever go to Honolulu and want to take a surfing lesson.
Dinner that night was low-key, since we had such a huge brunch. Well, OK, actually that was just me. All three of the boys were hungry by about seven or eight o'clock, but I didn't need to eat it all. They ended up at a pizza place in a hotel, and since I'm not a fan of pizza anyway, it worked out just fine for me. I did have a single slice, but it didn't taste any better than it had the last time I had it (many years ago), so that was the extent of my dinner.
As expected, the boys slept very well Sunday night!