Day 9 was possibly our most adventurous day of all. We got back later than we expected from the Road to Hana the night before. This meant that we didn't get to bed until 9:30, which probably seems pretty early, but was not as early as we wanted, considering we had to be up at 1:30 the next morning! The reason for this ridiculously early wake-up time was that we were doing the Mount Haleakala sunrise bike tour. I had never heard of it before Jason mentioned it, but he saw it TV, probably on the Discovery Channel or something, ha ha. There is an extinct volcano on Maui that has a national park at the top, and it's popular for people to go to the top of this crater to watch the sunrise (it's 10,000 feet up, so as you can imagine, being so high up and above the clouds makes for an amazing view when the conditions are right). It's popular enough that they just recently announced that they would require reservations to come to the park from the hours of 3 AM to 7 AM every day.
For those who are really enthusiastic, you can choose to complete your beautiful morning sunrise experience by cycling back down the mountain…for a total of 23 miles! And that was what my husband wanted to do. I was more than a little skeptical, especially for JJ. From what I had read, it's a pretty steep decline going down the mountain, and in fact, the first bike company that we had looked into would not allow riders under the age of 12.  My sister-in-law found another one that allowed children as young as eight, so although I was a bit nervous about it (and he was too), we signed up.
Come 1:30 Friday morning, I was totally not enthusiastic about the idea, however. 😛  But we managed to get up and get the boys out the door to make it to the shop by 3 AM.
We had to get ourselves fitted for helmets, rain gear, and bikes. It was raining pretty steadily at this point, and I didn't have high hopes for our view of the sunrise in a few hours.
By 3 AM, we were on a shuttle van that seated our family of four, plus another family of four. Our driver was pretty enthusiastic and shared interesting tidbits with us on the long drive up the mountain.  (It takes about an hour to drive up to the top.) He made sure to point out to us important landmarks so that we would know where to turn on the route back down. He made us all memorize the following: "right, left, right, left, left, left" That was the order of the turn that we had to make on the 23-mile bike ride back down. :p It worked…we didn't get lost!
At the top, we got out and, as expected, it was about 44°. Quite a shock from the 70-80 degree weather we'd been used to.  However, the tour company had set us all up with appropriate clothing, including water resistant jackets and pants, as well as gloves, which was a lifesaver for me. I had dressed warmly enough, but I hadn't thought to bring gloves to Hawaii!
As soon as we arrived at the summit and took a restroom break, I made a beeline for the railing and staked out my spot.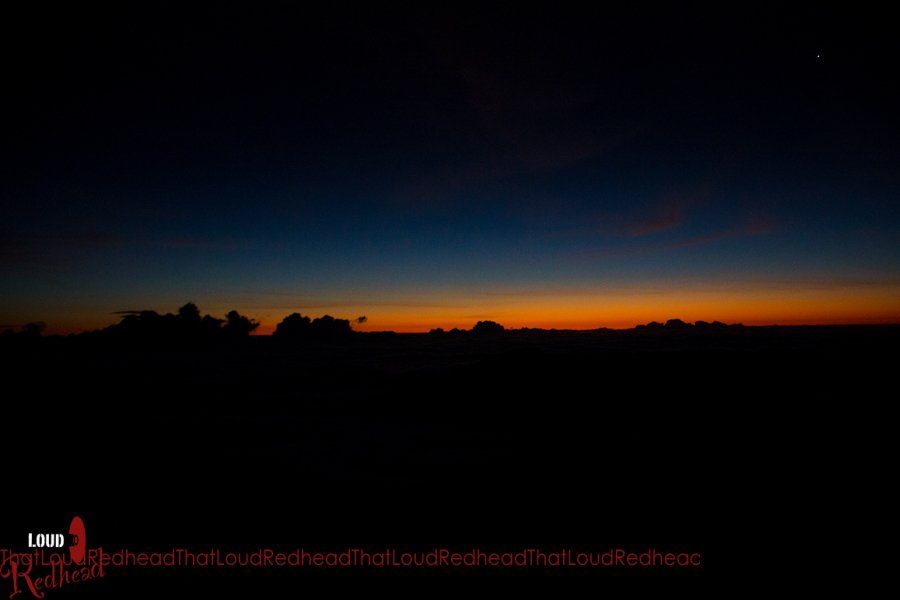 And then we waited for just about an hour for the sun to rise. There were maybe another hundred or so people there.  It was crowded, but not jampacked.
The sunrise was a pretty awesome experience.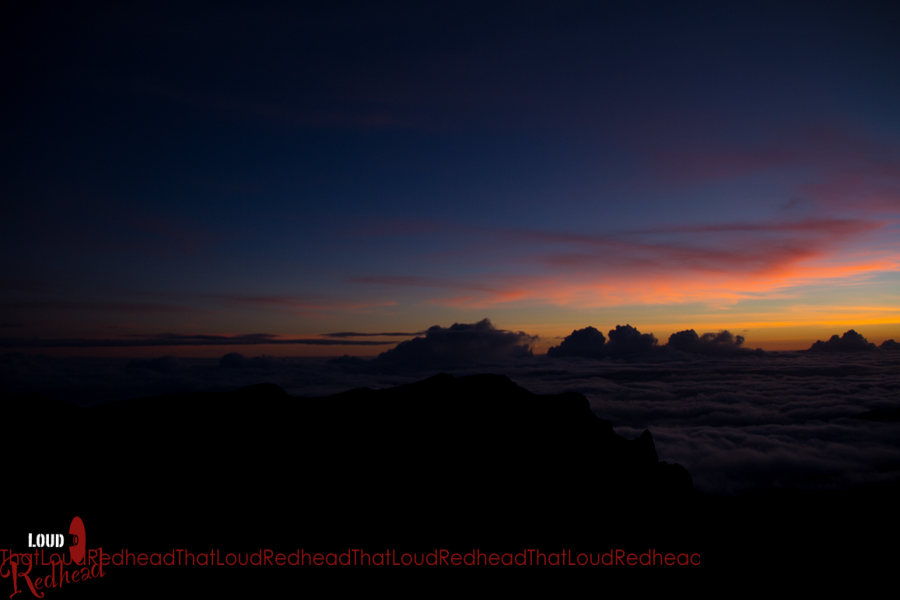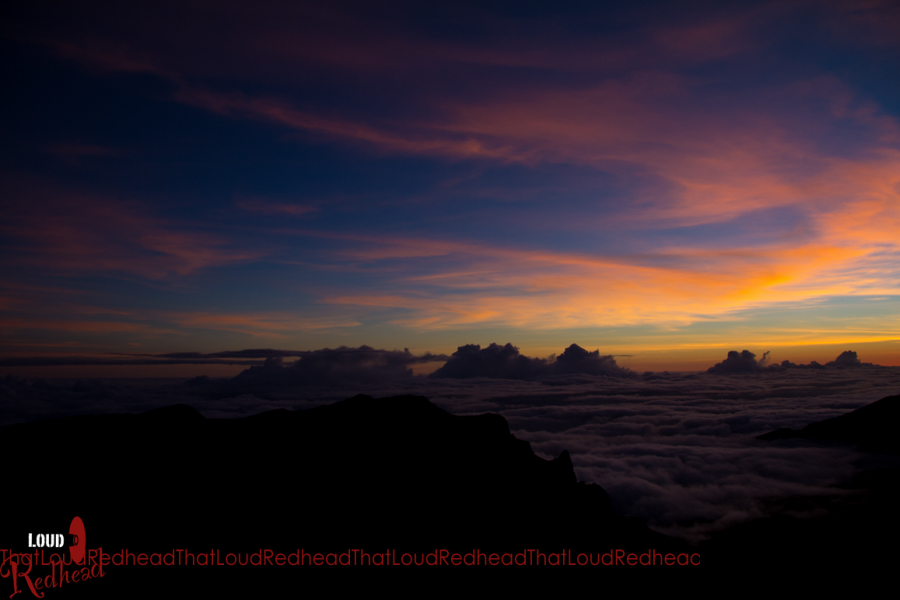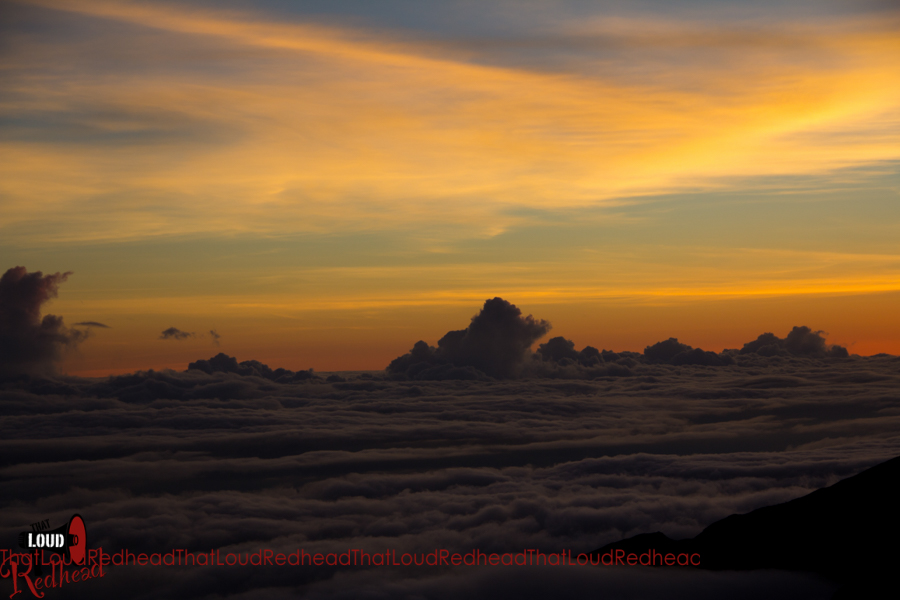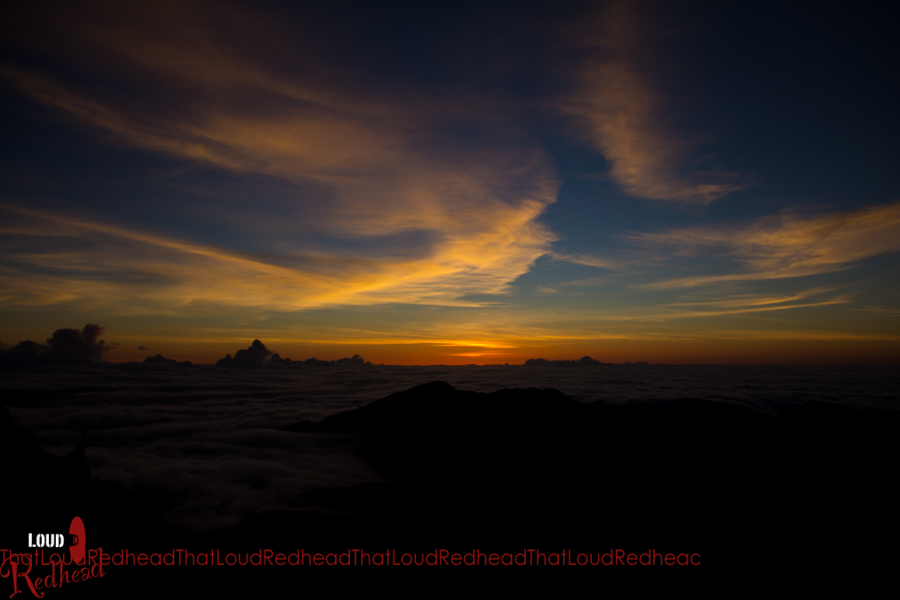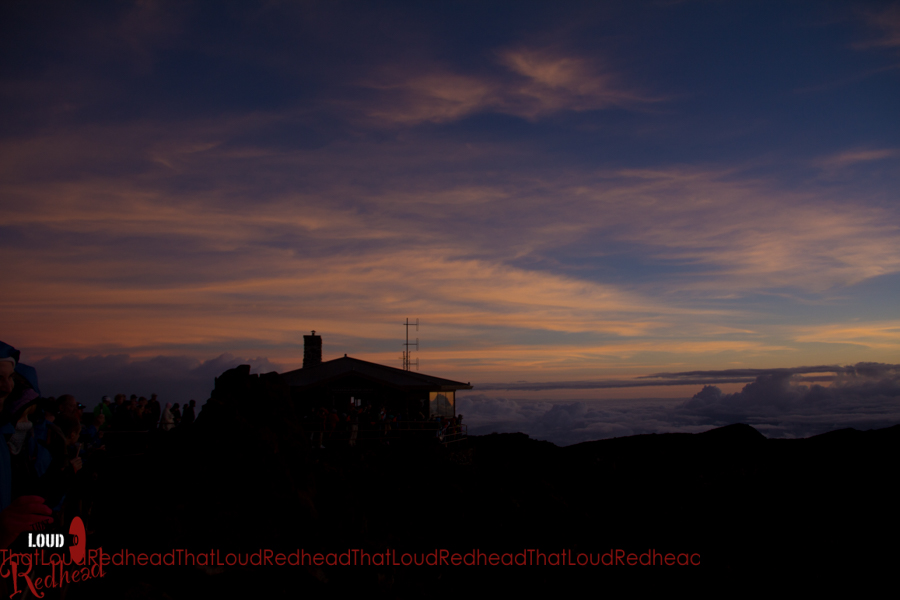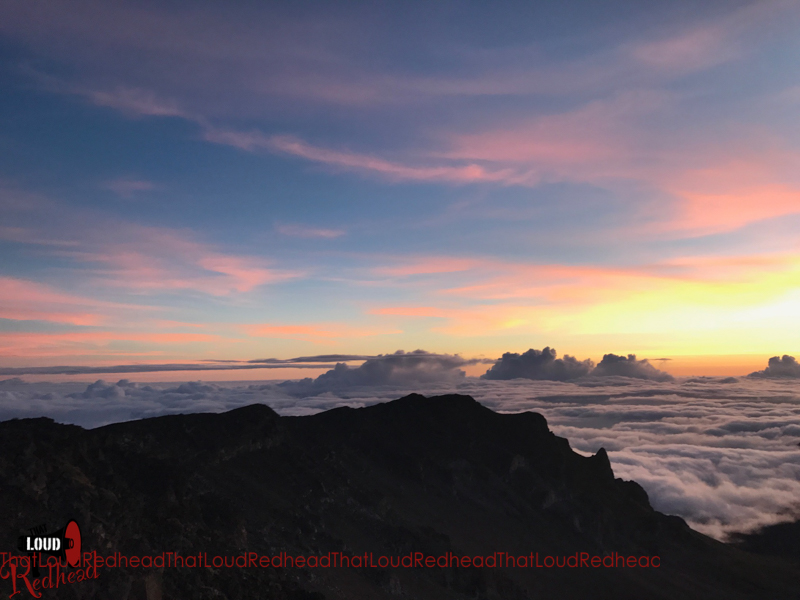 And…there's your sunrise! 🙂
Ha ha, and that's me in all my 1:30am bad-hair glory. 😉
Being above the clouds was pretty awesome, although I'm not totally happy with my pictures.  I'm definitely not a professional landscape photographer, ha ha!  I think I did okay, though, and it's hard not to take pretty pictures of a sunrise in paradise on top of a volcano.
Probably my favorite moment of the whole morning was when we turned around and saw a young man proposing to his girlfriend.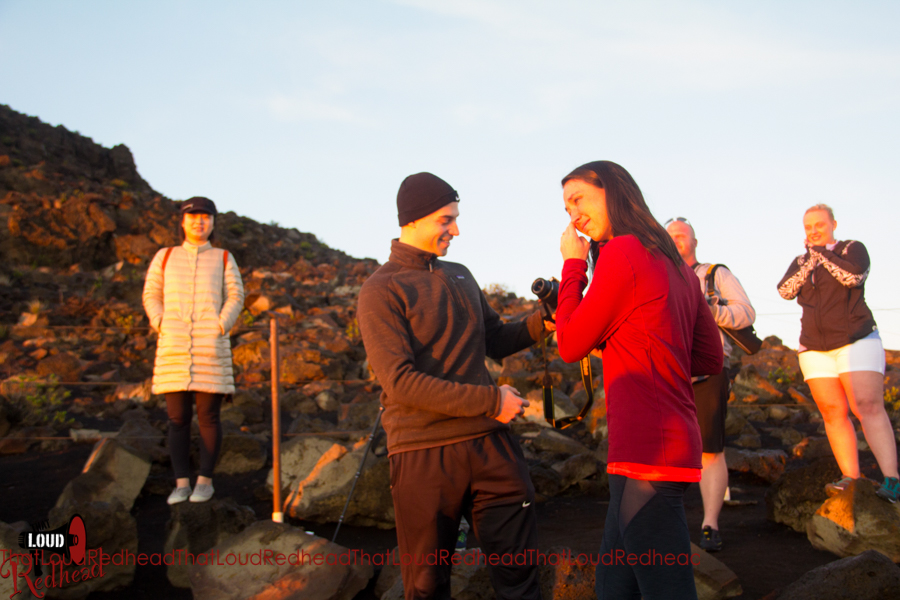 How would you like to be able to tell everyone your boyfriend proposed on top of a 10,000-foot volcano at sunrise? I'll bet that'd make all your girlfriends jealous. 😉
After that, we hopped back in the shuttle and our tour guide took this to one other spot to take a few more quick pictures, one that was a little less well-known and so therefore not busy at all.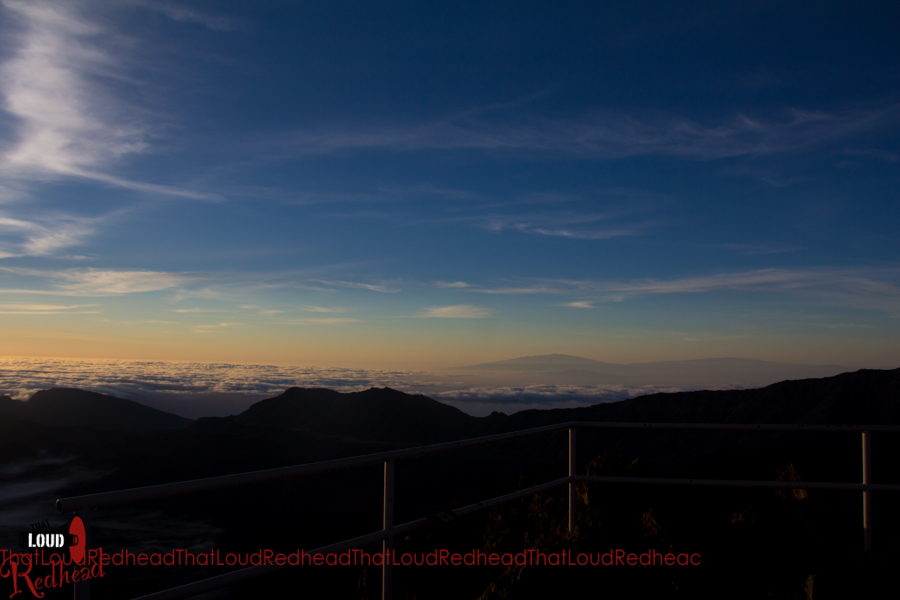 After another 20 or so minutes, we left the gates of the state park to return to where he had dropped the trailer with our bikes. By this time, we were back beneath the clouds and it was drizzling a bit. He pulled out all our bikes, we suited up, and then we were ready for the BMX circuit.
Ha ha, no, just kidding, but don't we look like we're ready for competition? 😉
From there, we began the 23-mile ride downhill. The skies cleared almost immediately, and then the views were positively breathtaking.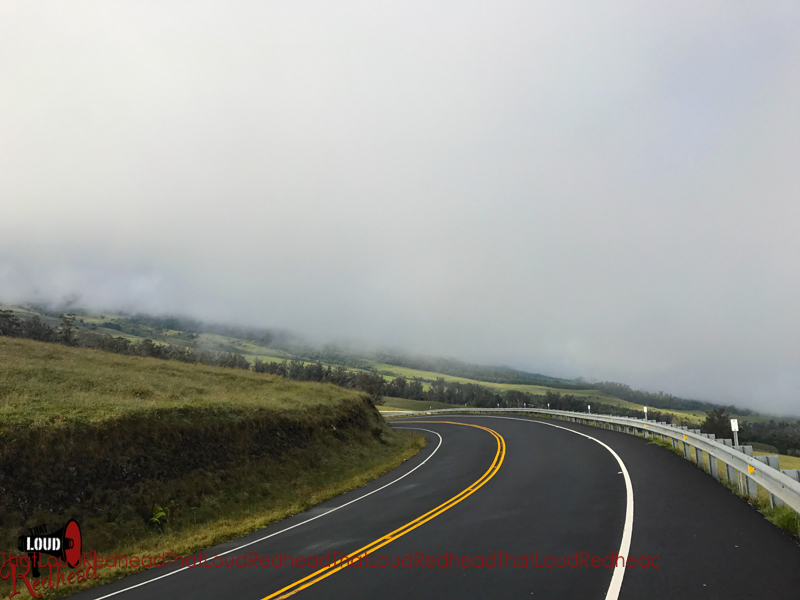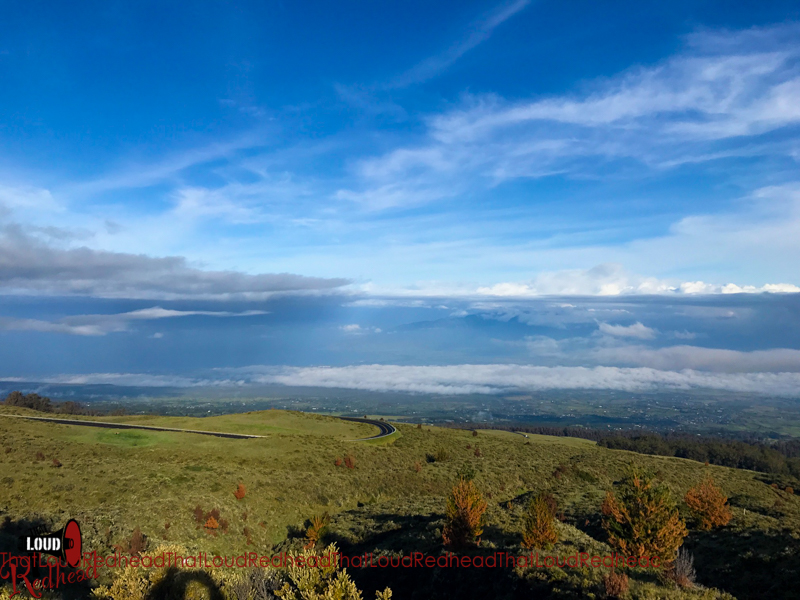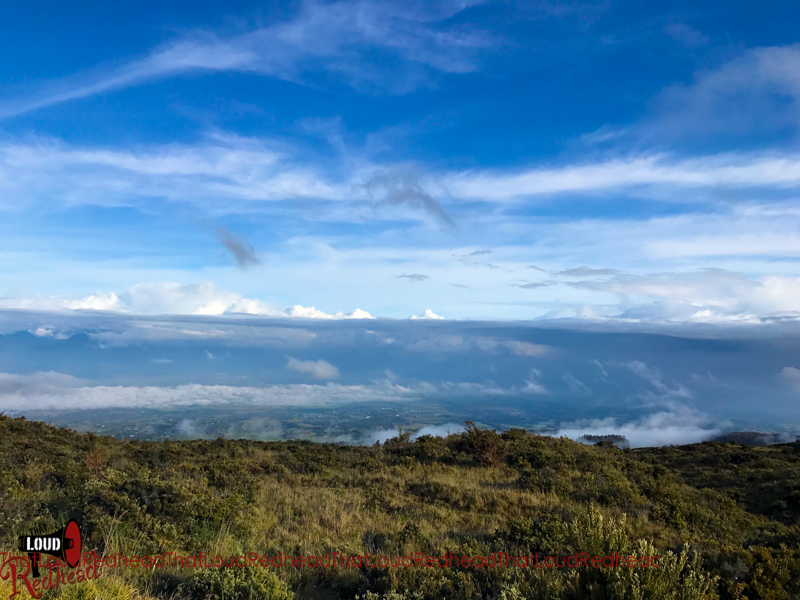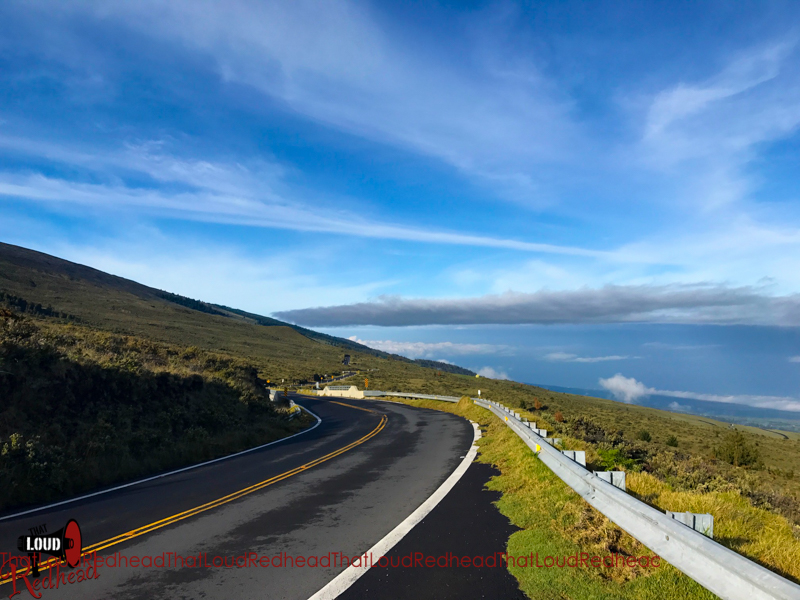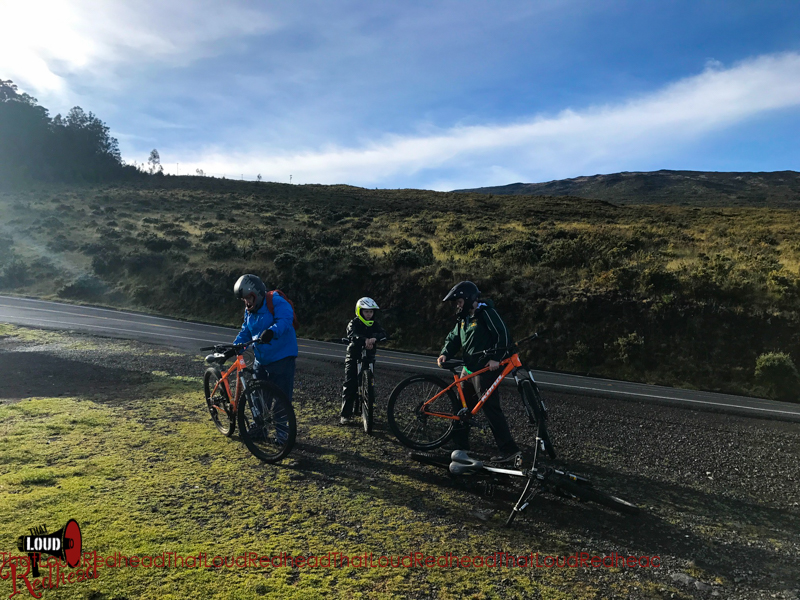 It was hard for me not to stop every two minutes to take pictures. As it was, I had already determined that I would only use my cell phone, and not drag my DSLR out every time I wanted to take pictures. In retrospect, I regret this decision, because the views were so amazing, my iPhone just doesn't do them justice. However, I was feeling pressured because the rest of the family was behind me, and I was nervous about the constant decline, which necessitated riding the brake almost continually. So, I was going especially slow, making the boys a little frustrated with me, and I didn't want to frustrate them further by taking the time to pull my camera out every time I stopped. Now that I'm looking back on it, I wish I had just said screw it and let them suffer! 😛
Despite my nervousness over the downhill speeds, it was absolutely a fantastic trip. I would even venture to say that this was my favorite part of the whole vacation, except perhaps for the vow renewal. And the food. 😉 Truly, though, as nervous as I was, it was well worth the effort, expense, and stress. It was truly awe-inspiring to be so high up and have such breathtaking views for miles and miles.
Our guide had given us some instruction on a few local places to dine on the way down, and we stopped at one called Kula Lodge.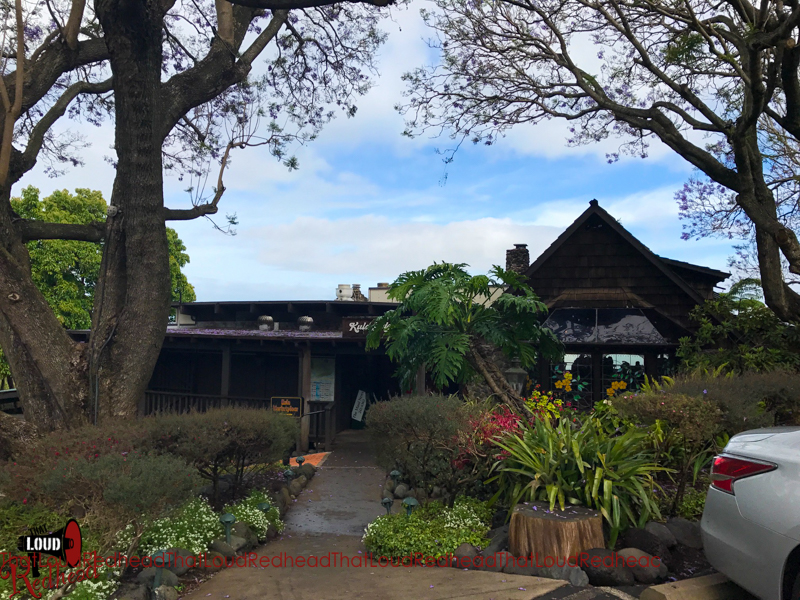 I think I look pretty good for four hours sleep and a 12-mile bike ride down a mountain.  😉  Once again, the meal was a bit expensive (I don't know why I keep complaining about the cost, I knew what I was in for when I planned a trip to Hawaii, ha ha!), but when I discovered that they had not just eggs Benedict on the menu, but crabcake eggs Benedict, I was sold!
It was delightful, and I didn't even eat the potatoes because the crabcake Benedict was so filling. I was also very happy to get a cappuccino, since I had been unable to get my coffee when we were on the road at 2 AM. :p The views from this place were pretty awesome, too.
Once we finished, we went back out and on the road. Our tour guide had warned us about "agony hill number one" and "agony hill number two". It didn't seem like much when we were driving down them, but trying to bike up was a totally different story.
Jason was the only one of us who didn't have to walk his bike, and it was a pretty close call for him before he was able to power his way to the top. Soon after, we passed through a cute little town.
And then we saw more random beautiful sights, and a lot of cows!
As the sugarcane industry has waned, the cattle industry has taken off on Maui.
As we got towards the end of the ride, the declines evened out a bit, and by that time, I was feeling more comfortable. I eventually stopped riding the brake and let myself just go. I actually ended up leaving the kids in the dust for a while! When I finally slowed down again to let them catch up, they asked me what happened, ha ha!
By the time we got back to the shop, it was about noon. That meant it had taken us about five hours to ride down, including our breakfast stop. I think that was a pretty good way to spend a morning! On the way back to the hotel, we stopped to marvel at the waves, which were pretty big on the north side of the island!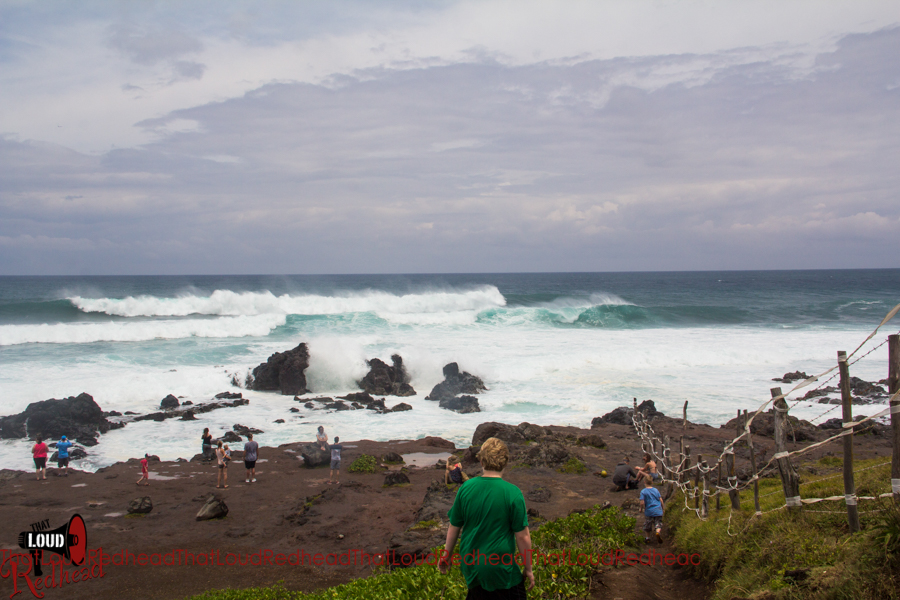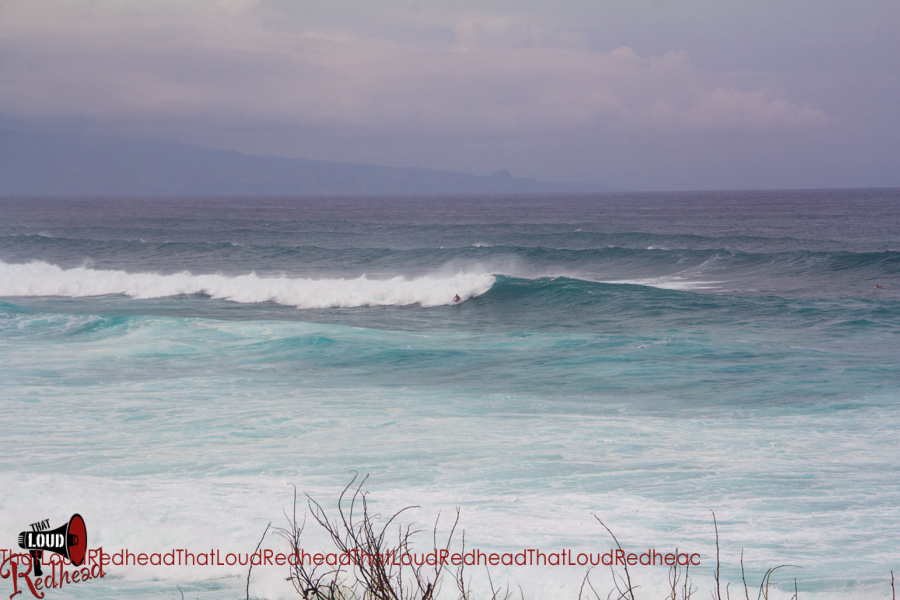 Gosh, that water is so blue!
Once we got back to the hotel, we all promptly took naps. 😉
Later, we woke up and the kids went swimming in the pool and the ocean. The hotel had a beautiful pool, complete with a slide and lots of lush foliage.
We had one last dinner at a Mexican dive that wasn't anything to write home about (but in reality, you don't go to Hawaii to have Mexican). The next morning, I packed us up while JJ swam in the pool one last time, and then we were on our way to the airport. We did stop for lunch at a place called Cheeseburgers in Paradise.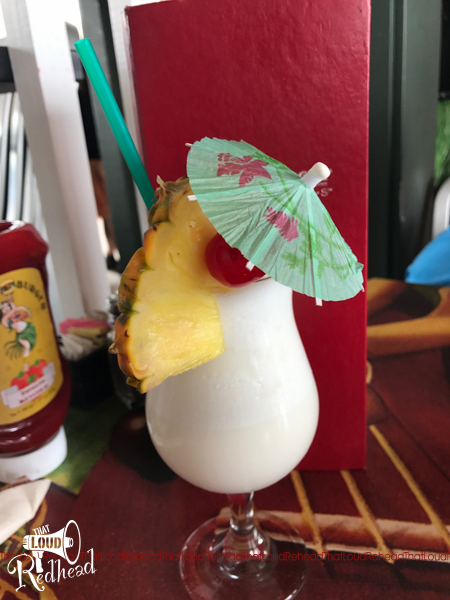 I got one last piña colada, which was actually the first one of the entire trip that came with an umbrella!  So did the sandwich, ha ha!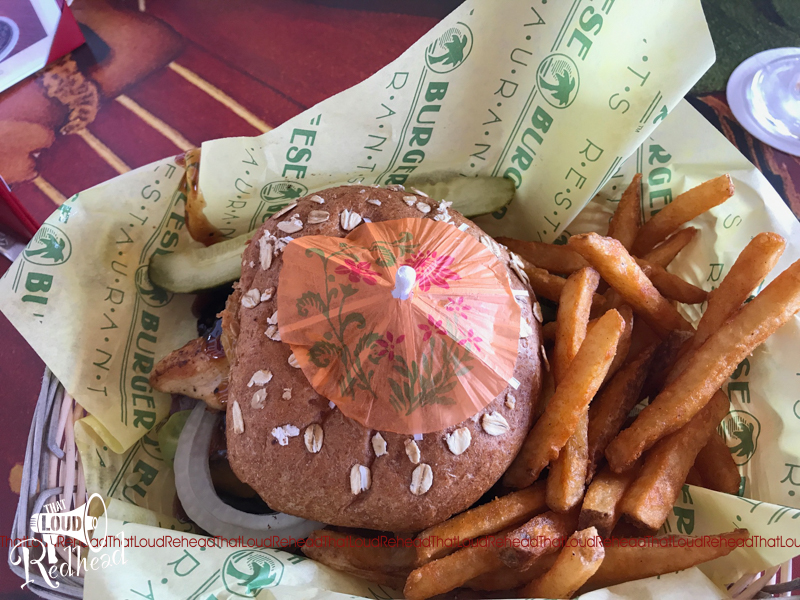 We had time to kill, so we walked around Lahaina one more time, and I decided that I needed to have an ice cream before we left. There is a lot of shaved ice and gelato in Hawaii, but neither of those appealed to me. I did finally find a real ice cream place, and the boys and I each got a waffle cone. (Mine and Jamie's were dipped in chocolate with coconut and macadamia nuts…yum!!)
From there, we headed out to the airport, and the last picture I took on our vacation was this…
Our gate was at the far end of the terminal, and they had a little makeshift bar, but you couldn't take your drink out of the fenced-off area. That worked out perfectly for me, because I'd had enough of my family by then, and I enjoyed nursing my my cup of Chardonnay for two hours while I caught up on social media and let the boys fend for themselves.
And that was the end of our vacation of a lifetime! (As I told the kids, that's because it will take us a lifetime to pay for it. 😛 ) If you read all nine of these daily reports, there's a special place in heaven reserved just for you. 😉 I hope you found it interesting and that you enjoyed the pictures. Thank you so much for reading!