Three weeks and one day ago, we held a graduation party for our oldest son Jamie. I was worried about a lot of things, but it went off wonderfully. We had so many family and friends attend, and thankfully, we have a lot of space (two acres, plus an extra acre we "borrowed" from our neighbor for parking), and we were able to let people spread out and stay as close or as far apart as they wanted to. I had family that came from Florida, North Carolina and Illinois, and everyone had a great time. Unfortunately they didn't eat enough because I had WAY too much leftover food, ha ha!
Here are just a few pictures:
I did remember to have someone take our photo, thank goodness. You might remember that I had posted previously about the "cute" outfit that I wanted to fit into for the party. Turns out, after I put it on and came downstairs, I looked at my husband and saw that he was wearing a Michigan shirt (where Jamie will be attending). I rolled my eyes and said, "Oh wait, we're doing that?" I really wanted to wear my cute red top, but I know my husband is super-proud of his son attending Michigan, so I figured I could go along with the theme. You can see JJ (my youngest) did not care one bit about what he was wearing. 😉
I went a little overboard on the desserts, but it was hard to pick just a few! This is the cake we had made special for him by a baker whose son graduated with Jamie. She always does an amazing job, and she's super nice to boot! I asked for a cake that celebrated both his high school career (hockey, lacrosse and football) and his future plans (computer engineering), and she did a marvelous job! I also had two other cakes from a baker local to us…she's another friend who also makes amazing cakes, and I had to order lemon blueberry (Jamie's request) and a German chocolate cake (because her version is to DIE for!). I ate way too much of that German chocolate, lol!
Because it was a graduation party honoring my son, of course I had to display photos of him. But I didn't just display photos…I pretty much made a "Shrine to Jamie" (as my family called it, lol!). I was actually pretty proud of what I came up with, and honestly, if I were a Pinterest-y type person, I would totally post it there. But I'm not. 😛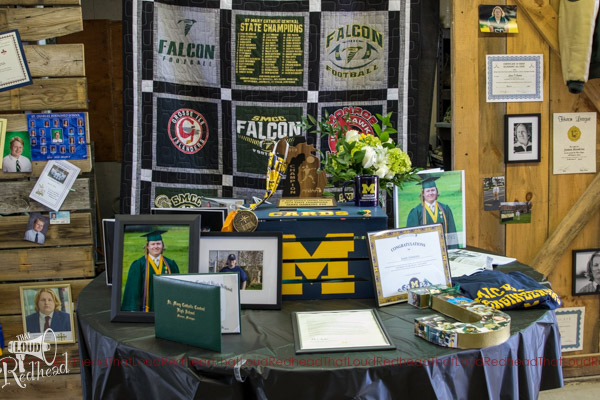 My neighbor's very crafty daughter made that adorable University of Michigan themed crate for cards, and then the other stuff on the table were a graduation photo, four scrapbooks I had made (his life from birth to age 18 and then one book each for hockey, football and lacrosse), and then his diploma, academic medals, some scholarship certificates, and some U-M stuff. On the right you see a "J" that was made by a junior hockey mom for senior night this year–it's covered with photos of him from his four years of high school hockey. It was SO cute and crafty! You can also partially see the quilt I had made for Jamie. I used t-shirts from his years of sports, from youth hockey all the way to senior year, and I was so pleased with how it turned out. I found the woman on Etsy and not only was the quilt very high quality, she was also amazing to work with! If you're interested, email me and I'll give you her contact info.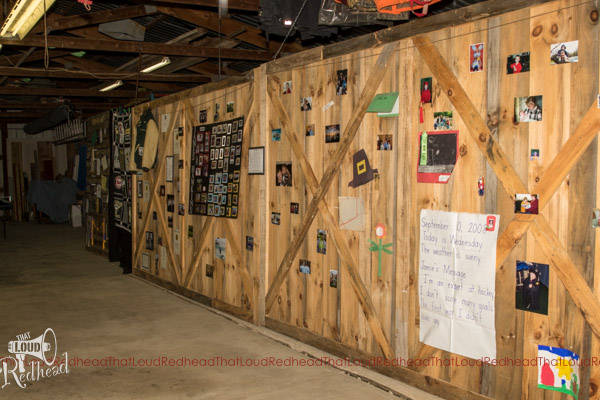 What you see above are actually two "barn doors" that were created by my neighbor's brother-in-law for a family wedding a few years ago to use as a backdrop to the barn wedding. Since then, these "doors" (not really doors, but made to look like them) have been passed around from family member to family member for various events. My neighbor's twins graduated with Jamie and they used the doors two weeks before for the girls' party, and then offered them to us. I was so excited to have them–mostly because they're SO huge, they covered a large portion of the crap my husband has strewn about our barn! 😀 (They're heavy as sin though–it took Jason, Jamie, my neighbor's husband, and two of Jamie's football friends to move them across the street!)
I'd been to at least 10 grad parties by the time mine came around, and although everyone knows I love pictures, I came to realize that there really is such a thing as too many pictures. (Blasphemy, I know!) So instead of covering the doors with photos, I decided to make use of all the ridiculous memorabilia I'd saved from Jamie's lifetime as part of the decorations. So along with random photos, I included things like the "Jamie's message" that his teacher had written out in 1st grade when it was Jamie's turn to give the daily message to be written on the flip chart. (I had several to choose from, since the kids took turn doing it every day for the entire school year, and the one I chose was from the day when Jamie's message included, "I am an expert at hockey. I don't score a lot of goals." 😛
Here are a few other items to illustrate how I utilized the space:
The above items include a map of our neighborhood that Jamie drew in second grade, a flower he made in kindergarten, and–one of my all-time favorite items–a construction paper pilgrim hat he wore for the school's "Thanksgiving" feast in second grade. If you look closely, you can see that attached to the bottom of the hat is a newspaper clipping of him as a second grader wearing that hat (plus a construction paper collar)–his first-ever photo in the newspaper, ha ha!
Some more photos and certificates. I tried really hard to match documents or objects with photos, so for example, I had a picture of him in his preschool graduation outfit with the tassel (labeled 2007!) hanging from it. Above you'll see a certificate on the lower right, which recognizes his participation in the school mission trip to Kentucky. The photo attached to it shows him in the process of pulling cookies out of an industrial oven–he made and sold over 1000 chocolate chip cookies to raise the funds to go on that trip, and in fact his fundraiser was so successful, he raised much more than he needed for the trip and ended up giving an extra $450 to the local Habitat for Humanity chapter in Kentucky.
I could go on and on about the wall, but suffice it to say I had a ton of fun putting it together. But I need to tell you about the rest of the stuff, ha ha! Next up was the "School Days" wall:
This pallet is special because it was made with wood from our old deck that we took down and replaced this summer (literally finished the deck just days before the party, ha ha!). I saw a "pallet wall' of photos on a Pinterest page and I really liked it. But again, I felt like there were too many photos–having seen something similar at several parties, I found myself overwhelmed by the photos. At the same time, I'd also seen lots of people who displayed their child's photos, kindergarten through senior year, usually in a pre-made banner like this. I thought it was super cute, but the problem was, I am a terrible mom and was not at all organized over the course of Jamie's school career–I didn't have one common size of print throughout the years! I could've scanned and reprinted some of them at the smallest size, but I was short on time and didn't really want to. So instead, I came up with a memorabilia/photo wall for school. I used whatever sized picture I had and then added items like his kindergarten report card (so cute!), a couple of class composites (his friends that came LOVED seeing their pictures from grade school), certificates, a school ID, etc. I topped it off with his senior school photo flanked by his graduation cap and the program from his graduation. At the bottom of the wall I put his honor cords and the page from the local paper where he was honored as a Top Scholar. I was pretty pleased with how it turned out.
And now I've saved the best for last. First you have to understand that my husband really is a pack rat–we have so much junk in our barn! I really worried that we'd never get it cleaned up, and I also worried because there was just so much that we couldn't clean up. When I was lamenting about all the crap that was visible, he pointed to the corner and said, "We could use those doors to hide stuff." I was like, "What doors?" Apparently, my husband has been collecting doors–like actual doors from houses–for years and I had no idea! (So much crap in our barn, I never saw them.) Some of the doors were there when we moved in, and it seems pretty clear they came from our 128-year-old farm house, but many of the doors are ones he just saw on the side of the road (you know, because other people were throwing them away!!) and decided he just had to have. 😮 On the one hand, it frustrates me that he collects so much junk, but on the other, I had to admit that this particular time, his hoarding tendencies came in handy!
So let me present…
..the sports wall. Or rather, the sports doors. I could show you a picture of every one of the nine doors I decorated, but I figured no one is that interested, ha ha! Just know that I had one door for youth hockey, one for youth football, one each for his four years of high school hockey, one for high school lacrosse, and then two for high school football (because they did win a state championship!). As you can see, I used pictures (of course) but also lots of memorabilia, like old jerseys, certificates, and even some of his original "learn to skate" patches from U.S. Figure Skating! Okay, one more photo…
I have to show off the football doors, not just because I'm super proud of my state champion football player, but because those two doors are special: they came from a Victorian-era mansion in the historic Brush Park neighborhood of Detroit–my husband saw that someone was throwing them away and he snatched them up. Totally ridiculous, but gosh they are beautiful! And I had a great time putting all the memorabilia on them. (And yes, those banners you see–one for each year of hockey and one each for football and lacrosse senior year–were made by me. I even made him pose for a lacrosse photo shoot despite the fact that they didn't have a season this past spring! I also invited his senior friends so their moms could have keepsakes, too.)
Okay, enough about my party decorations! As you can tell, I was pretty proud of how it turned out. It was essentially like "life-sized" scrapbooking: every item and photo tells a piece of Jamie's story. I will say that although he usually is embarrassed about stuff like this, he was actually very awed and appreciative. I know he loved looking over his past and being able to reminisce about fun times with his friends and family as they looked everything over.
So I had mentioned in my last post that I was working really hard to lose 10 pounds before the party so I could fit into my "cute outfit." As mentioned then, I didn't lose ten pounds–but I did lose nine!
I started at 137.2 in late June, and by July 27, I had gotten down to 128.2! I was so happy, because it meant I could wear my outfit! Granted, that went by the wayside at the last minute, but the truth was, although the top was a pretty red floral tank-style, the shorts were what really caused me issues, because those shorts that had fit just fine two years ago were really tight. They're the same shorts I'm wearing in the photo above, and I'm happy to say they are very comfortable now!
Of course, I didn't exactly stick to my diet during my party or even the rest of that weekend–at my party, I was celebrating, and then later, I was tired and just didn't have the energy. And as you can imagine, the scale reflected that the next week:
Yikes! But of course, the reality is I didn't actually gain five pounds–I just ate too much bad, sodium-laden food. (And cake. I did eat a lot of cake that weekend. 😉 )
So then the real test came–how would I handle things after the party, now that I didn't have a specific goal event to motivate me? Well, I can honestly say that after a month, my habits have changed for the better! I've drastically reduced my carbs, and I'm being very vigilant about weighing, measuring and tracking. And the results three weeks post-party reflect that:
Holy crap! That's actually my lowest weight in two years–and that weight was achieved at the end of 16 weeks of marathon training! 😮 So clearly, I can do it when I truly set my mind to it. Which essentially means I am not allowed to make any more excuses on this blog!! 😀 (Or in real life.) I am really happy with myself right now–which is such a far cry from how I was feeling pretty much all spring, when I was depressed not only due to the lockdown and restrictions, but because I felt fat and unhealthy. I'm still pretty depressed about the restrictions (but I'll leave that alone for now), but at least I can feel good that I'm doing something to make myself healthy again.
One last thing before I go: I want to let my (few) readers know that after this post, I am deleting my account on BlogLovin'. Over the last several months, I have gotten a barrage of "followers," who are really just spammers with "click bait" links in their profiles (many of them rather unsavory). That really creeps me out, plus I don't want anyone associating me with those sites, so I'm just going to delete my presence there. I know I have very, very few readers (which is fine, this blog is more for me than anyone), but I figured I'd let all two of you know (ha ha), in case you wondered. 🙂
That's (more than) enough for now! Thanks for reading!