Day three fell on April 15, 2017. Not a significant date for most people, but it was a big day for me: it marked the five year anniversary of the first time I had ever gone for a run. I like to call it my "runaversary." 😉 I honestly never thought back then that I would still be running, and still loving it, five years later. This was another "justification," if you will, that I used to convince myself to take this trip. I mean, come on–it's five years later, and I'm still running five days a week! I honestly think I'm more proud of that than I am of having maintained the weight loss for five years.
I was excited to celebrate this auspicious occasion by running in paradise. 🙂 I got up and out on the road just as the sun was rising around 6 AM. I would've liked to have gone out earlier, but I wasn't sure how safe I'd be. (I would've been fine, as it turns out.) It's been a while since I've run in warm weather, and it was a bit of a shock to my system to be running at 70° at 6 o'clock in the morning! But after our especially cold March, I knew better than to complain.
There were a ton of people out even that early in the morning, some runners, and a lot of walkers. I greeted everyone I saw, and for the most part, people were friendly. (Some of the more serious runners seemed a little too focused to exchange pleasantries.)
I pretty much just jogged along, stopping often to take pictures, until I got to the bottom of the diamond head crater. As I began my trek up the incline, it got harder. I toyed with the idea of just walking it; I mean, really, who would know? But then I came up alongside an older man, I believe Chinese, and we struck up conversation. His name was Chan, and he was probably in his 60s. We stayed in step and talked for a long while; I learned that he was a bus driver, out for his morning run before work, and that although he no longer races, he still runs every day. He proudly told me that he completed the Honolulu Marathon three times in the 90s!
Eventually, before I knew it, we were up the hill and we had some beautiful views on the other side of the crater.
When I stopped to take the pictures, Chan continued on, but wished me good luck before he left. I was really glad I had a chance to meet him–another great benefit to becoming a runner! I also met a couple who were there with their red Mustang, which had "eyelashes" on the headlights, ha ha, and they took a picture of me.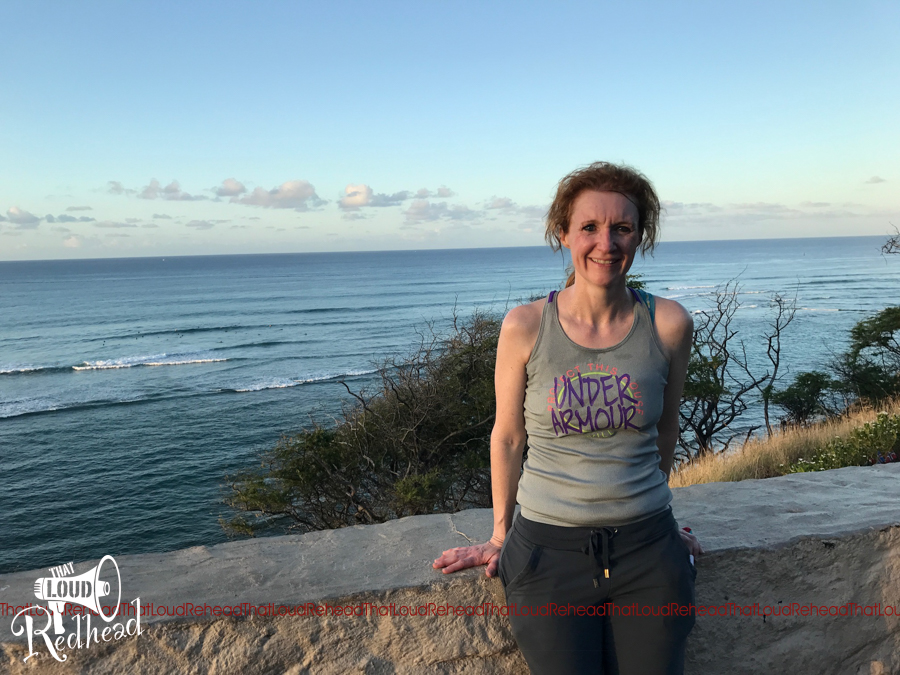 My five year anniversary photo!
I ran around the crater and took some more pictures so I would remember as much as I could about the run later.
Those flowers are stephanotis–I like to call them "my flower," since they're so similar to my name. (I totally own my narcissism. 😉 )  I had them in my wedding bouquet, but I've never seen them actually planted before. They smelled so good! After rounding the crater, I took a slight detour on the way back to go by a beautiful canal.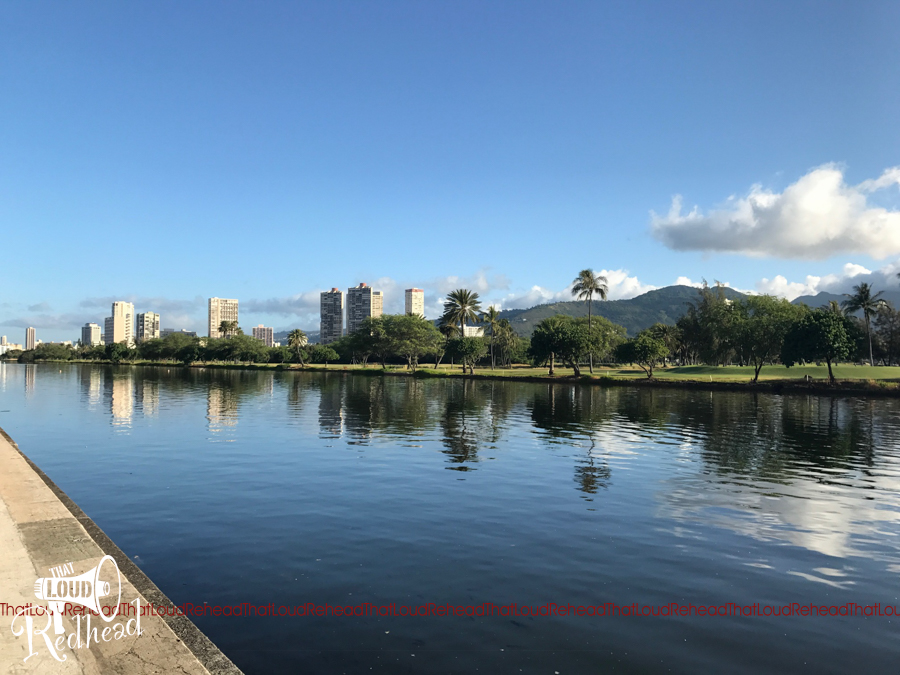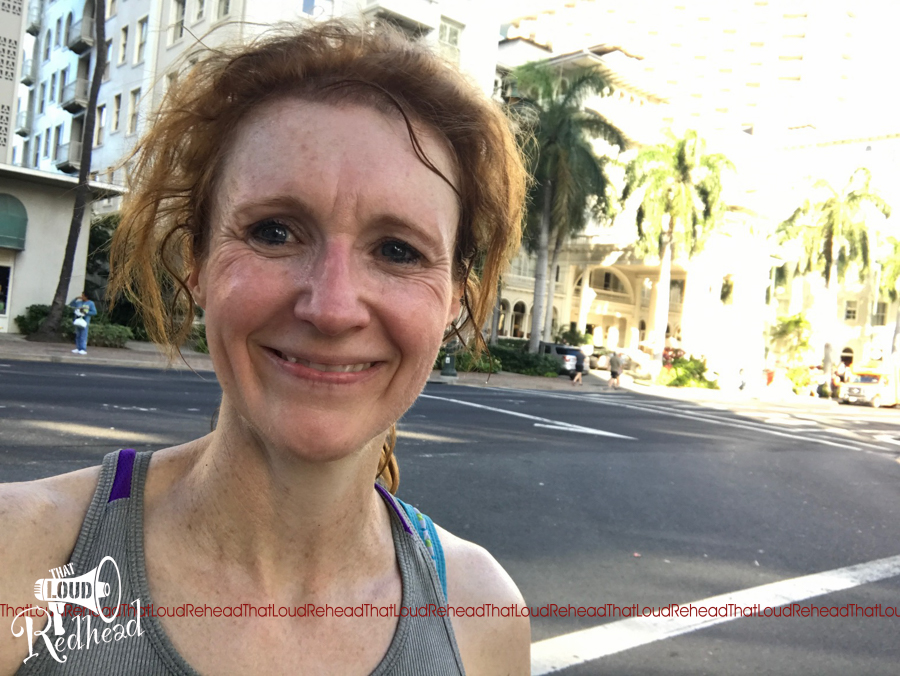 Happy runaversary to me! 🙂
By the time I got back, I was good and tired from a 6.5-mile run. I cleaned up and then got some coffee at the Honolulu coffee shop that was attached to our hotel. More good coffee, but still not as good as the one we'd gotten the day before. From that point, I left the boys to their own devices while I headed out to Iolani (ee-oh-lah-nee) Palace.
I had just missed the 10 AM tour, and had to wait until 10:15, but I think it was fate, because I ended up with the most amazing docent.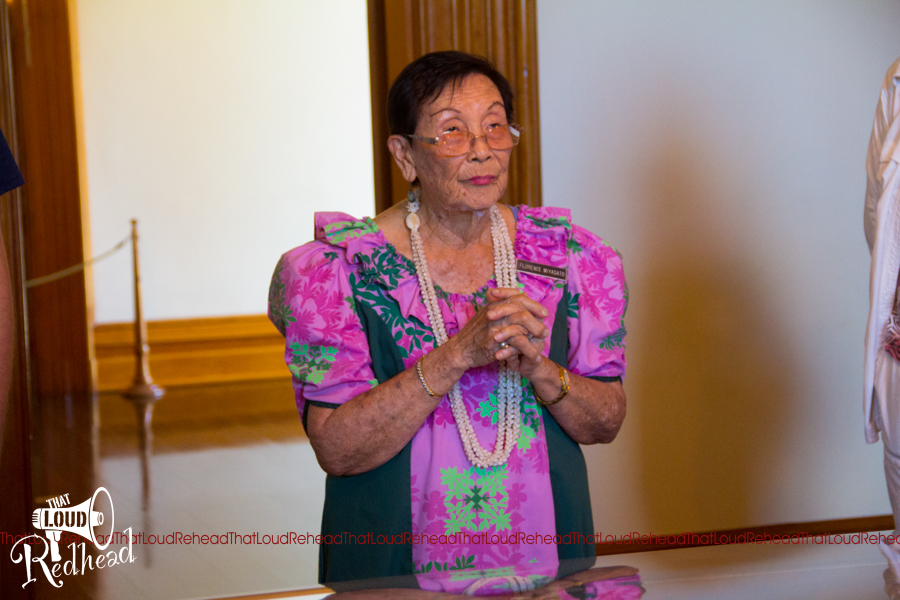 Her name was Florence, and she has the distinction of being one of the only three remaining original docents that has worked at the palace since it opened to visitors in 1977! She mentioned to us that just last week she and her two colleagues we're treated to a big fancy dinner at the country club to celebrate their 40th anniversary with the museum. 🙂 She was a tiny little thing, of Japanese descent, who told the most amazing stories. You can imagine that someone who has been at the palace for 40 years has plenty to talk about, and she did not disappoint. I learned so much about the history of Hawaii and the terrible injustice that was done when the monarchy was overthrown in the 1890s. 🙁 I also learned about the different cultures that had come to Hawaii over the centuries, including Florence's own grandfather, who emigrated from Japan in the 1880s. She was so proud of her ancestry, and so grateful to the Hawaiian king who signed the treaty to allow Japanese immigrants to come to Hawaii to work the sugarcane fields.
I could've spent all day there, listening to her tidbits and fascinating facts. The palace was amazing!
Pictures


I won't bore you with every fascinating story, but I do have to share one that I really enjoyed: in one of the rooms, there was a photograph from the very early days of the palace, and there was a particular plant stand shown. My apologizes for the poor quality of this photo, but I was not allowed to use my flash, and I had to take it quickly. The plant stand is bounded by the blue box.
She told us the story that one day during a tour back in the early 1980s, a couple from Ohio were staring at the photograph intently, and finally asked about the plant stand. They were told that it was part of the original furnishings that had been lost when the Hawaiian royalty was ousted in the 1890s. The couple then told the docent that they had a planter that looked exactly like that in their home. Considering that it was a pretty unique piece, you can imagine how excited the museum staff were to hear this, and after a lot of research, they were able to trace the piece through the years and through many different antique shops to the one where the couple had purchased it in Illinois several years earlier. Florence then directed us all to look behind us, where we saw the planter placed next to the Kings bed.
The couple had donated it to the museum. Man, I love stories like that!
Now onto the next part of our day of history: I mentioned that I had been to Hawaii twice before, when my dad with stationed there while in the Navy. (I did not live there with him because my parents are divorced, and I grew up with my mother.) I visited Hawaii in the summer of 1989 and in December 1991. The second trip was especially meaningful, because it occurred just two weeks after the 50th anniversary of the attacks on Pearl Harbor. If you know anything about that attack, you probably know that the ships that were attacked were all docked around an island in the middle of the harbor, Ford Island. Back then and even all the way up until today, that island is a military (Naval) base, and, other than the Air Force Museum and the USS Missouri memorial, you can only access it if you have appropriate clearance (and then you have to take a shuttle bus so you're very limited to where you can go). When my dad was stationed in Honolulu, my family actually lived on Ford Island. It was a pretty neat experience to visit them, especially since the only way to get to the island was via ferry. Between riding the ferry every day and the World War II buildings and atmosphere of the island, it was an amazing experience! They have since built a bridge, so the ferry no longer runs, but regular Jane's and Joe's can't just drive over the bridge to the island.
Since my dad wasn't coming with me (they moved back to the mainland in 1992), I figured I would be out of luck to visit his old house and show my boys around, but lucky for me, he found an old Navy colleague who still lived on the island and was able to sponsor us. Even better, he took it upon himself to give us all an incredible tour of not only Ford Island, but also of Hickam Air Force Base across the harbor. He was absolutely a wealth of knowledge about both military history and specifically the Pearl Harbor attacks. He spent 3 1/2 hours giving us a tour, and he engaged the boys throughout the day, doing his best to educate them in US military history. Ha ha, whether they wanted it or not!
We drove past my dad's old house, or rather, we drove past the row of houses, one of which I knew was his. I didn't actually know what the address was, and all the houses look the same, but it was still neat to see them. We also visited the USS Utah memorial, which is only available to those who are allowed on Ford Island, as well as members of the families of the seamen who were aboard that ship when it sank.
We continue to drive around the island, and he pointed out the new NOAA weather building, as well as the new military buildings that have been built since I was last there. He also pointed out several places that were instrumental in the attacks, and we talked about the mistakes the Japanese had made in their attack on Pearl Harbor that allowed the United States to eventually go on and help win the war. (I could spend hours talking about the stuff, but I won't.) Hopefully my boys learned a few things, especially since Jamie will be covering World War II in his World History class next week!
I took a ton of pictures, as you can imagine, but we got to a point where Guy, our tour guide, instructed me to put my cameras away because no photographs were allowed. 😮 After that, I was very nervous about taking pictures at all…I sure don't need the might of the U.S. Navy on my back! To be on the safe side, I won't post too many pictures from our tour of the military bases, but I can show you a picture that's rather special to me:
Back in 1989, my sister took a picture of me in front of that very same Banyan tree. I haven't been able to put my finger on that picture just yet, but I recognized it immediately when I saw it, and Guy was kind enough to take a picture of my family and me in front of it. It's like the circle of life! 🙂
When we left Ford Island, we headed to Hickam Air Force Base. Once again, my ability to take pictures was pretty limited, but one location we visited that was perfectly acceptable for pictures was the Submariner Memorial. My dad is a retired sub commander, and submarine history is pretty important in our family, and obviously to Guy as well, also a retired submariner. I could tell he really enjoyed going through the memorial with my boys and giving them lessons on submarine history, including the USS Nautilus. The Nautilus was the first nuclear submarine, and our family has a very special tie to it.
Another area where I was allowed to take pictures was at Patriotism Park, where they have a monument dedicated to the Air Force is "missing man" formation.
The spot was actually located close to something that was very familiar to me: they have a Mongolian barbecue at one of the buildings at Hickam. Guy must've known that my dad always took visitors to the barbecue, because he pointed it out to me and asked me if it looked familiar. I was astonished at the fact that I remembered it perfectly, even after 25 years! I remember eating a lot of food and sitting on the ground watching a luau. It's funny how I can forget something that happened a week ago, but I remember that meal so vividly.
One thing I really wanted to take a picture of, but was pretty sure I wasn't allowed to, was some of the buildings on the Air Force base (technically referred to as Joint Base Pearl Harbor-Hickam). Guy pointed them out to us and called our attention to the holes in the concrete on the sides of the PACAF Headquarters Building (formerly Air Force barracks in 1941). There were hundreds of big gouges take out of that building and many others, and at first we weren't sure what to make of it. It looked as though the buildings were falling apart and no one had bothered to fix them. However, Guy explained to us that the buildings are actually kept in tiptop shape, with the exception of all the holes. Can you guess what they are? There shrapnel marks from the bullets of the Japanese guns, made during the attack. For 75 years, the caretakers of the base have left those marks just as they were in December 1941, because they want them to remain as a lasting memory and tribute to the sacrifice of those soldiers and sailors who lost their lives during the attack, so that no one who sees them will forget what happened that day. It was humbling to see, especially when you looked around and saw just how extensive the damage was. It made me teary to look at.
As you can imagine, it was quite a serious and emotional tour, but we did have some fun moments along with a lot of education. I learned what up battery was (weapons storage), and Guy even went out of his way to show us a particularly interesting one:

Our family joked that that one belong to us. 😉
OK, that's more than enough history! Once we got back, we found a beautiful platter of fruit waiting for us.
The boys went back in the water (again), while Jason and I hung out on the beach and watched the sunset.
I was highly amused to turn around and see all the people taking pictures of the sunset.
After the kids finished swimming, then we headed out to the street fair they happen to be in front of our hotel.  We didn't find anything that we could all agree on to eat, so we ended up at a local bar, where I got a chicken stir-fry that was very good.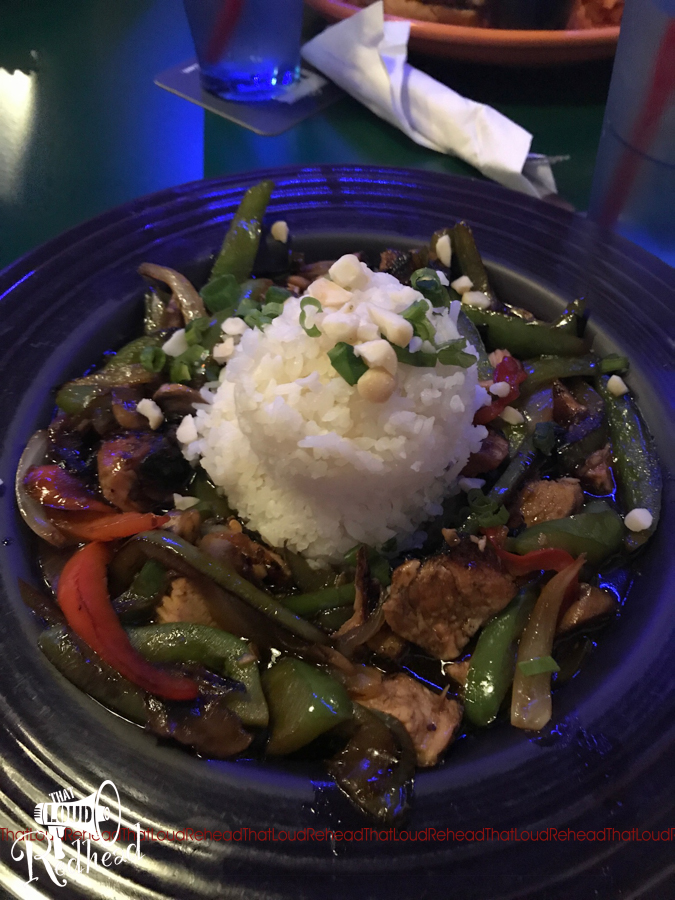 On the way back, JJ finally got his "shave ice" that he'd been dying for. 😉
That was the end of day three. I will try to be a little more concise from here on out. But you can't deny this history-loving girl the chance to share her passion. 😉 (I took an entire class on World War II when I was getting my degree in history!)