On this page, you will find all my weekly weigh-ins since I began using the online Weight Watchers tool in 2004 (there are some gaps, because, well…I wasn't always 100% committed). Unfortunately, I do not have my old Weight Watchers booklets from when I lost the first 50 pounds in 2000-2001, but I do know I started in May 2000 at 201.6 pounds. (That number was imprinted on my brain for years!)  I've also included two charts (because visuals are just so nice with this amount of data!). The first is my weight trend since 2004, the other is since 2011, which was the LAST time I decided to change my eating habits and lose the weight. 🙂
In 2001, I originally started with a goal to get to 120 pounds.  I not only got there, I went well beyond it, down to 113!  I attribute that to the fact that I began running in 2012, and then consistently ran greater distances for three years: a 10k was my farthest distance in 2012, with a half-marathon being my farthest in 2013 (I ran three of them), then I ran my first marathon in 2014. I ran my second marathon in 2015, which is also the last year I was below 120 (just a few times, though).  Now that my running has stabilized and remains pretty consistent throughout the year, my current goal is to maintain my weight in a 5-pound range between 120-125.
For reference, it may help to know that I am 5′ 2″ tall.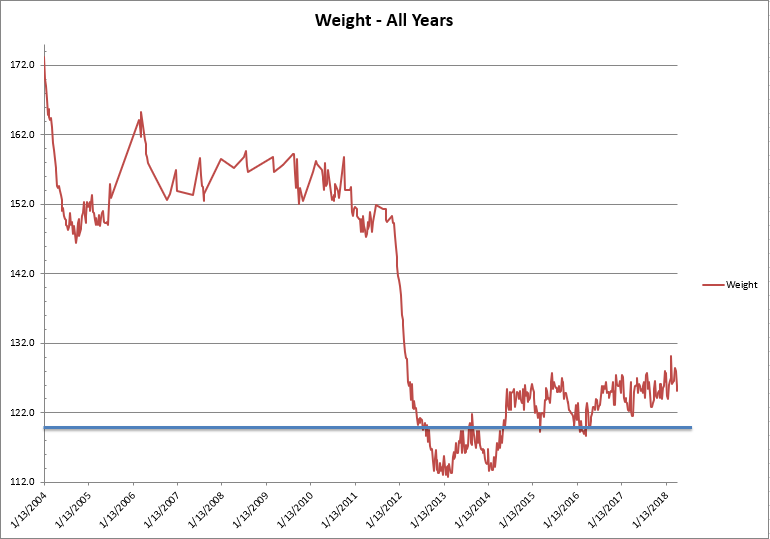 Weight Watchers Weight Data 2004-Current
Date
Weight
Change
4/16/2018
125.2
-0.6
4/9/2018
125.8
-2.2
4/2/2018
128.0
-0.4
3/26/2018
128.4
+1.8
3/19/2018
126.6
+0.2
3/12/2018
126.4
+0.2
3/5/2018
126.2
-4.0
2/26/2018
130.2
+3.2
2/19/2018
127.0
+0.4
2/12/2018
126.6
+0.6
2/5/2018
126.0
+2.0
1/29/2018
124.0
-0.4
1/22/2018
124.4
-3.4
1/15/2018
127.8
+1.4
1/8/2018
126.4
-1.6
1/1/2018
128.0
+2.2
12/25/2017
125.8
+0.2
12/18/2017
125.6
+1.6
12/11/2017
124.0
-2.2
12/4/2017
126.2
0.0
11/27/2017
126.2
+2.0
11/20/2017
124.2
-1.0
11/14/2017
125.2
+0.4
11/6/2017
124.8
+0.6
10/30/2017
124.2
-0.2
10/23/2017
124.4
-2.2
10/16/2017
126.6
+1.2
10/9/2017
125.4
+1.6
10/2/2017
123.8
+0.4
9/25/2017
123.4
+0.6
9/18/2017
122.8
0.0
9/11/2017
122.8
-2.0
9/4/2017
124.8
-0.6
8/18/2017
125.4
-1.0
8/21/2017
126.4
+0.2
8/14/2017
126.2
-1.6
8/7/2017
127.8
+0.4
7/31/2017
127.4
+3.2
7/24/2017
124.2
-2.2
7/17/2017
126.4
+0.6
7/10/2017
125.8
+1.0
7/3/2017
124.8
-0.6
6/26/2017
125.4
+0.2
6/19/2017
125.2
-0.6
6/12/2017
125.8
-0.4
6/5/2017
126.2
+1.4
5/29/2017
124.8
-2.2
5/22/2017
127.0
+0.8
5/15/2017
126.2
+0.4
5/8/2017
125.8
0.0
4/30/2017
125.8
+0.8
4/24/2017
125.0
+3.4
4/17/2017
121.6
0.0
4/10/2017
121.6
-0.6
4/3/2017
122.2
-4.2
3/27/2017
126.4
+2.4
3/20/2017
124.0
+1.8
3/13/2017
122.2
-0.2
3/6/2017
122.4
-1.0
2/27/2017
123.4
-0.2
2/20/2017
123.6
-0.6
2/13/2017
124.2
+0.6
2/6/2017
123.6
-0.6
1/30/2017
124.2
-3.0
1/23/2017
127.2
-0.2
1/16/2017
127.4
+2.6
1/9/2017
124.8
-1.2
1/2/2017
126.0
-0.6
12/26/2016
126.6
+0.8
12/19/2016
125.8
0.0
12/12/2016
125.8
-0.2
12/5/2016
126.0
-1.4
11/28/2016
127.4
+4.2
11/21/2016
123.2
-2.0
11/14/2016
125.2
+2.0
11/7/2016
123.2
-3.2
10/31/2016
126.4
+1.4
10/24/2016
125.0
-0.2
10/17/2016
125.2
+0.4
10/10/2016
124.8
+0.6
10/3/2016
124.2
-0.8
9/26/2016
125.0
0.0
9/19/2016
125.0
+0.2
9/12/2016
124.8
-1.6
9/5/2016
126.4
+1.0
8/29/2016
125.4
-0.4
8/22/2016
125.8
+1.0
8/15/2016
124.8
-0.8
8/8/2016
125.6
-0.2
8/1/2016
125.8
+1.4
7/25/2016
124.4
+1.2
7/18/2016
123.2
+0.2
7/11/2016
123.0
+0.6
7/4/2016
122.4
-1.4
6/27/2016
123.8
+0.4
6/20/2016
123.4
-0.6
6/13/2016
124.0
+1.6
6/6/2016
122.4
-0.4
5/30/2016
122.8
0.0
5/23/2016
122.8
+1.0
5/16/2016
121.8
+0.4
5/9/2016
121.4
+0.6
5/2/2016
120.8
+1.0
4/25/2016
119.8
-0.2
4/18/2016
120.0
-2.2
4/11/2016
122.2
-1.2
4/4/2016
123.4
+1.0
3/28/2016
122.4
+3.8
3/21/2016
118.6
-1.0
3/14/2016
119.6
+0.6
3/7/2016
119.0
-0.4
2/29/2016
119.4
0.0
2/22/2016
119.4
-1.4
2/15/2016
120.8
+1.0
2/8/2016
119.8
+0.6
2/1/2016
119.2
-1.6
1/25/2016
120.8
-2.6
1/18/2016
123.4
+2.4
1/11/2016
121.0
-0.2
1/4/2016
121.2
-2.0
12/31/2015
123.2
+3.2
12/21/2015
120.0
-0.6
12/14/2015
120.6
-1.0
12/7/2015
121.6
-0.2
11/30/2015
121.8
-0.2
11/23/2015
122.0
-0.2
11/16/2015
122.2
-0.2
11/10/2015
122.4
-1.2
11/2/2015
123.6
+0.2
10/26/2015
123.4
-0.8
10/19/2015
124.2
-0.6
10/12/2015
124.8
0.0
10/5/2015
124.8
+0.8
9/28/2015
124.0
-2.4
9/21/2015
126.4
+0.6
9/14/2015
125.8
-1.2
9/7/2015
127.0
+1.8
8/31/2015
125.2
+0.2
8/24/2015
125.0
-0.8
8/17/2015
125.8
+0.8
8/10/2015
125.0
0.0
8/3/2015
125.0
-0.6
7/27/2015
125.6
0.0
7/20/2015
125.6
-0.2
7/13/2015
125.8
-0.6
7/6/2015
126.4
+1.0
6/29/2015
125.4
-2.4
6/22/2015
127.8
+1.4
6/15/2015
126.4
+1.0
6/8/2015
125.4
+2.0
6/1/2015
123.4
-0.8
5/25/2015
124.2
+0.2
5/18/2015
124.0
-1.2
5/11/2015
125.2
-0.4
5/4/2015
125.6
+1.8
4/27/2015
123.8
0.0
4/20/2015
123.8
+2.4
4/13/2015
121.4
-0.6
4/6/2015
122.0
0.0
3/30/2015
122.0
+0.2
3/23/2015
121.8
+2.6
3/16/2015
119.2
-2.6
3/9/2015
121.8
-0.2
3/2/2015
122.0
+0.8
2/23/2015
121.2
-1.0
2/16/2015
122.2
-0.8
2/9/2015
123.0
+1.0
2/2/2015
122.0
-2.2
1/26/2015
124.2
-0.8
1/19/2015
125.0
-0.4
1/12/2015
125.4
-0.8
1/5/2015
126.2
+0.8
12/29/2014
125.4
+1.2
12/22/2014
124.2
+0.4
12/15/2014
123.8
-1.0
12/8/2014
124.8
+1.2
12/1/2014
123.6
-1.4
11/24/2014
125.0
+0.6
11/17/2014
124.4
-1.6
11/10/2014
126.0
+3.6
11/3/2014
122.4
-3.0
10/27/2014
125.4
+2.0
10/20/2014
123.4
0.0
10/13/2014
123.4
-0.4
10/6/2014
123.8
-1.4
9/29/2014
125.2
+1.2
9/22/2014
124.0
-0.8
9/15/2014
124.8
-0.2
9/8/2014
125.0
0.0
9/1/2014
125.0
+2.2
8/18/2014
122.8
-2.6
8/11/2014
125.4
+0.4
8/4/2014
125.0
+0.2
7/21/2014
124.8
+2.4
7/14/2014
122.4
-2.6
7/7/2014
125.0
+2.6
6/30/2014
122.4
-0.6
6/23/2014
123.0
-2.4
6/16/2014
125.4
+2.4
6/9/2014
123.0
+1.4
6/2/2014
121.6
+1.6
5/26/2014
120.0
-1.0
5/19/2014
121.0
+1.4
5/12/2014
119.6
+2.0
5/5/2014
117.6
-1.0
4/28/2014
118.6
+1.6
4/21/2014
117.0
-2.4
4/14/2014
119.4
+2.0
4/7/2014
117.4
+0.8
3/31/2014
116.6
-1.0
3/24/2014
117.6
+2.0
3/17/2014
115.6
+1.4
3/10/2014
114.2
-1.0
3/3/2014
115.2
-0.4
2/24/2014
115.6
+1.8
2/17/2014
113.8
0.0
2/10/2014
113.8
-1.0
2/3/2014
114.8
+0.4
1/27/2014
114.4
+0.8
1/20/2014
113.6
-3.2
1/13/2014
116.8
+2.0
1/6/2014
114.8
+0.2
12/30/2013
114.6
-0.2
12/23/2013
114.8
-0.6
12/16/2013
115.4
-1.2
12/9/2013
116.6
+0.4
12/2/2013
116.2
-0.6
11/25/2013
116.8
+0.2
11/18/2013
116.6
-0.2
11/11/2013
116.8
-0.6
11/4/2013
117.4
-2.0
10/28/2013
119.4
+1.8
10/21/2013
117.6
-1.8
10/14/2013
119.4
+0.4
10/7/2013
119.0
+2.0
10/1/2013
117.0
-0.8
9/24/2013
117.8
-1.0
9/17/2013
118.8
-1.0
9/10/2013
119.8
-2.0
9/3/2013
121.8
+4.4
8/27/2013
117.4
-0.2
8/20/2013
117.6
-3.0
8/13/2013
120.6
+0.6
8/6/2013
120.0
+2.8
7/29/2013
117.2
+0.4
7/22/2013
116.8
-0.6
7/15/2013
117.4
+1.0
7/8/2013
116.4
+0.2
7/1/2013
116.2
-1.0
6/24/2013
117.2
-2.2
6/17/2013
119.4
+3.2
6/10/2013
116.2
-3.2
6/3/2013
119.4
+1.4
5/27/2013
118.0
+0.4
5/20/2013
117.6
-0.4
5/13/2013
118.0
+1.8
5/6/2013
116.2
0.0
4/29/2013
116.2
-1.4
4/22/2013
117.6
+2.0
4/15/2013
115.6
+0.2
4/8/2013
115.4
-1.0
4/1/2013
116.4
+0.8
3/25/2013
115.6
+2.2
3/18/2013
113.4
0.0
3/11/2013
113.4
-0.4
3/4/2013
113.8
-0.8
2/25/2013
114.6
+1.8
2/18/2013
112.8
-1.6
2/11/2013
114.4
+0.2
2/4/2013
114.2
+1.2
1/28/2013
113.0
-1.2
1/21/2013
114.2
-1.6
1/14/2013
115.8
+1.4
1/7/2013
114.4
+1.4
12/31/2012
113.0
-1.2
12/24/2012
114.2
+0.6
12/17/2012
113.6
-1.2
12/10/2012
114.8
+1.4
12/3/2012
113.4
0.0
11/26/2012
113.4
-1.8
11/19/2012
115.2
+1.4
11/12/2012
113.8
-2.8
11/5/2012
116.6
+1.2
10/29/2012
115.4
+1.8
10/22/2012
113.6
-1.4
10/15/2012
115.0
-1.8
10/8/2012
116.8
0.0
10/1/2012
116.8
+0.2
9/24/2012
116.6
-0.6
9/17/2012
117.2
-2.3
9/10/2012
119.5
+1.7
9/3/2012
117.8
-2.5
8/27/2012
120.3
+1.7
8/20/2012
118.6
-0.7
8/13/2012
119.3
-1.2
8/6/2012
120.5
+0.4
7/30/2012
120.1
+0.6
7/23/2012
119.5
-1.4
7/16/2012
120.9
-0.2
7/9/2012
121.1
-0.2
7/2/2012
121.3
+0.8
6/28/2012
120.5
-0.6
6/21/2012
121.1
+0.8
6/14/2012
120.3
-1.0
6/7/2012
121.3
-1.4
5/28/2012
122.7
0.0
5/21/2012
122.7
-1.0
5/14/2012
123.7
+1.2
5/7/2012
122.5
-0.2
4/30/2012
122.7
-3.4
4/23/2012
126.1
+2.2
4/16/2012
123.9
-2.6
4/9/2012
126.5
+0.6
4/2/2012
125.9
-0.6
3/26/2012
126.5
0.0
3/19/2012
126.5
-3.2
3/12/2012
129.7
-0.2
3/5/2012
129.9
-0.8
2/27/2012
130.7
-1.6
2/20/2012
132.3
-2.4
2/13/2012
134.7
-0.6
2/6/2012
135.3
-0.8
1/30/2012
136.1
-2.8
1/23/2012
138.9
-1.4
1/16/2012
140.3
-0.8
1/9/2012
141.1
-0.6
1/2/2012
141.7
-1.4
12/26/2011
143.1
-1.4
12/19/2011
144.5
-1.4
12/12/2011
145.9
-1.6
12/5/2011
147.5
-1.8
11/28/2011
149.3
0.0
11/21/2011
149.3
-1.0
11/14/2011
150.3
+0.8
10/3/2011
149.5
-0.2
9/26/2011
149.7
-1.6
9/20/2011
151.3
0.0
8/29/2011
151.3
-0.6
7/4/2011
151.9
+0.8
6/27/2011
151.1
+1.6
6/6/2011
149.5
+1.4
5/30/2011
148.1
-1.8
5/23/2011
149.9
-1.0
5/16/2011
150.9
+2.0
5/9/2011
148.9
+0.4
5/2/2011
148.5
-1.0
4/25/2011
149.5
+1.8
4/18/2011
147.7
+0.4
4/11/2011
147.3
-1.0
4/6/2011
148.3
-0.6
3/28/2011
148.9
-1.4
3/21/2011
150.3
+2.2
3/14/2011
148.1
-1.8
3/7/2011
149.9
+1.8
2/28/2011
148.1
-1.8
2/21/2011
149.9
0.0
2/14/2011
149.9
-0.4
1/31/2011
150.3
-1.0
1/24/2011
151.3
-0.2
1/17/2011
151.5
-0.2
1/10/2011
151.7
+0.4
1/3/2011
151.3
+1.0
12/27/2010
150.3
-0.6
12/20/2010
150.9
-3.6
12/6/2010
154.5
+0.4
12/1/2010
154.1
0.0
10/18/2010
154.1
-4.8
10/11/2010
158.9
+6.0
8/30/2010
152.9
-1.0
8/23/2010
153.9
-1.0
8/2/2010
154.9
+1.8
7/30/2010
153.1
-0.2
7/22/2010
153.3
+0.8
7/19/2010
152.5
-0.6
7/17/2010
153.1
+0.4
7/7/2010
152.7
-4.2
5/31/2010
156.9
+2.0
5/24/2010
154.9
+0.2
5/17/2010
154.7
-3.2
5/10/2010
157.9
+3.8
5/3/2010
154.1
-1.6
4/26/2010
155.7
-0.2
4/19/2010
155.9
-1.0
4/14/2010
156.9
-0.9
3/8/2010
157.8
-0.5
2/22/2010
158.3
+1.6
2/1/2010
156.7
+4.2
11/6/2009
152.5
-1.8
10/12/2009
154.3
+2.2
10/5/2009
152.1
-2.2
9/28/2009
154.3
-4.2
9/21/2009
158.5
+4.2
9/14/2009
154.3
0.0
9/12/2009
154.3
-2.2
9/1/2009
156.5
-2.8
8/24/2009
159.3
0.0
8/23/2009
159.3
+1.6
5/25/2009
157.7
+1.0
3/17/2009
156.7
-2.2
3/8/2009
158.9
+2.2
8/11/2008
156.7
-0.8
8/4/2008
157.5
-2.2
7/28/2008
159.7
+0.8
7/10/2008
158.9
+1.6
4/19/2008
157.3
-1.2
1/7/2008
158.5
+5.0
8/22/2007
153.5
+1.0
8/15/2007
152.5
-2.0
8/8/2007
154.5
-0.2
8/1/2007
154.7
-1.6
7/23/2007
156.3
-2.4
7/16/2007
158.7
+5.4
5/21/2007
153.3
-0.6
1/9/2007
153.9
-3.0
1/2/2007
156.9
+3.4
11/11/2006
153.5
+0.8
10/17/2006
152.7
-4.4
6/7/2006
157.1
-0.8
5/16/2006
157.9
-1.0
5/9/2006
158.9
-0.4
5/2/2006
159.3
-1.4
4/26/2006
160.7
-0.6
4/19/2006
161.3
-1.0
4/12/2006
162.3
-3.0
3/21/2006
165.3
+3.6
3/15/2006
161.7
-1.6
3/8/2006
163.3
-0.8
3/1/2006
164.1
+11.2
7/13/2005
152.9
-2.0
7/5/2005
154.9
+5.8
6/21/2005
149.1
-0.4
6/15/2005
149.5
+0.2
6/8/2005
149.3
0.0
5/25/2005
149.3
-0.2
5/18/2005
149.5
-1.6
5/11/2005
151.1
+0.4
5/4/2005
150.7
+0.6
4/20/2005
150.1
+1.2
4/13/2005
148.9
-1.6
4/6/2005
150.5
+1.4
3/30/2005
149.1
-1.0
3/17/2005
150.1
+1.0
3/9/2005
149.1
-0.6
3/2/2005
149.7
-1.0
2/23/2005
150.7
-0.2
2/16/2005
150.9
-2.4
2/9/2005
153.3
+2.2
1/26/2005
151.1
-1.2
1/19/2005
152.3
+0.2
1/12/2005
152.1
+0.4
1/8/2005
151.7
-0.6
1/1/2005
152.3
+2.0
12/22/2004
150.3
+1.0
12/18/2004
149.3
-1.0
12/10/2004
150.3
-2.0
12/4/2004
152.3
+1.6
11/26/2004
150.7
+0.4
11/19/2004
150.3
+1.6
11/13/2004
148.7
+0.2
11/6/2004
148.5
+1.0
10/28/2004
147.5
-2.4
10/21/2004
149.9
+0.6
10/14/2004
149.3
+1.8
10/7/2004
147.5
+1.0
9/29/2004
146.5
-1.2
9/22/2004
147.7
-1.2
9/15/2004
148.9
+0.2
9/8/2004
148.7
+1.0
9/1/2004
147.7
-1.8
8/25/2004
149.5
+0.4
8/18/2004
149.1
-1.6
8/11/2004
150.7
+2.0
8/4/2004
148.7
+0.4
7/28/2004
148.3
-0.6
7/21/2004
148.9
-0.2
7/13/2004
149.1
-0.6
7/7/2004
149.7
-0.2
6/30/2004
149.9
-0.4
6/22/2004
150.3
-1.2
6/17/2004
151.5
+0.4
6/9/2004
151.1
-1.6
6/3/2004
152.7
-0.6
5/26/2004
153.3
-0.6
5/19/2004
153.9
-0.8
5/13/2004
154.7
+0.4
5/5/2004
154.3
-0.4
4/28/2004
154.7
-2.2
4/21/2004
156.9
-0.4
4/14/2004
157.3
-1.2
4/7/2004
158.5
-1.4
3/29/2004
159.9
-1.0
3/23/2004
160.9
-2.2
3/17/2004
163.1
-1.3
3/10/2004
164.4
+0.3
3/2/2004
164.1
-0.5
2/24/2004
164.6
-1.1
2/18/2004
165.7
+0.8
2/11/2004
164.9
-2.3
2/4/2004
167.2
-1.8
1/28/2004
169.0
-1.0
1/20/2004
170.0
-3.2
1/13/2004
173.2
+173.2