Monday was our last day in Honolulu, and we started off with coffee and pastries at the Honolulu coffee shop. Honest to goodness, I was still full from the previous day's brunch, so I just got a coffee, and a beautiful one at that.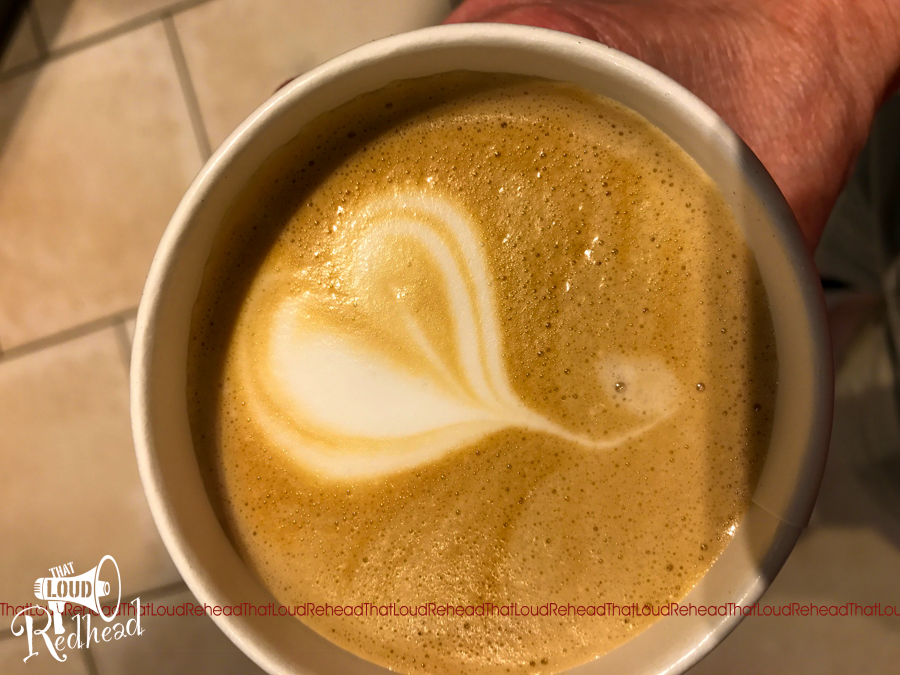 We packed up in the morning and then headed out to Pearl Harbor for the "official" Arizona and USS Missouri memorial tours. I've already detailed a lot of the history from our guided tour on Saturday, so I'll keep this one a little more brief, mostly just pictures.
This was my third time doing the Arizona Memorial, and I can honestly say that it never stops being humbling and awe-inspiring.  The first two times I went, I was on a special Naval-sponsored tour, which was pretty cool, but the general public tour is also very worthwhile (and very cheap–I think it was $6 per family member). We did not pay for a guided tour or even the audio guide (normally I am totally on top of that), simply because we were running late and didn't have time. I don't know if the guided tour would've been as good as the one I got 25 years ago; because it was done by a naval officer, it had a lot of interesting military detail. And then of course, attending with a Naval sub commander who served during the Cold War (my dad) added an extra dimension of detail and interest.
They show you a movie at the beginning that is very well done. I cried at the end, and I'm pretty sure I did the same 25 years ago. Then you get on a boat and are ferried out to the memorial, which is a structure built over the ship's remnants in the middle of the water. You're not allowed to take pictures until you actually get to the memorial. The reason for this is because the Naval shipyards are directly across the harbor from the memorial, and they don't want pictures of that getting out. In this day and age where everyone has a camera and an Internet connection, I suspect it's a lot harder to prevent photographs from turning up in the public domain than it was 25 years ago, but I'm a rule-follower, so I didn't take any pictures until we got onto the memorial.
Besides the 1177 sailors who died the day of the attack, Arizona survivors are also eligible to be buried at sea with their  former shipmates when they pass. A couple of days after we went to the memorial, one of my friends sent me a Facebook link to show that they had had a burial just a couple days before our visit for a USS Arizona survivor.
There's not a lot you can say about the USS Arizona Memorial; you really just have to go and experience it. It is extremely moving and I highly encourage everyone to visit if they have the opportunity. I had mentioned in my report from Saturday that the Japanese made several mistakes in the bombing of Pearl Harbor, three of which are fairly notable and were repeated in many of the books and articles I read when I was studying the topic in college.  For interest's sake, here they are:
The Japanese chose not to bomb the Naval shipyard. This meant that after the attack was over and the smoke cleared, the U.S. Navy was able to immediately begin work to repair their ships, and get them into battle more quickly.
They did not bomb the fuel repositories, which would have certainly made it much more difficult for the United States to power their navy in the impending war.
The Japanese assumed that attacking and destroying a large part of our naval war fleet would be crippling to US morale. Instead, it had the opposite effect; "remember Pearl Harbor" became a battle cry that rallied the entire country. Previous to the attack on Pearl Harbor, there was strong opposition to the United States entering the war, but after the attack, public opinion to enter the war (and win it) became almost unanimous.
After we finished the Arizona Memorial, we immediately headed over to the shuttle for the USS Missouri tour. Those tickets are quite a bit more expensive than the Arizona tour, and I was a little frustrated, because they were closing the Missouri at noon due to a private company renting it out for the afternoon. That's all well and good, but that meant we only had about an hour to tour the vessel after doing the Arizona tour (for which we had a specific reservation time and could not change in order to switch the two). Still, although our tour was more rushed than I would've liked, it was excellent. For your ticket price, you do get a guided tour that lasts about half an hour, and then you're free to explore on your own. Our guide was fantastic, and I learned a great deal.
That's a teak-wood deck…less slippery than iron and also absorbs less heat from the guns. The Missouri was not docked in Pearl Harbor the last time I had been to on Honolulu, so this was an all-new experience for me. We were given a brief overview of the ship and her origins before being led to the deck that has made her famous: the spot where the peace articles with Japan were signed to end WWII. One of the many interesting facts I learned was that the Japanese representatives who came to sign the surrender fully expected to be killed after they completed their duties! It seems that was how conflicts typically ended in their culture–the loser sent their representatives to officially submit their country's surrender, and the victor would then kill them in what basically amounted to a show of their dominance. 😮 To their surprise, they were instead treated to a very diplomatic and conciliatory speech by Douglas MacArthur (well, after he made them wait in silence on the deck for about 6 minutes with several hundred US military troops standing watch over them from the deck above!).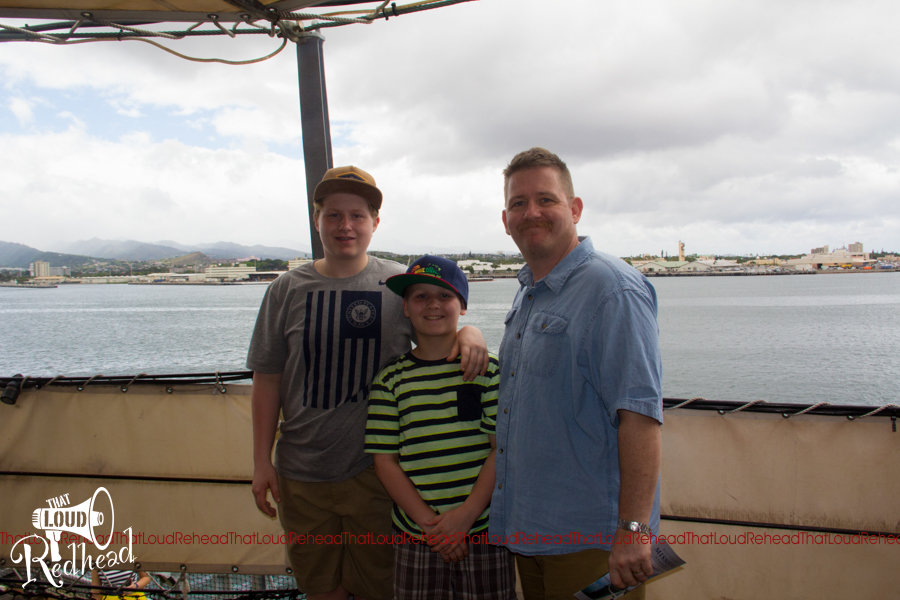 The other interesting and sobering thing I learned about was the Japanese Kamikaze pilots. I learned that the word Kamikaze has nothing to do with suicide or even death. It literally means "divine wind," and it traces its origins back several hundred years ago. It would take me too long to explain here, and I really don't think I could do justice to all the details, but if you're interested, it's worth looking up. Kamikaze pilots in World War II are fairly commonly known, but what may not be well known is that the USS Missouri was attacked by a Kamikaze pilot whose bomb malfunctioned, and the pilot crash landed onto the ship and died. The crew was going to throw him overboard, because they felt very strongly that it was bad luck to have an enemy on their ship, but the ship's captain at the time insisted that he be given a proper military burial. There was a lot of opposition to this, but he insisted that once an enemy has perished, he is no longer your enemy.  However he remained a fellow military comrade, even after death, and therefore was deserving of a true military burial. So the crew obeyed their captain, some of them even going so far as to stay up all night and sew together a makeshift Japanese flag using materials they had on hand to drape over the casket they made for him. The young Japanese soldier was buried at sea the following morning after his plane crashed on the USS Missouri.
Below decks, they had many exhibits, including a very long exhibit on Kamikaze pilots. We don't think much about them other than that they were our enemy, but the reality is, these were young, completely untrained boys, who went into battle knowing they were going to die. In the exhibit, they had dozens of letters that these young soldiers had written to their families–mothers, fathers, siblings and even their children–last letters penned before they went on a mission that they knew would result in their death. I cried a lot going through this exhibit. Even now it is hard for me to look back on it and think about it without getting emotional. As if you needed any kind of reminder…war really is hell. 🙁
After the tour, we headed out to the airport, where we boarded a really small plane for a short but still rather interesting flight to Maui.
We were a bit concerned when we arrived, because it was surprisingly cold (70 degrees in the afternoon) and very windy. Not what you'd expect for Hawaii! We checked in at the hotel to another beautiful view.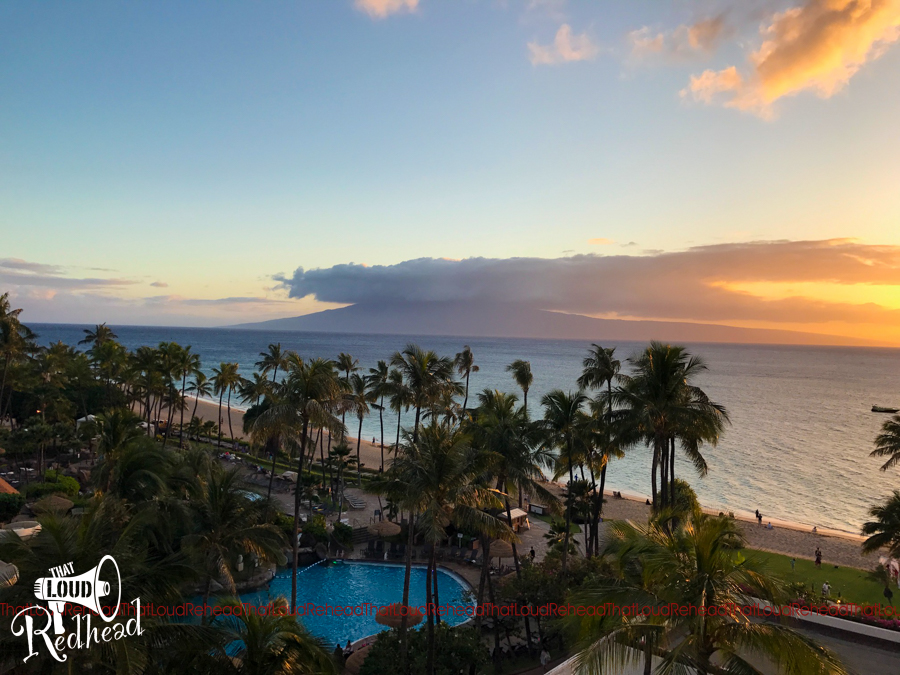 I had to laugh when I saw that pic…it's so picture-perfect, it looks like I stole it from their website, ha ha!
We went to dinner at a restaurant called Longhi's, which had been recommended to us by Guy (my dad's Navy colleague who'd given us a tour of Ford Island on Saturday). It turned out to be more expensive than we expected, which made it our third very expensive meal of the vacation (with one more to go), and I joked with them that we were going to eat at Subway the next night. 😉 And yet, I knew that Subway wouldn't have desserts like this…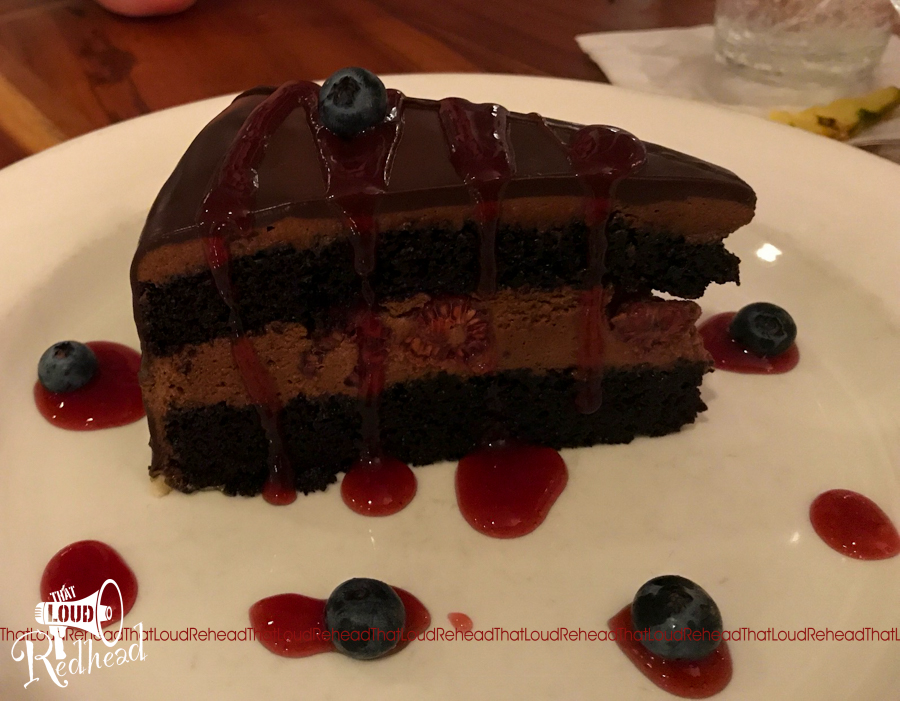 That's it for Day 5!